Specials: Day 2: The Grimmy, Scrambled Eggs with Cheese, and Sprinklers
Thursday, August 7, 2014 - 01:20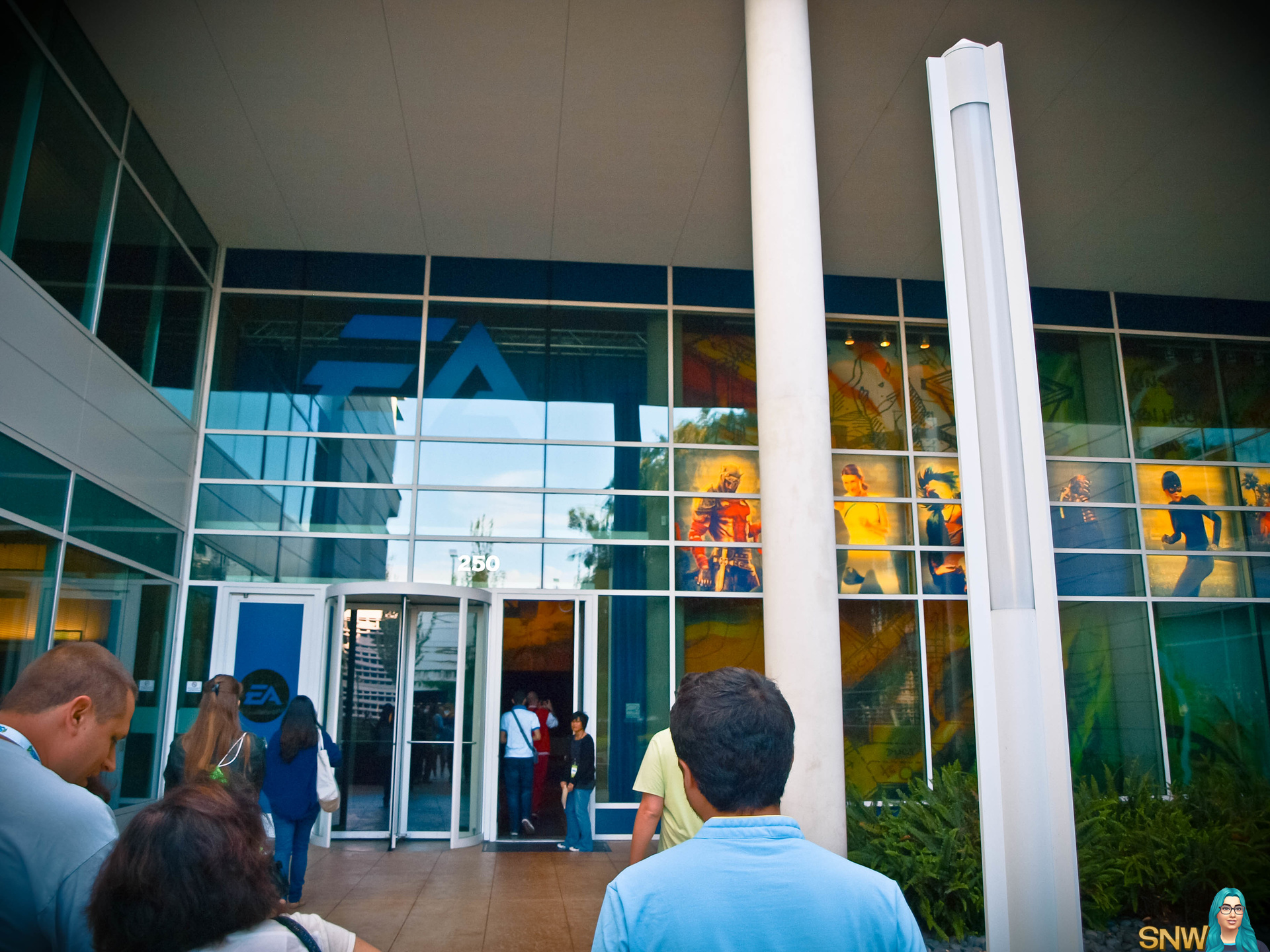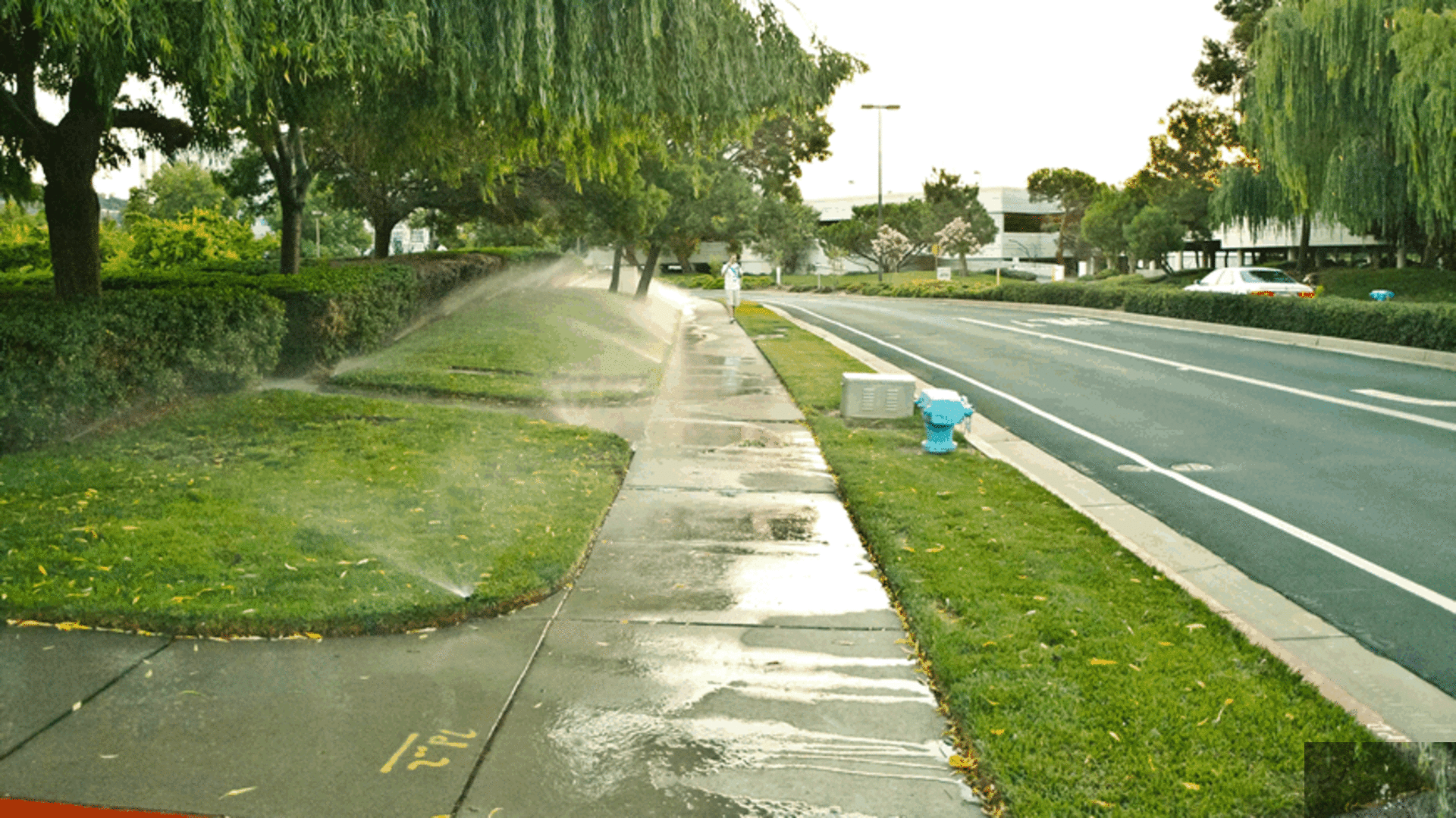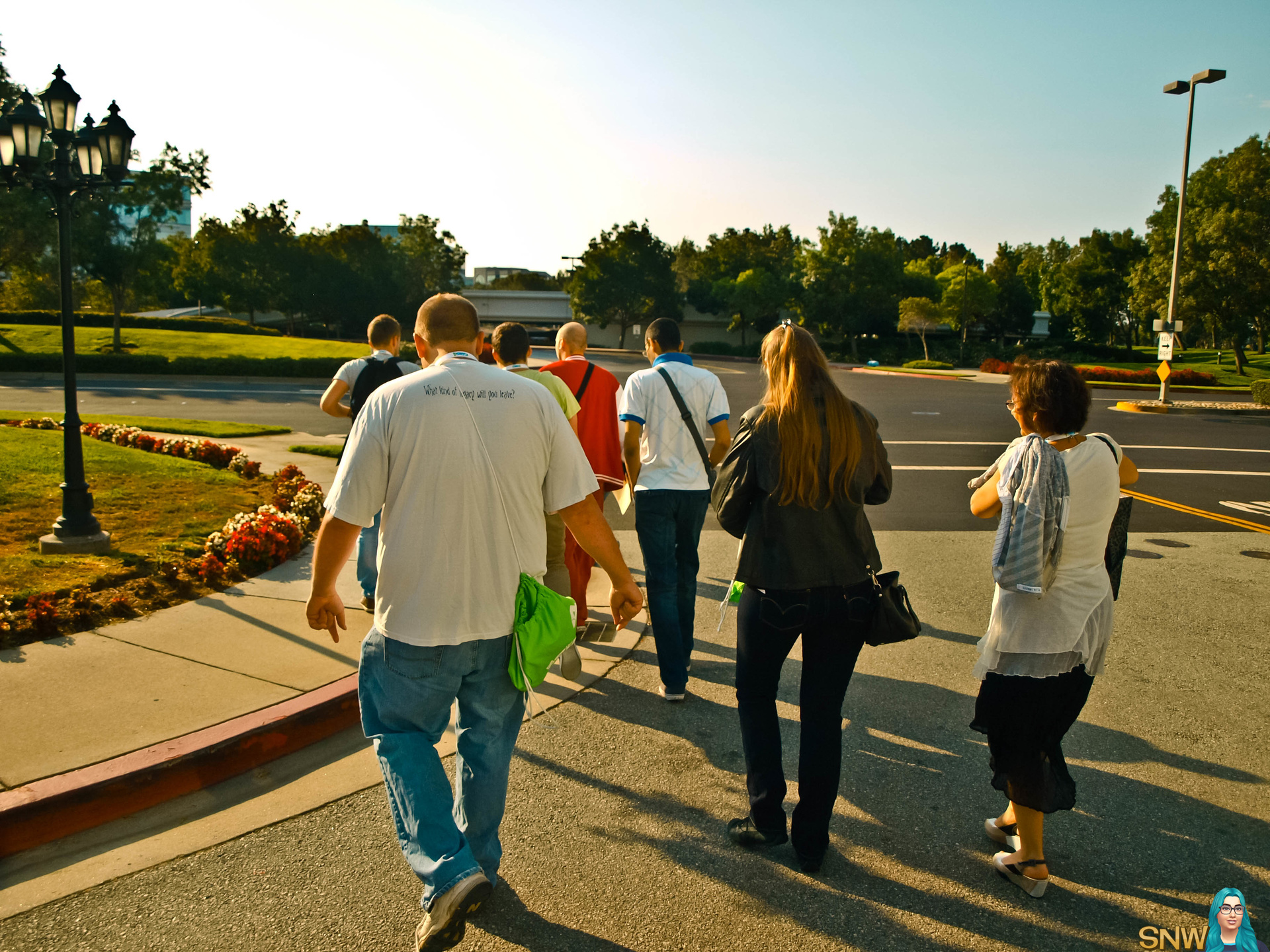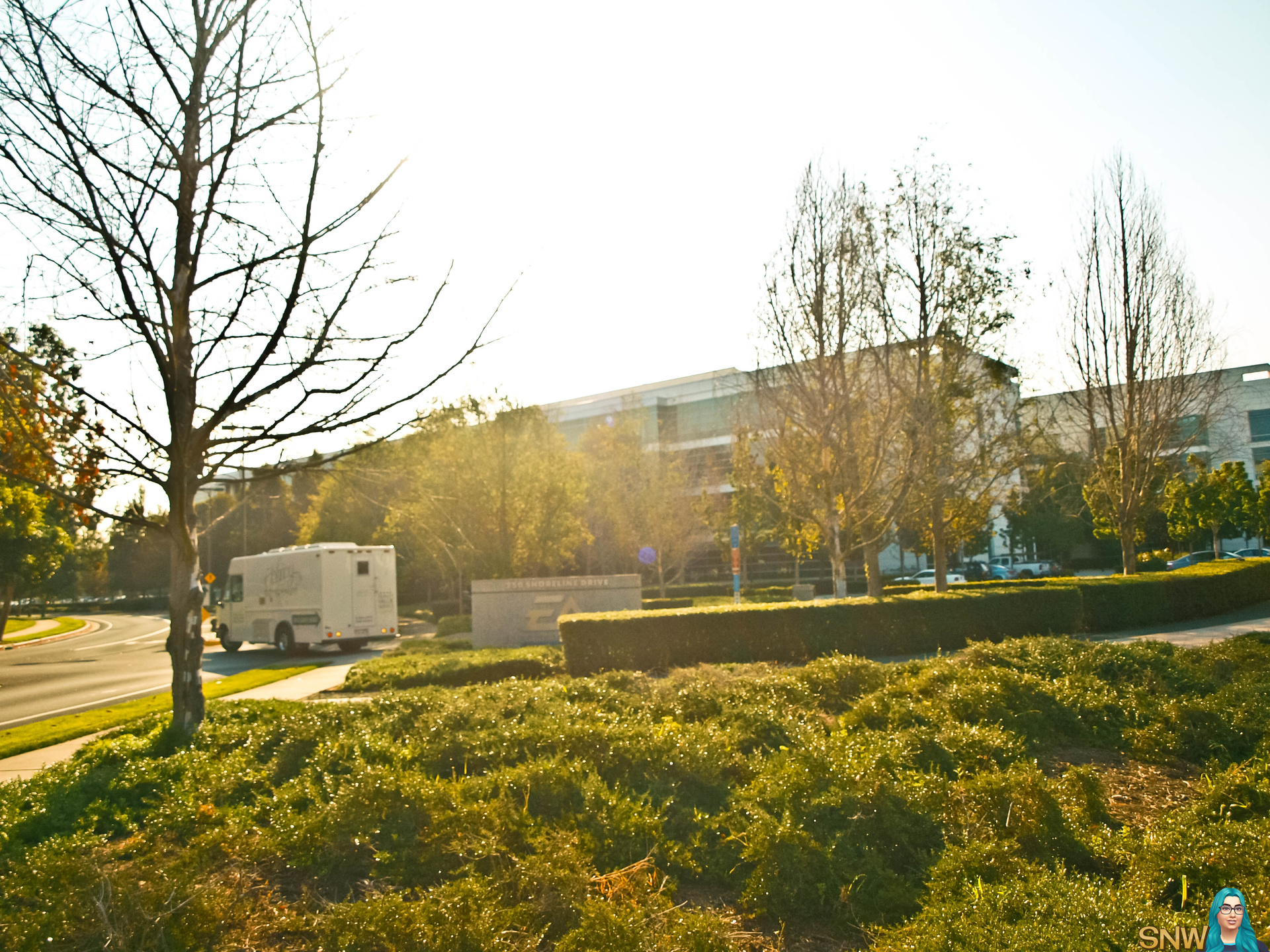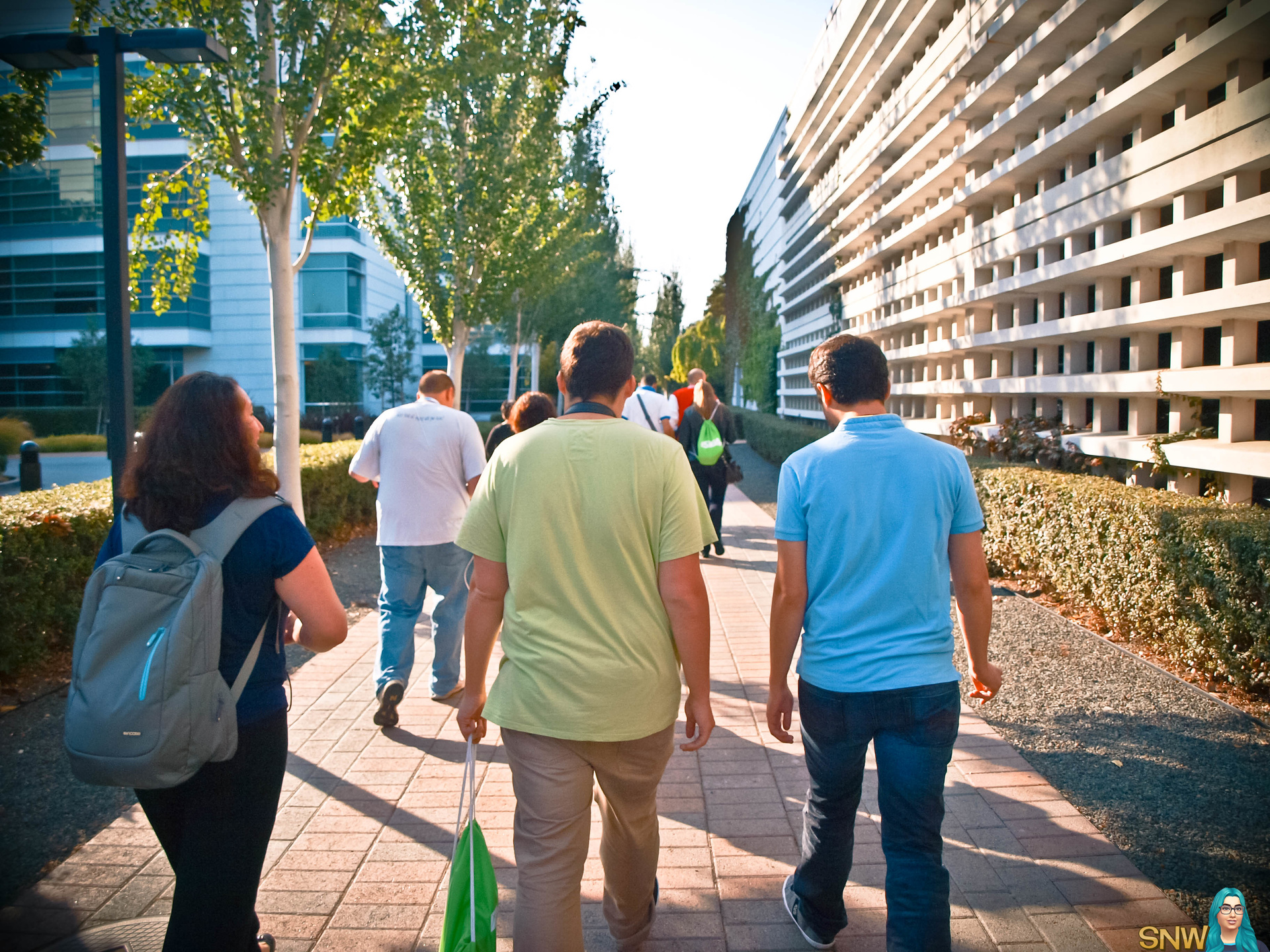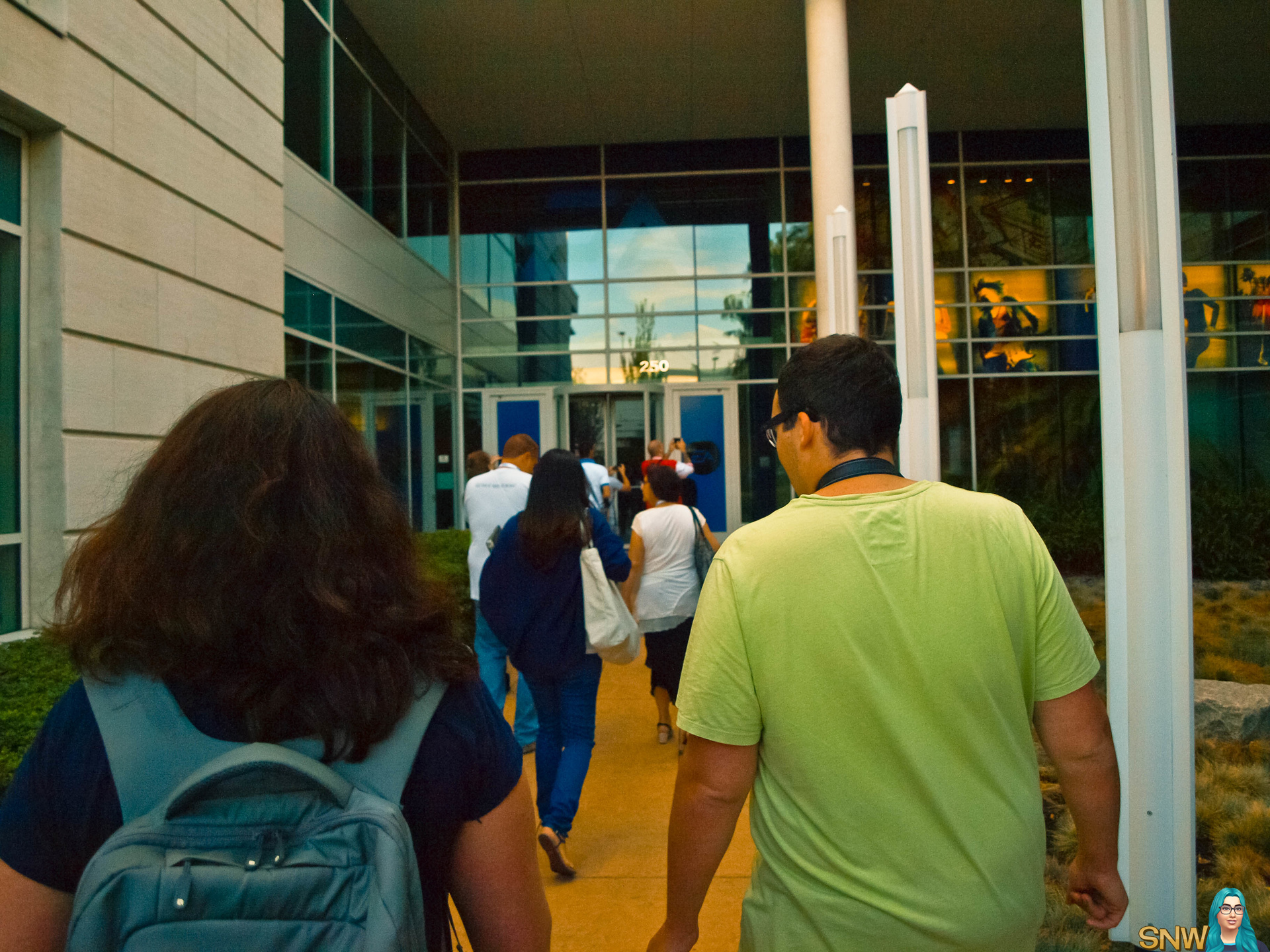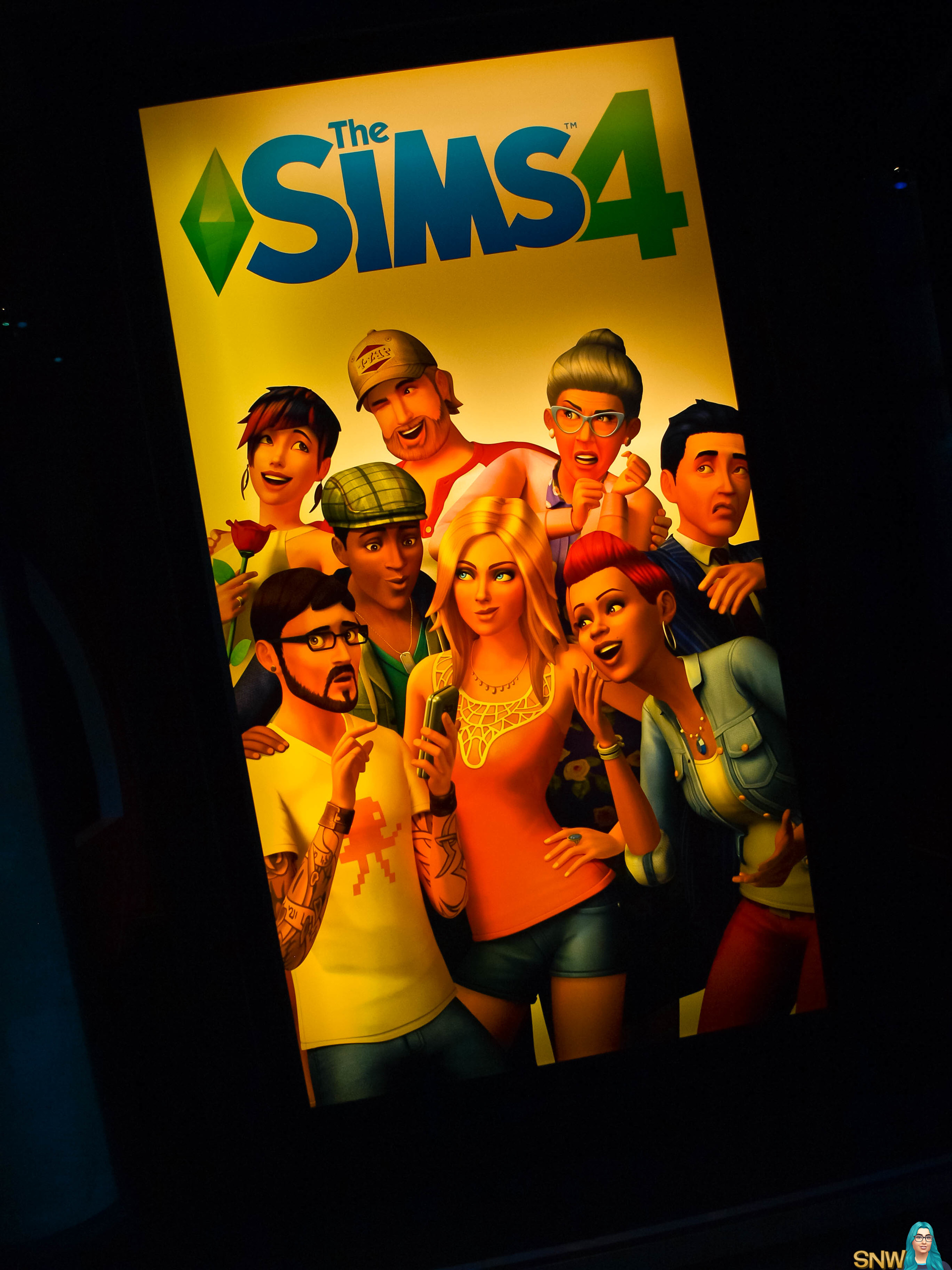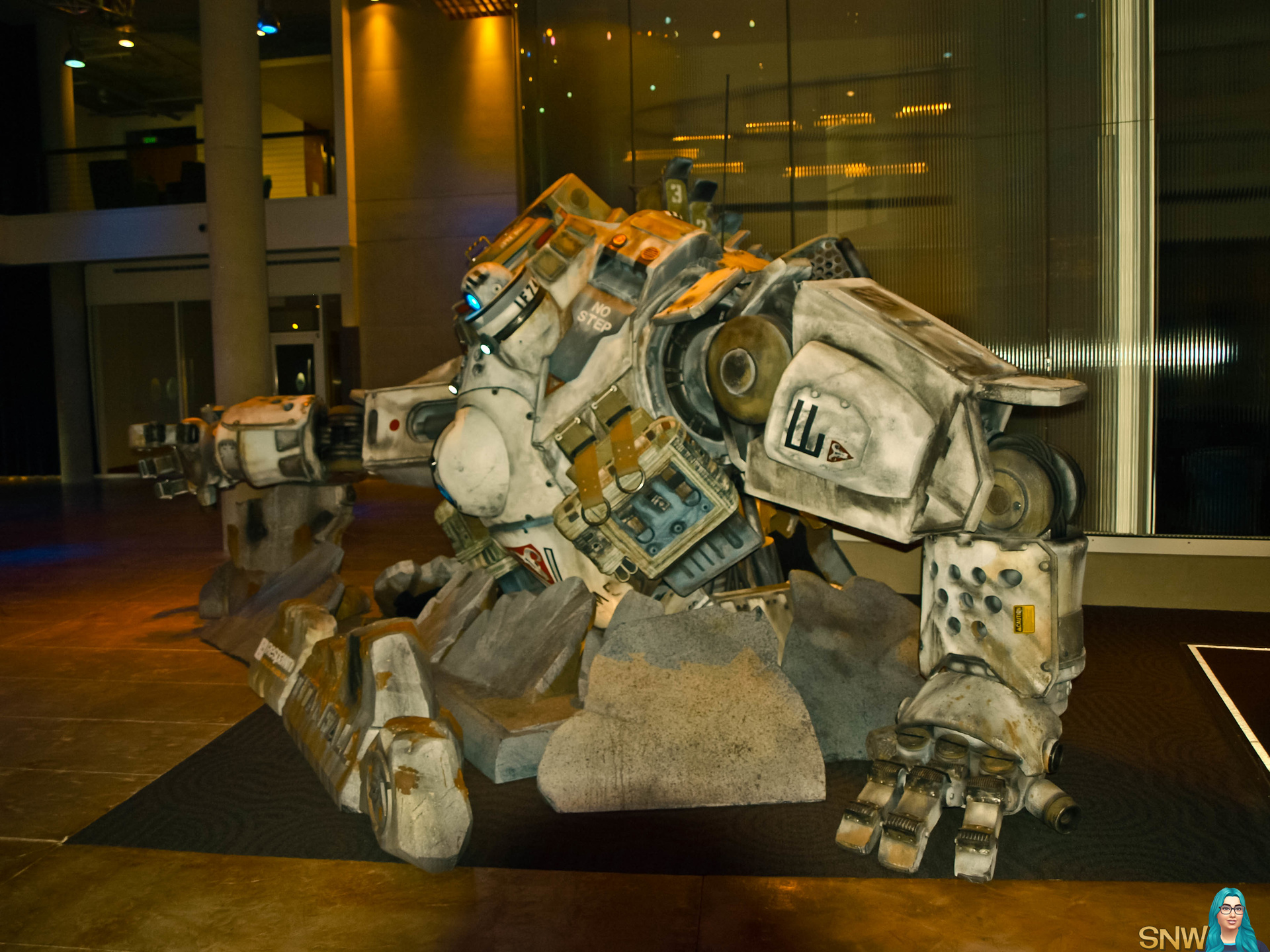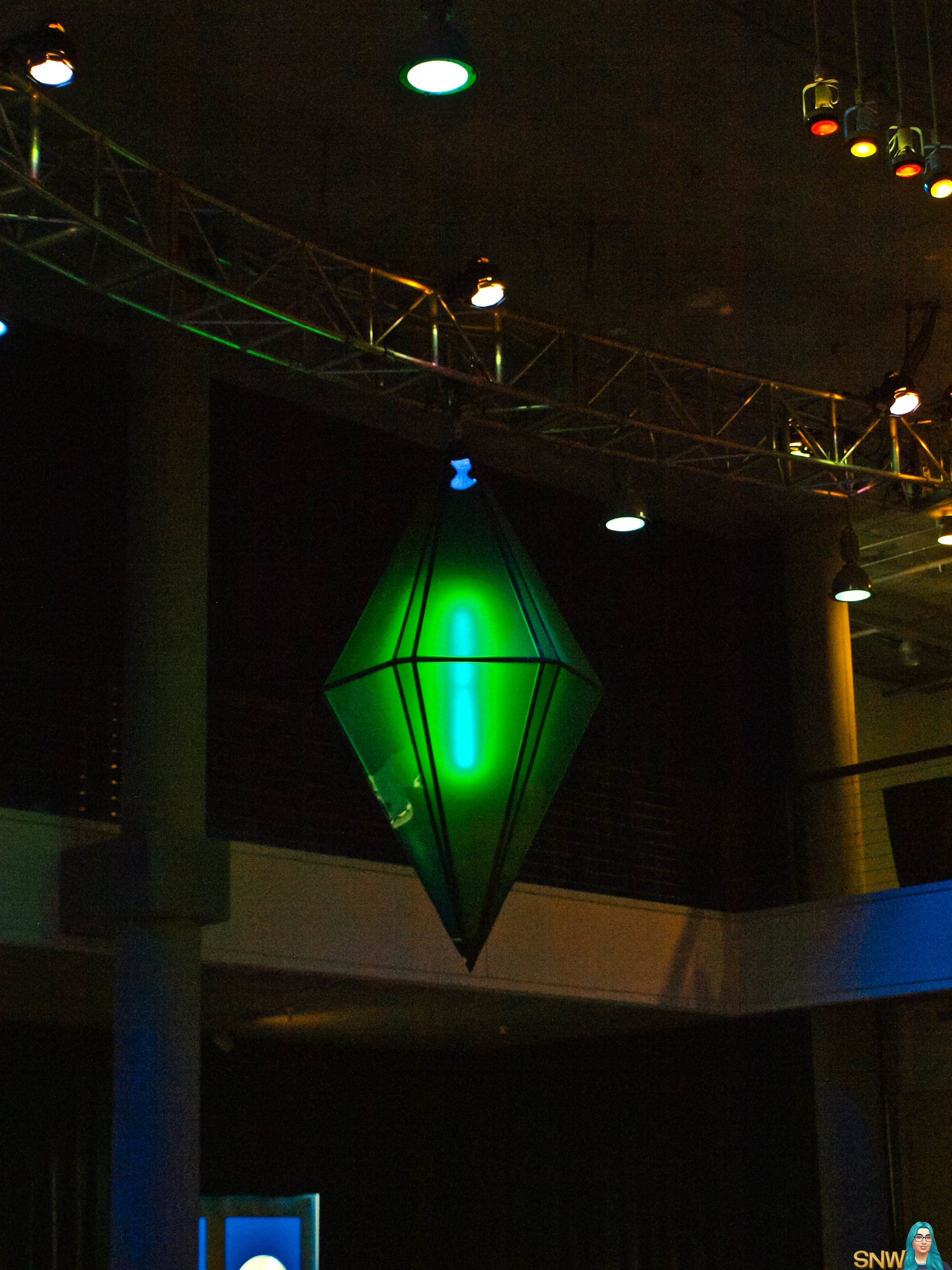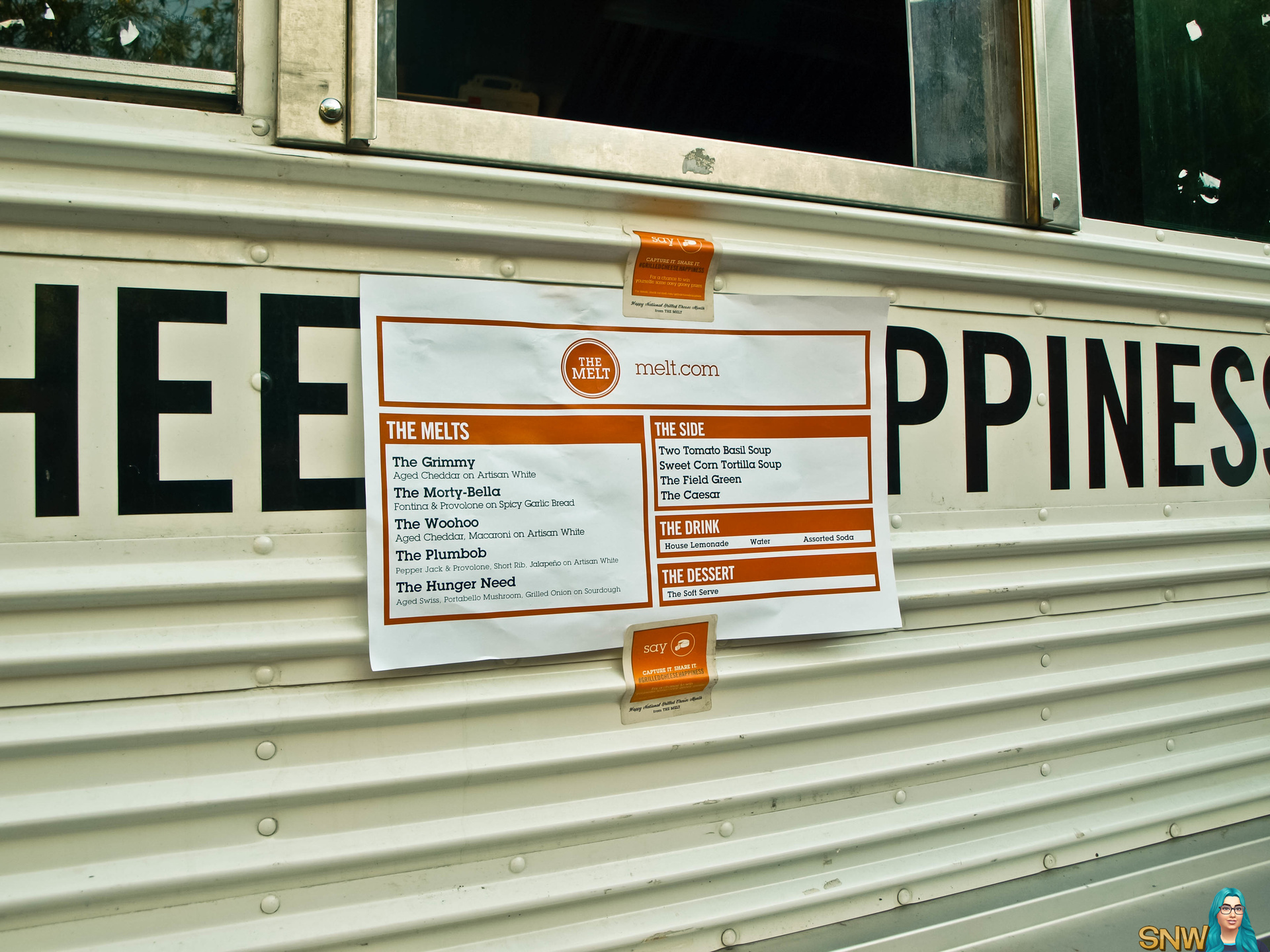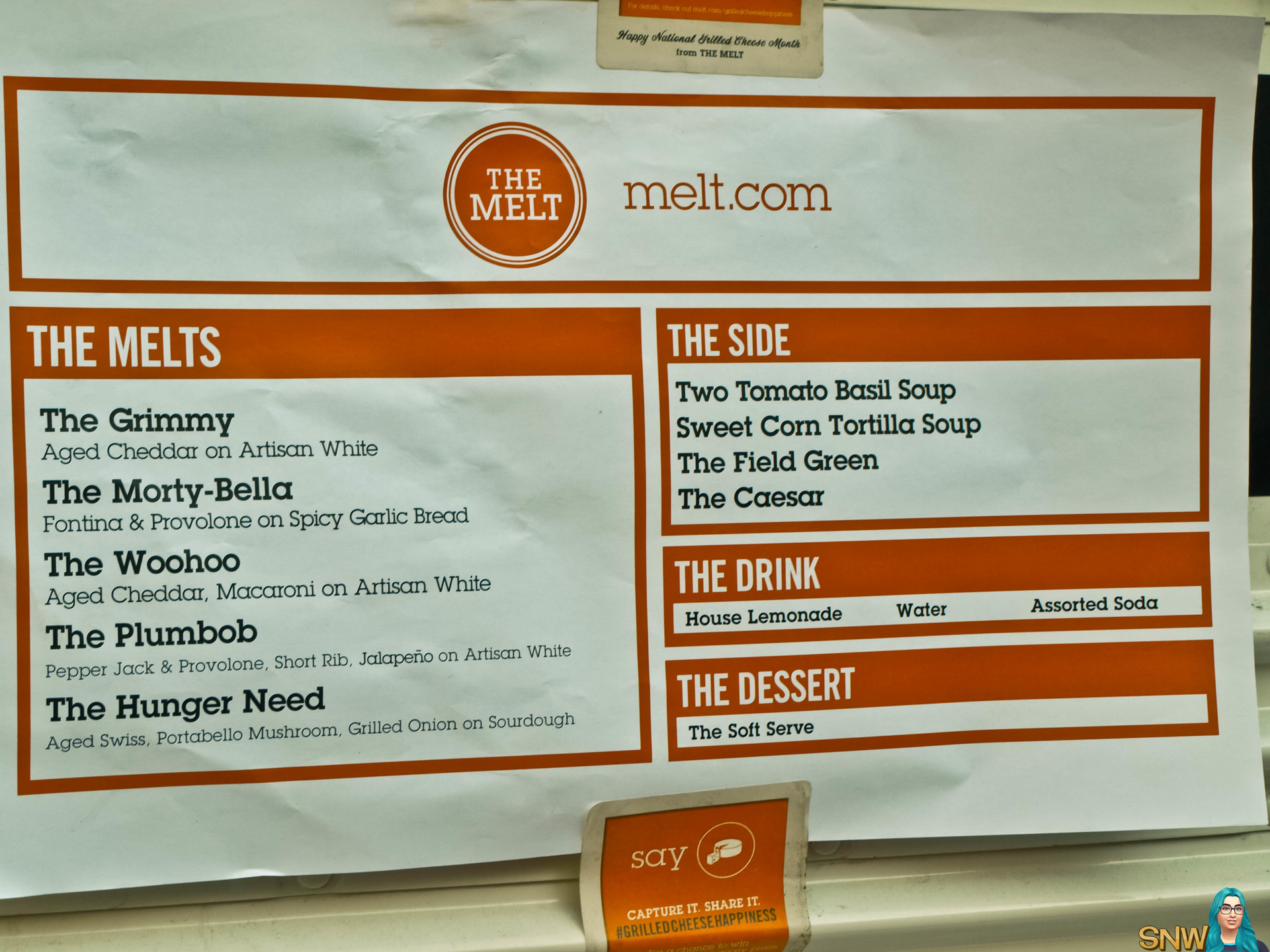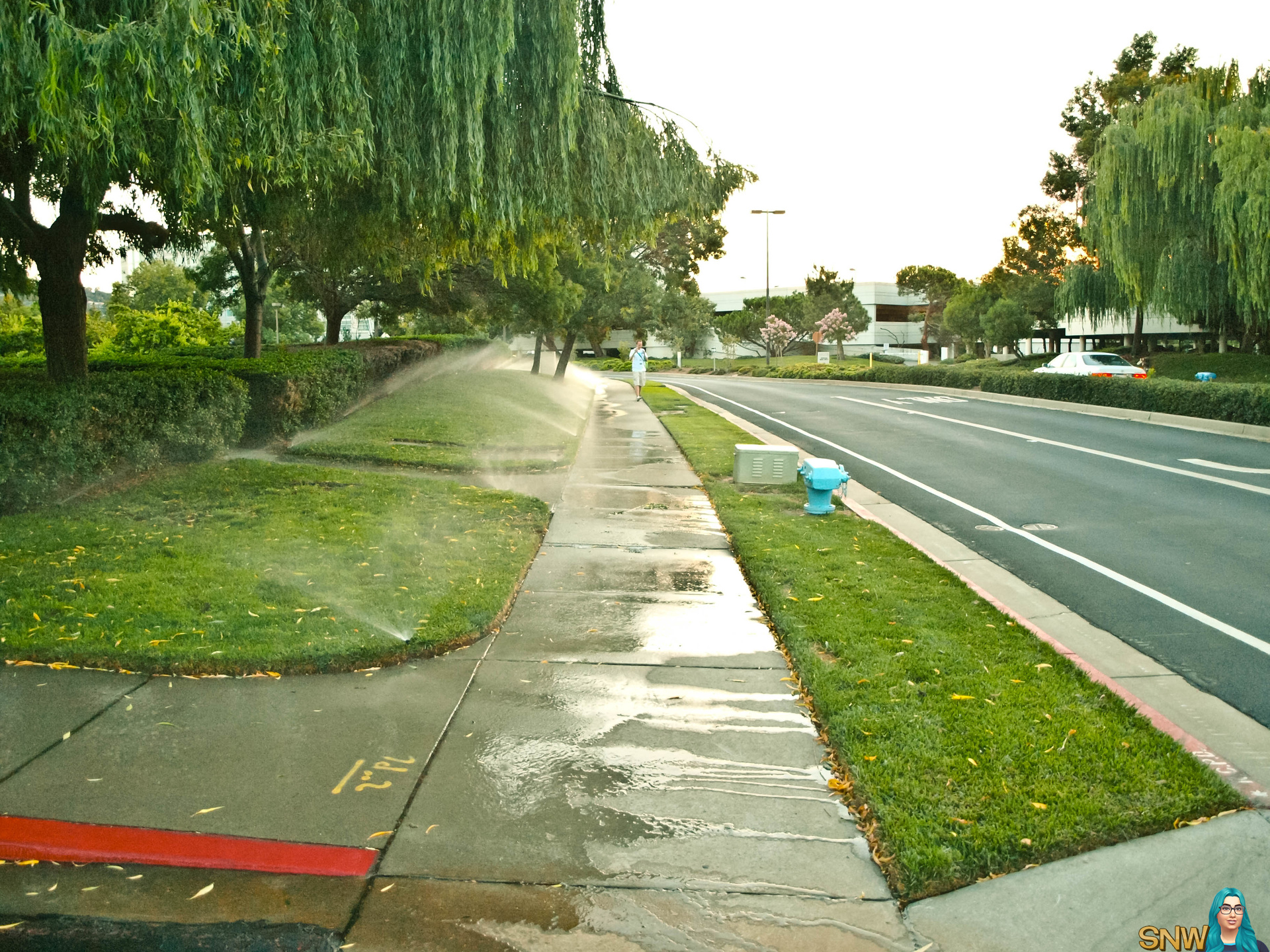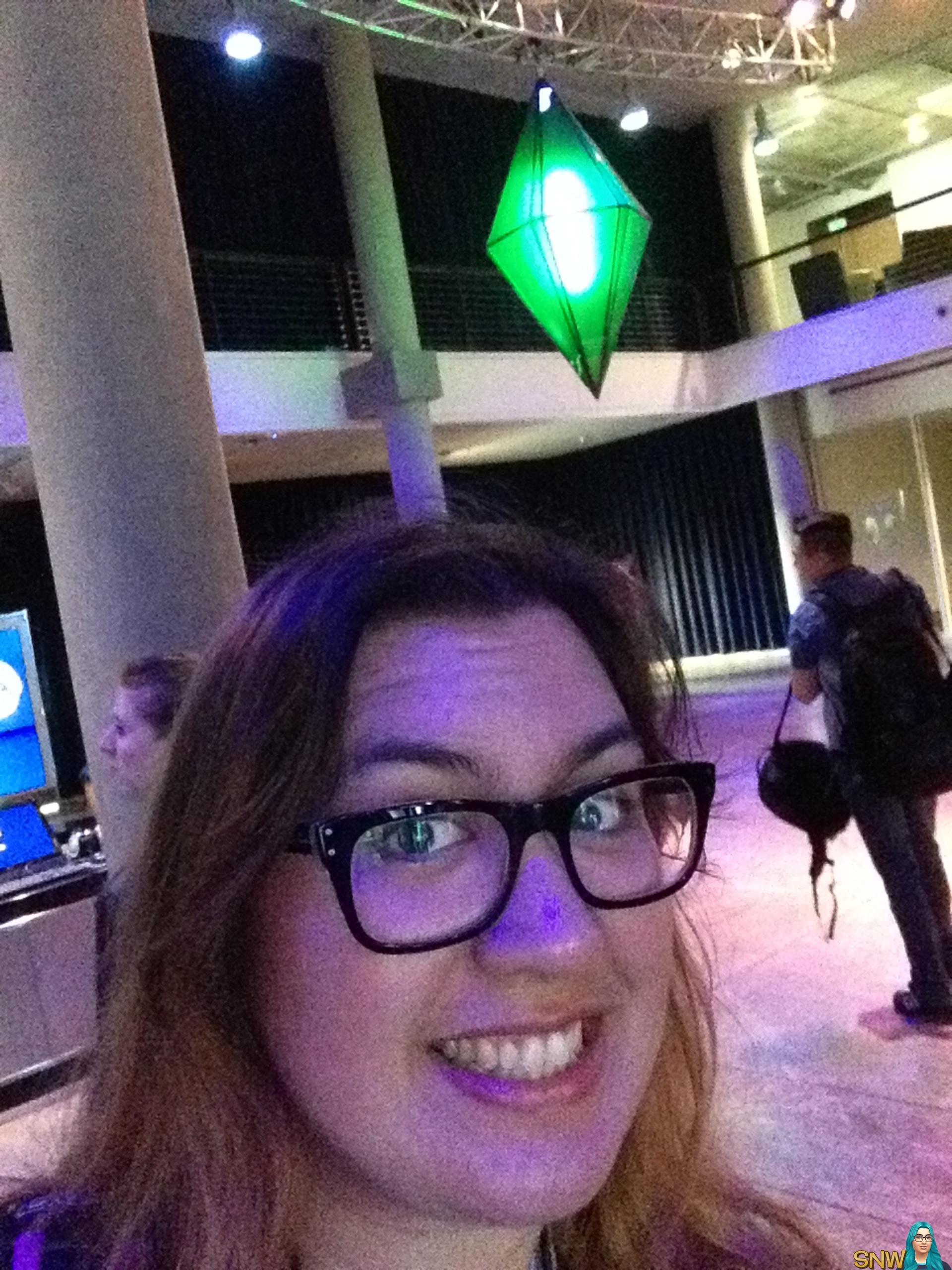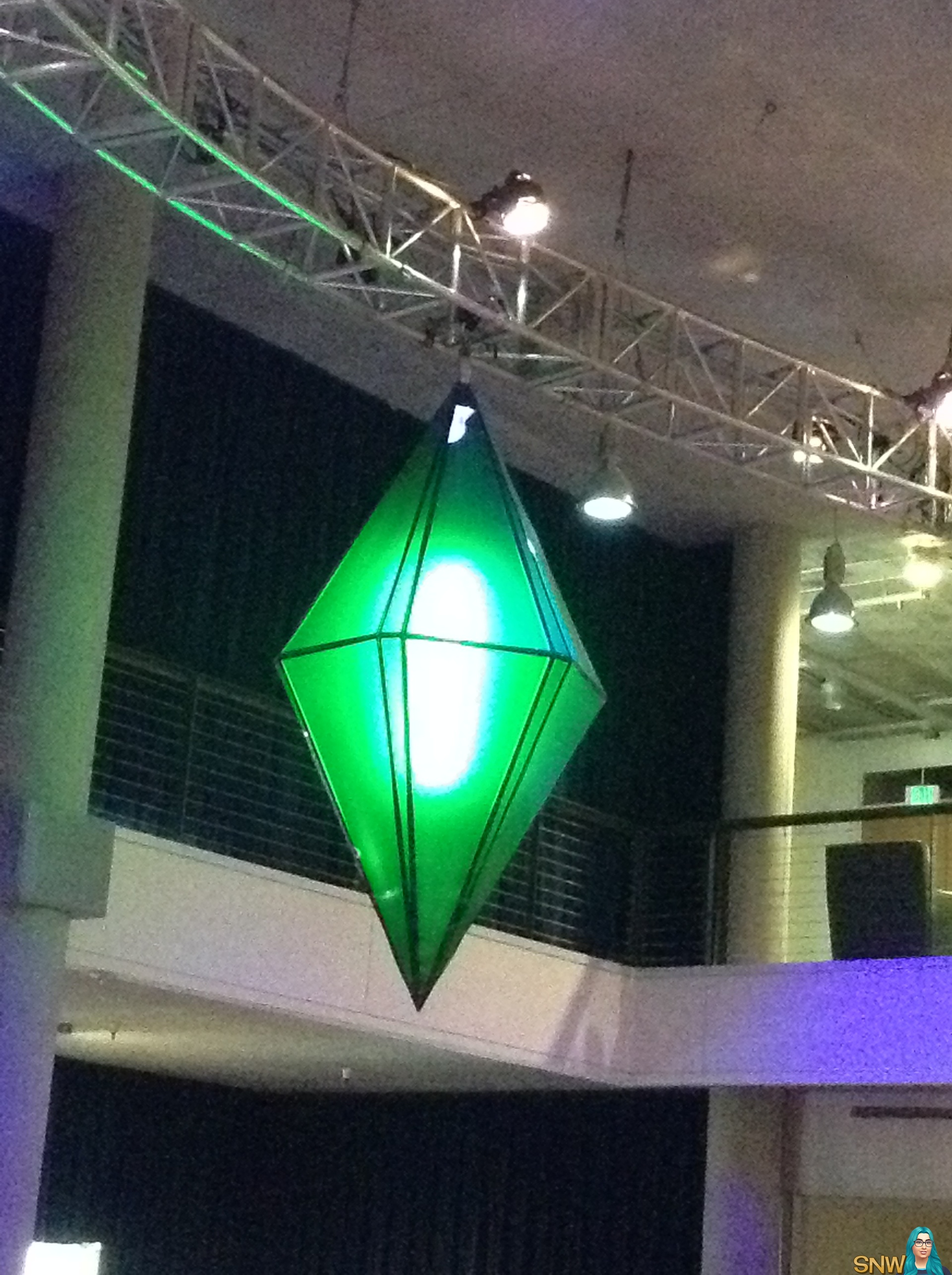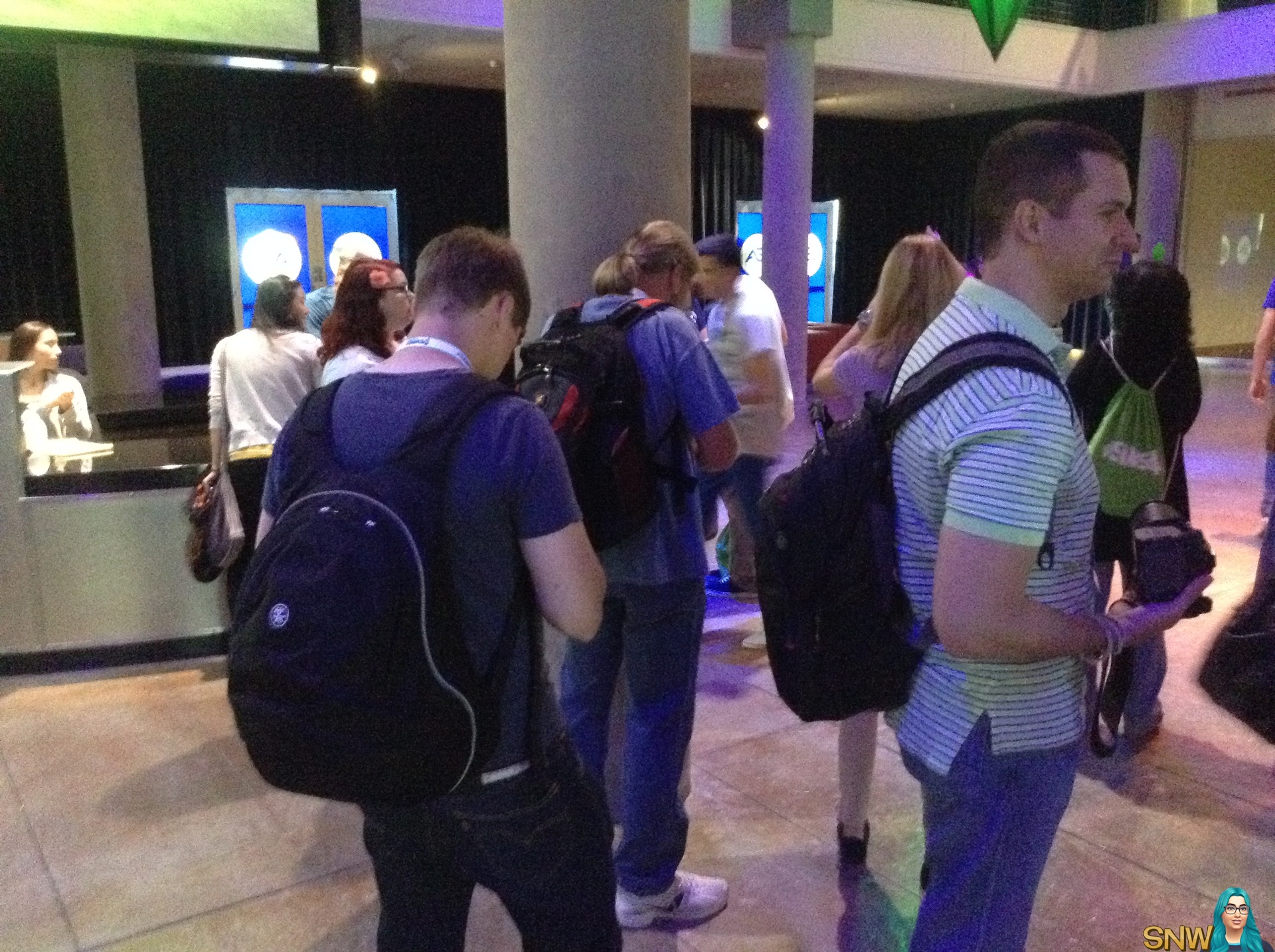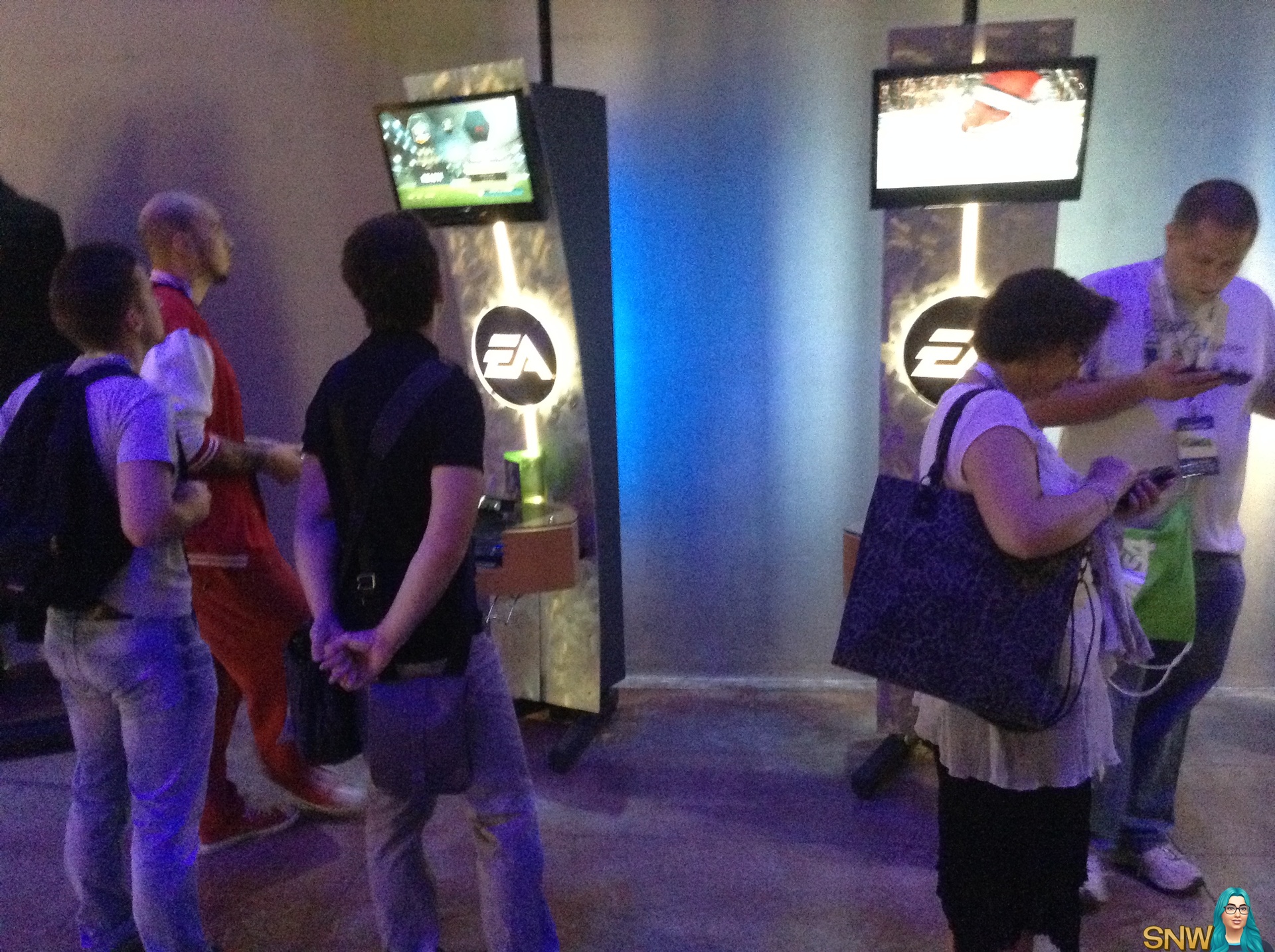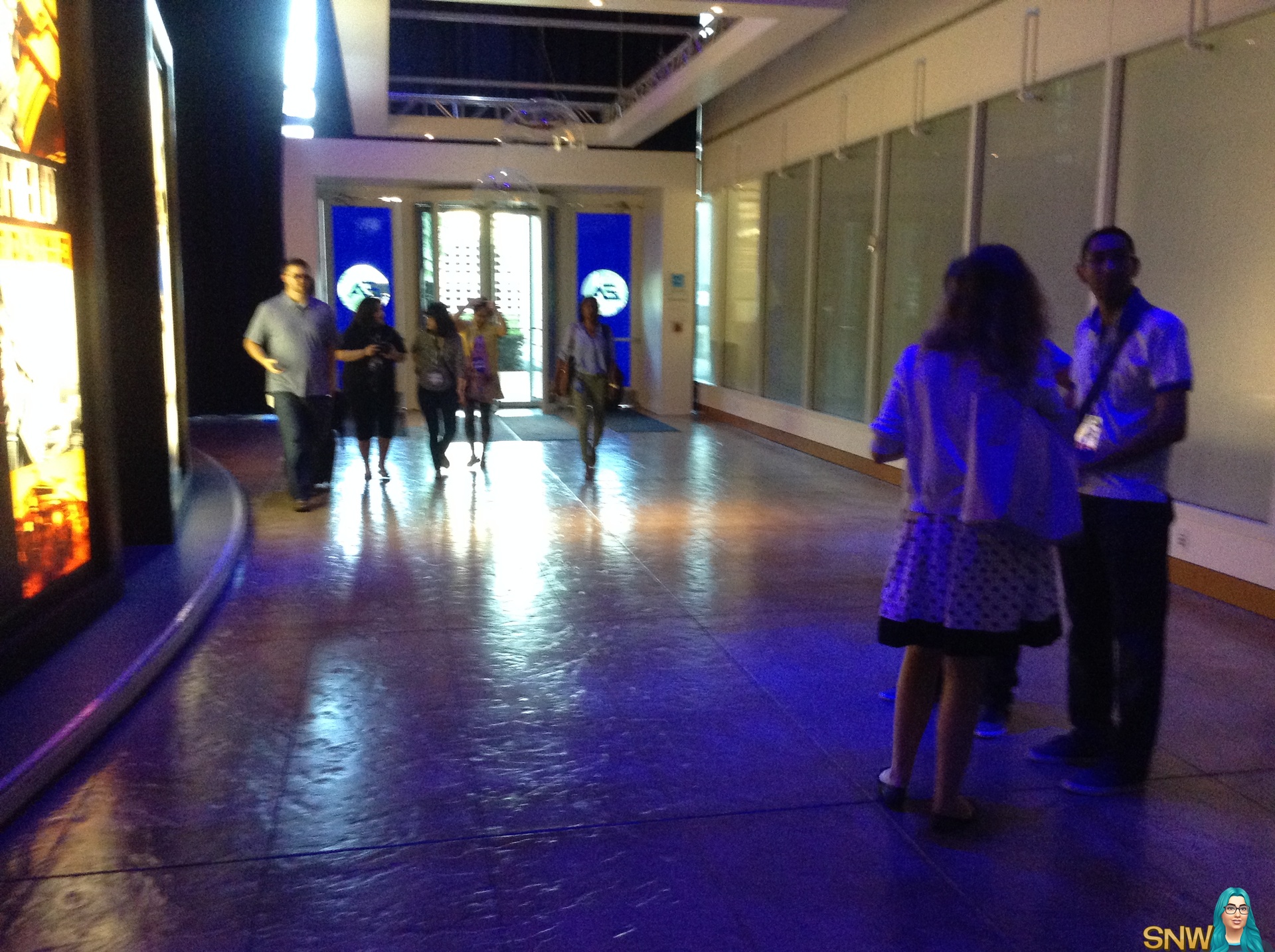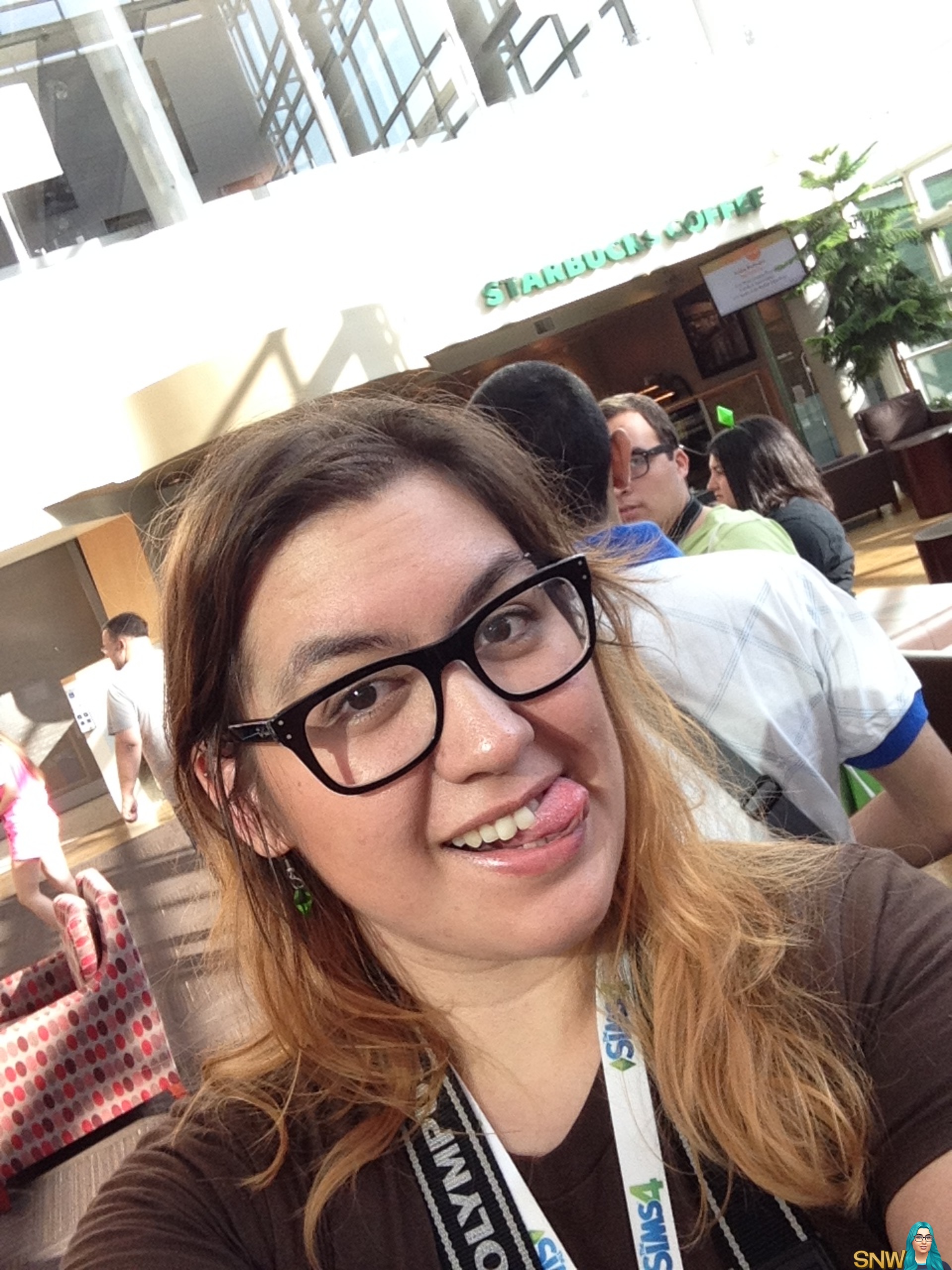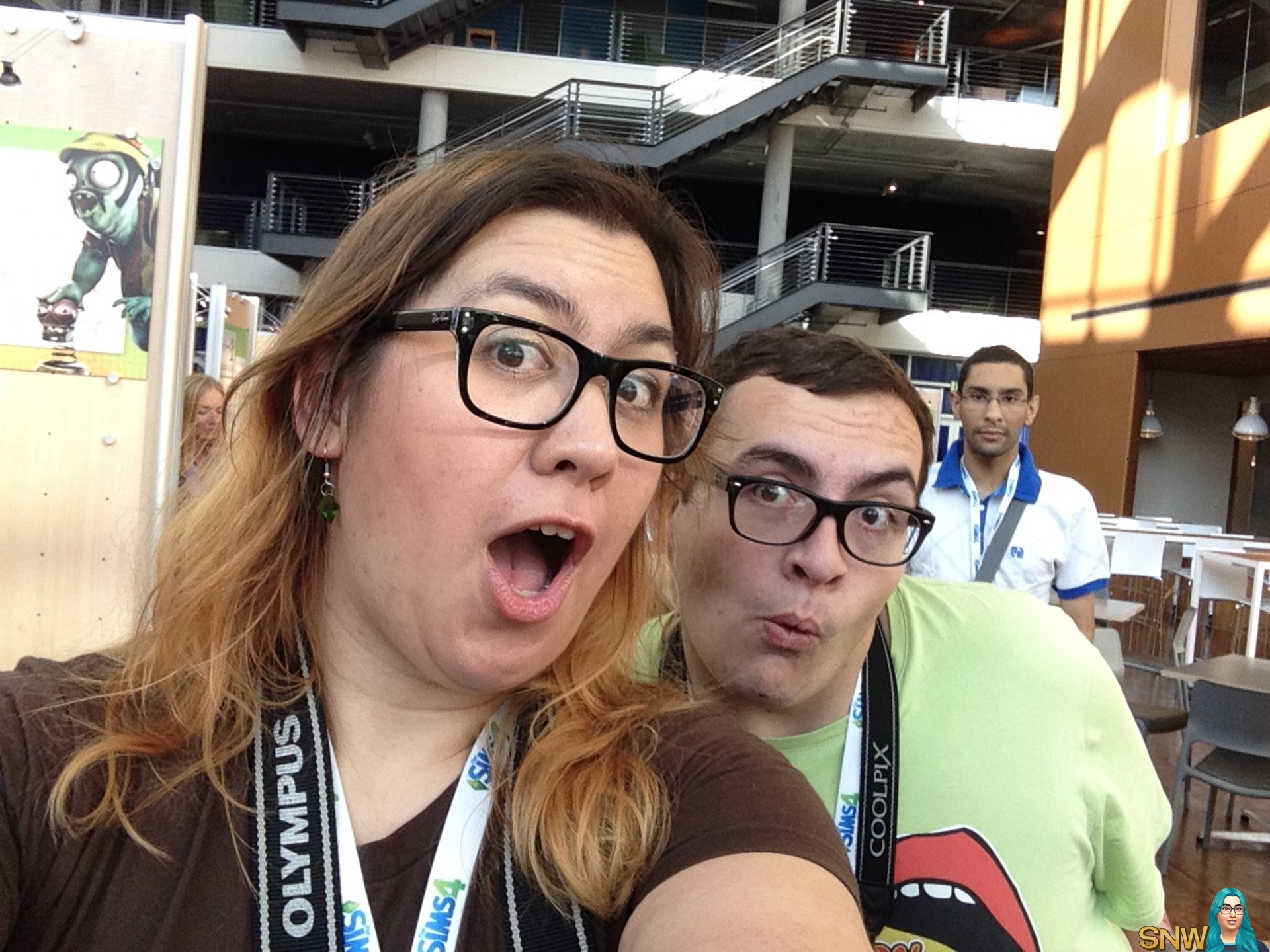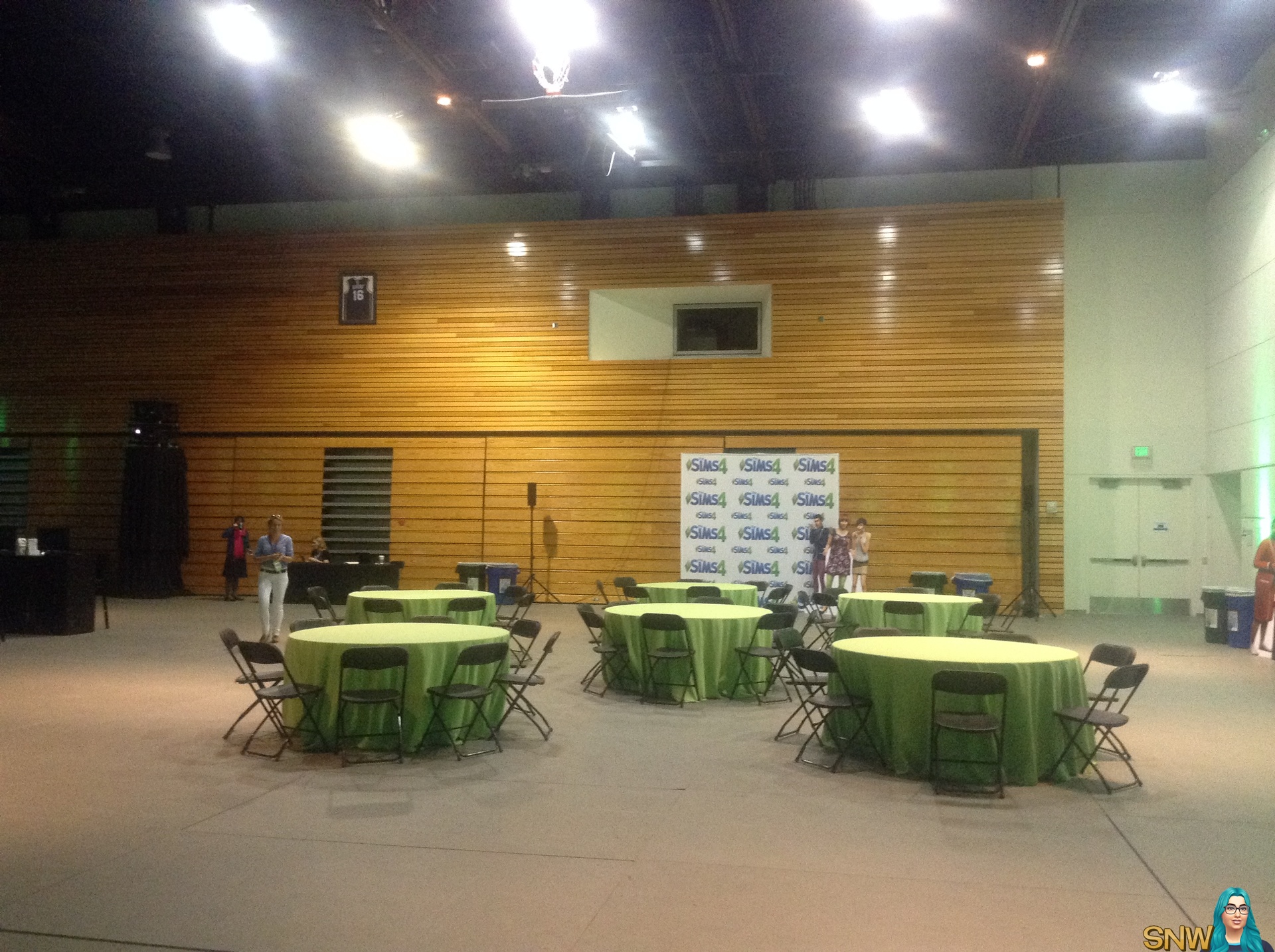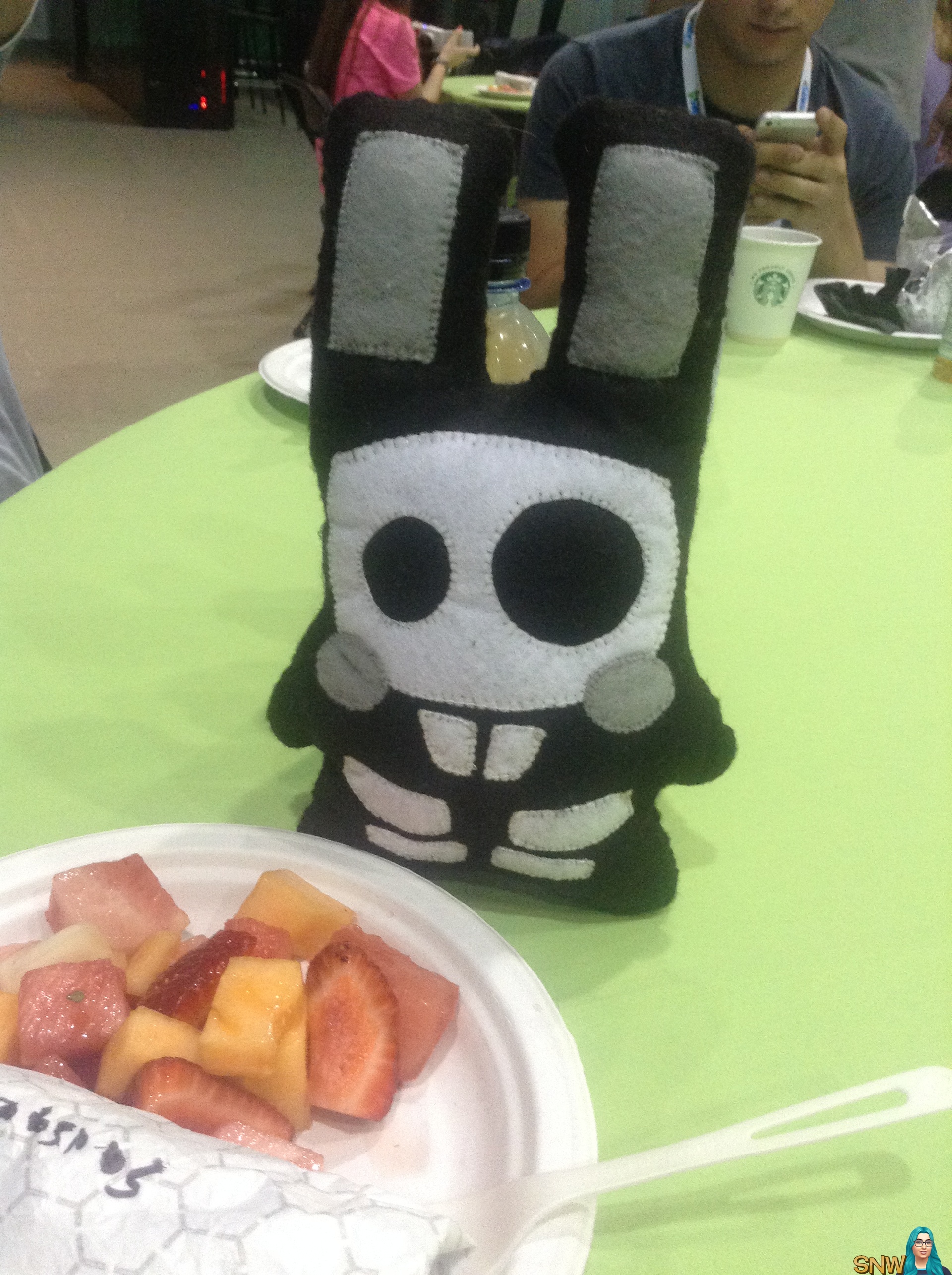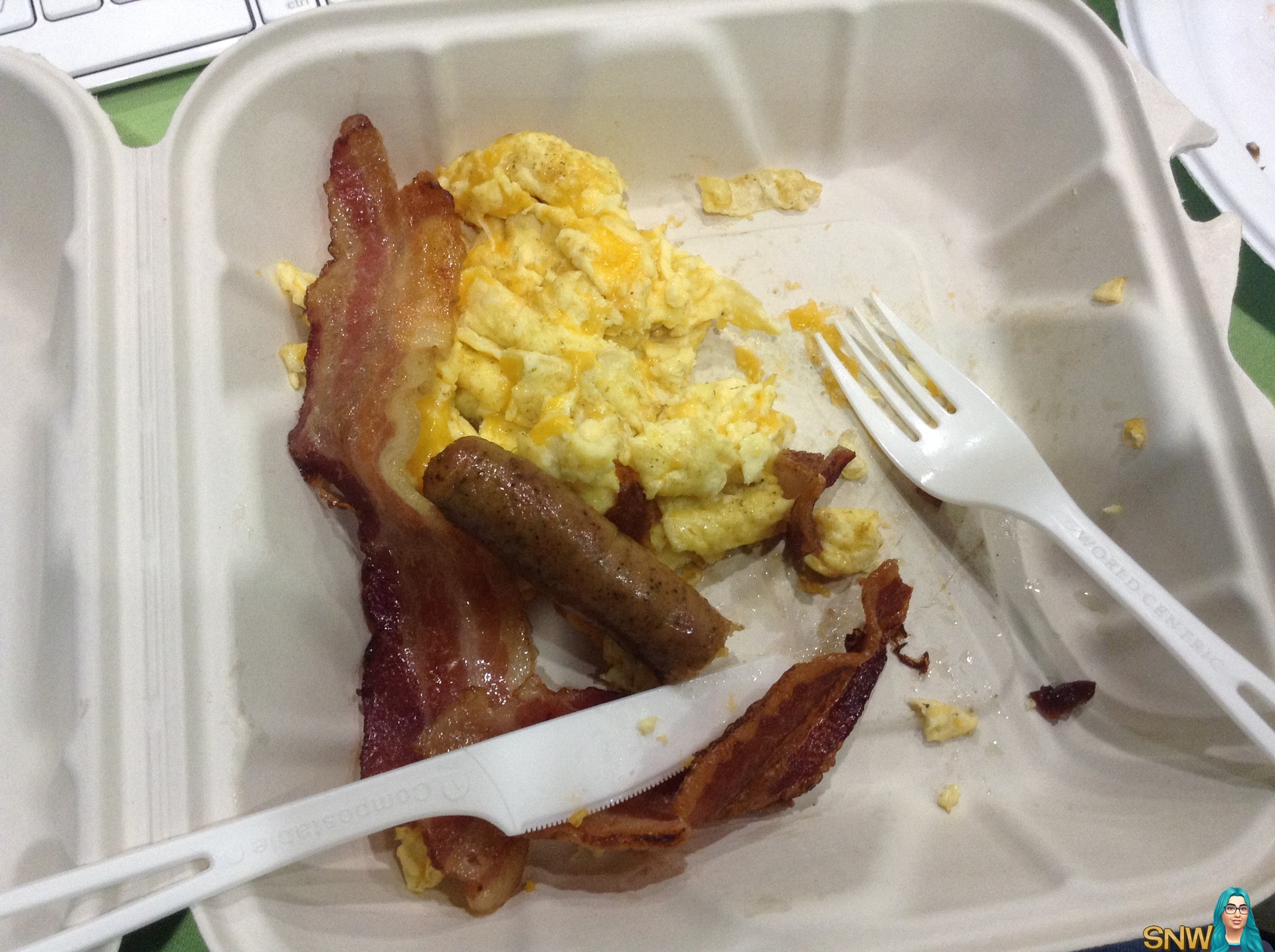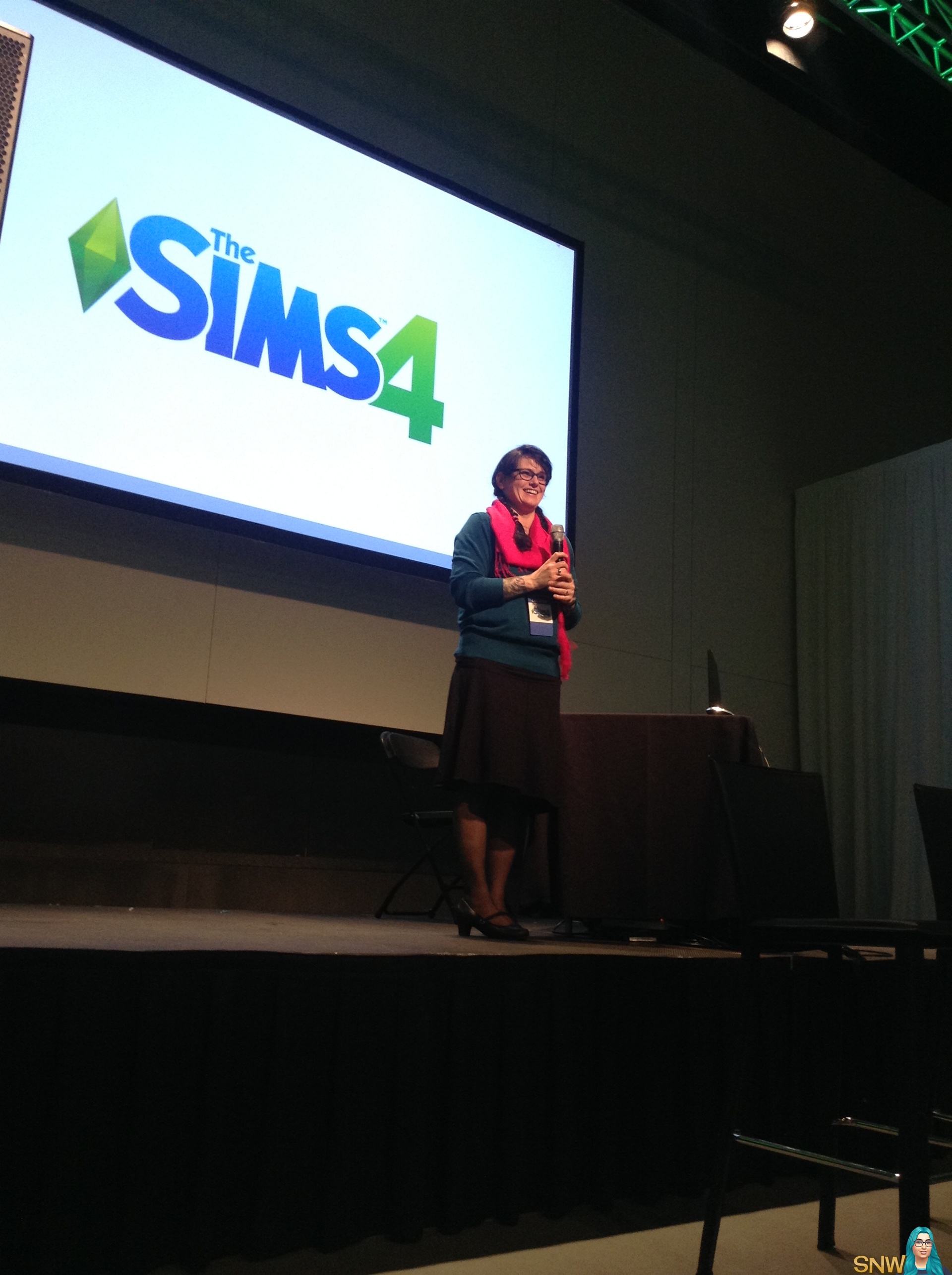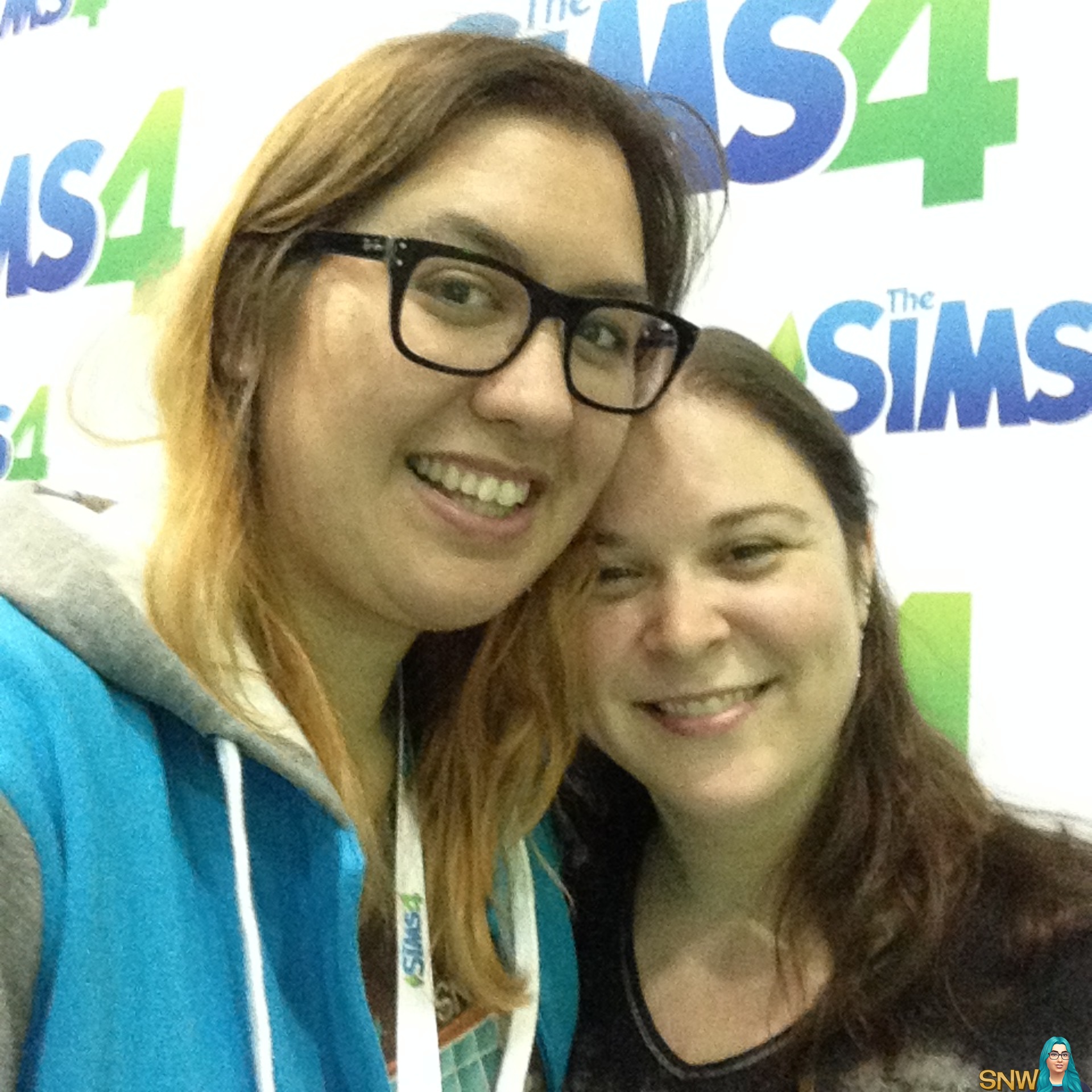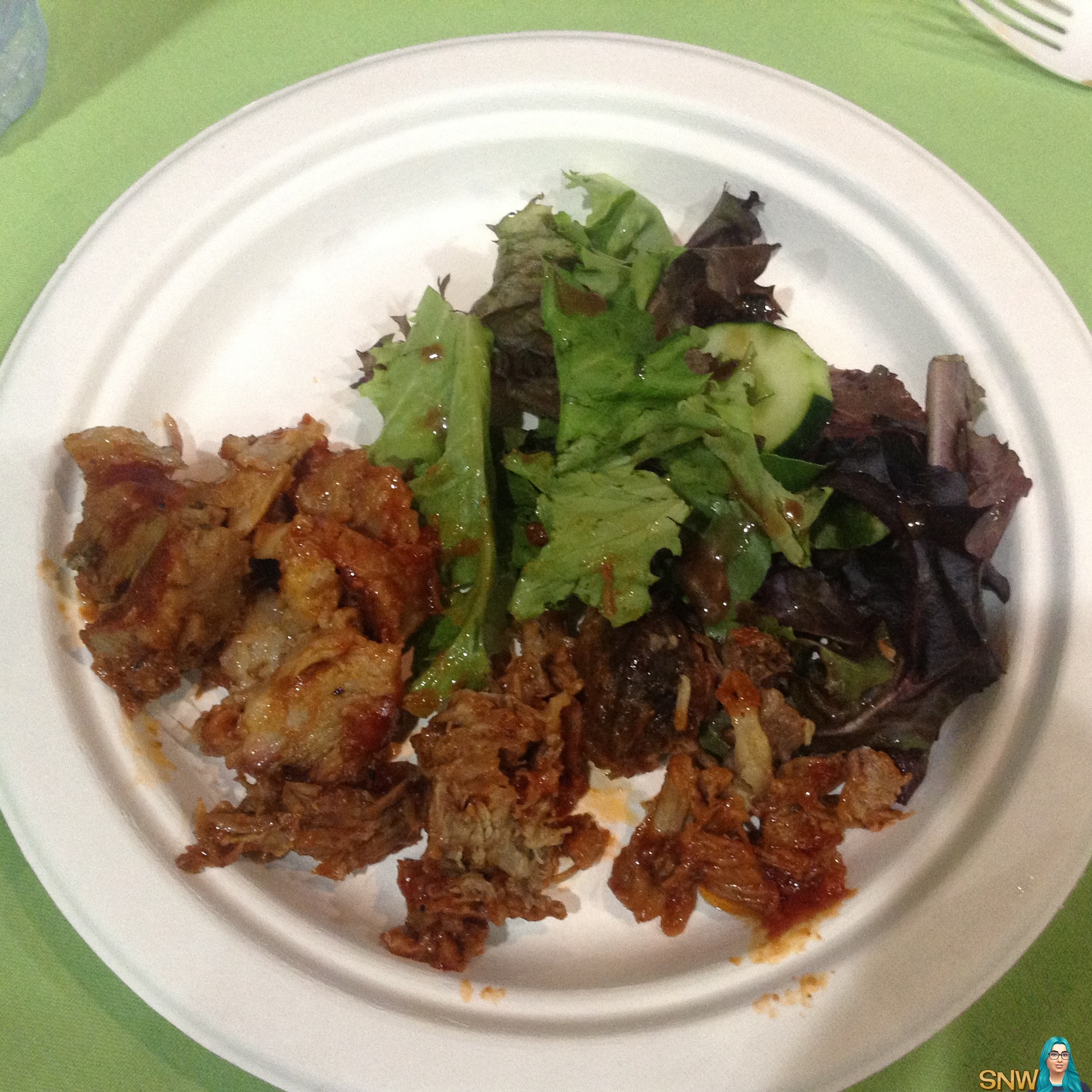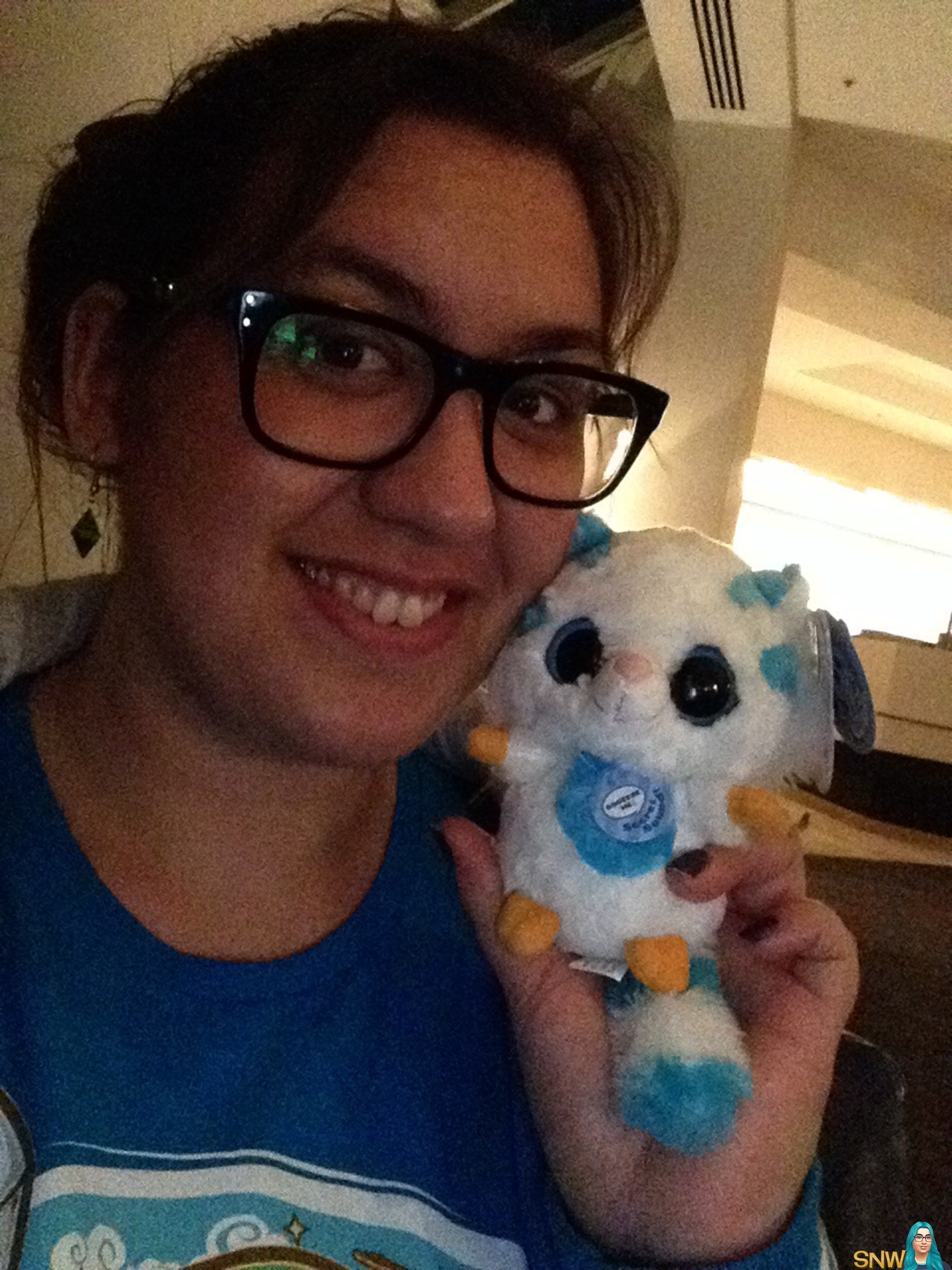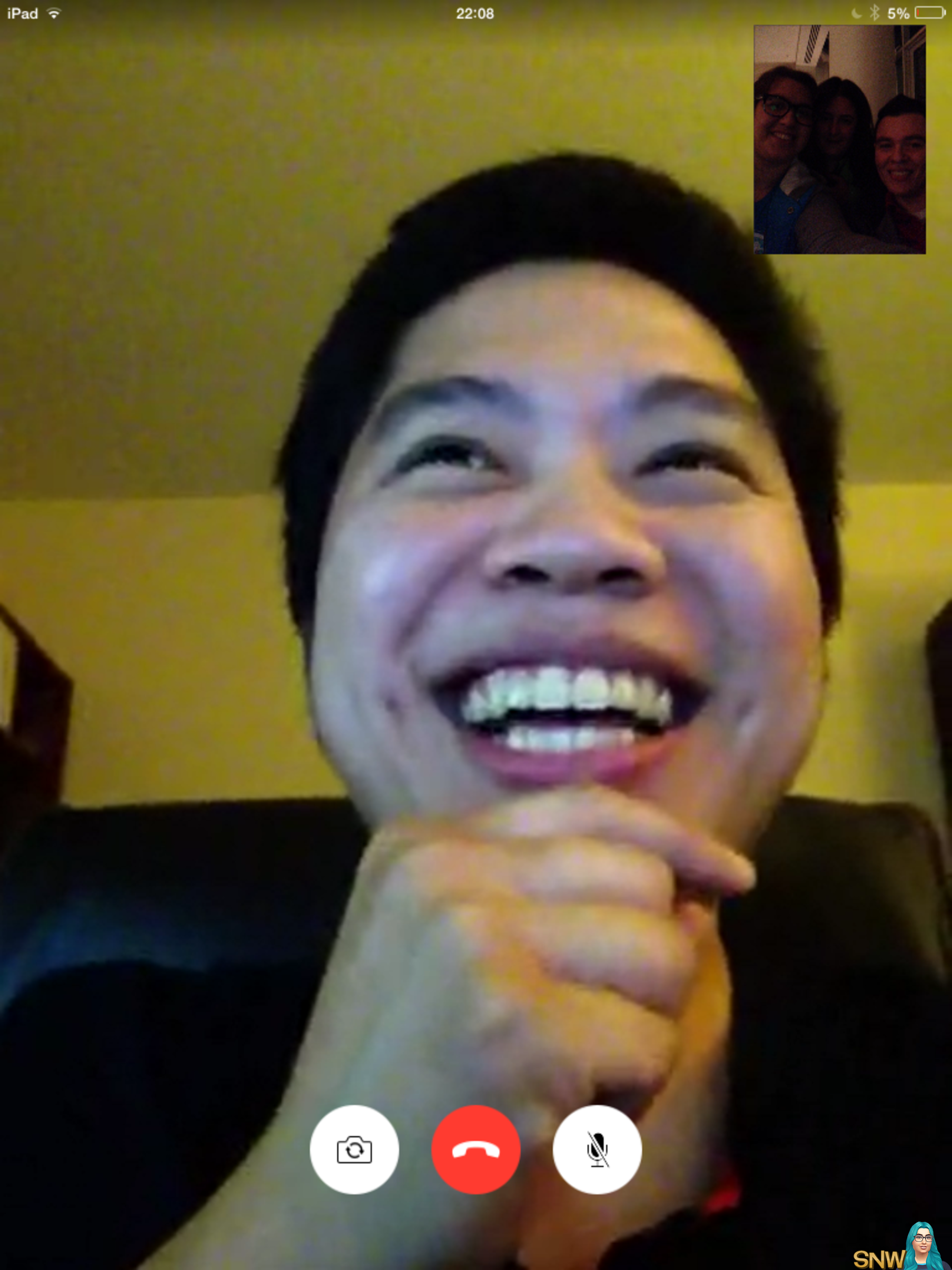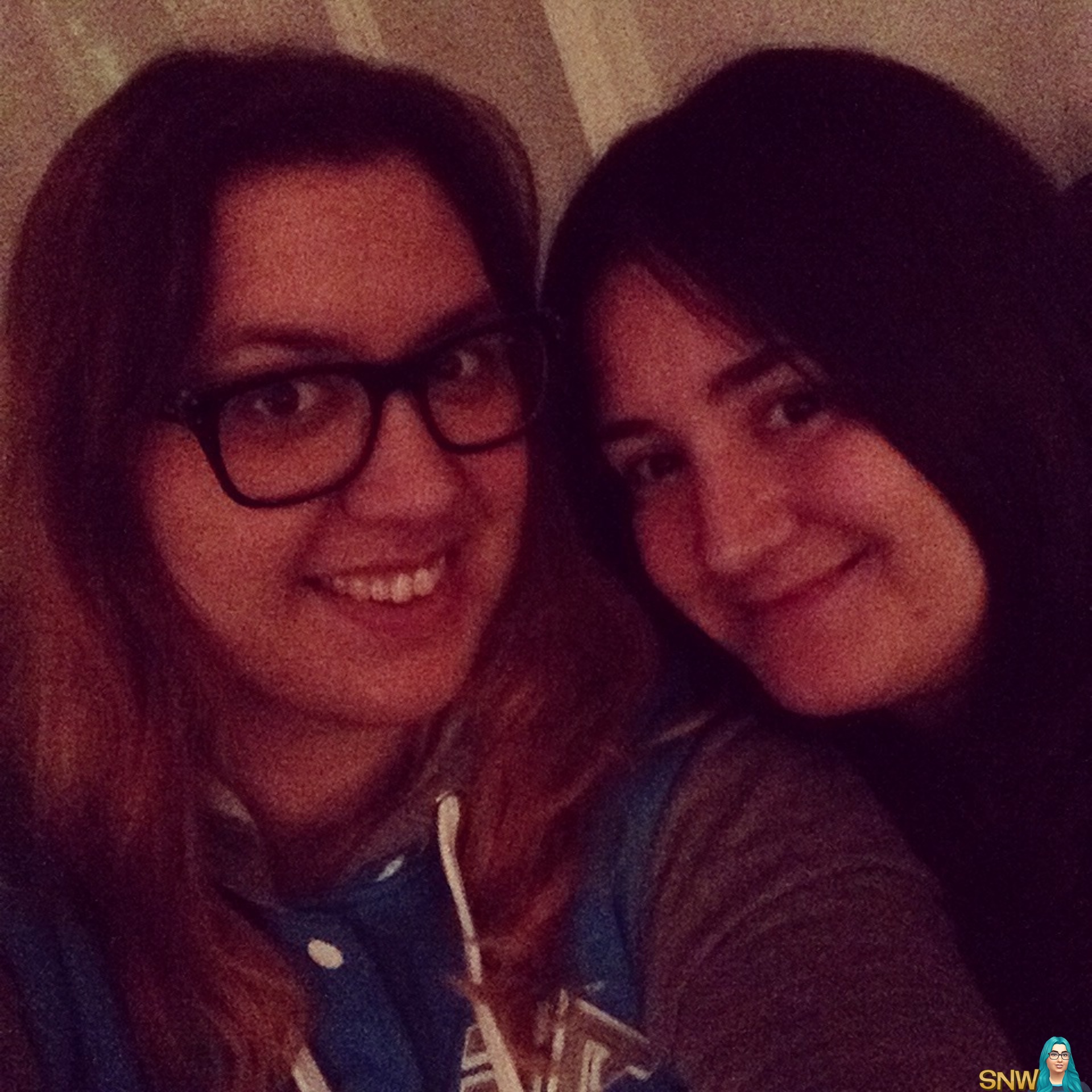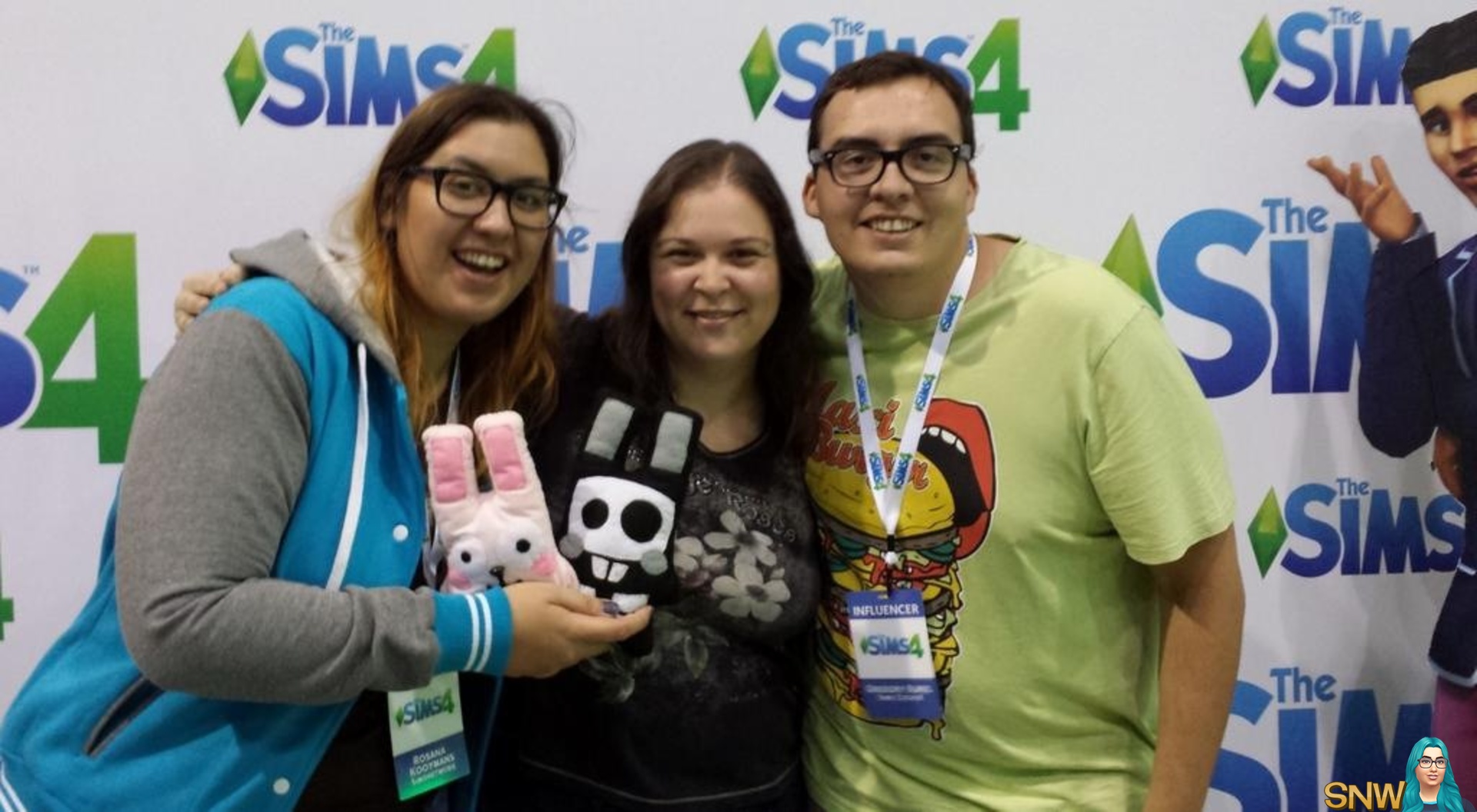 Go back to Creator's Camp overview!
Day 2 (Tuesday) was when it really started. We had to be downstairs in the lobby at 8:15. From there we walked to the EA campus.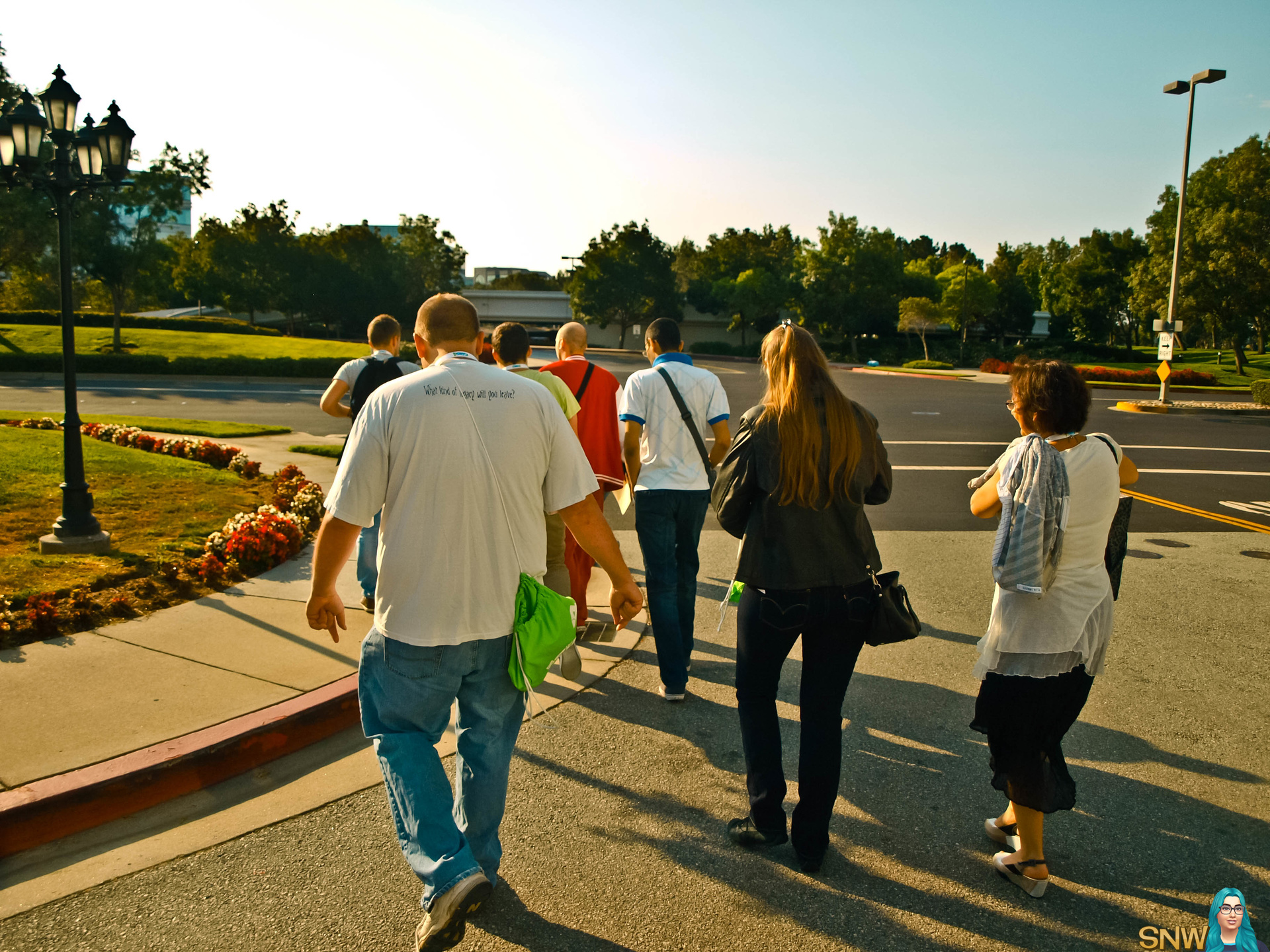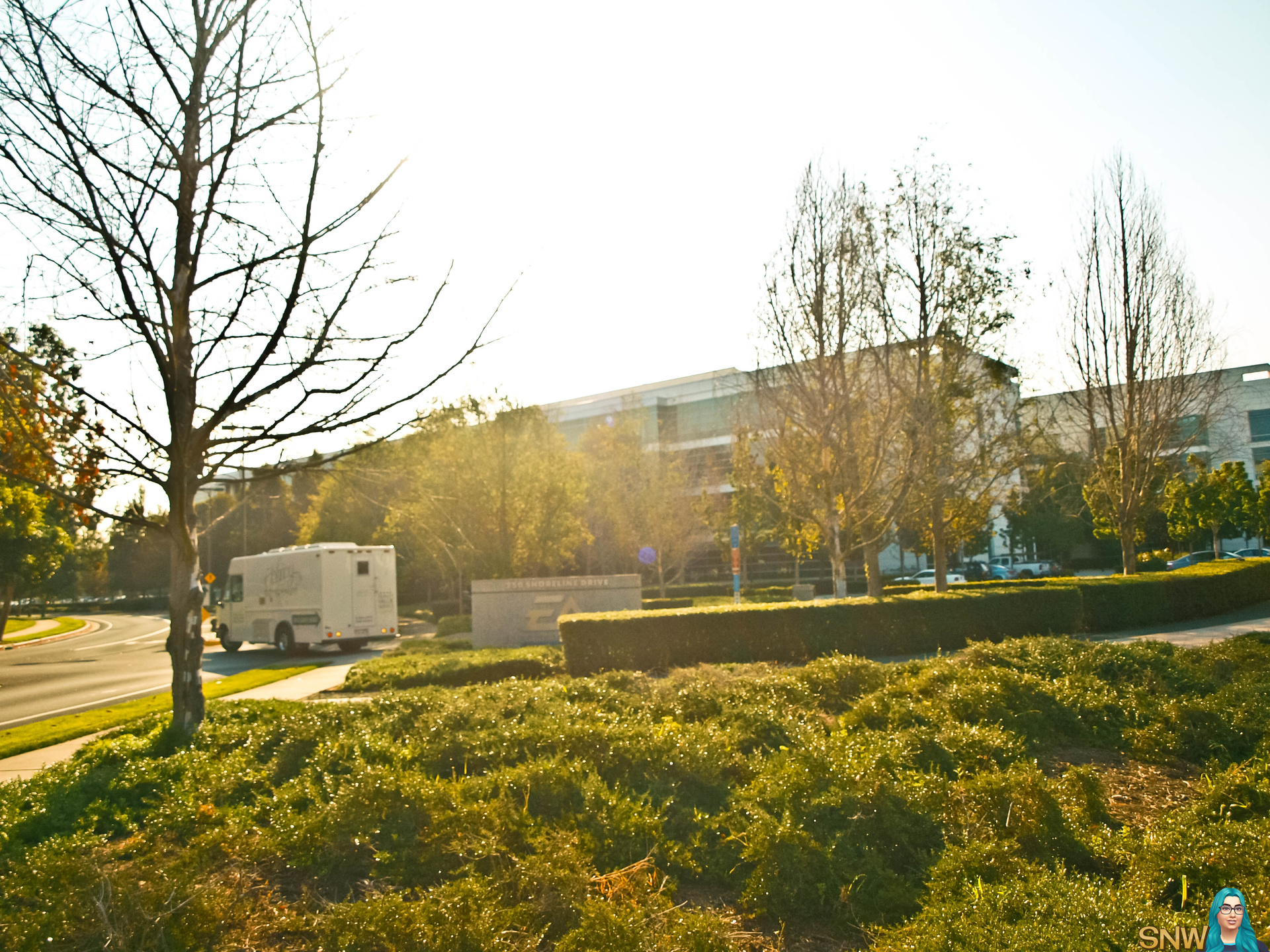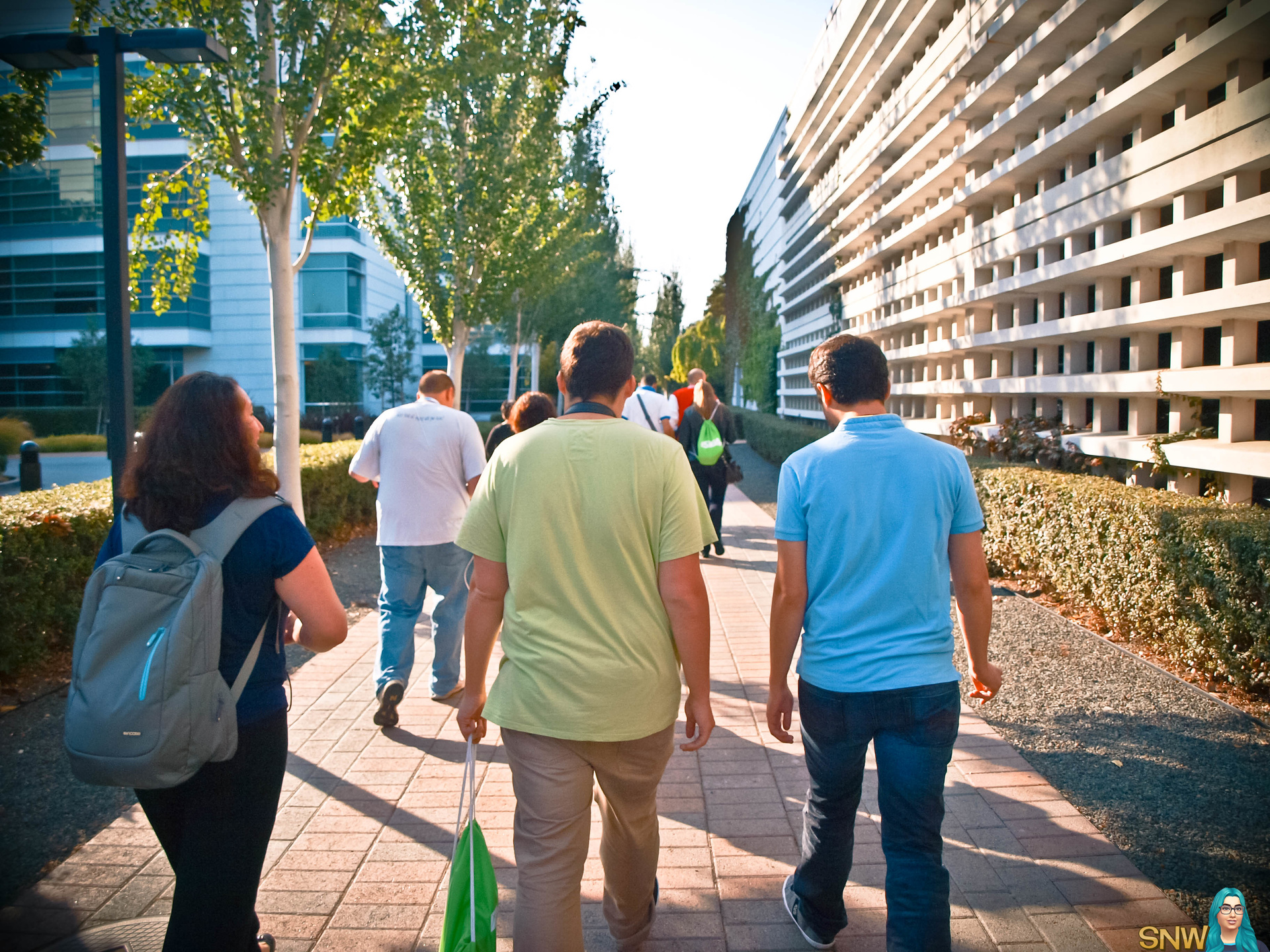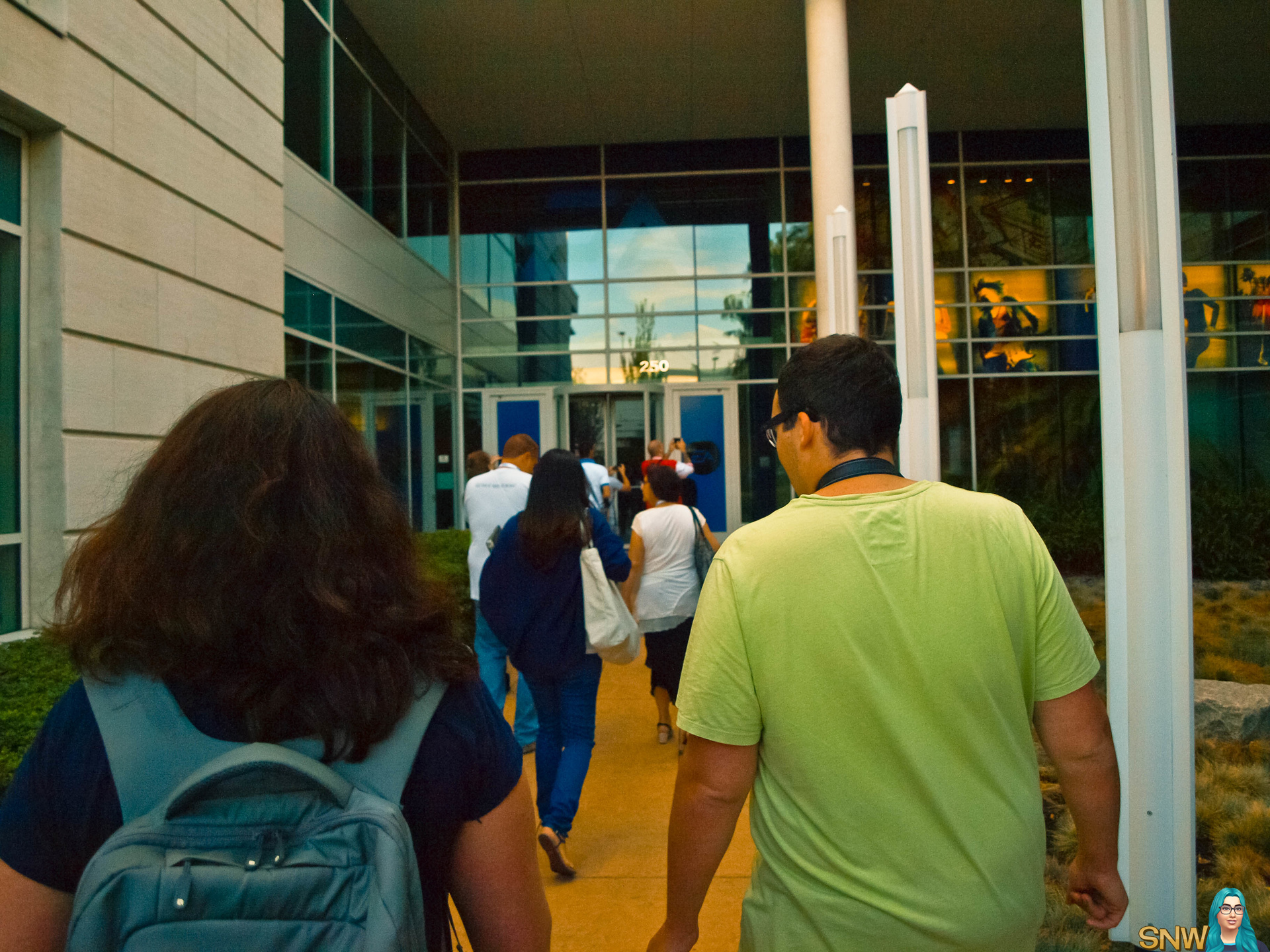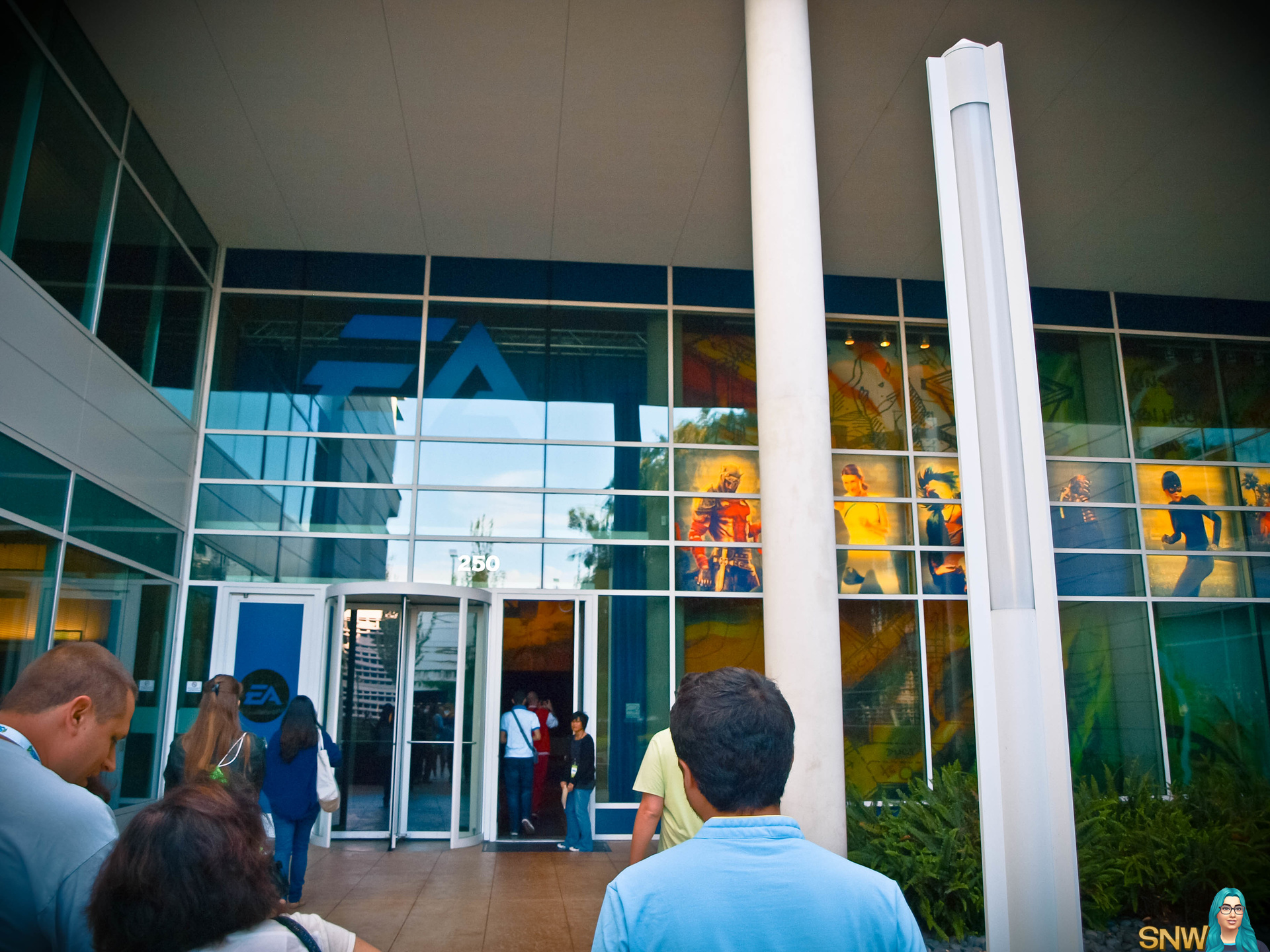 First we went through the entrance where you can find the huge plumbob...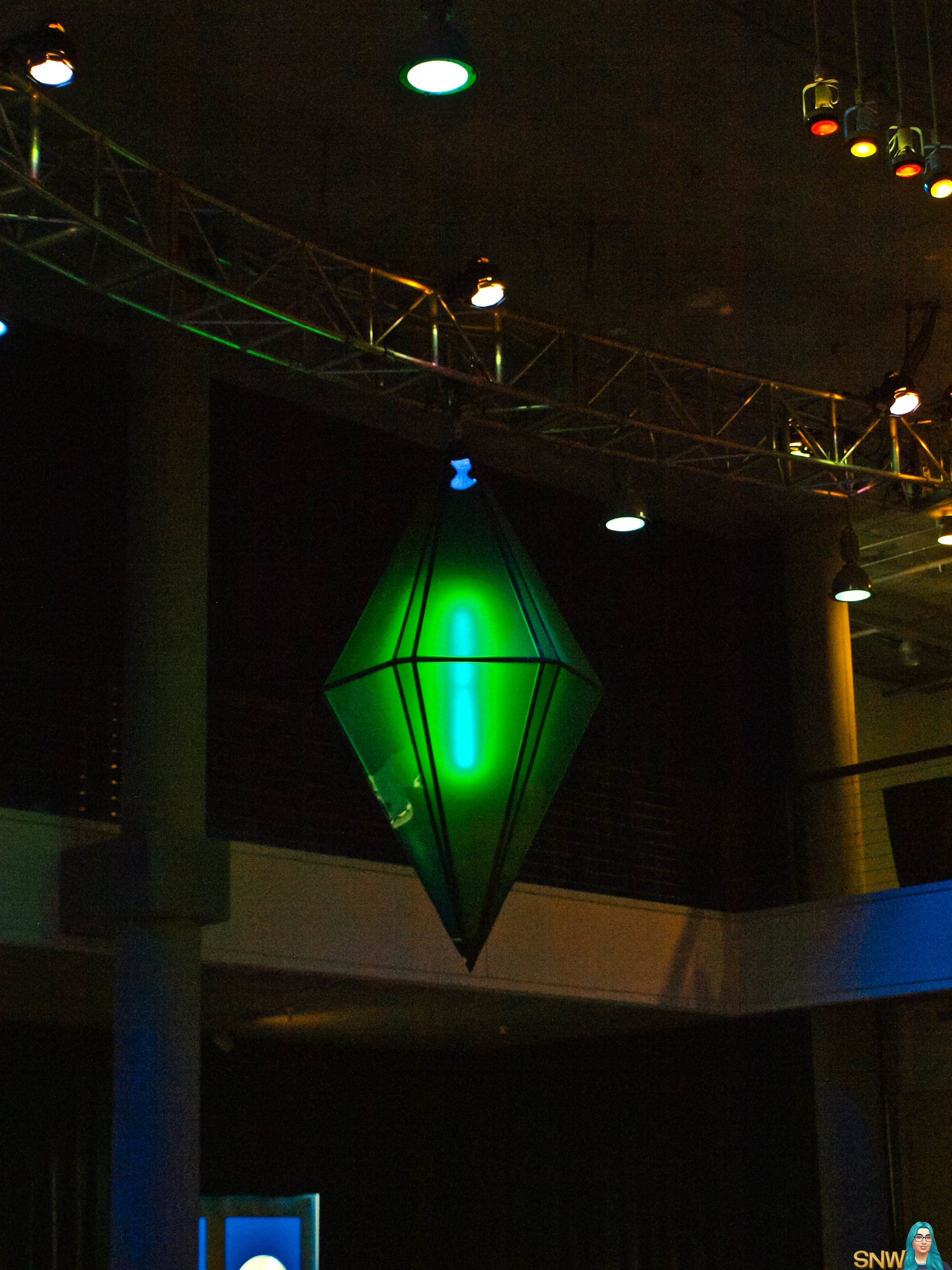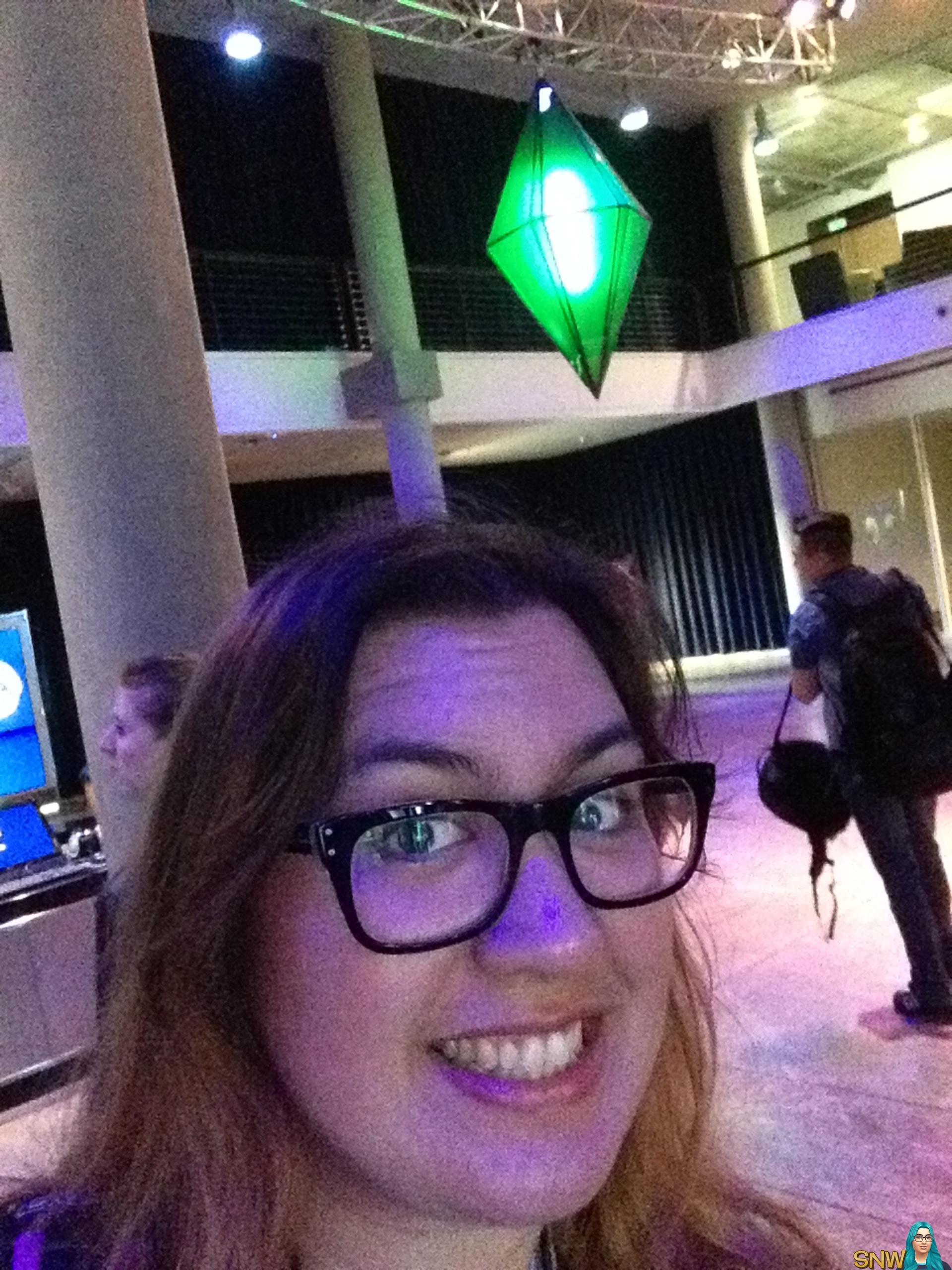 Look at me being all happy...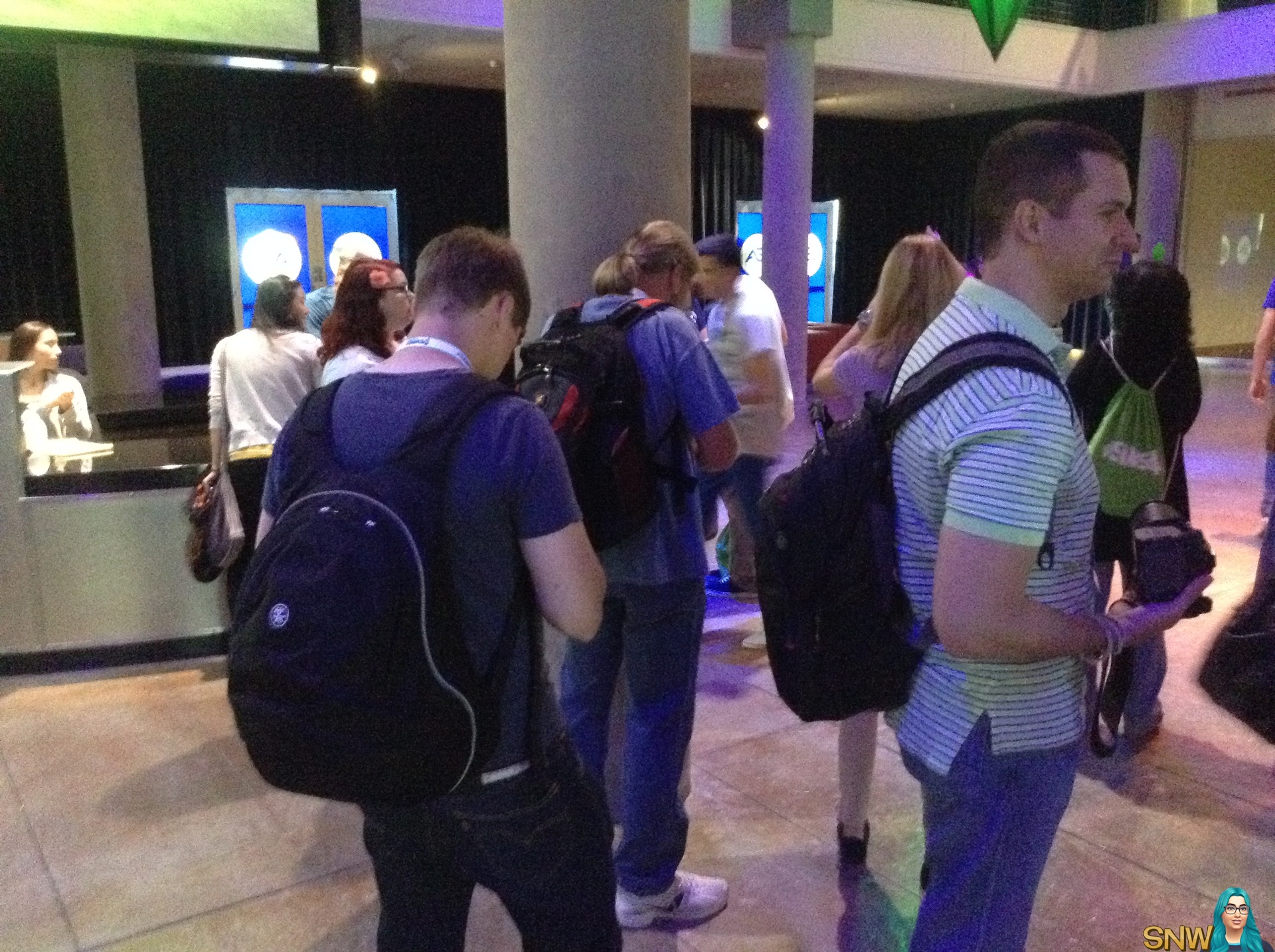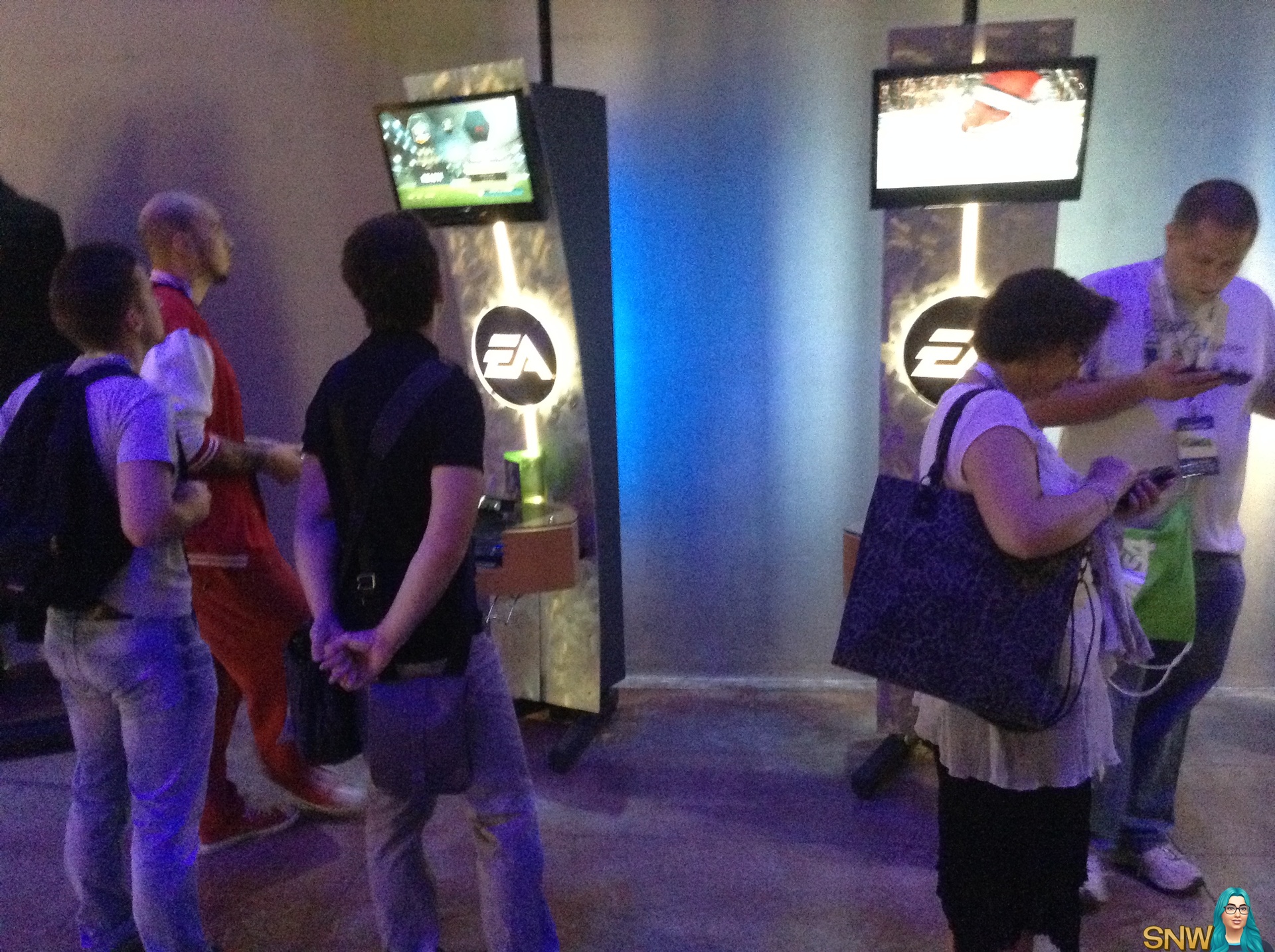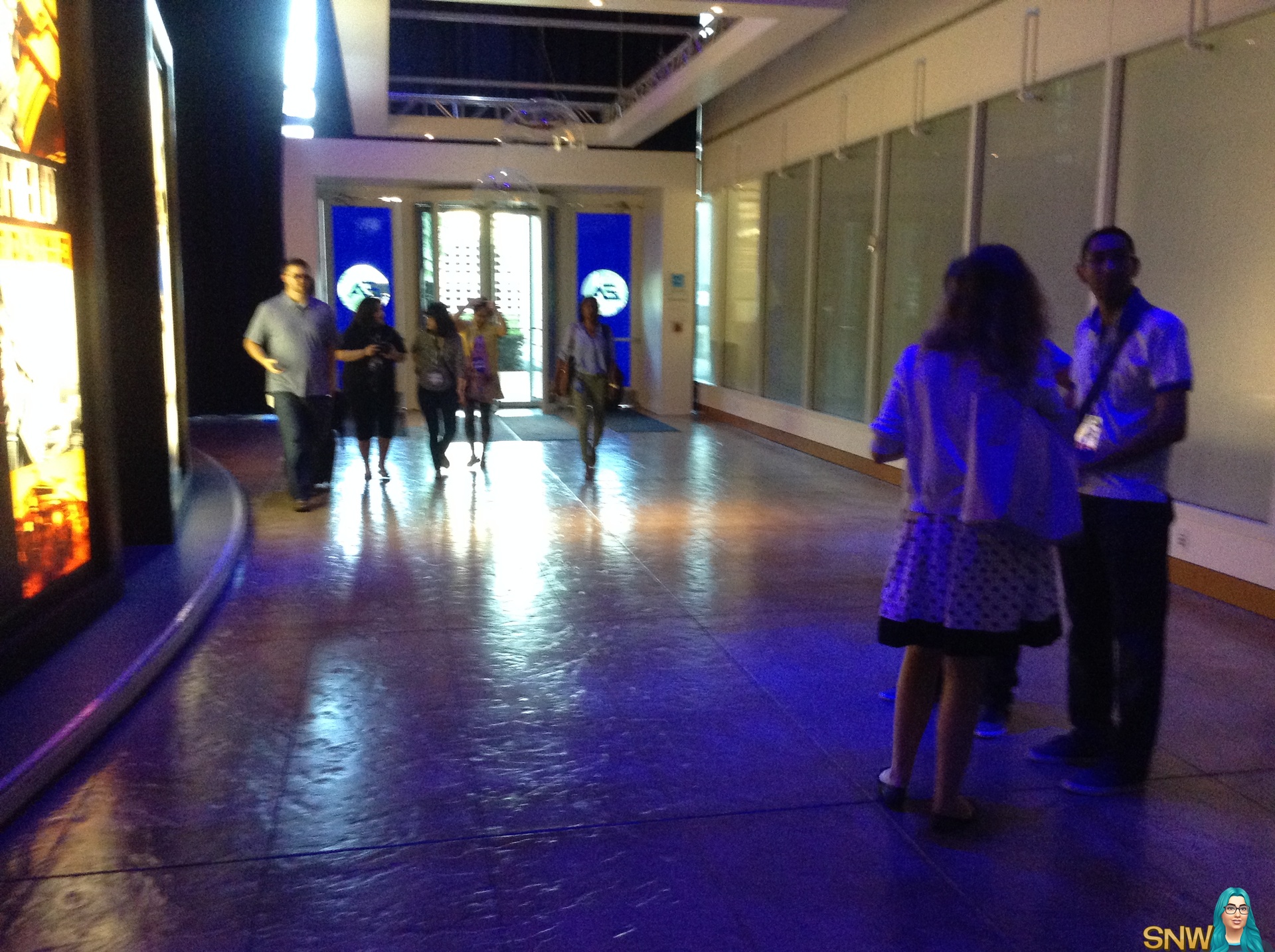 Lots of blurry pictures haha. Sorry about that!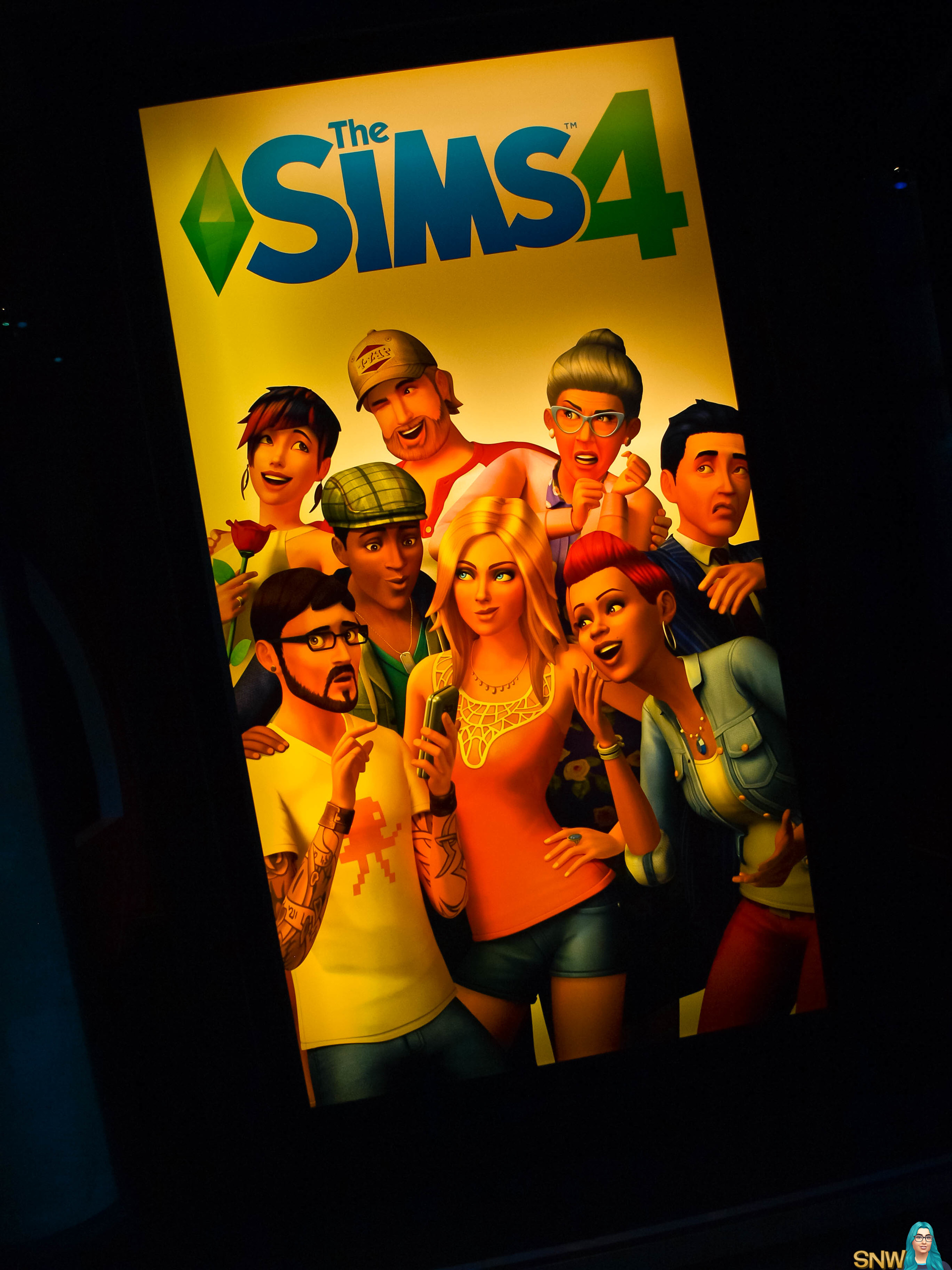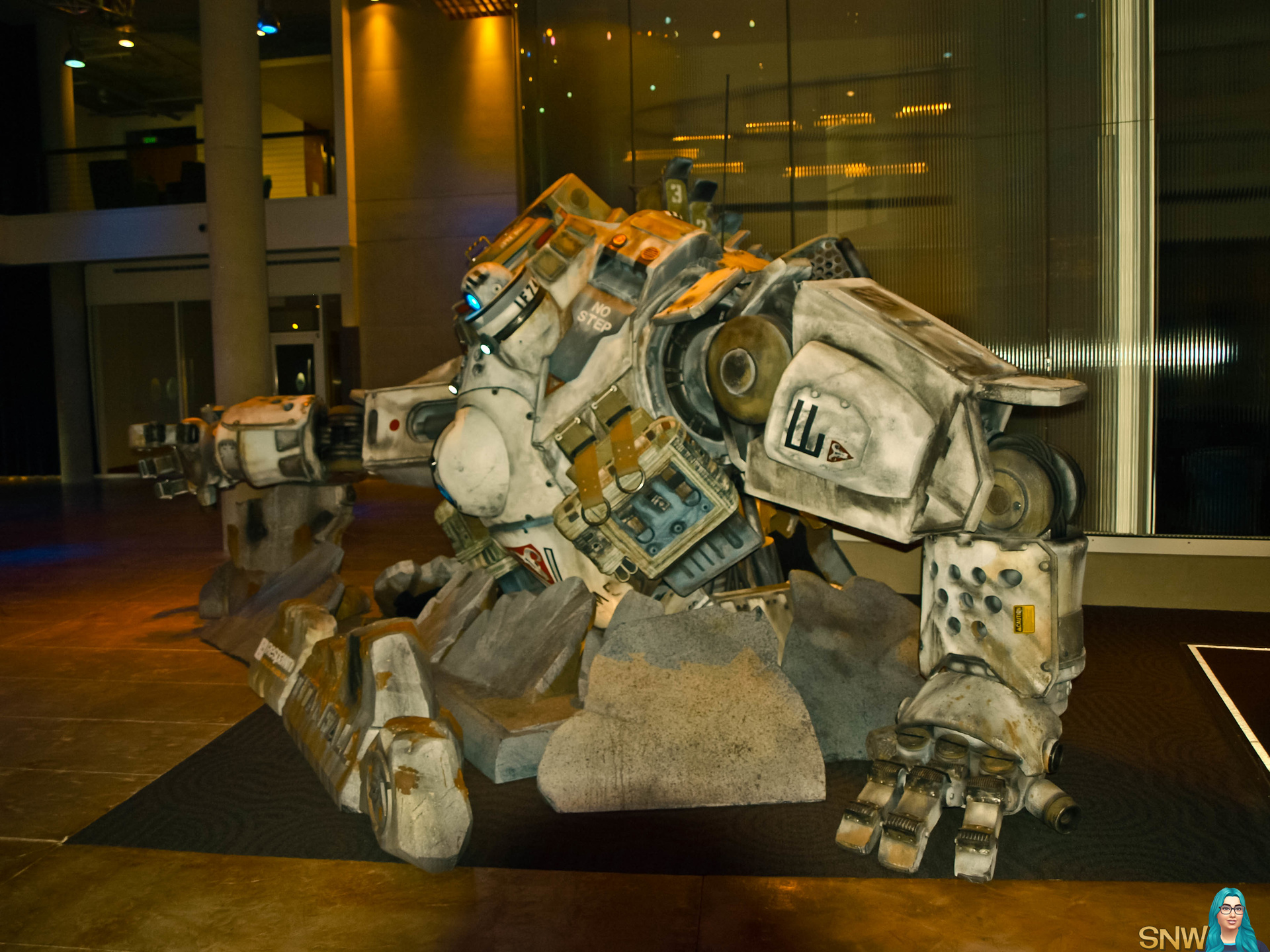 We walked through the building and I spotted a Starbucks. It's funny. This is the only Starbucks I (kinda) visited this entire week. And I didn't actually go in there, only took this pic because someone asked me to go to a Starbucks for them.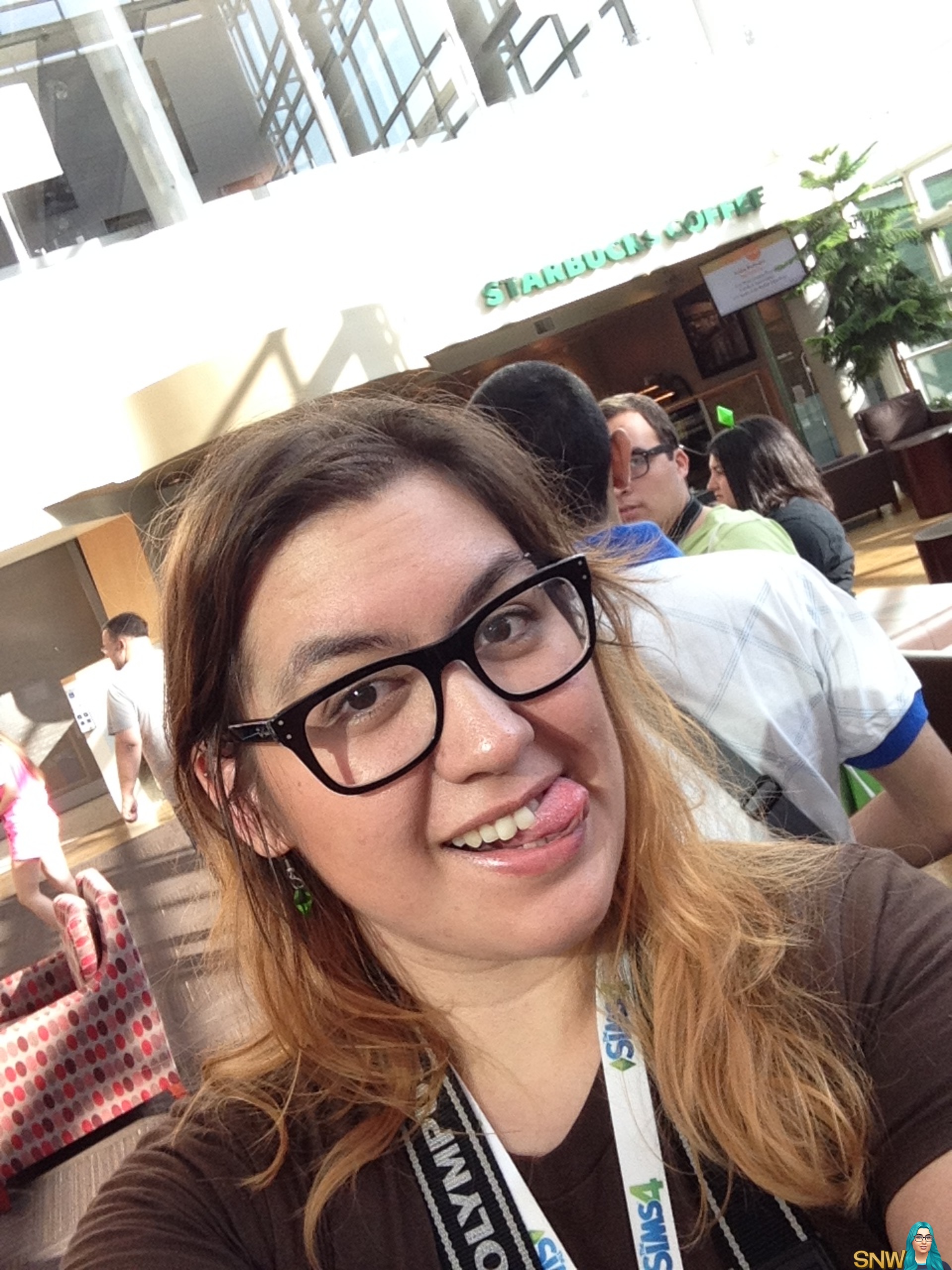 And another crazy selfie with Greg: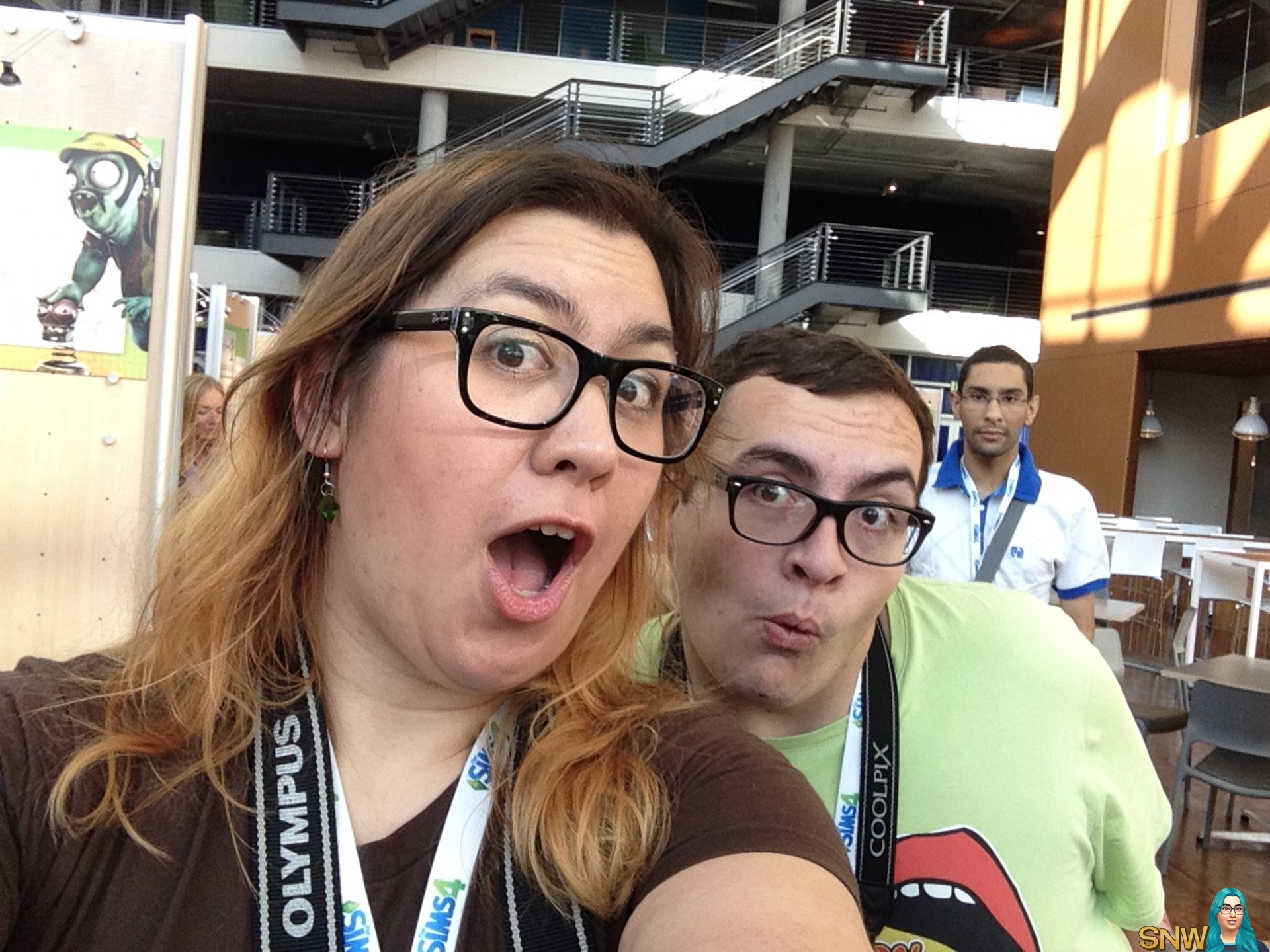 This is where we were staying for most of the week. Well it only shows the tables where we had our breakfast and lunch, but I wanted to show that as well: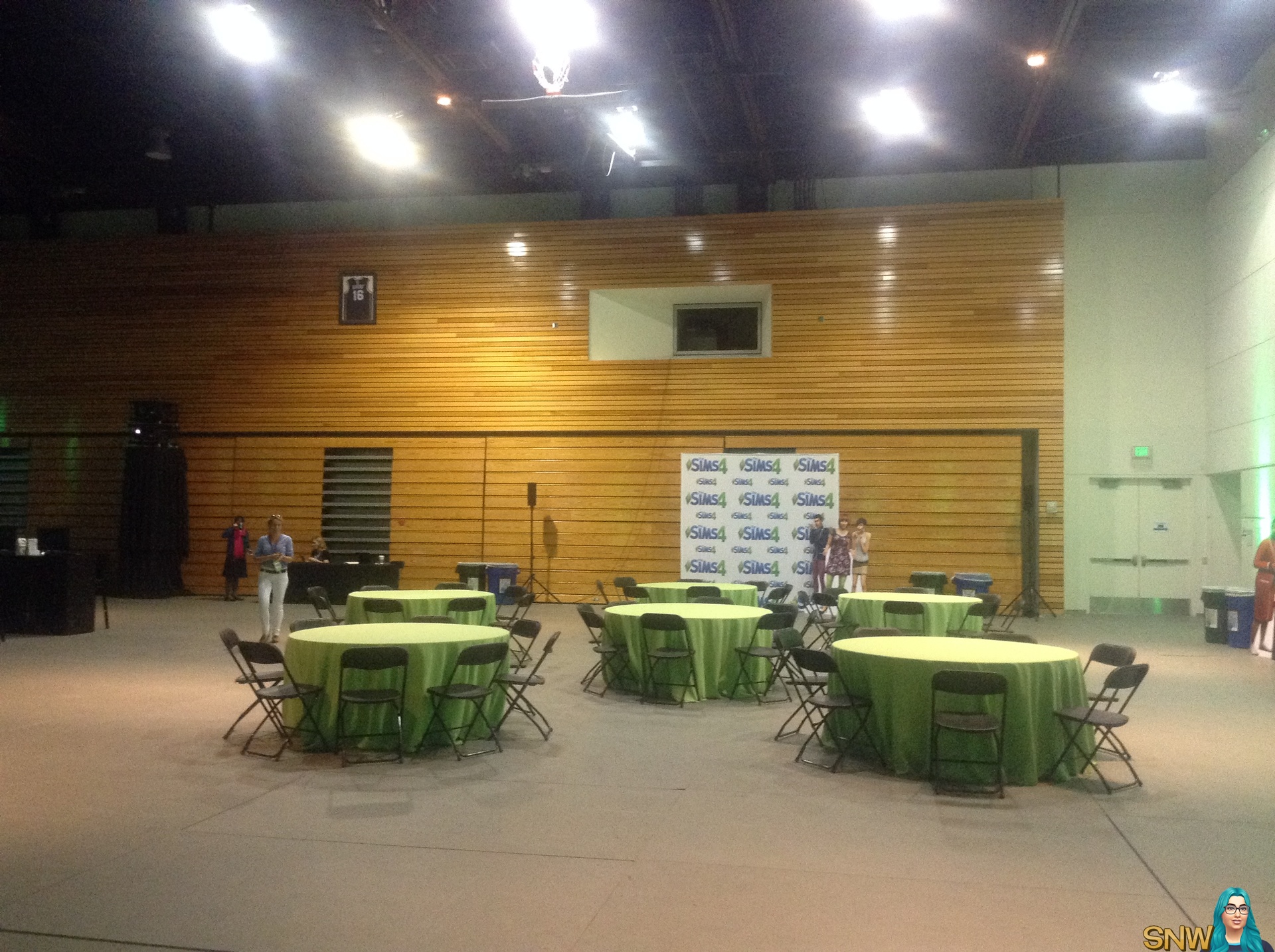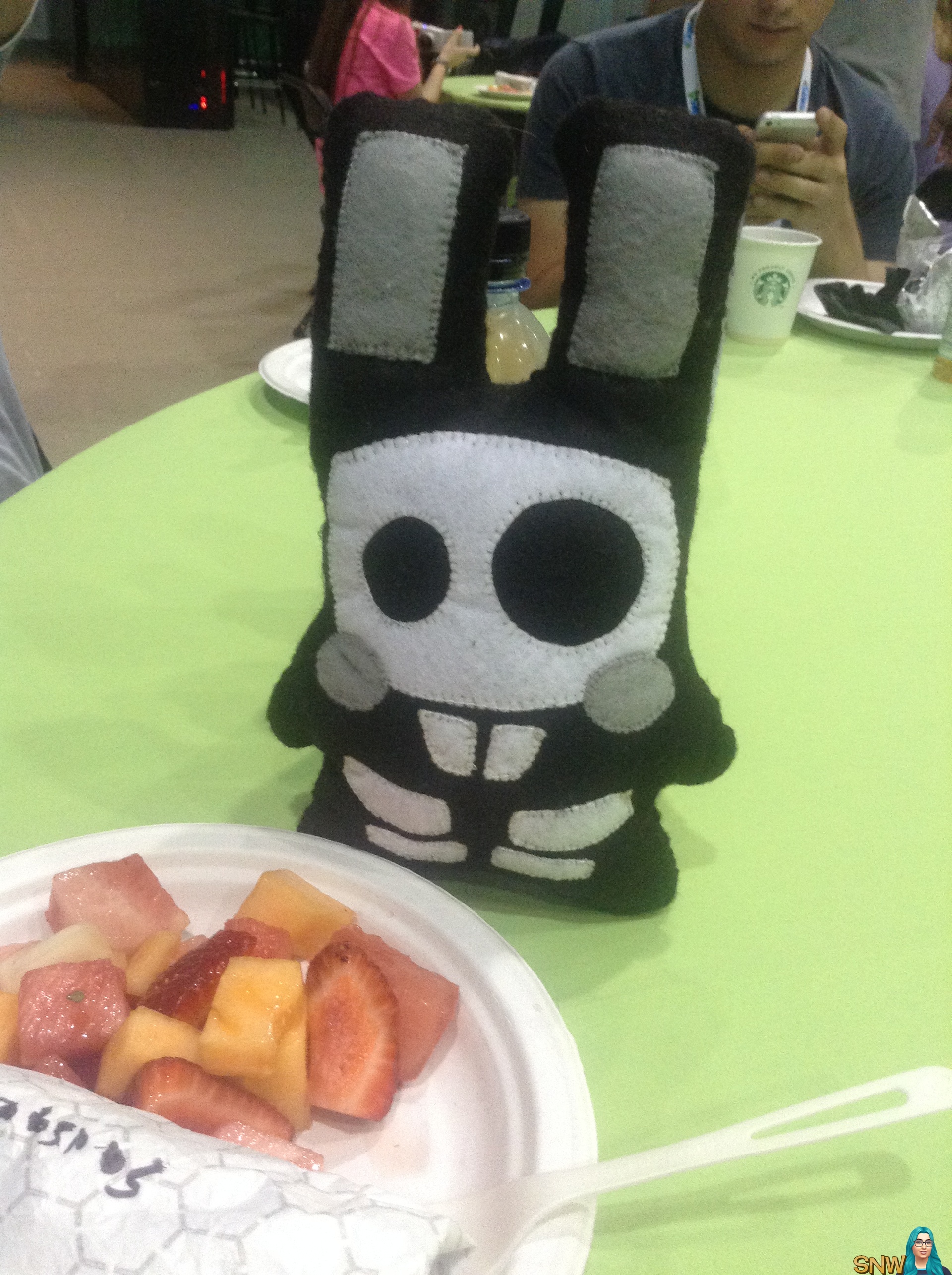 Grim Bunneh ate my fruit!
After that we went to the gym. And that's where we got breakfast. Except everything had gluten in it. And the few things that didn't, I did not like very much. A fruit bowl with melon and strawberries. I like strawberries. But I dislike melon. I ate some of it. But that wasn't going to get me going for an entire day.
So Sherrie took me to the EA cafetaria instead and had me pick whatever I wanted. I figured scrambled eggs would be safe. So the cook whipped up fresh scrambled eggs with cheese, something I never had before. And I got two sausages and a few slices of bacon. Om nom nom! That was so incredibly good. Not healthy, but it was yummy, oh my goodness!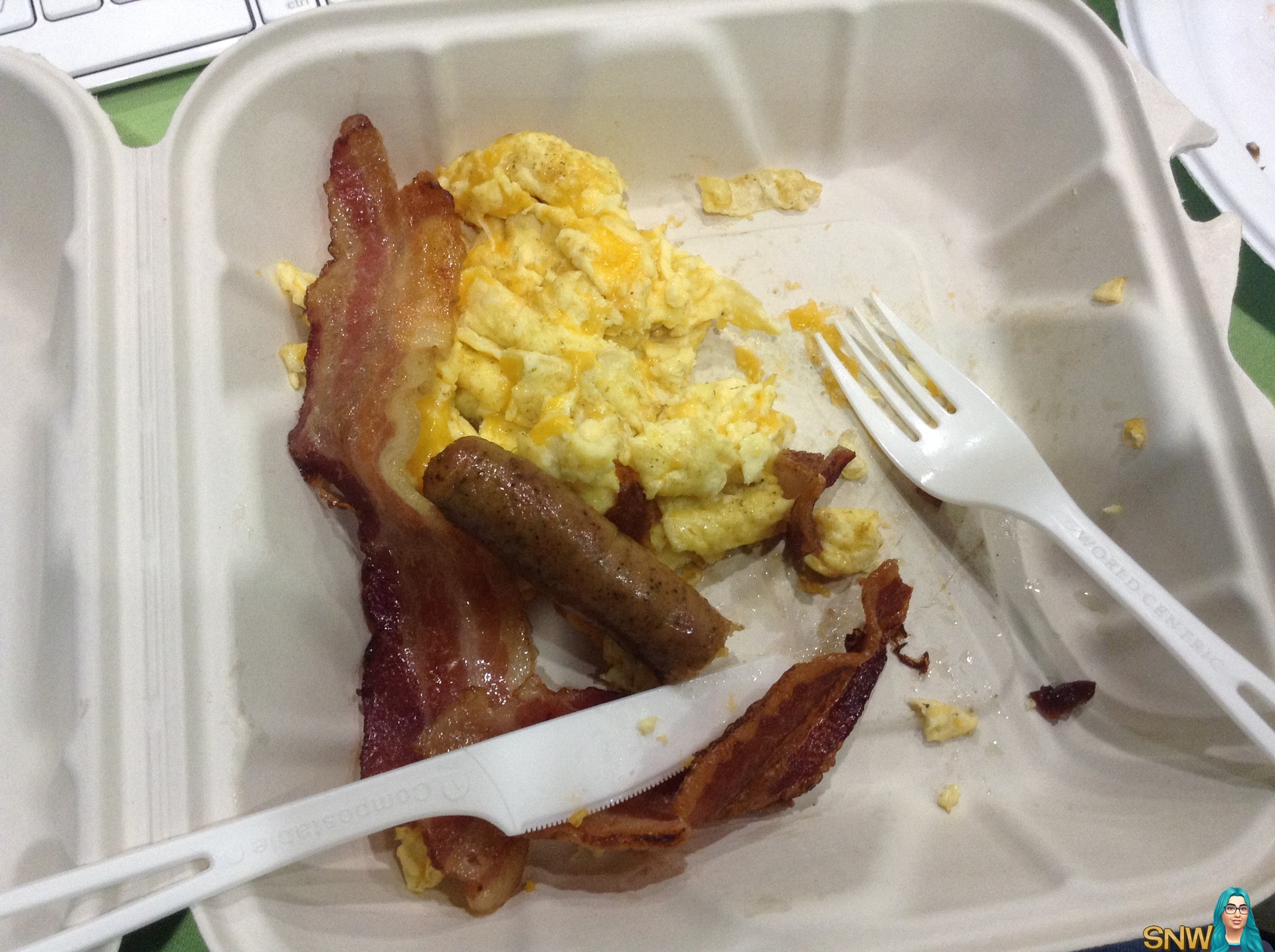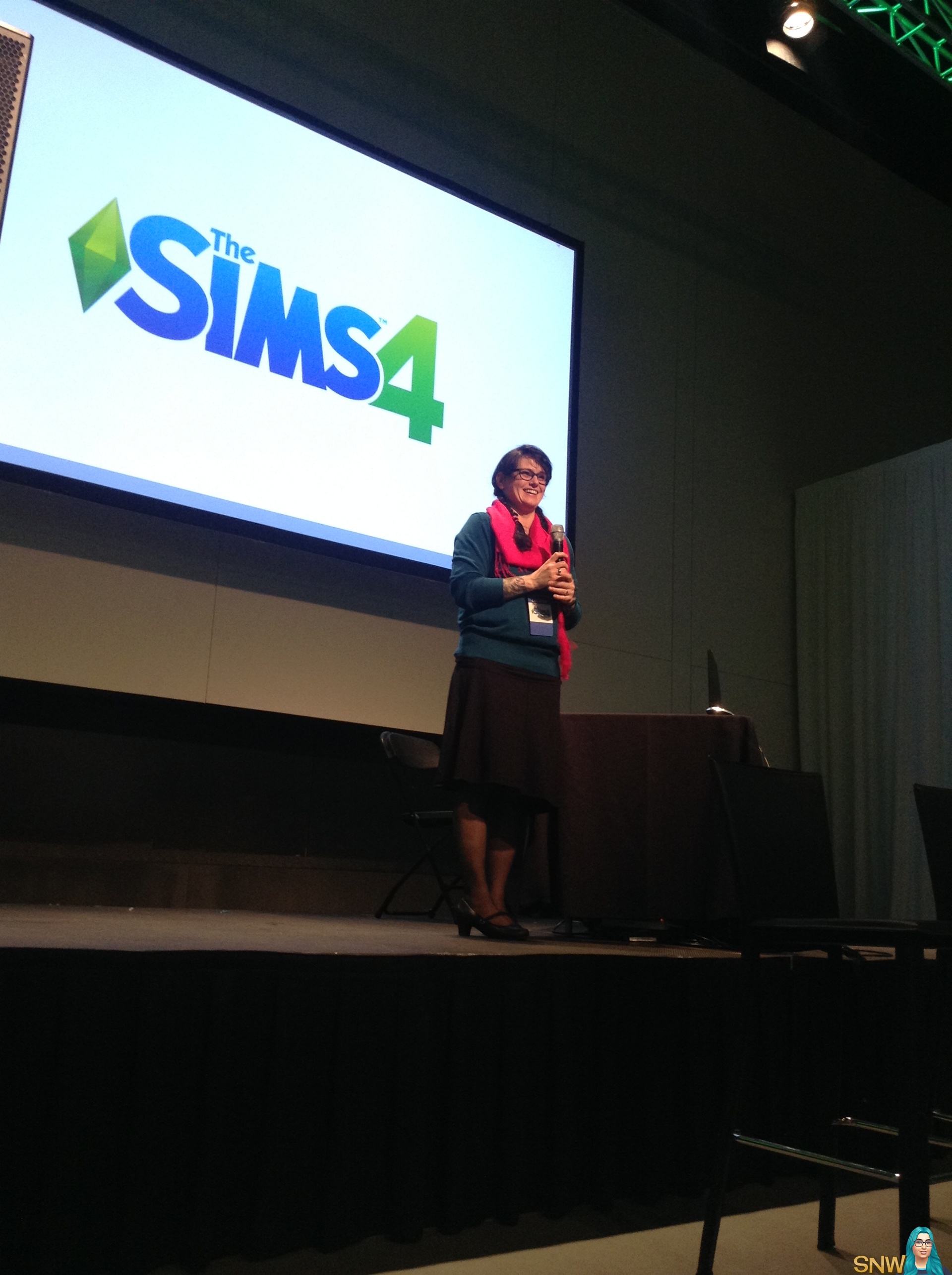 After the breakfast @SimGuruRiley welcomed us there, and she was overwhelmed that we were all really there. I was teary eyed just watching her, watching us haha! She gave us a little speech. I could really relate to what she ws feeling (or so, that's how I feel), as I feel (and felt) the same whenever all eyes are focused on me!
Very soon after the speech, Sherrie asked a group to come along to the store. It was there that I went crazy and wanted to buy it all. I would not have enough on my cards, but Ange was willing to share her cards with me, as she didn't need all of it. That's when we got some issues, cause as it turned out, the cards needed to be activated first. So we went back to the place where we stayed for the entire week. We tried activating them on my iPad. Mind you, that was not easy at all, as there was something on the website that kept blocking the input fields. Luckily I had my keyboard with me so I could alt-tab to all the fields. We managed to register them, on Alexis's address by the way, thanks again Alexis!
The first class was from Jill Johnson aka @SimGuruJill. She showed us Gladys and created a family for Gladys on the spot. That was fun to watch! Of course, most of us already had the CAS demo, so it wasn't all new for us anymore. But we did get the full version here, which meant we could create children too! And we did.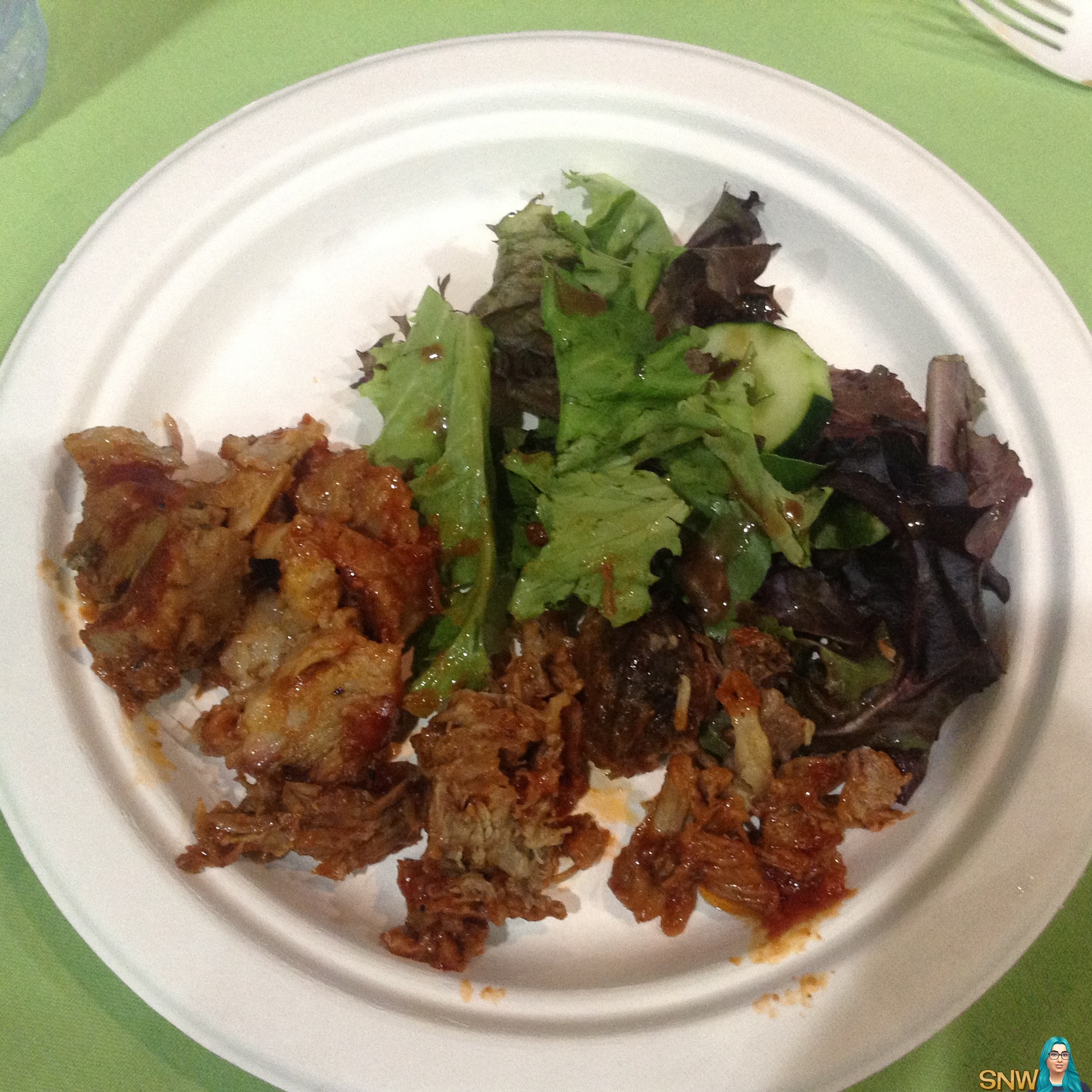 After the class with Jill, we got some hands-on time! Shortly after it was time for lunch. I had some kind of meat and some salad. Was quite yummy!
During lunch we also went back to the store to get our stuff! I was oh so happy. Not only because it was fun stuff. But it was SO cold in the hall where we were playing. And my location in the hall wasn't even the coldest one. That was actually where James, Rachybop, Pekesims and English Simmer were sitting! They pretty much froze to death over there.

I think everyone was very happy with their sweaters and hoodies this week. Outside, 30 degrees Celsius. Inside: freezing. Lol.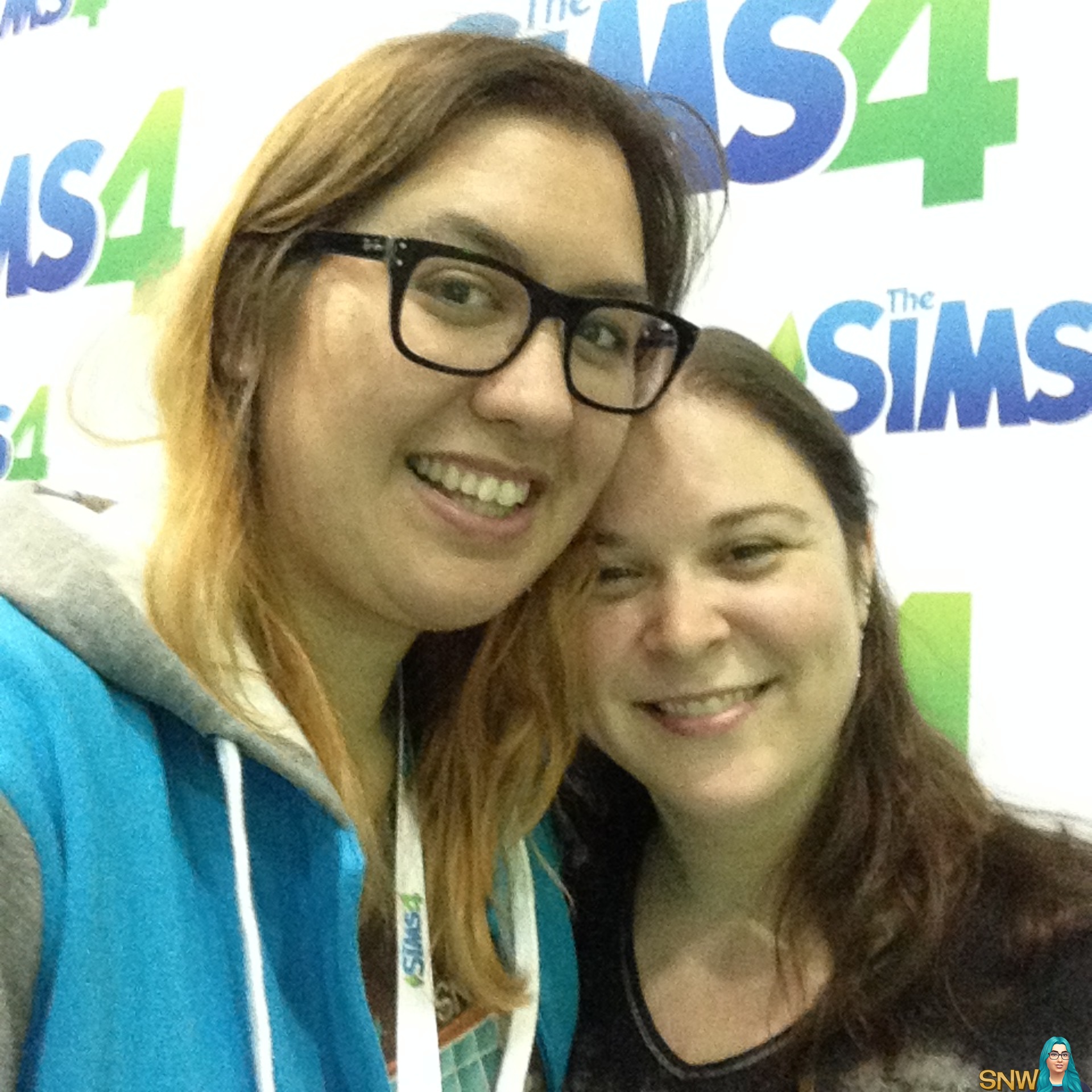 When we walked back from the store to the gym, I thought I saw @SimGuruSarah walking towards the cafetaria. And I was right! It was then that we found out we weren't able to get back in. But SimGuruSarah helped us out! We also took a selfie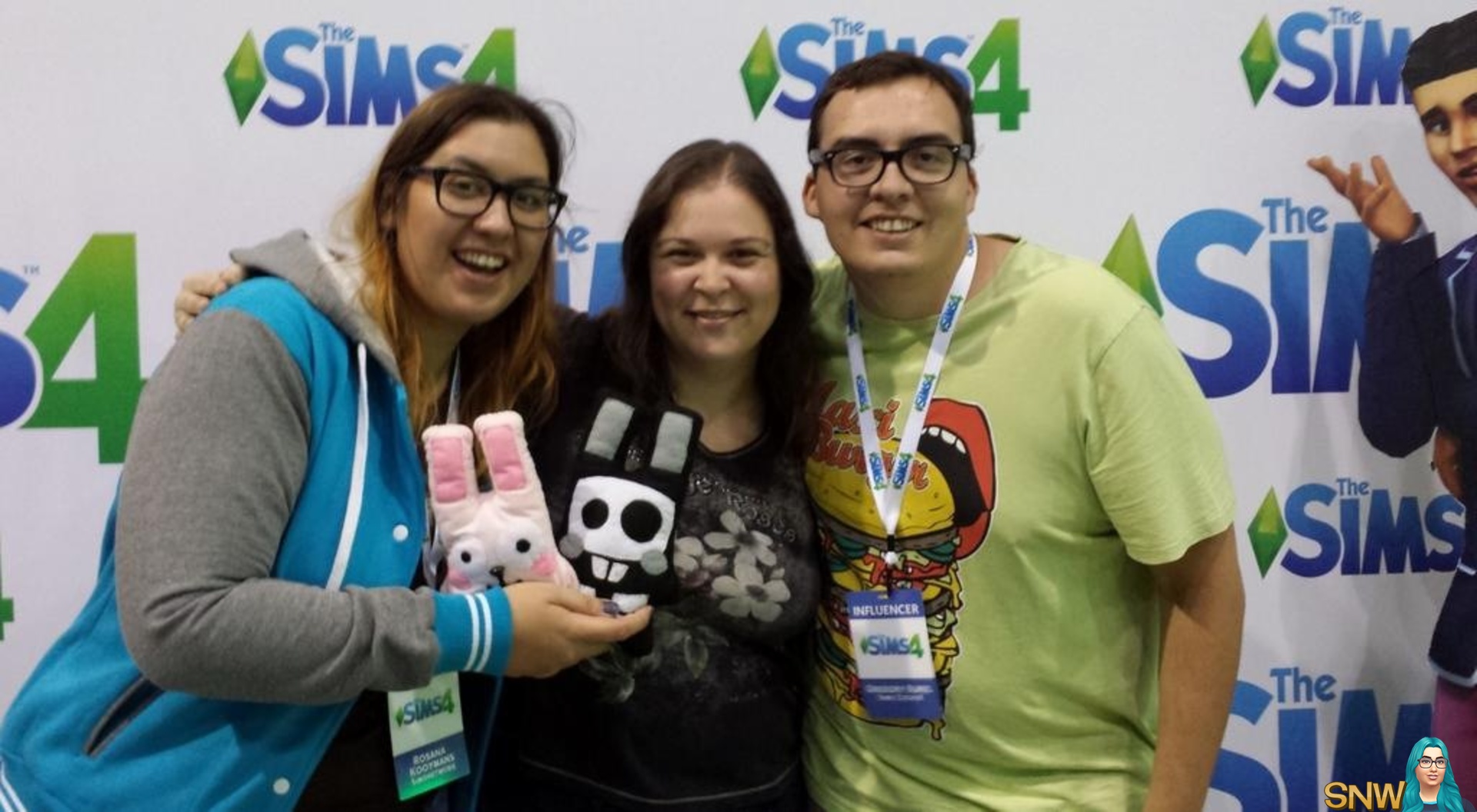 And another one with Greg. Though not sure if it's a selfie if someone else takes the picture for you. I don't think so.

After lunch we had a class by Aaron Houts @SimGuruHouts and John Berges @SimGuruJohn

I tried taking notes. I noticed a lot of people had already started playing. I don't blame them. I found it hard to focus as well. With the actual game in front of me and all that.

During the day I also made my very first mid-century modern house in The Sims 4. To see it, click here!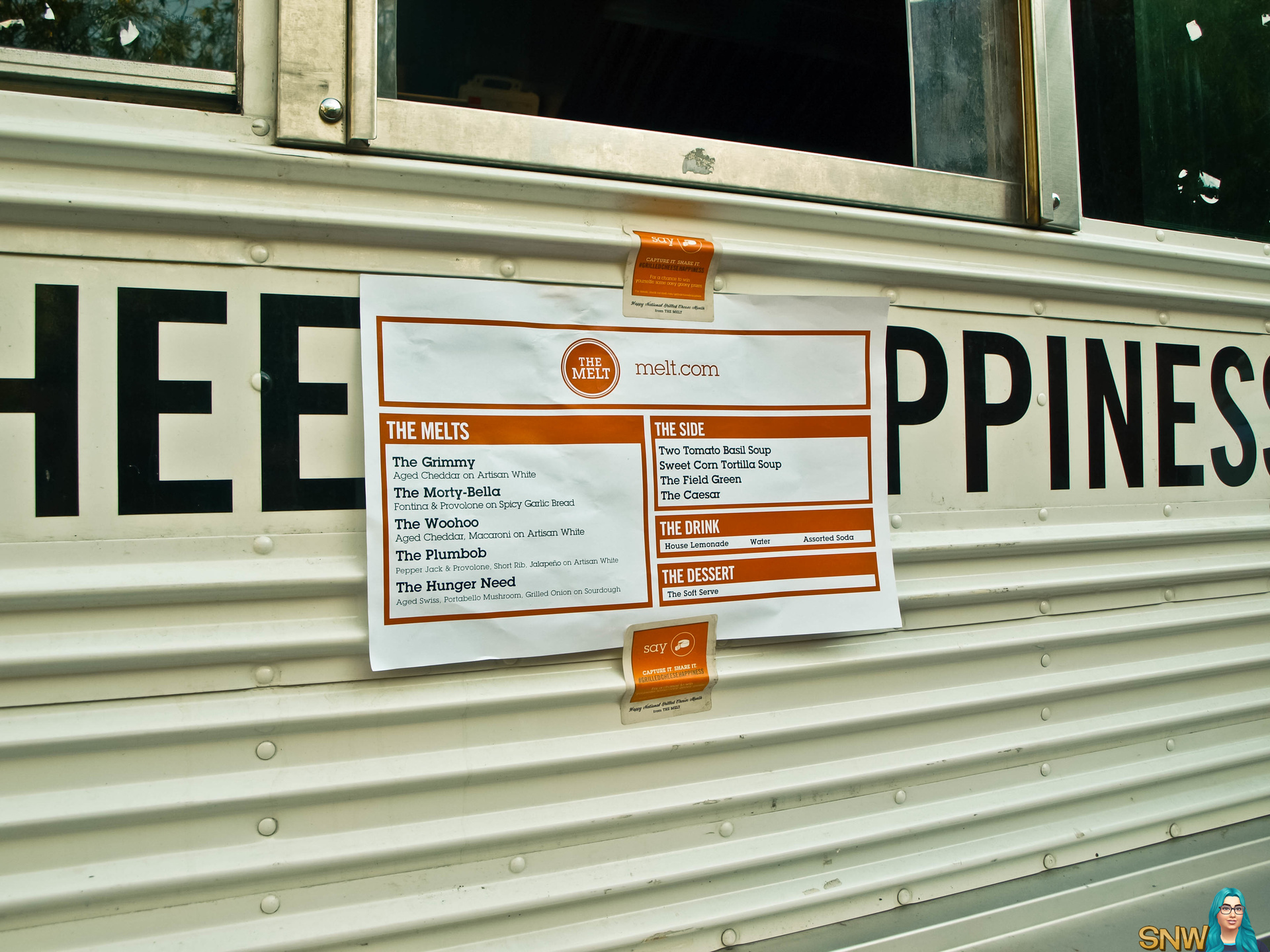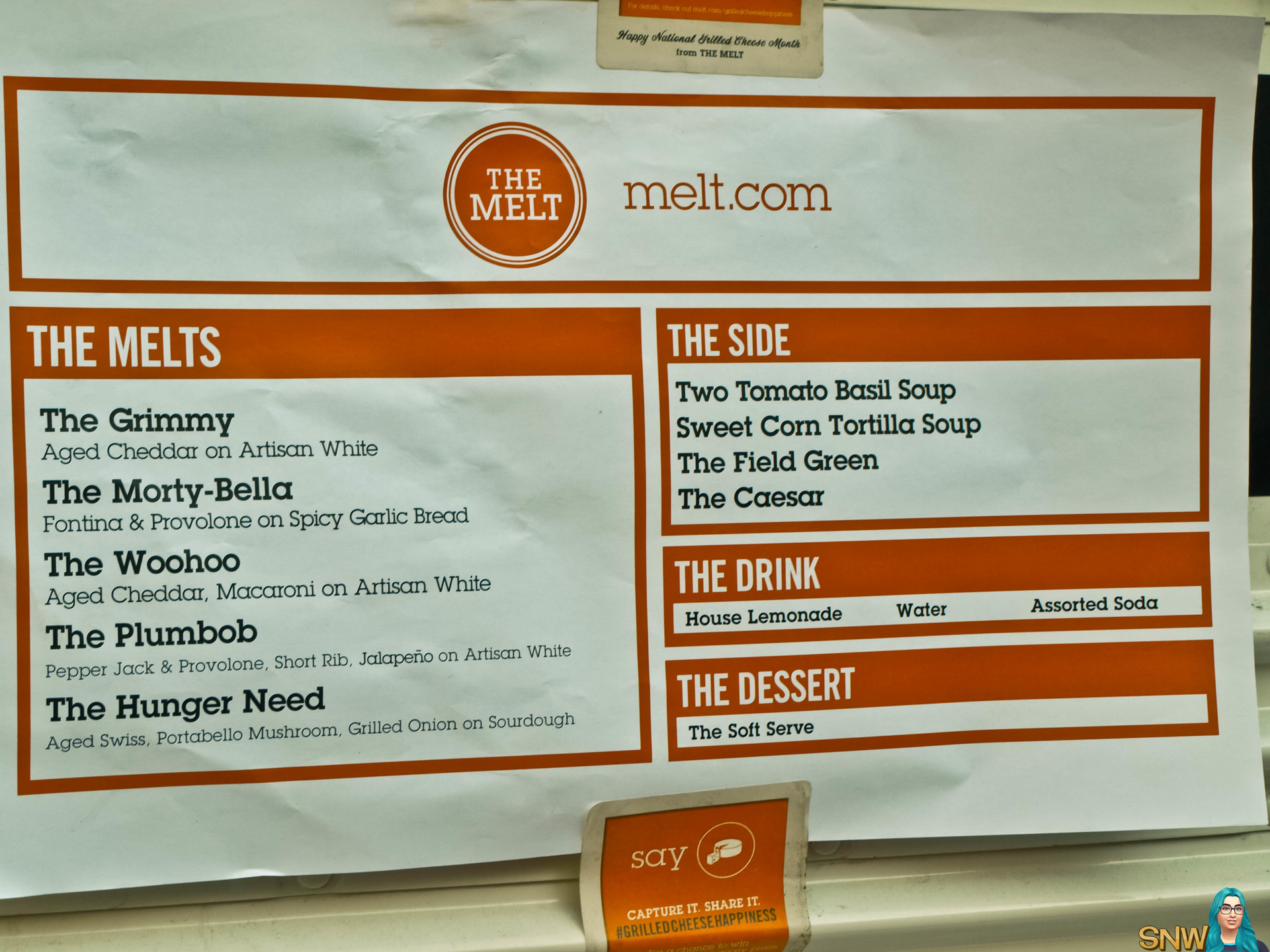 For dinner we got our food at The Melt: Grilled Cheese Truck. They even had gluten free bread (or so they said, I am still not sure, will explain in a bit). So I got myself The Grimmy. Seemed like the safest option

And for dessert we got ice cream. Though mine was in a little tub, as the cookie wasn't gluten free. The guy in the Grilled Cheese truck thought it was. But I checked the package and it said organic. That is not the same thank you very much

We had loads of fun vlogging (I will upload the final vlog with event stuff later). And on the way back Greg wanted to run through the sprinklers.

Warning: large animated GIF file haha!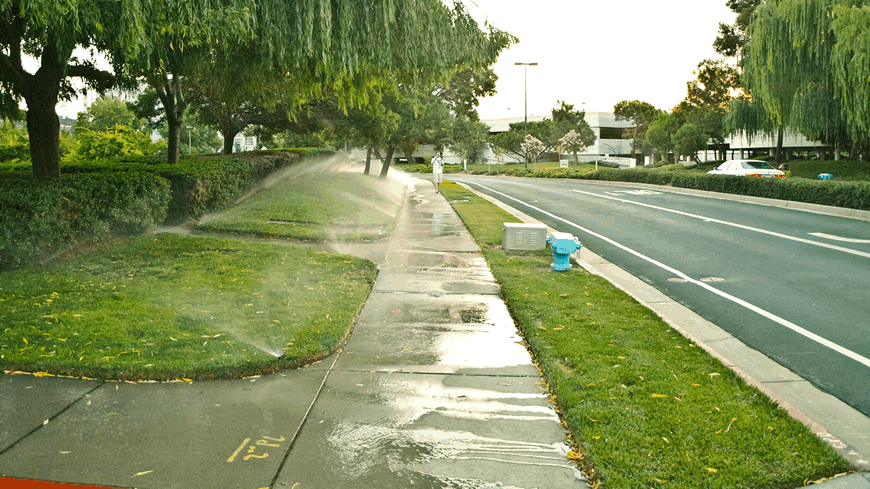 Crazy Greg haha.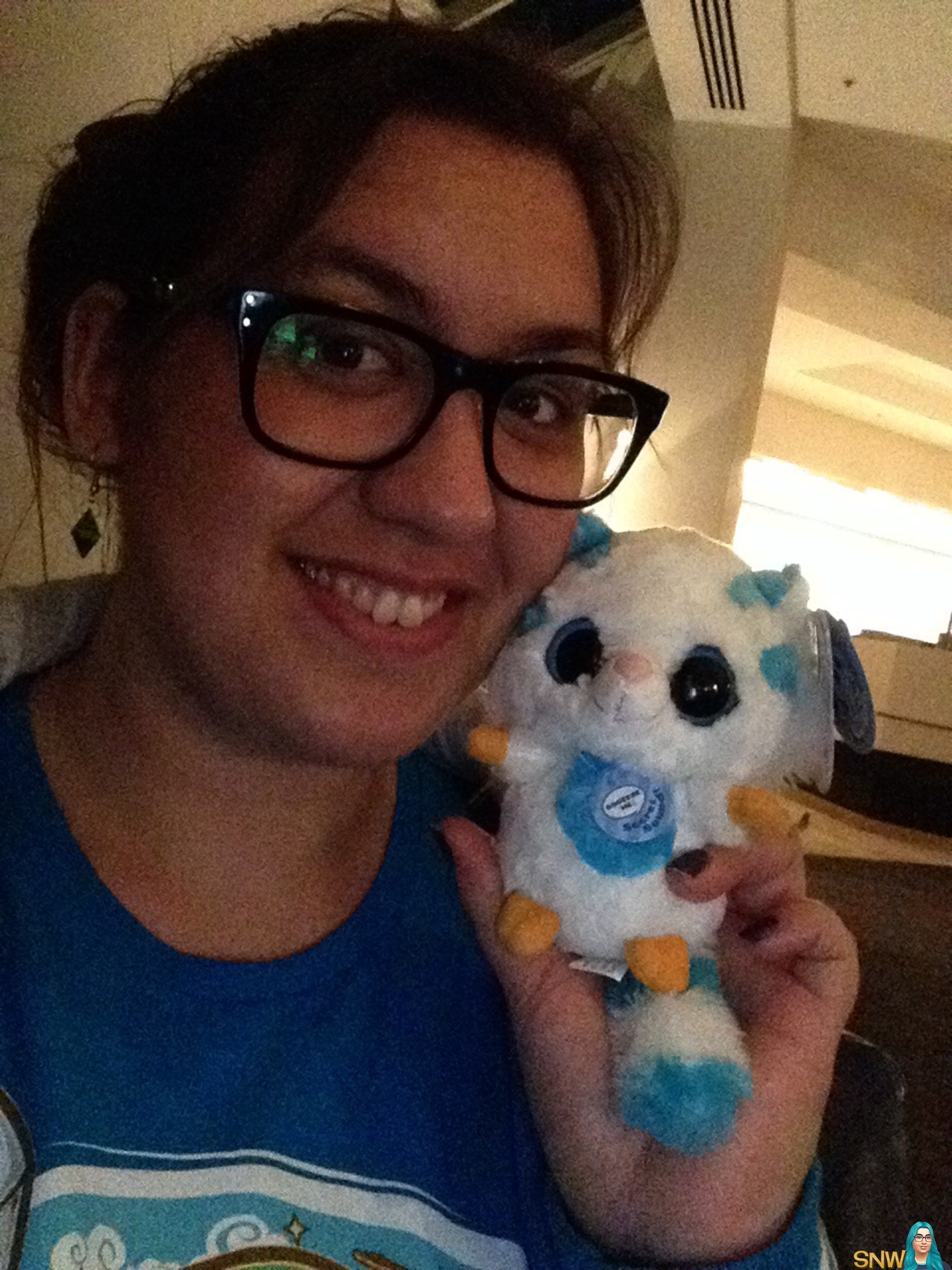 At night my friend Josh asked me if I checked the front desk yet. He told me he had a surprise for me. I thought he was joking. He wasn't lol. So I got my Amazon Prime package at the front desk and opened it in front of everyone else (talk about awkward haha). And it had this cute and scary plushie. It purred.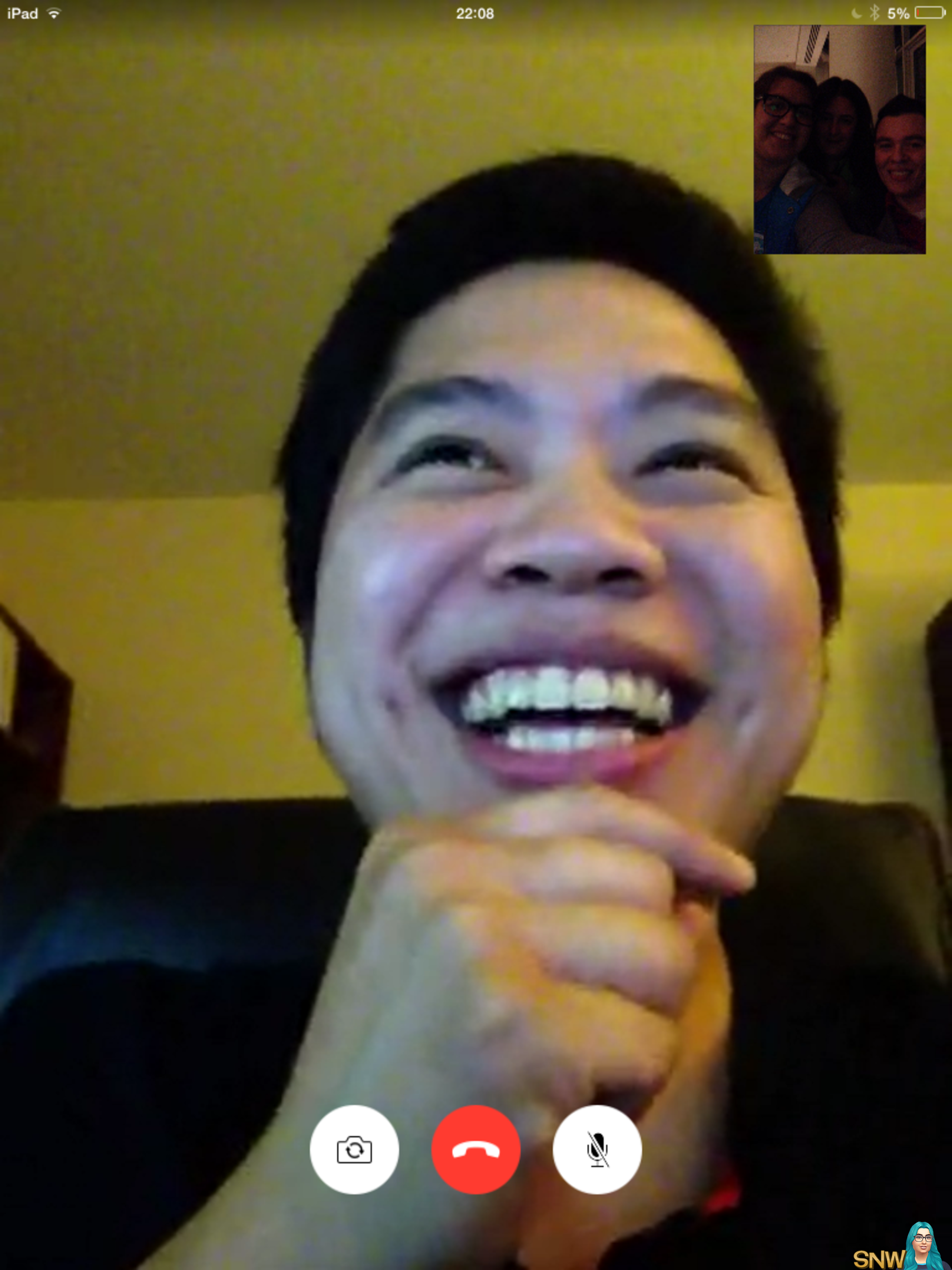 As I was chatting with Josh on Facebook, Mark (MM) from The Simseries asked me if that was Josh, cause he recognised the avatar he saw on my iPad. And I was like NO WAY, you know him too? So we ended up on Facetime with Josh, Mark, and Alexis. It was heaps of fun.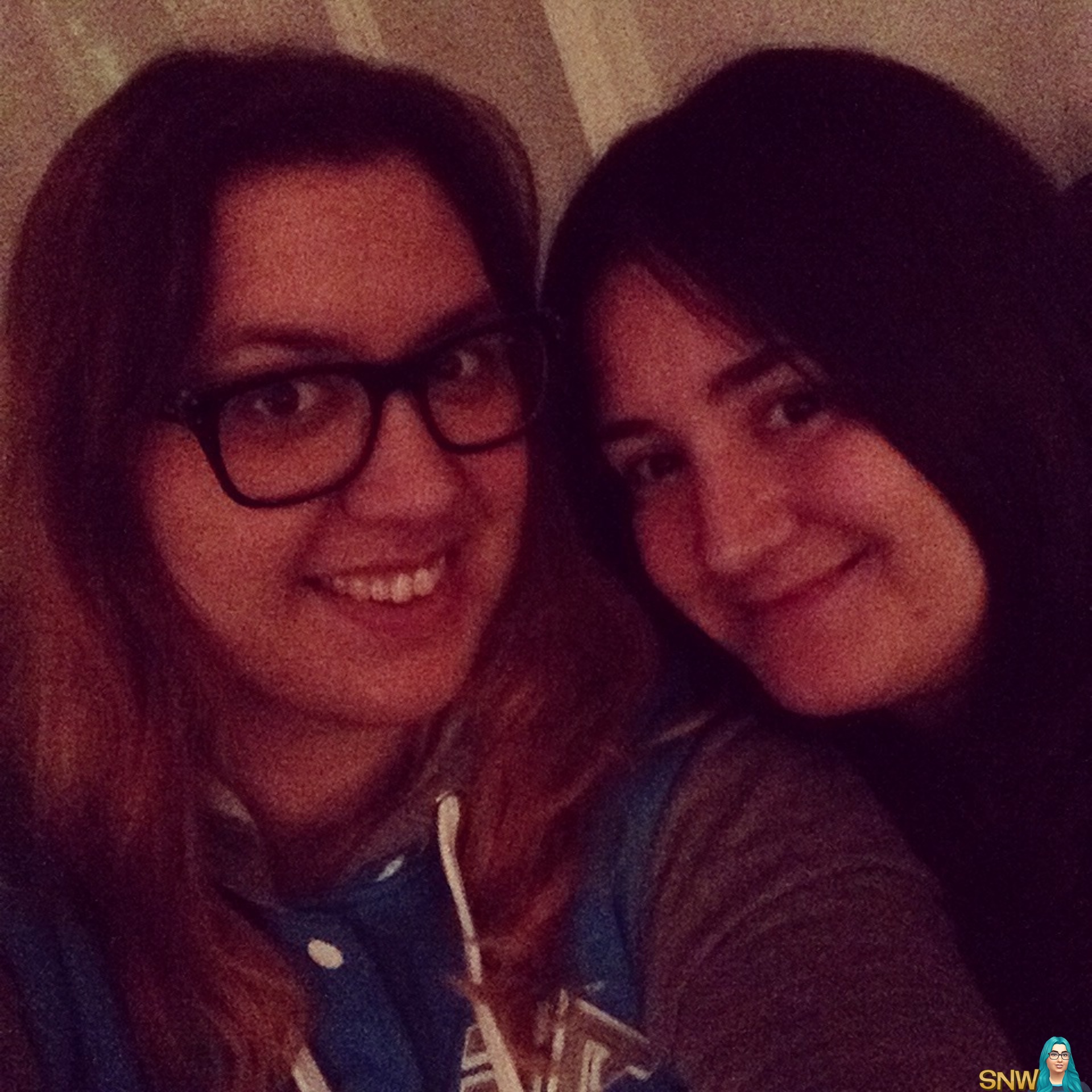 Here's a late night selfie with the lovely Alexis

That's all for today. Went to bed way too late, but it was worth it!