Where are the Collections in The Sims 4?
Monday, September 23, 2019 - 18:38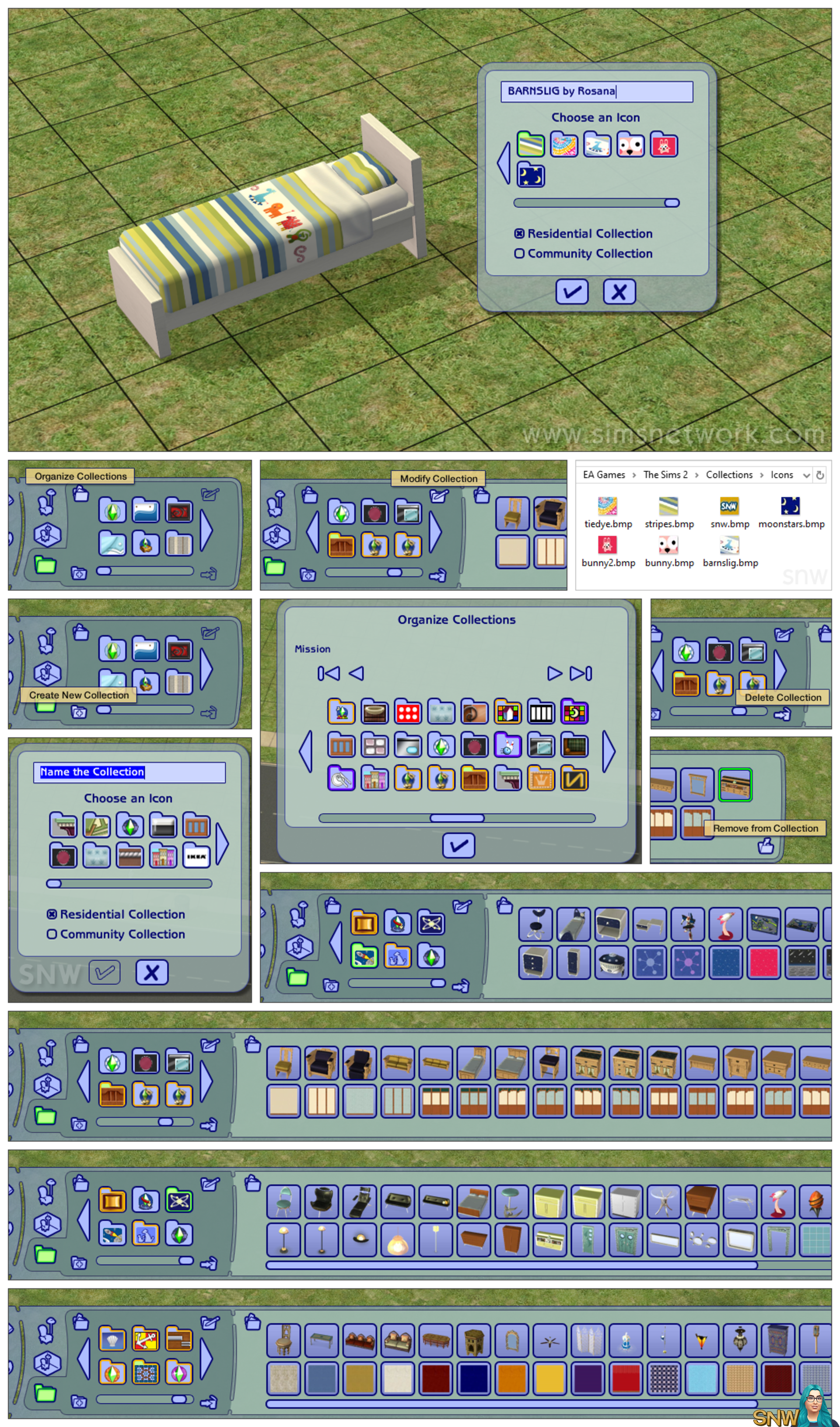 So this may seem like a really random post. It's not. I've been part of the EA Game Changer program for a few years now. I am proud to be in that program. Because I've always worked hard on my site and its content. But there are people out there who feel that Game Changers are only saying what EA wants us to say (not true), and that we never criticise the game or suggest "things that people really want" (also not true). Today I am going to write about a feature from The Sims 2 (and also kinda from The Sims 3) that I really miss in The Sims 4.
I'm also hopeful that at the end of this post, you will consider sharing it via social media (the more people share this, the better), and that The Sims studio will hopefully see this post/the collage and consider putting this feature in The Sims 4 in the future.
The Sims 4 has a lot of features we didn't have before. But there are obviously also things missing. Sometimes that's okay. It might be something we don't really miss. But sometimes it's something that we really DO miss. I'm sure a lot of people have forgotten about or don't even know about the existence of COLLECTIONS in The Sims 2 (and later also The Sims 3). So I'm here to remind you: WE HAD COLLECTIONS AND THEY WERE AWESOME!
I've made a collage of screencaps of the Sims 2 UI as you can see above.
Collections in The Sims 2 were both used to group items from packs, as well as themed items. So you would have items from Apartment Life, but also items in the Metro, Gearhead, Bohemian, Socialite, Groovy, Asian, Medieval, Mission, Colonial, Atomic collections et cetera. I know we have categories in The Sims 4, quite a few. And that is awesome and really helpful too. But you can't make your own category in The Sims 4. You can't create your own collection of favourite items in The Sims 4. It would be incredibly helpful if we could!
Think about it.
What if you have a Challenge where Sims players are only allowed to use very specific items? A collection would be so convenient!
For custom content creators and users it would also be such an awesome idea. I personally create a lot of CC items, and many of those items belong to a collection. Wouldn't it be nice if we could have those items together in a collection?
I also feel that the colour filter in The Sims 4 is pretty useful at times. And sometimes it's completely useless because it's lacking specific colours. (Where is aqua/turquoise, teal, mint etc? Those colours aren't blue nor green!) With Collections we could group our own favourite items together, and find them back in one location every time we need them.
Preferably Collections would be added for Build/Buy items (including wallpapers/floors!) but it would also be great for CAS.
In The Sims 2, we could create our own custom Collection icons, which we could then load in the game and use for our custom collections. I really encourage The Sims studio to not only bring back Collections, but to also allow us to load our own external images for it.
I'd also like to see the option to share our collections. I understand the Gallery might not be the best place to share them, especially if we are using custom icons. But it would be great if we could copy the Collection file and put it on our fansites and Tumblrs. That way, we could share Collections for challenges and custom content.
In The Sims 2:
You can use the existing Collections from Maxis.
You are also able to edit or delete those if you want.
You can create new Collections.
You can also edit and delete those Collections.
You can add more items to Collections.
You are able to use icons which came with the game itself.
You can also create your own icons and use those in the game.
You can share your collections with an audience.
To this day, I use Collections when I play The Sims 2. It is incredibly useful and I'm not sure why this isn't in The Sims 4.
This feature would make the game SO much better. Please consider implementing this back into the game EA/The Sims Studio!
Thanks for reading! Please share (see links below!)