Previews: Sims Camp - Day 2 (Blog)
Friday, September 13, 2013 - 01:42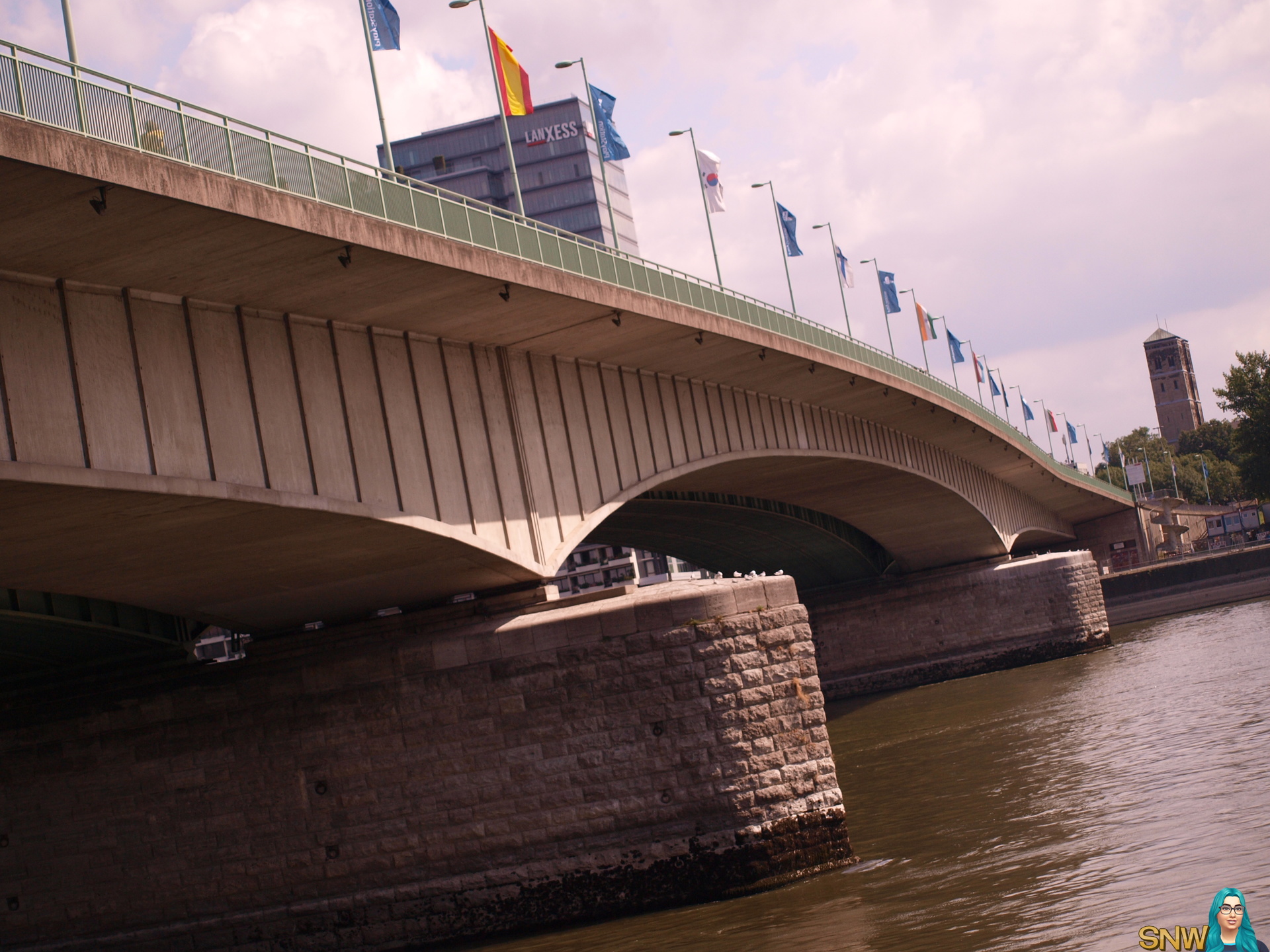 Tuesday - August 20, 2013
Today we had a lovely breakfast in the hotel. Though I do have to admit it's hard having a proper breakfast without any gluten free bread. It's what I'm used to now. And here I am with a whole section of bread of which none is suitable for me. But I'll manage. I'm getting scambled eggs the rest of the week I think.

During/after breakfast we all got a little present! See here, my new Plumbob bracelet!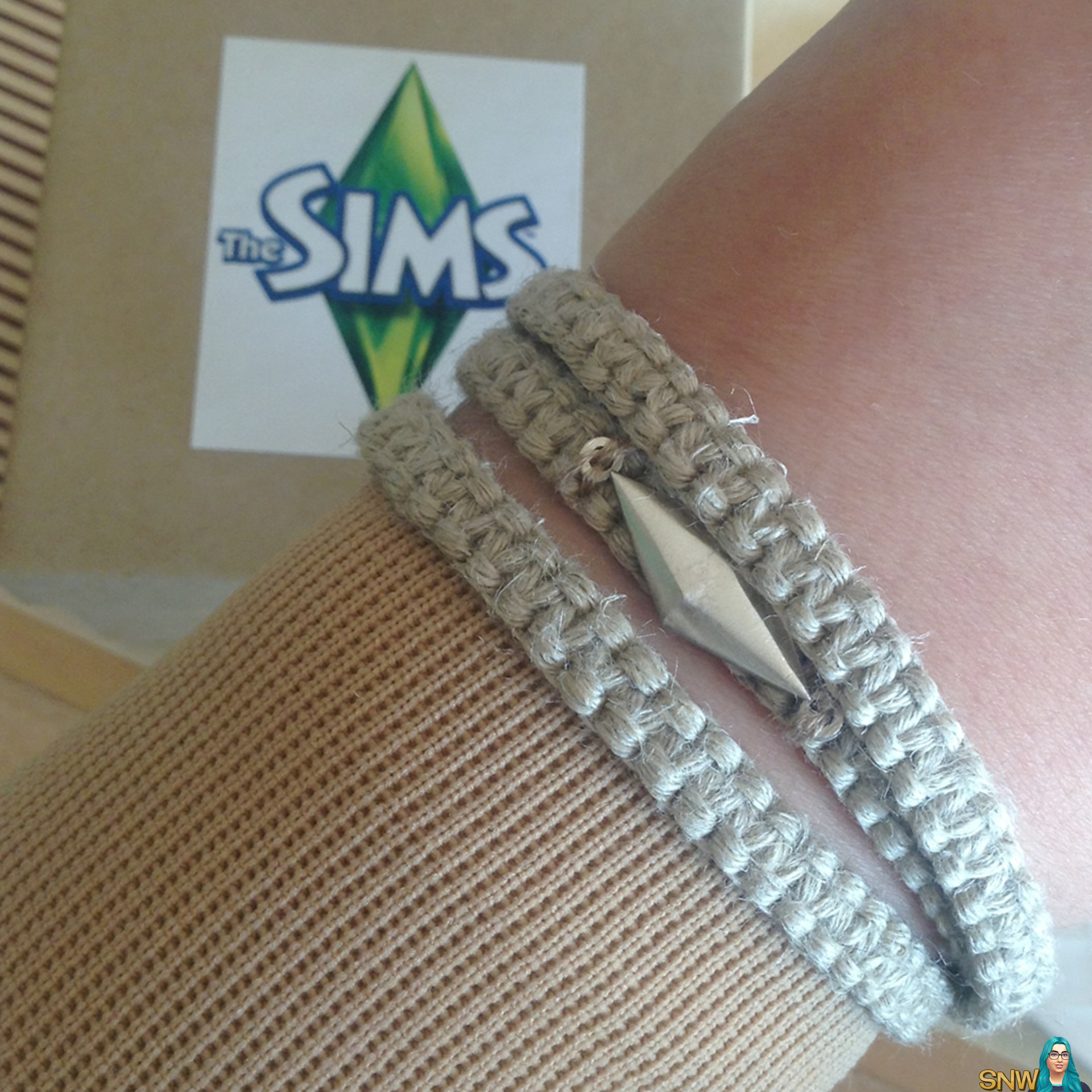 I love how it's suitable for men and women.

So today is the day we are going to explore Cologne, by doing a tour! I don't think I'll be bringing my cap after all. We were told to bring a hat. But I don't have a hat, so I brought a cap. It doesn't seem necessary!
After breakfast a couple of us went to Alexis's room and hung out for a while.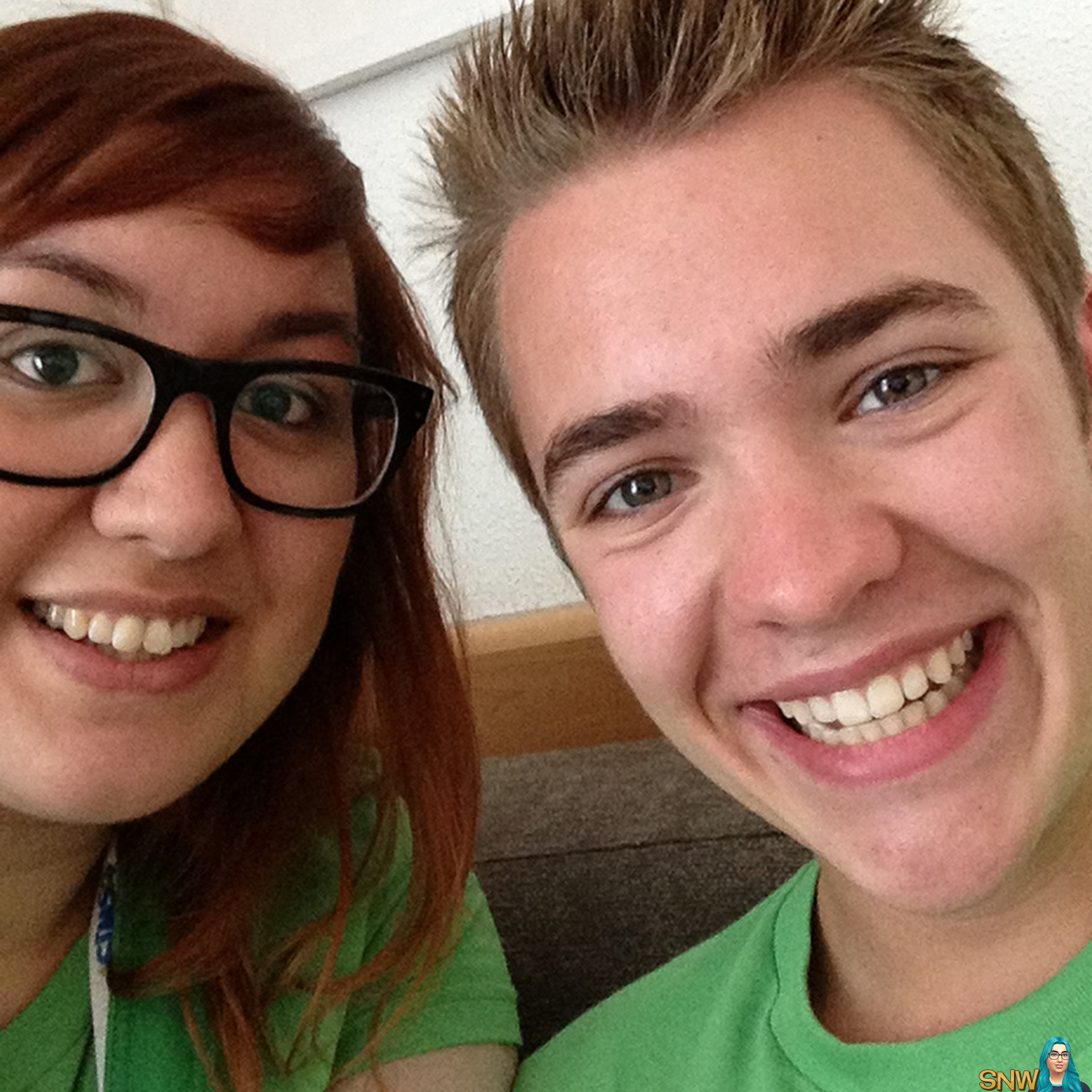 Look! We made this pic in Alexis's room. It's iPodzeke1 and myself! I love this pic.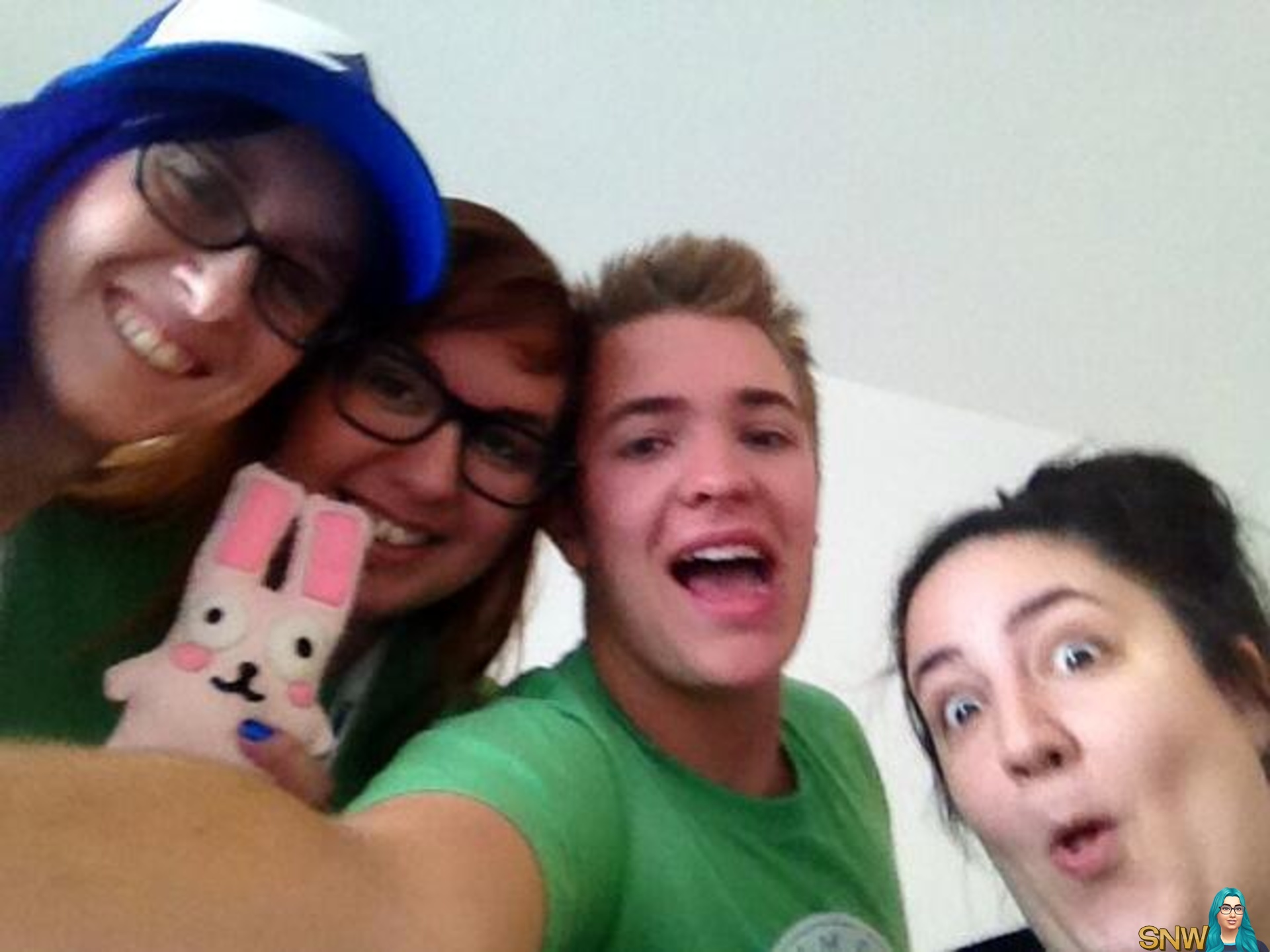 Group pic with Berry, Freezer Bunny, me, Zeke and Alexis!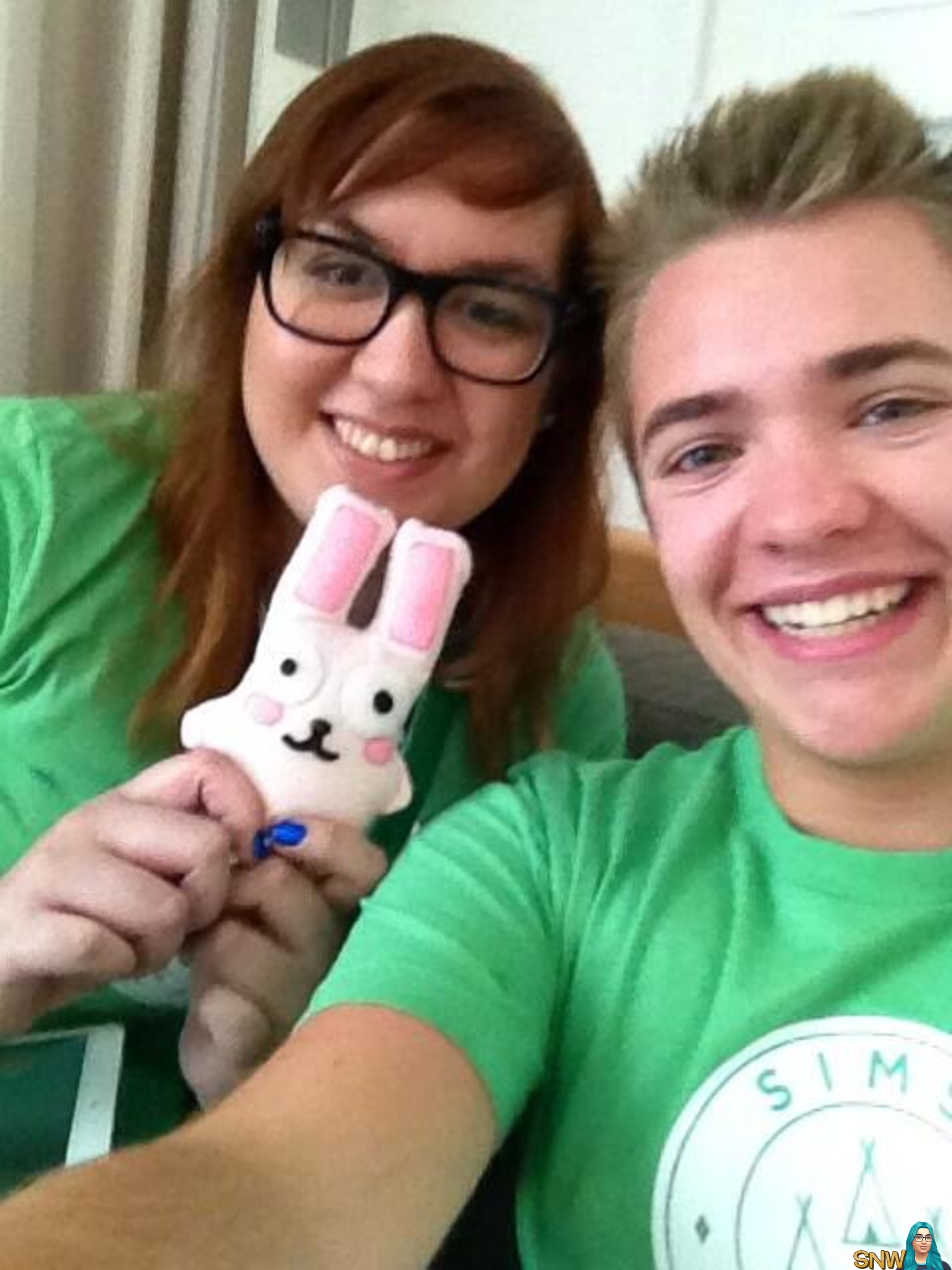 And one more with Zeke and Freezer Bunny!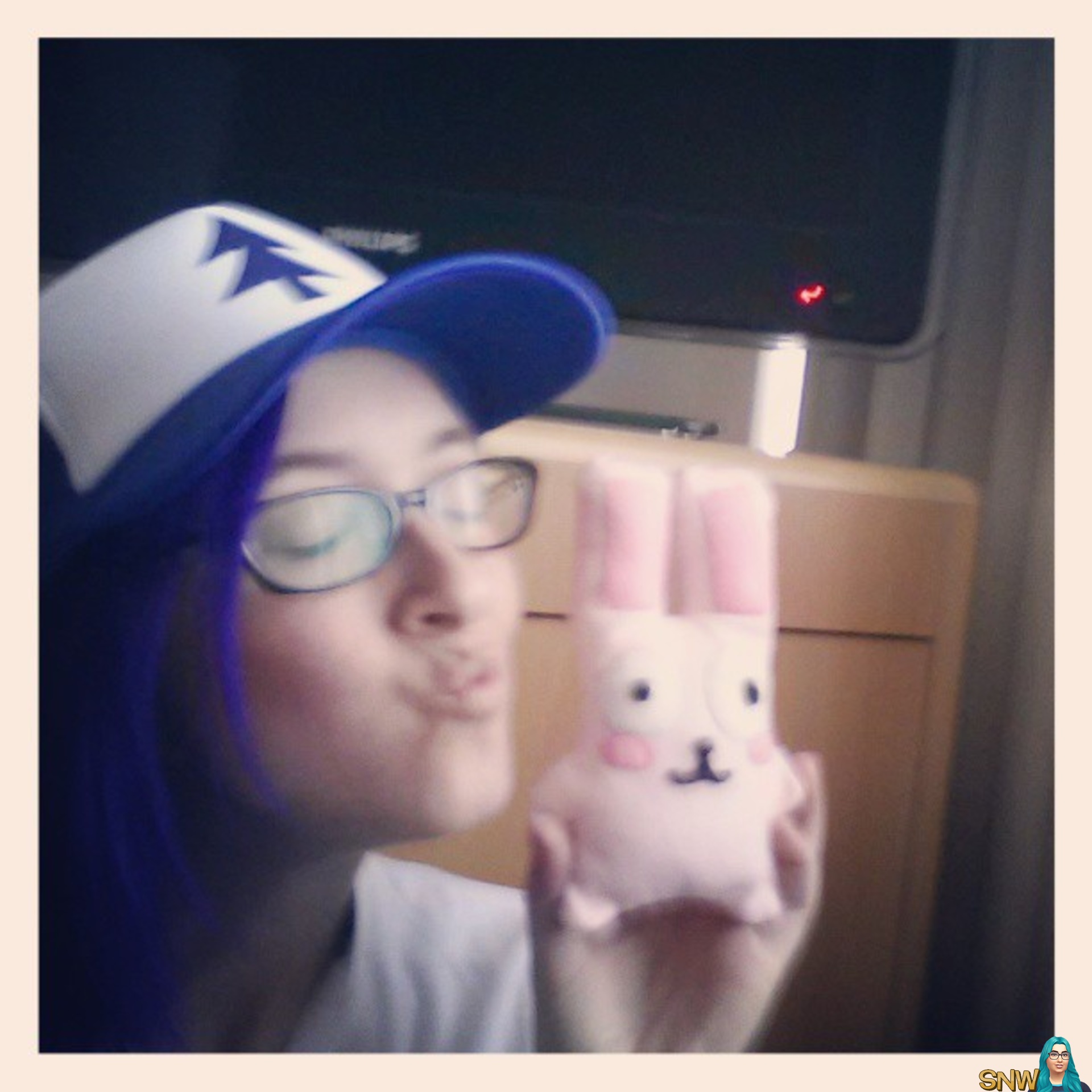 Berry with Freezer Bunny! Isn't it cute? I also made a spaghetti version of this photo, but I'm unsure if Berry is okay with me using that one in public hahaha.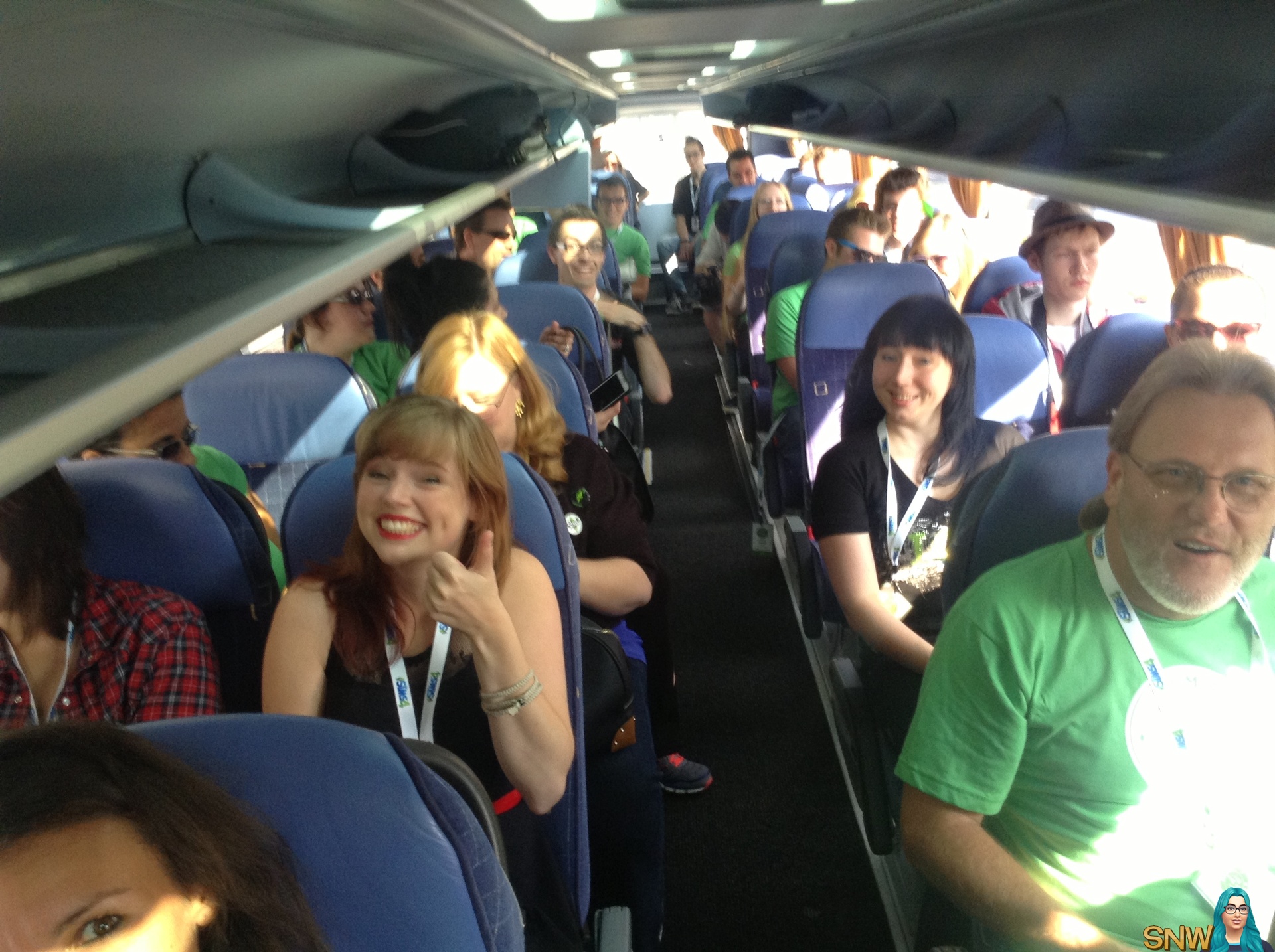 At a certain time, we had to go to the bus. Because we were going on a tour!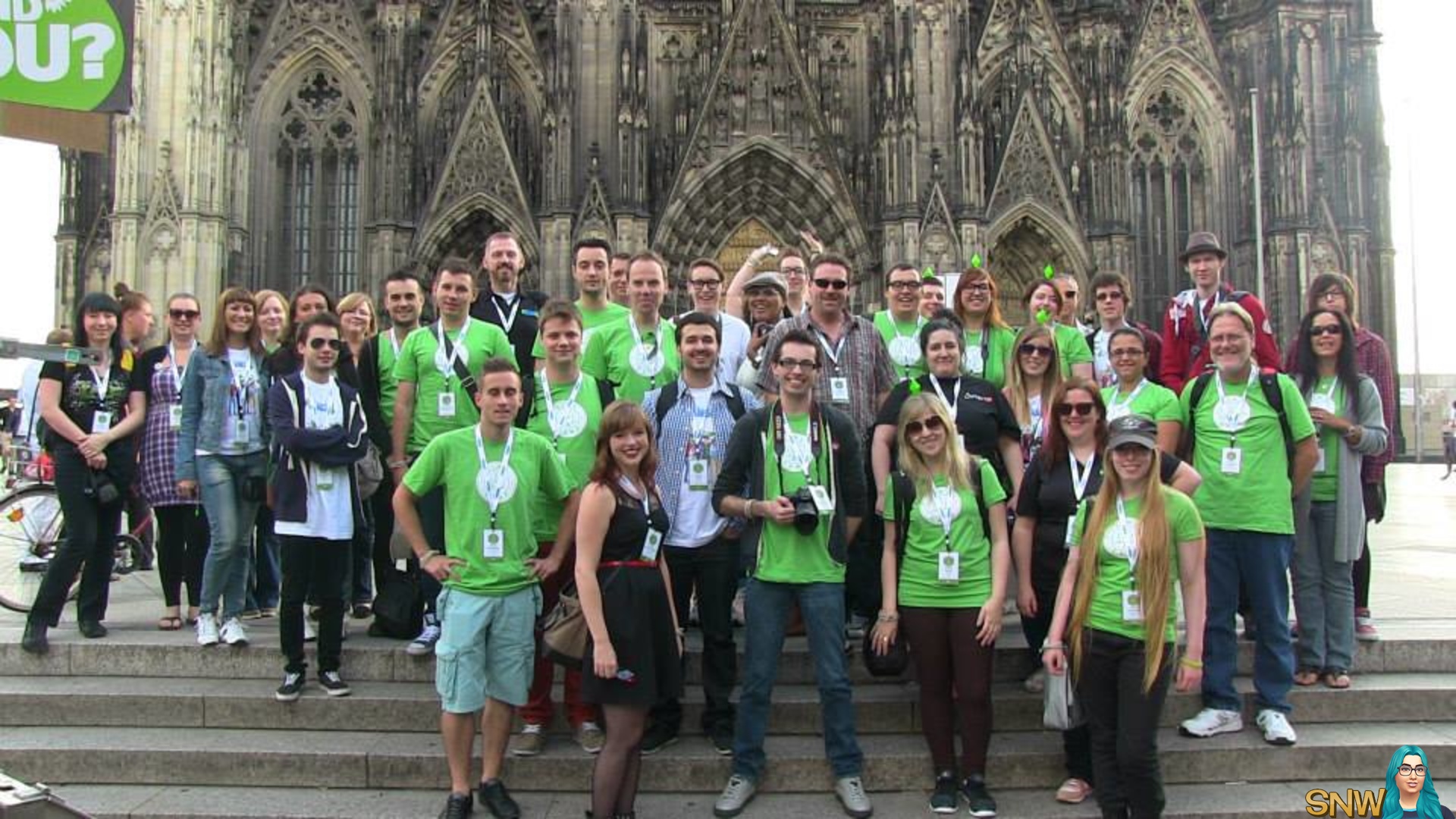 We took a group picture! Look at the size of our group!
During the tour we have seen a lot of fun things in Cologne. We were split into three groups. And we all had our own tour guide. This tour guide showed us around. We visited the Cologne Cathedral (Kölner Dom) for example.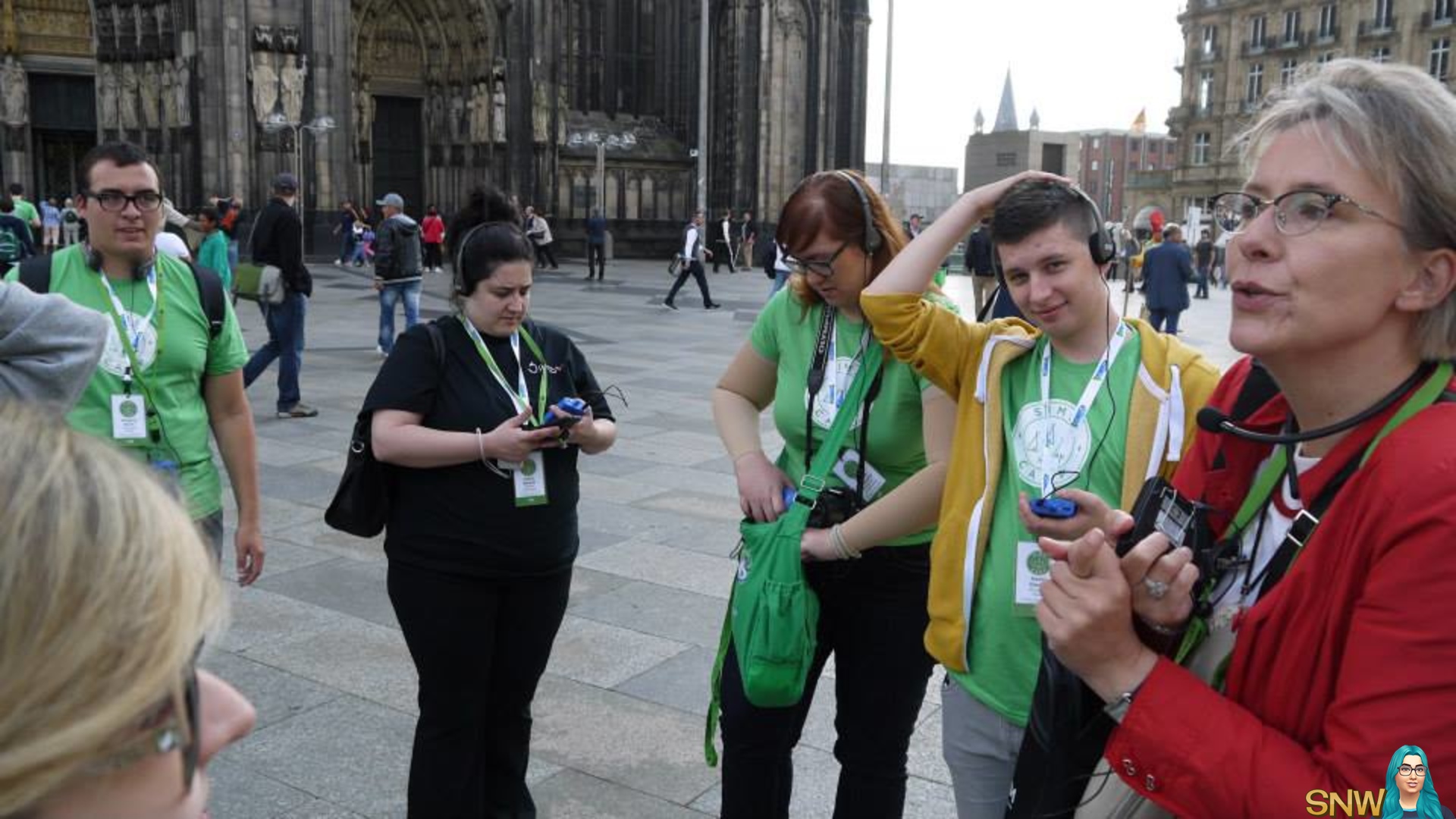 Here is part of our group preparing for the visit to the Cathedral! Greg, Alexis, myself, Karol and the tour guide!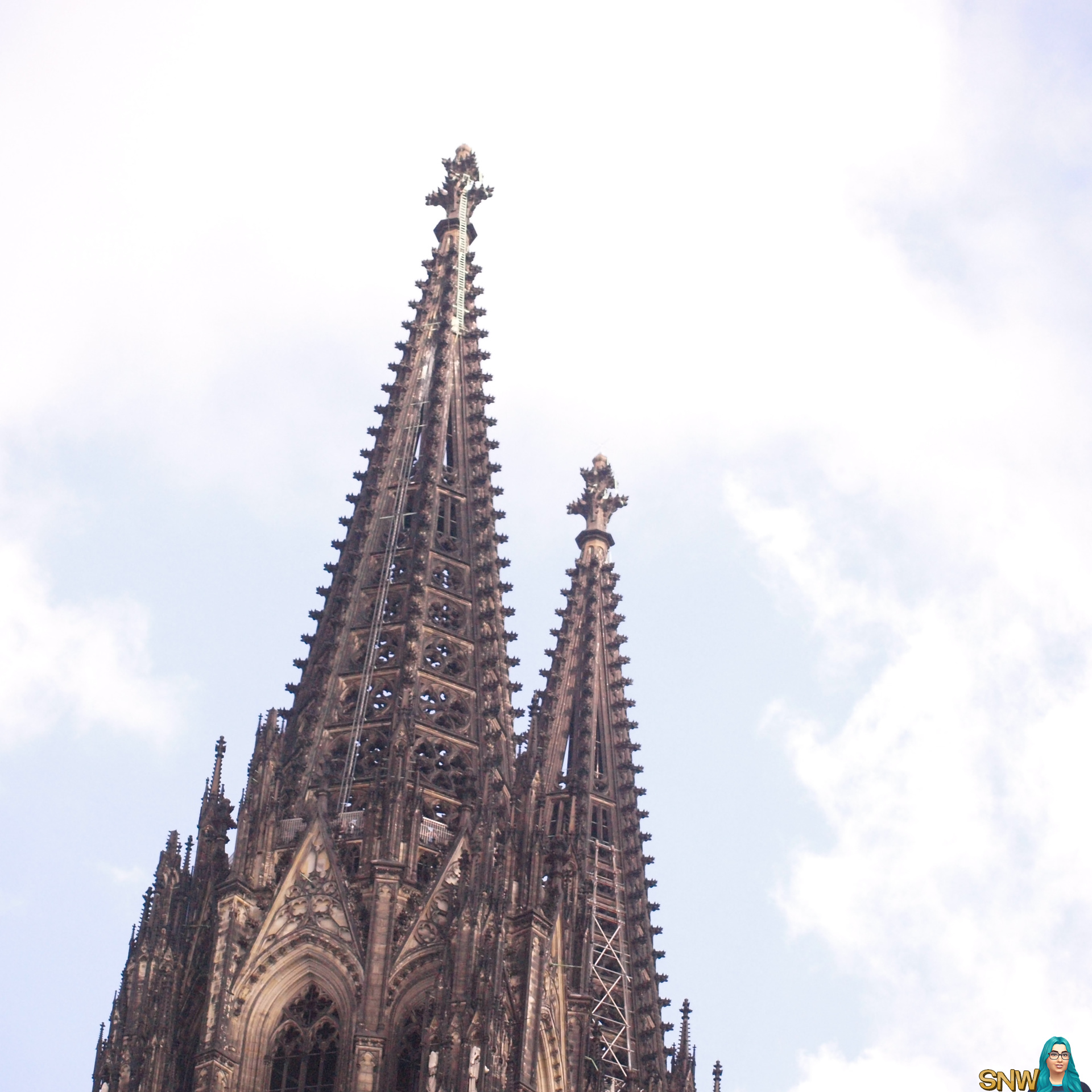 And in the cathedral we've learned a lot of things. But one of the things I thought was interesting was this modern window. It was designed/created by Gerhard Richter and it looks like a whole bunch of pixels to me. Also. The panes are symmetrical in a way. Check it out!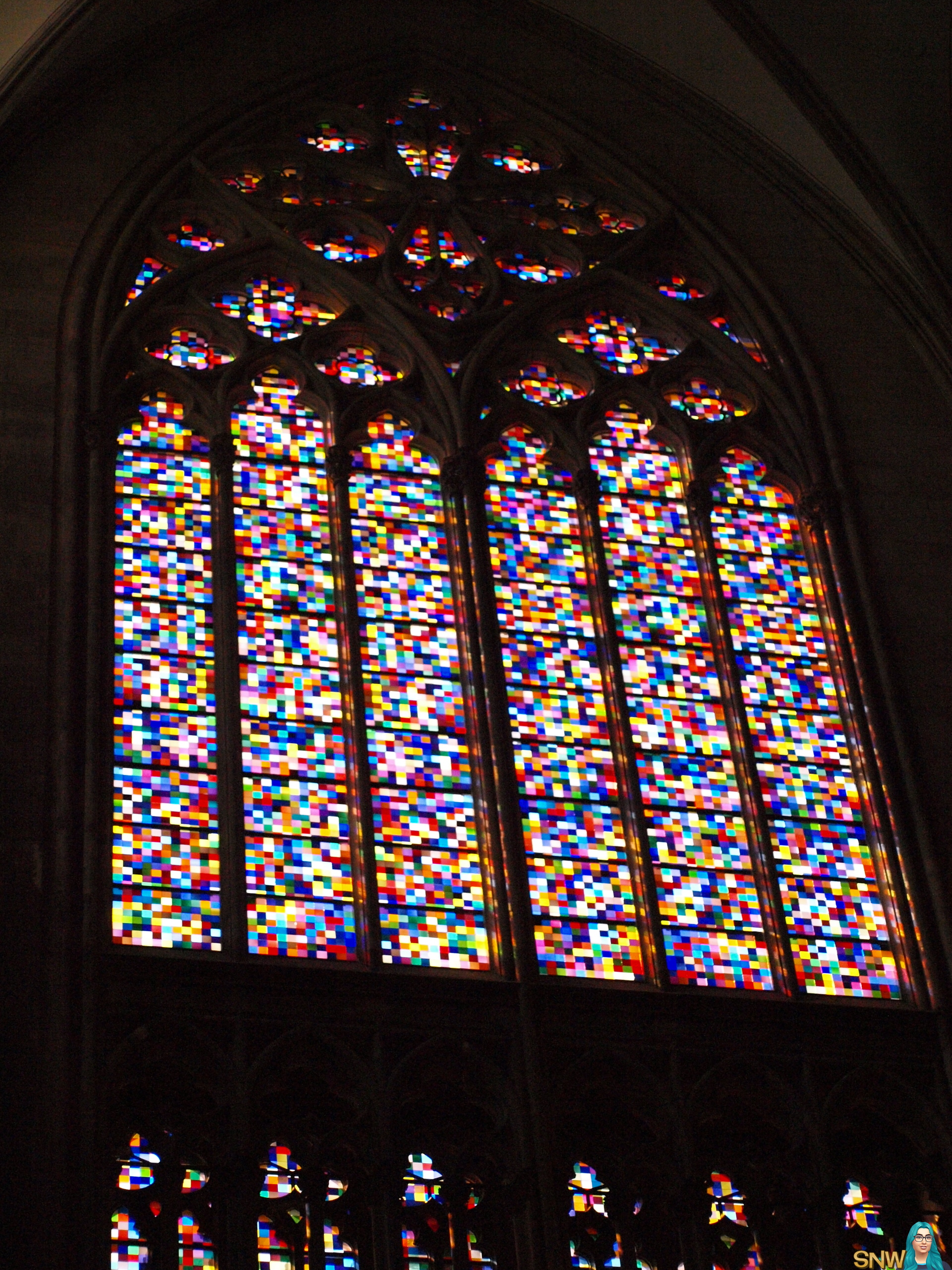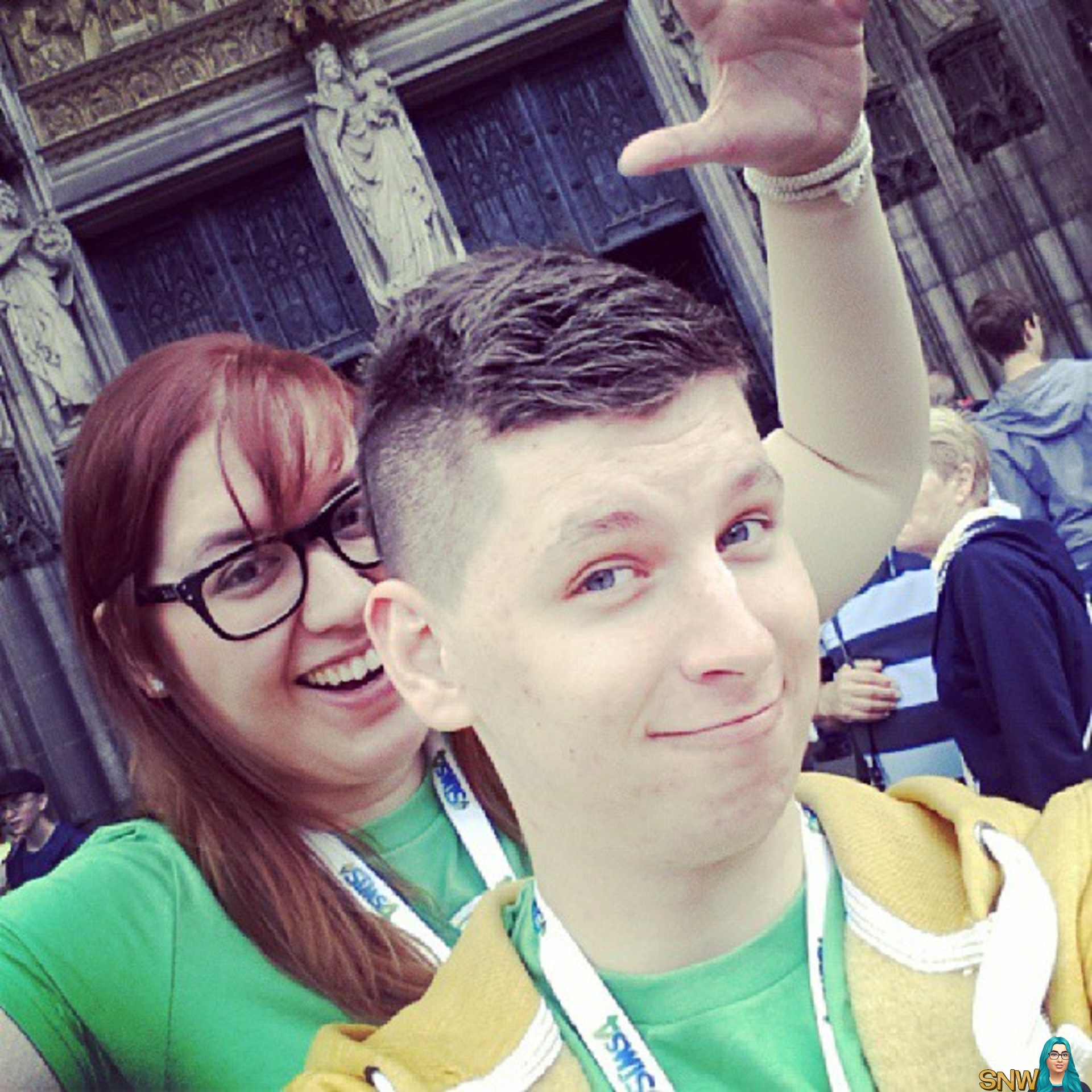 Here I am photobombing and attempting to scare Karol from DOTSim. Obviously he wasn't shocked by my actions.

And from there we basically walked around famous and funny sights. I took a couple of pics while walking: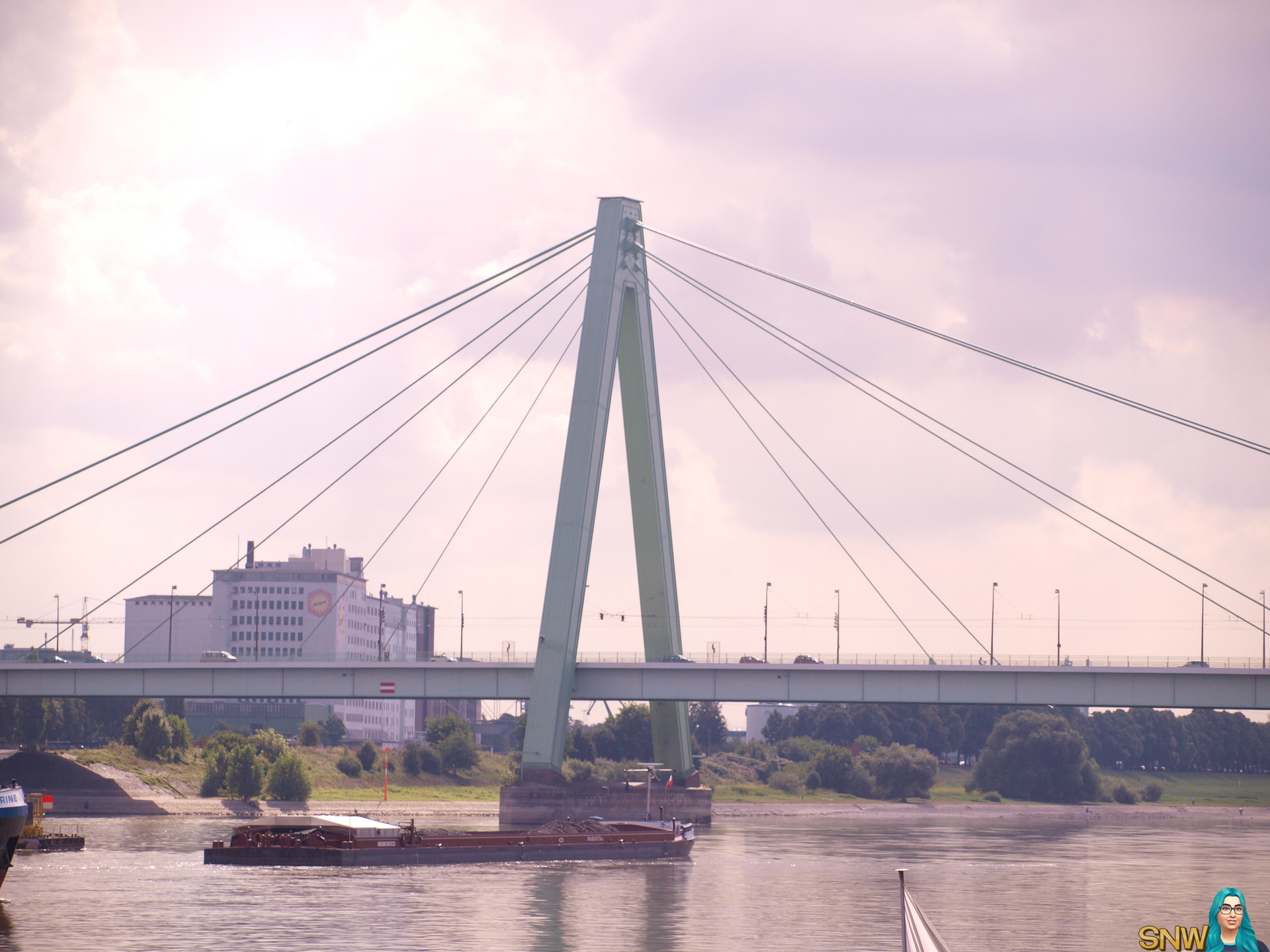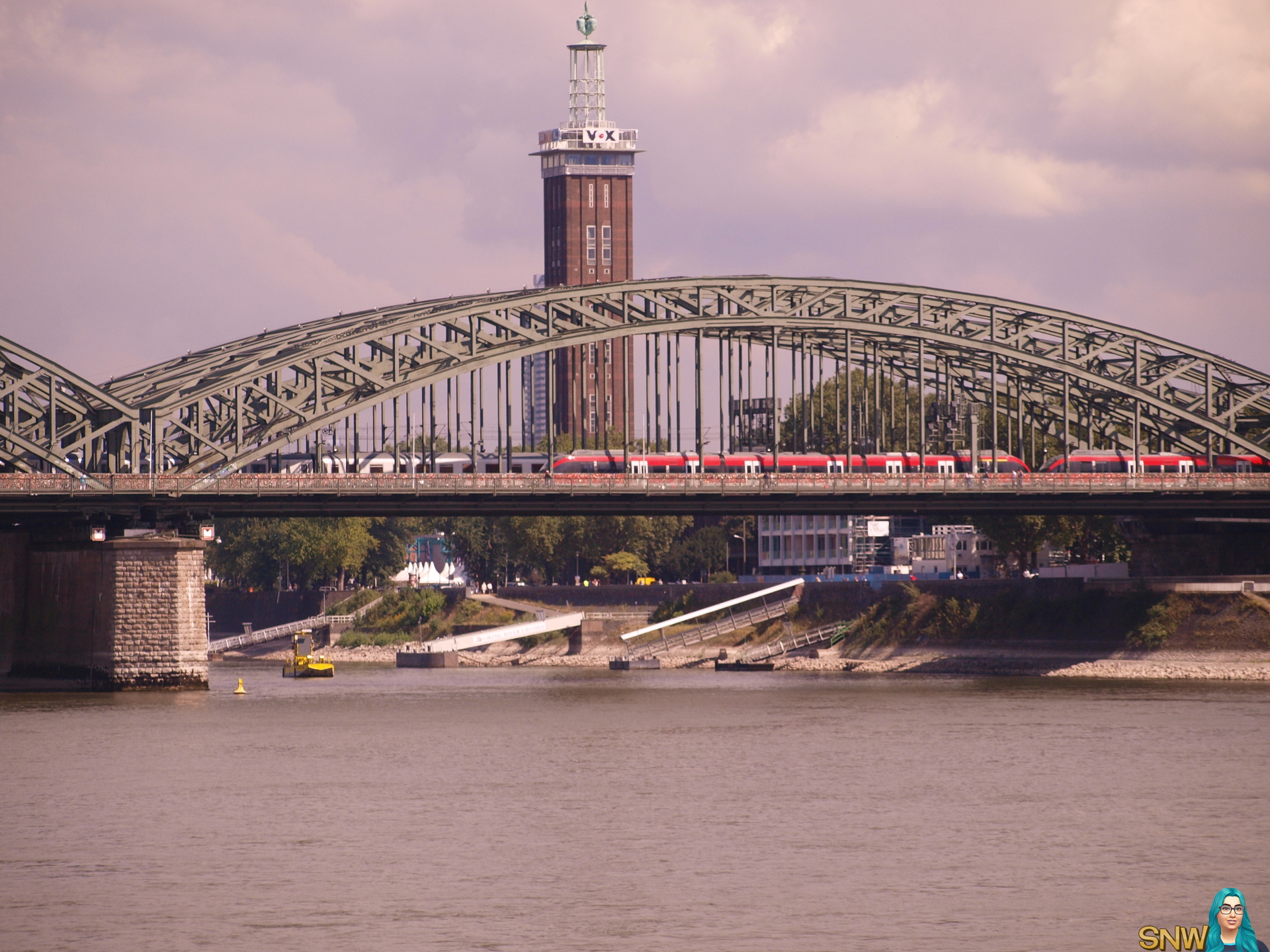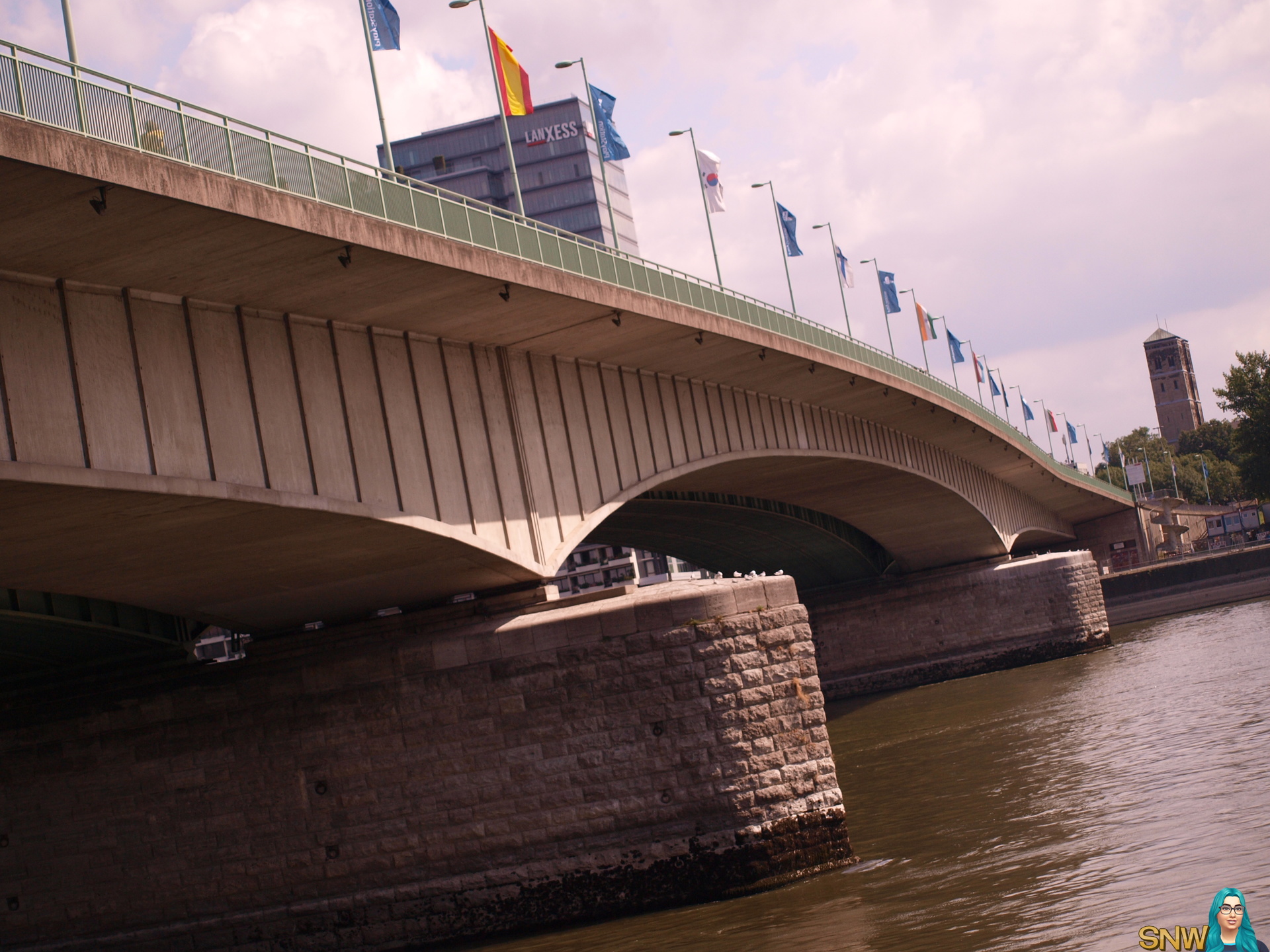 After our tour we ended up at Art'otel for lunch!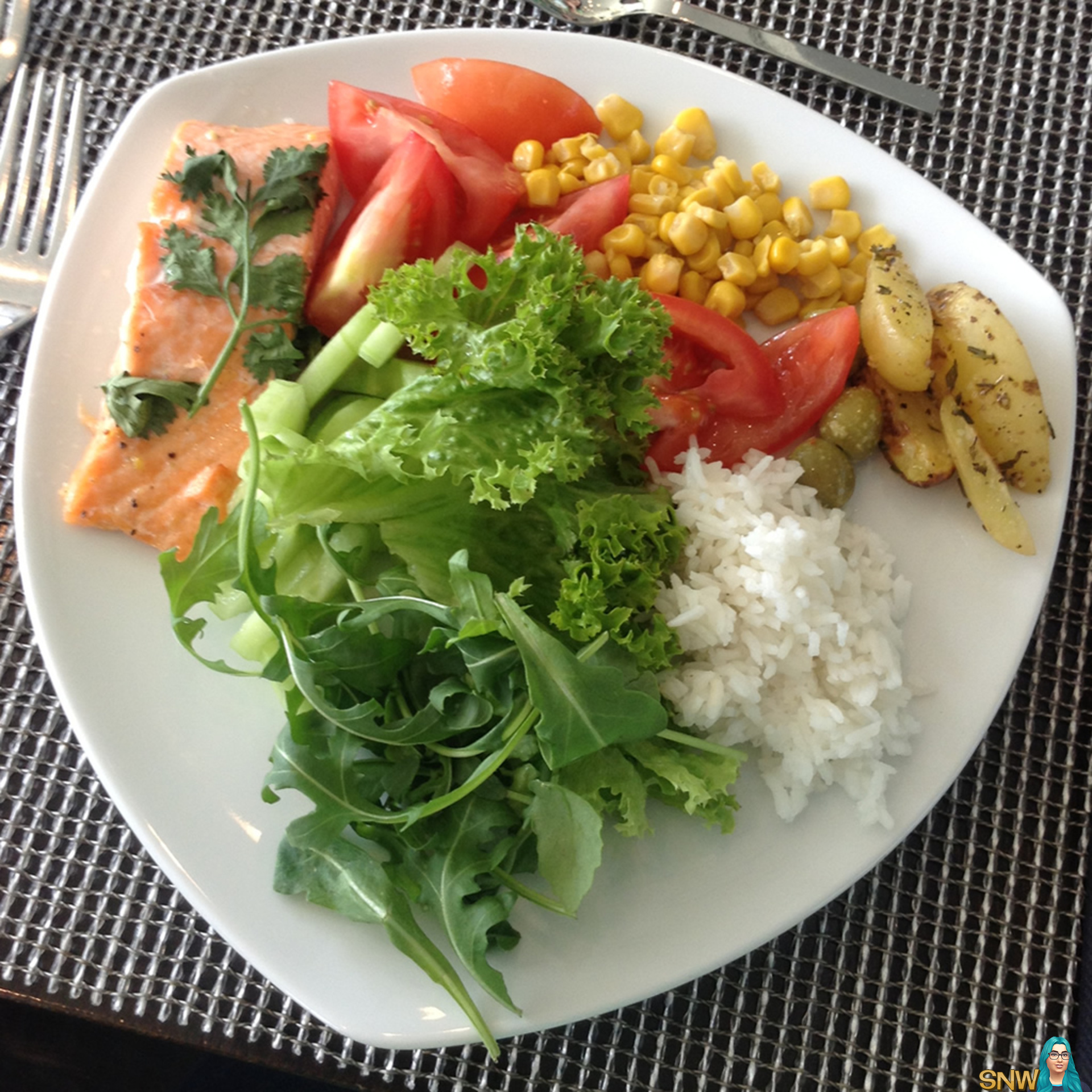 Luckily lunch was a buffet, so we could grab anything we wanted. And I just got a load of veggies, some rice and a bit of salmon. It was so yummy!
During lunch Michelle joined and she recorded Berry, Alexis and myself. I am so awkward but it's so fun at the same time!

 Go watch Michelle's vlog here!
Anyway, after lunch we went back to the hotel because a bunch of us needed to recharge our devices and we didn't really feel like going to the Chocolate Museum or the Sports Museum. Well I don't see how that would work for me. I like sports, just not when I'm on a trip.

And I like chocolate, but I can't eat it, so that would just be horrible to tease myself like that!
In the hotel room we took some pics. Some people vlogged. Others updated their site. And I was working on some tiny freezer bunnies. Which I never got to finish btw. Well not in Cologne anyway. Oh well. But the others seemed impressed that I was making them right there... That's just how I roll people.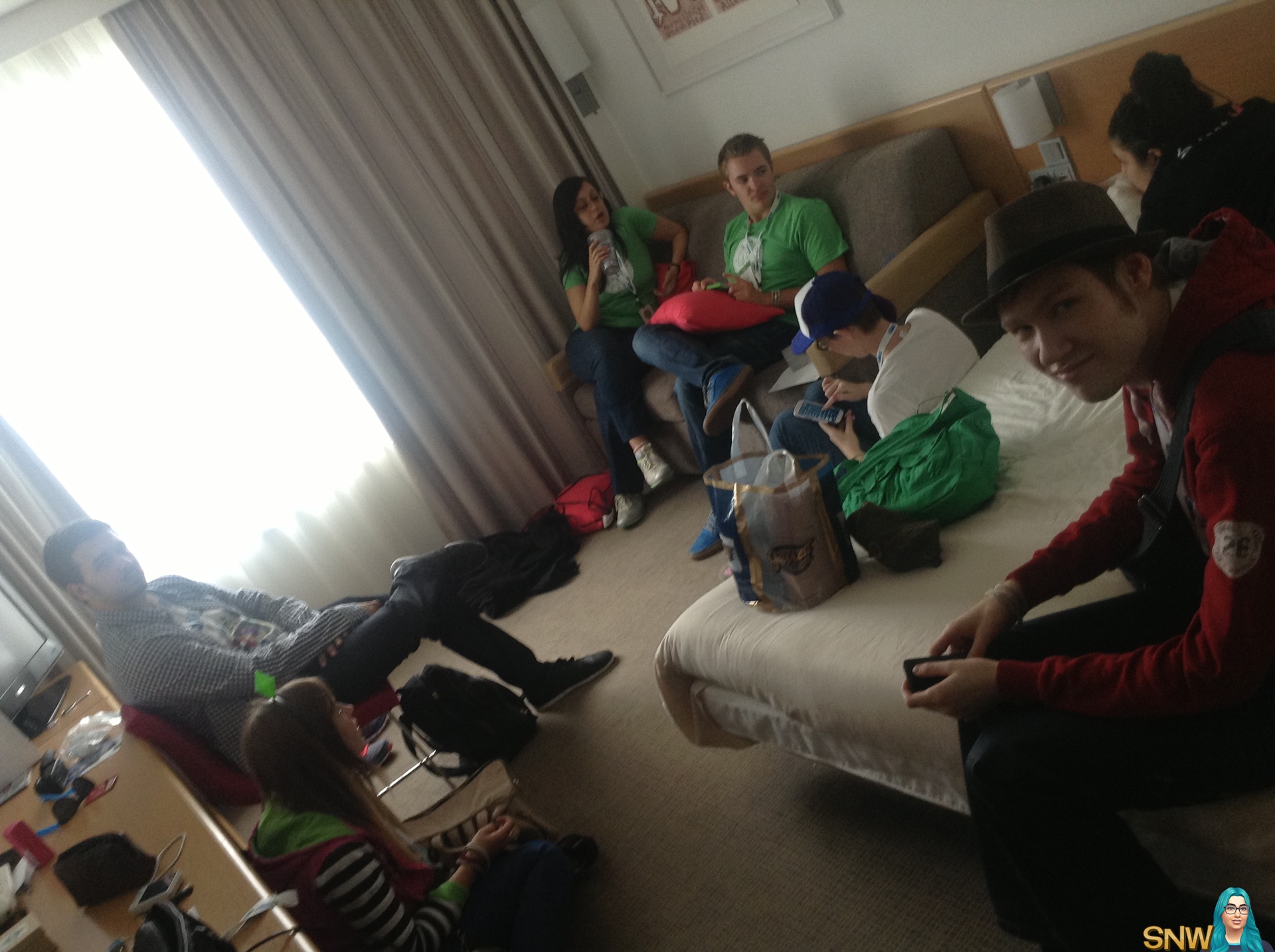 As seen in the pic: The Sim Supply, Rachybop, Michelle Kenobi, iPodZeke1, BerrySweetShoppe, ChrillSims3 and SimsVIP!
When it was time to go back, we walked with the group back to Art'otel to meet up with the rest. And from there we went to the bus. And the bus took us to a special place. Because we were going to attend the press conference! Now I decided to talk about the press conference in another post, and you can expect that very soon!

After the awesome experience that is the press conference, we went back to the hotel. We there had a little time to prepare ourselves for the first official Sims Camp dinner. When it was time to go, the bus took us to the restaurant, which was Gaffel am Dom Brauhaus.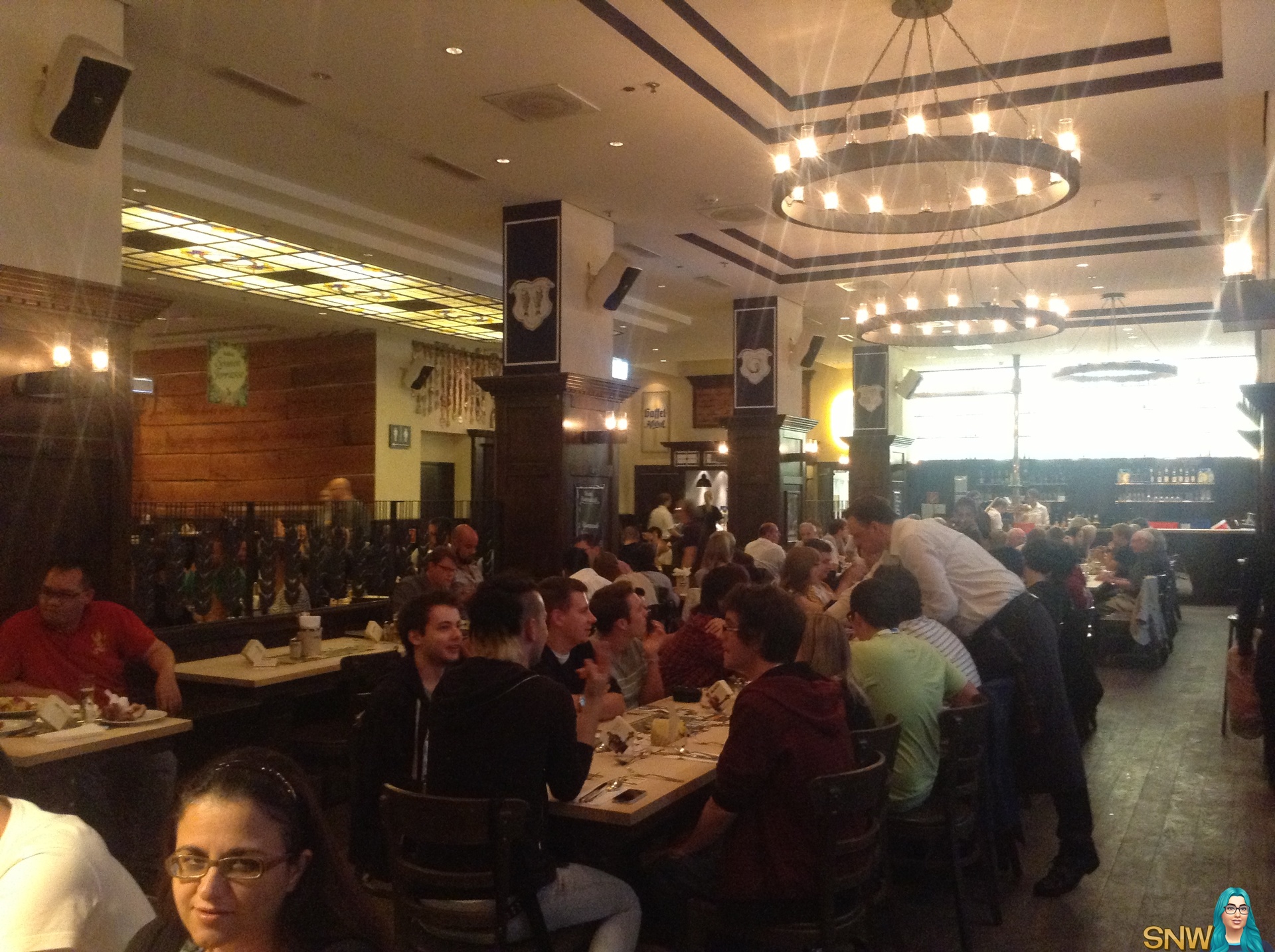 There were many tables for the Sims Camp group hahaha. This was just a portion.
It was before, during and after courses that we took pictures. I am sure there are more pictures, but these were all I could find. Some are made by others.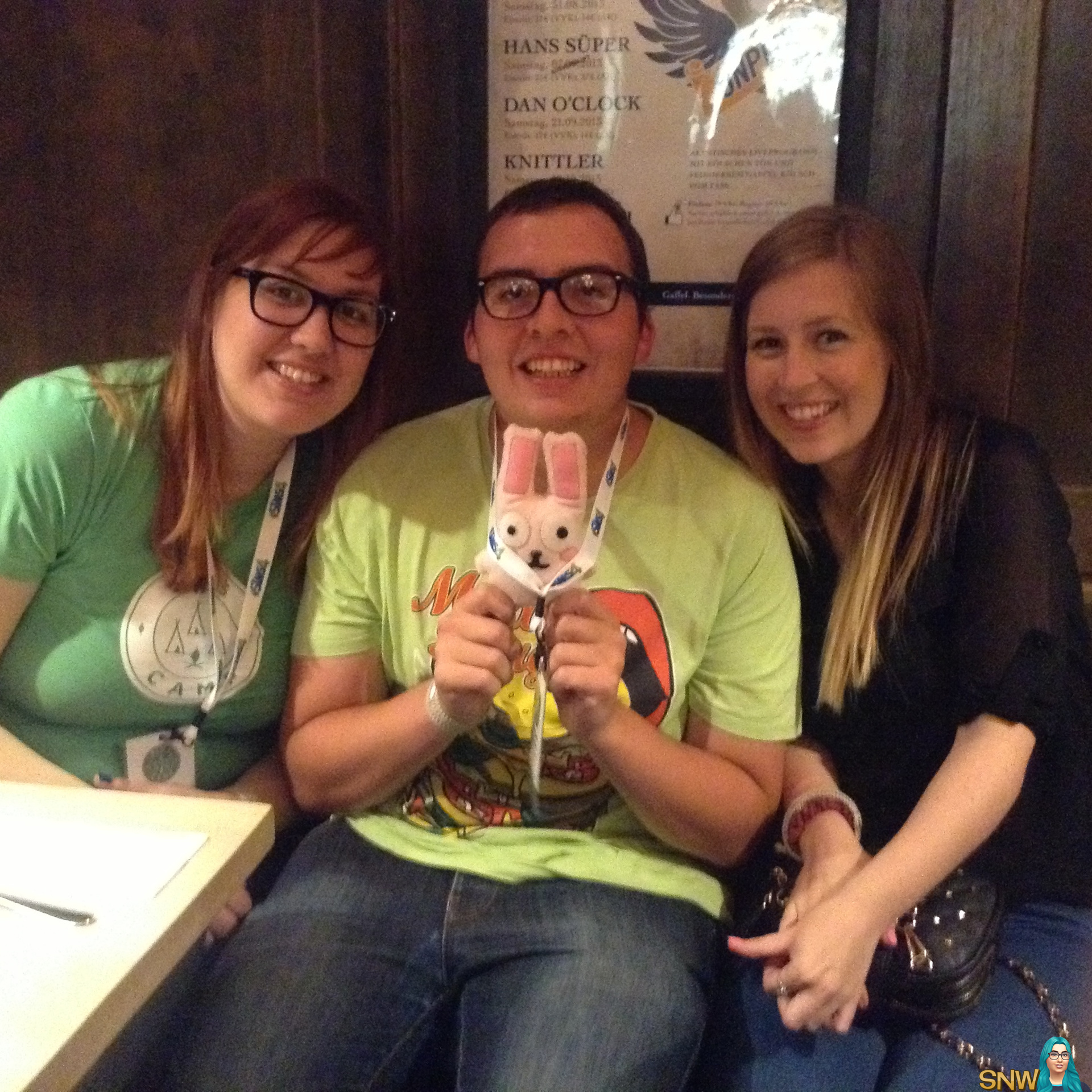 Me, SimCookie, Freezer Bunny, and Rachybop!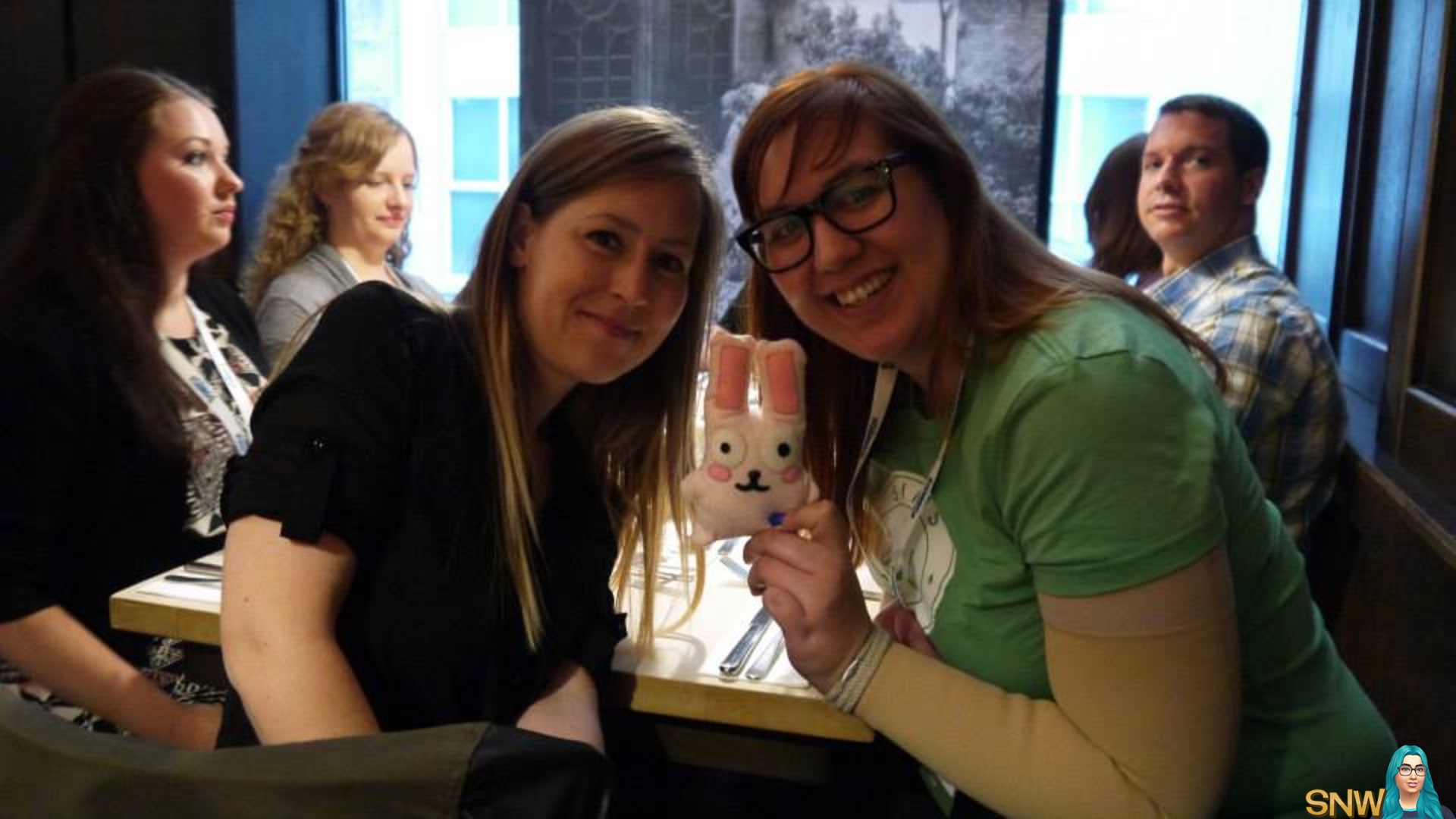 Rachybop, Freezer Bunny, and me!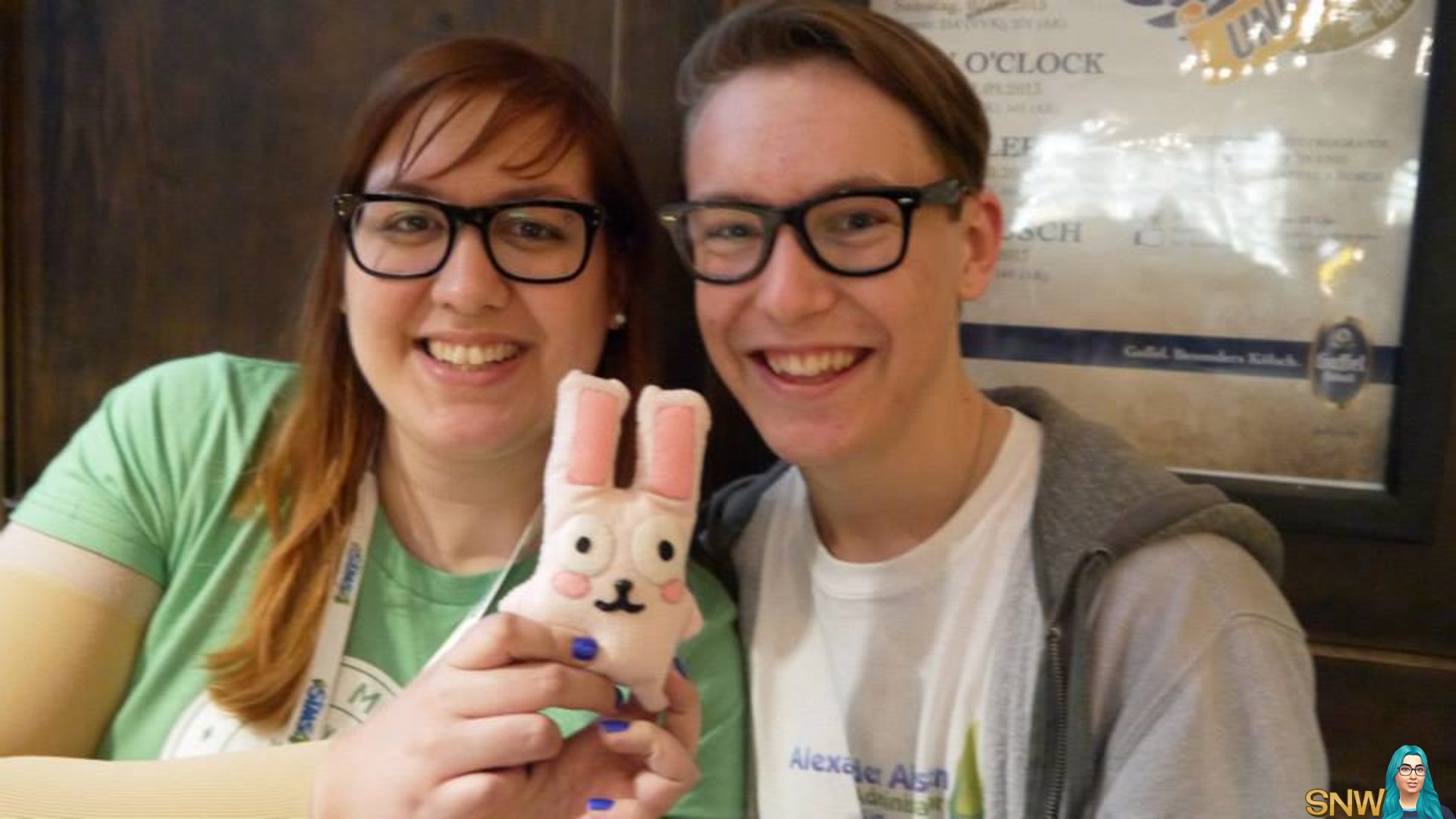 Me, Freezer Bunny, and SimGoodie!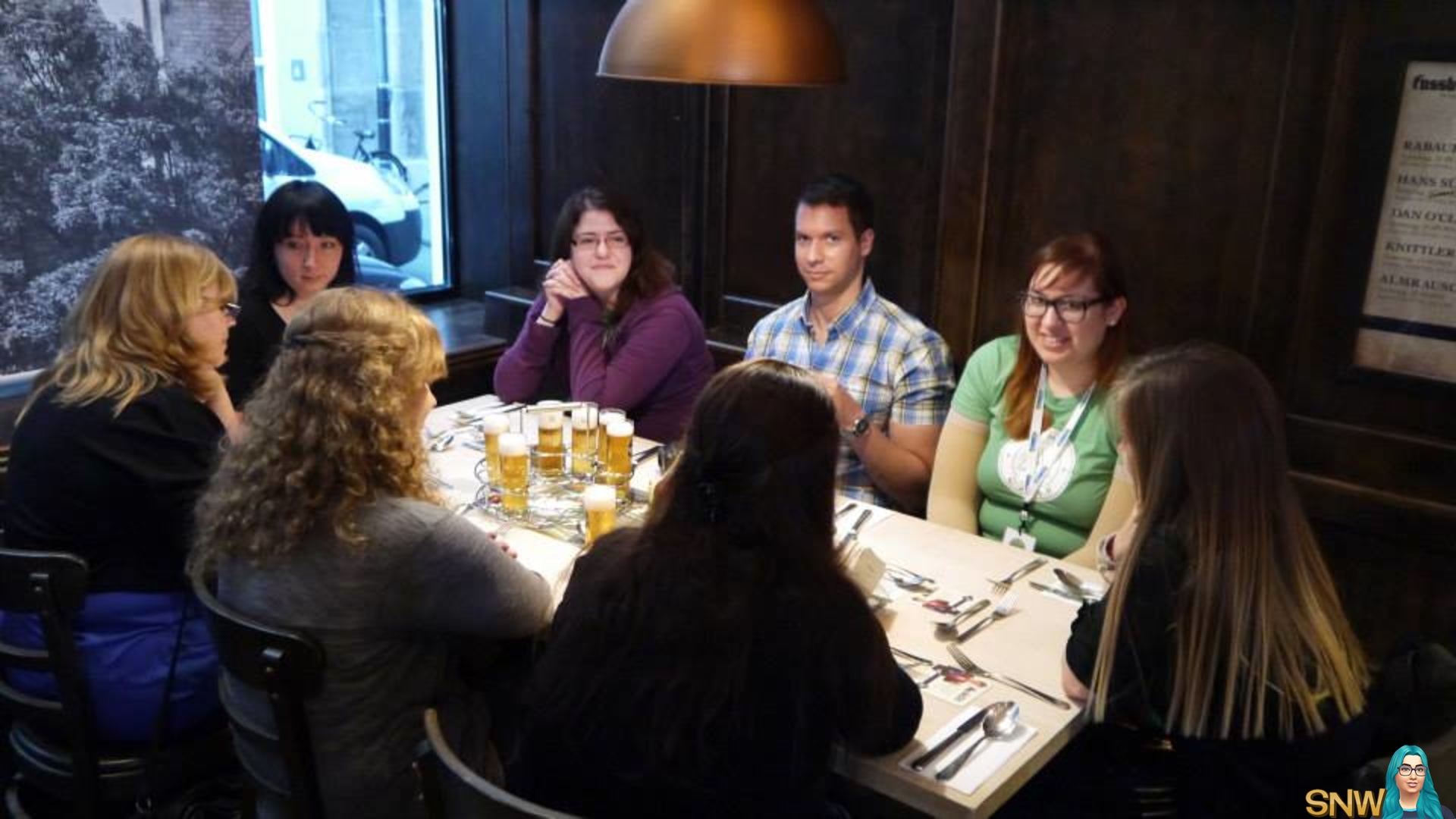 The table I joined. I am not sure if everyone on this picture is comfortable with me telling who they are, so I will keep that a mystery!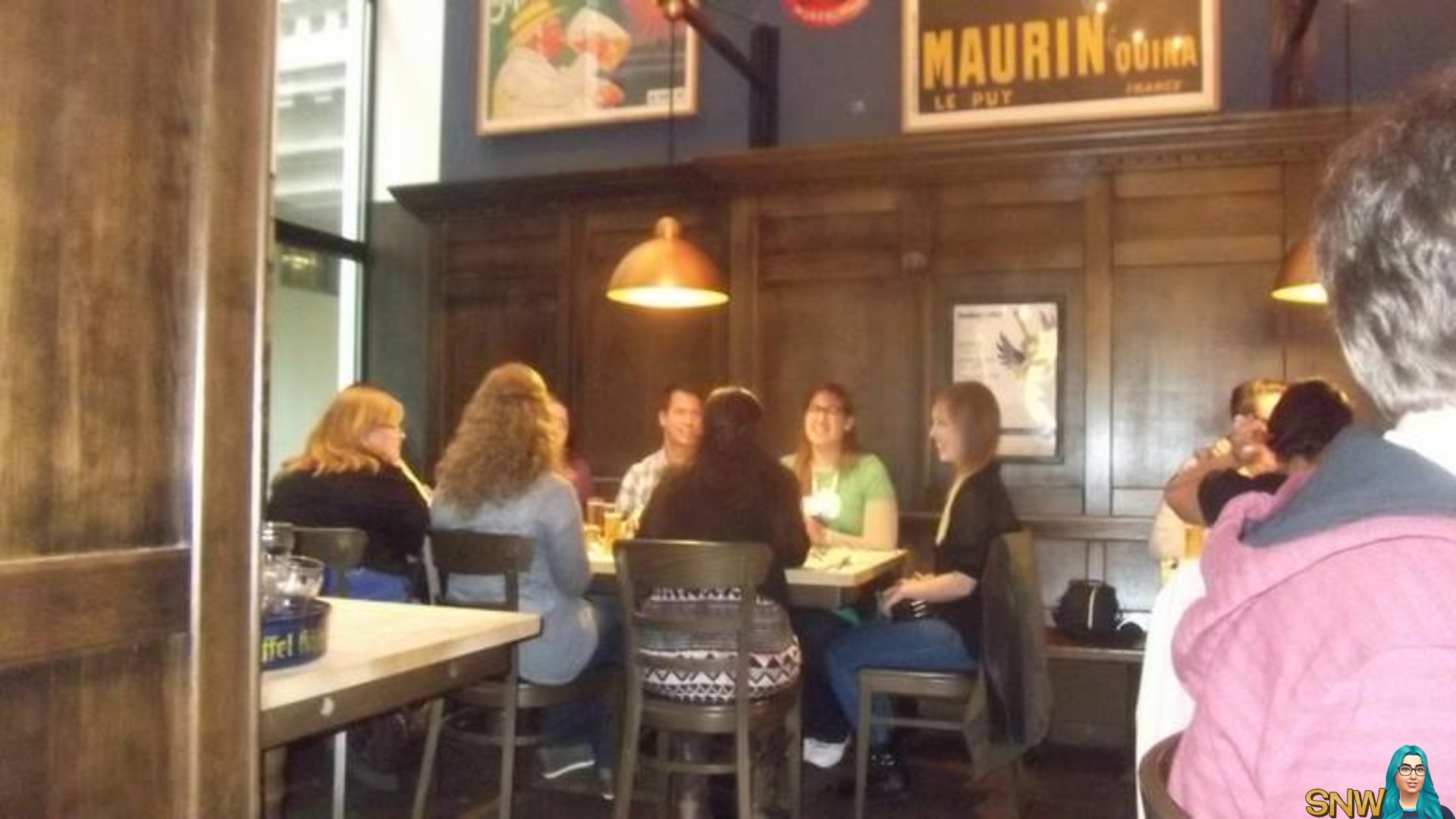 Me, still at the same table. This picture was taken by Greg from SimCookie, who somehow thinks I laugh too much!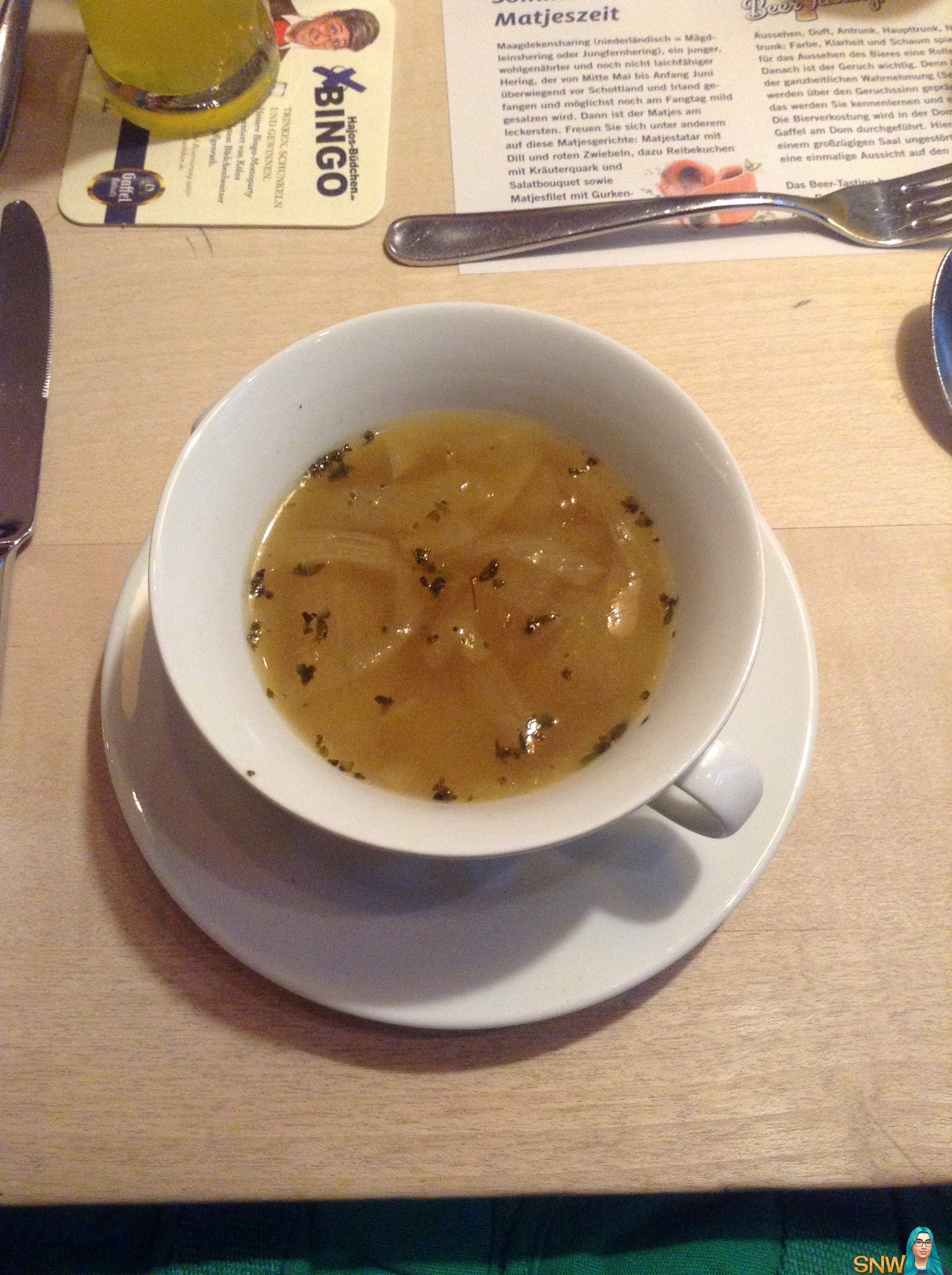 So this was my first course. Onion soup. I was accidentally served the wrong version, with bread in it. But they corrected that. This was so yummy!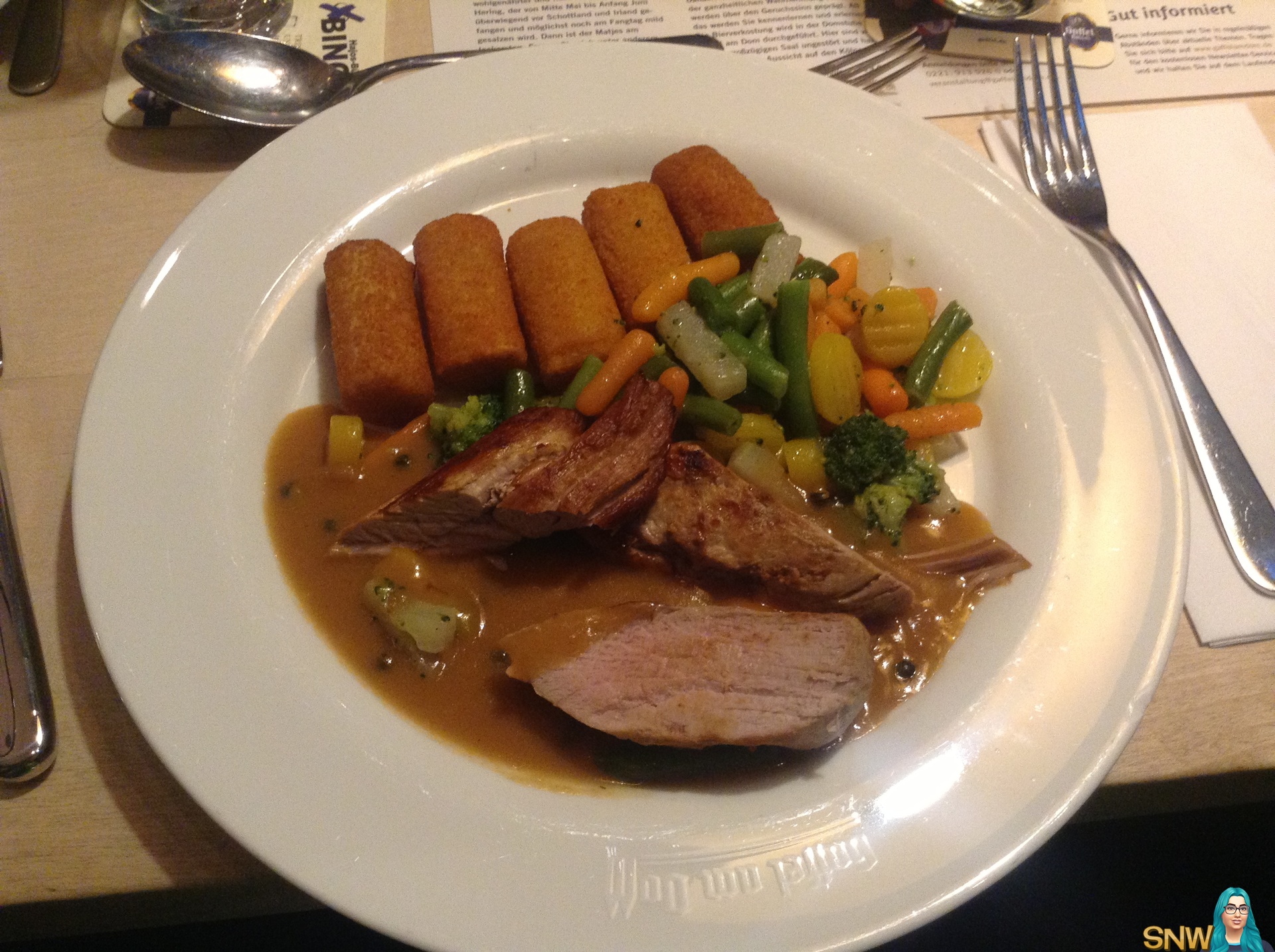 This was the second course I received. Although it looked yummy, I did not feel comfortable with the potato croquettes and the gravy, seeing as it has gluten in it and I didn't want to take my chances during an important week like this!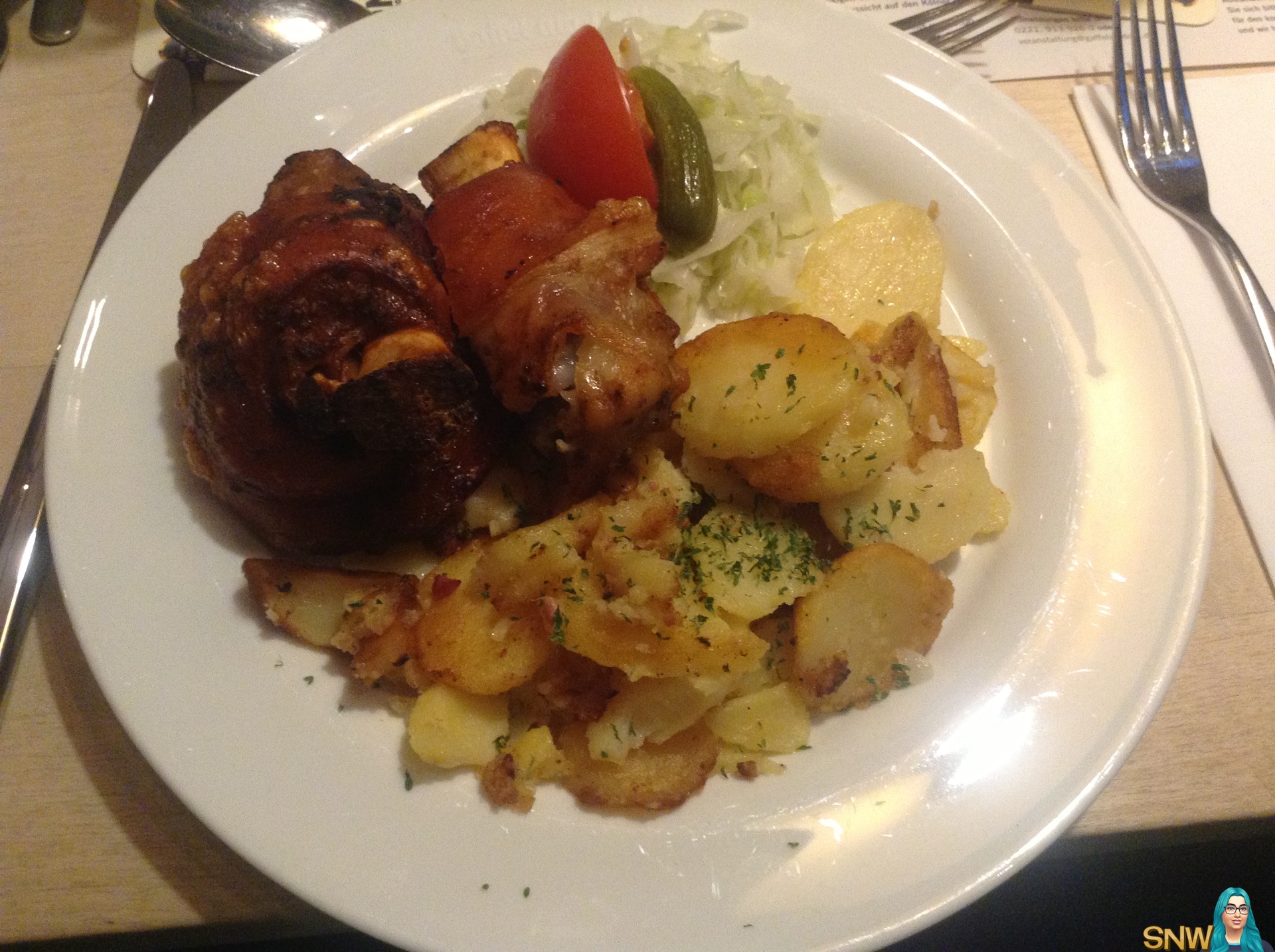 But I soon found out they had special dishes for the people who had gluten free (basically that was SWW, Berry and myself). This looked a lot safer. Although... I did not eat that meat. It looked worse in real life. I was debating whether or not I should but I am still glad I didn't.

From up close it looked a bit like a croissant gone wrong.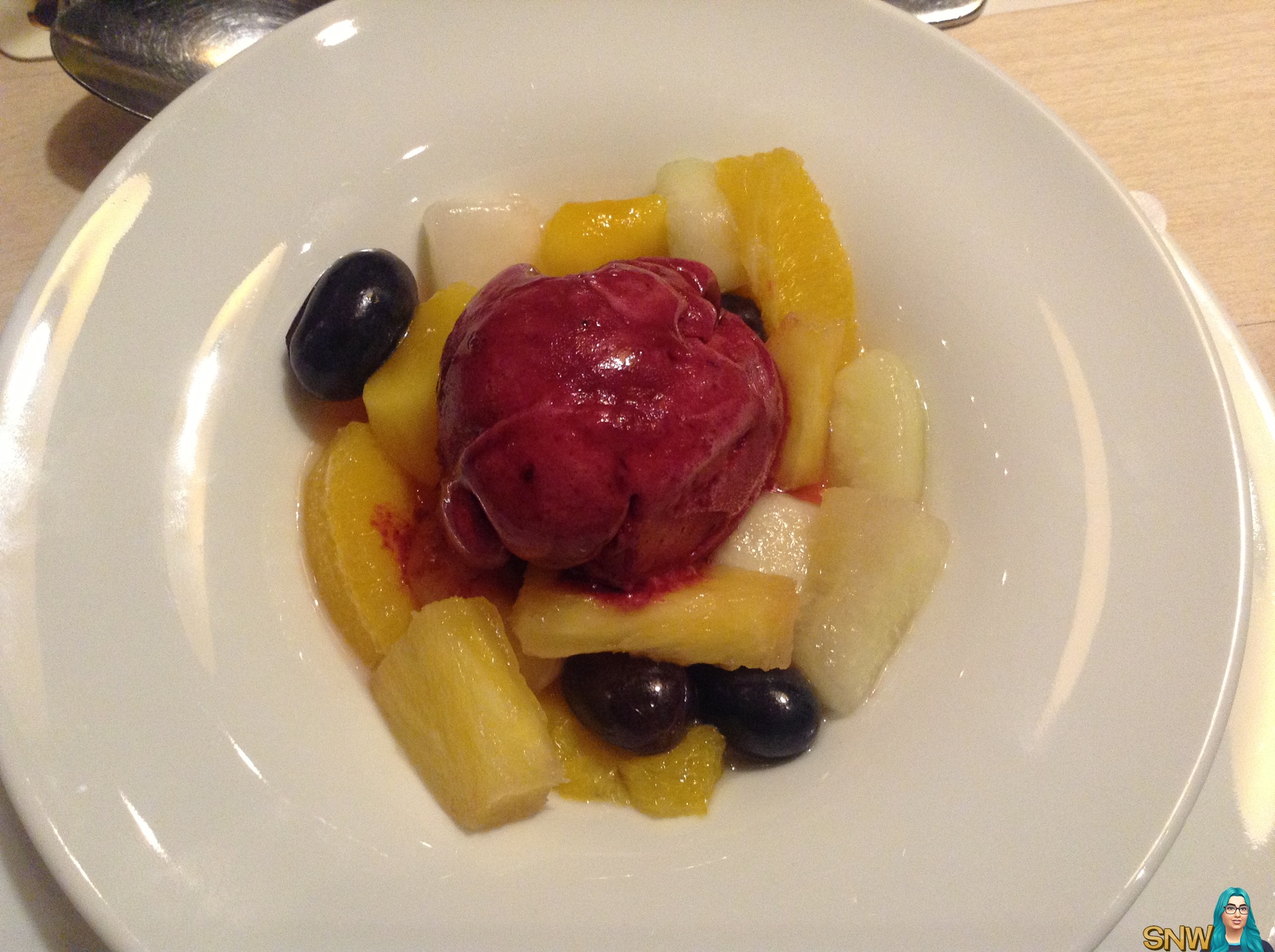 And my dessert! The rest had apfelstrudel, which I am a bit jealous of. But it's better this way hahaha! The dessert was so yummy. But then everything I ate was very good.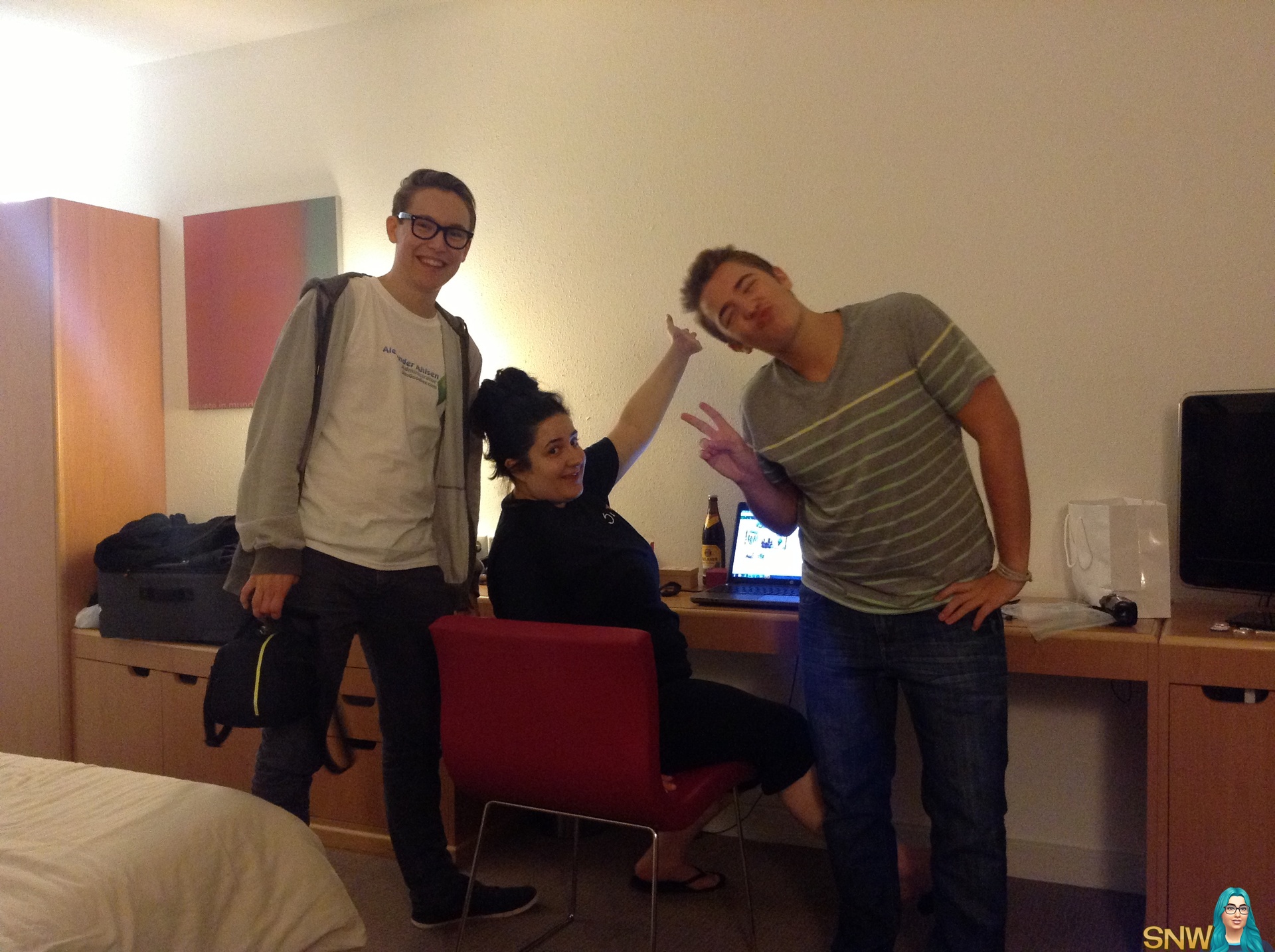 Somehow we all ended up in Alexis's room again. I can't remember if we stayed long, but I do know that I recorded a vlog together with Greg from SimCookie. And that vlog is already online, go here to watch it!
And that was it for day 2 (which is officially day 1 of Sims Camp). As per usual we all went to bed way too late.

But how can you not stay up a little during a week like this?