Previews: Sims Camp - Movie Stuff CAS screens!
Sunday, September 8, 2013 - 01:04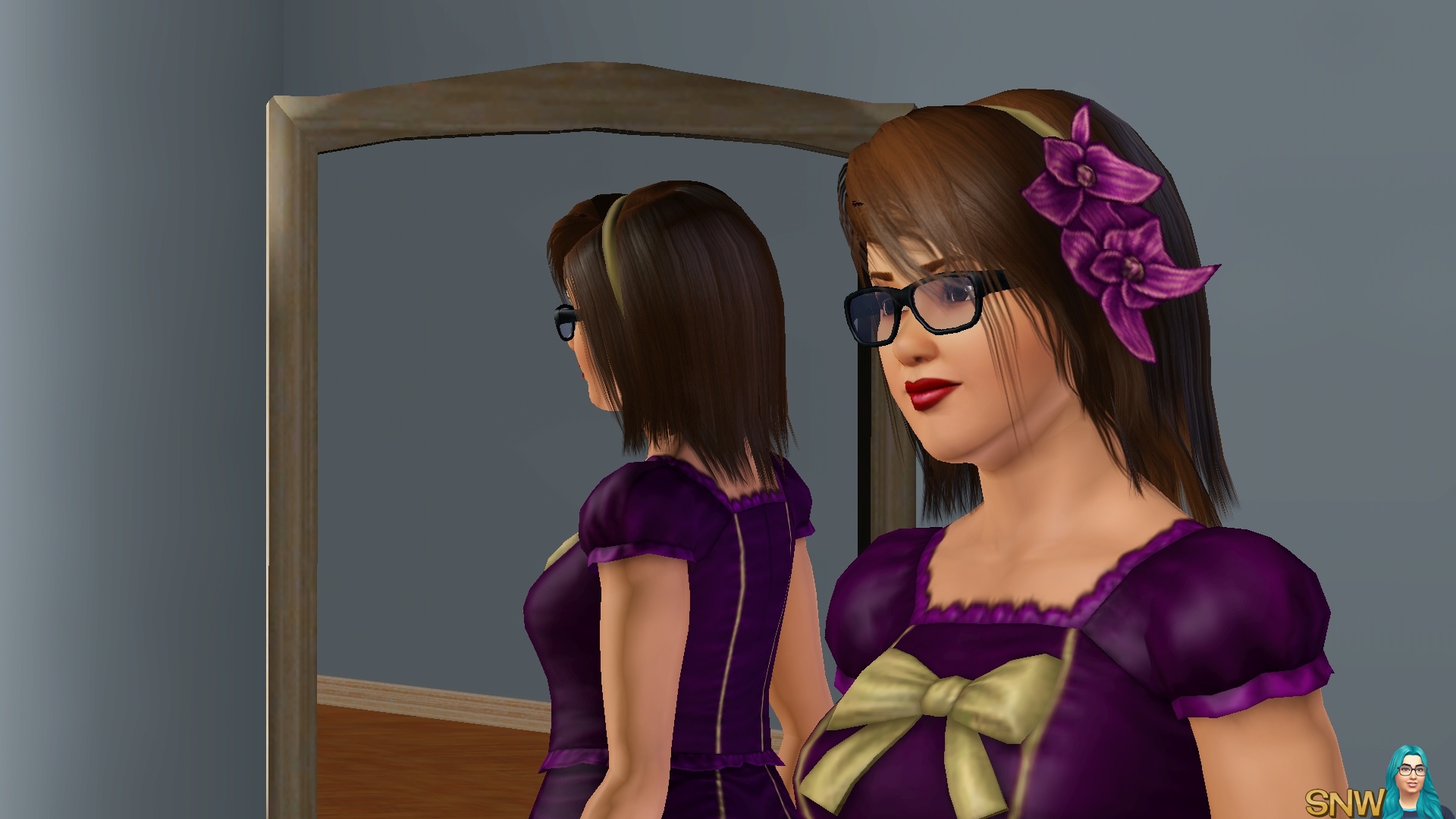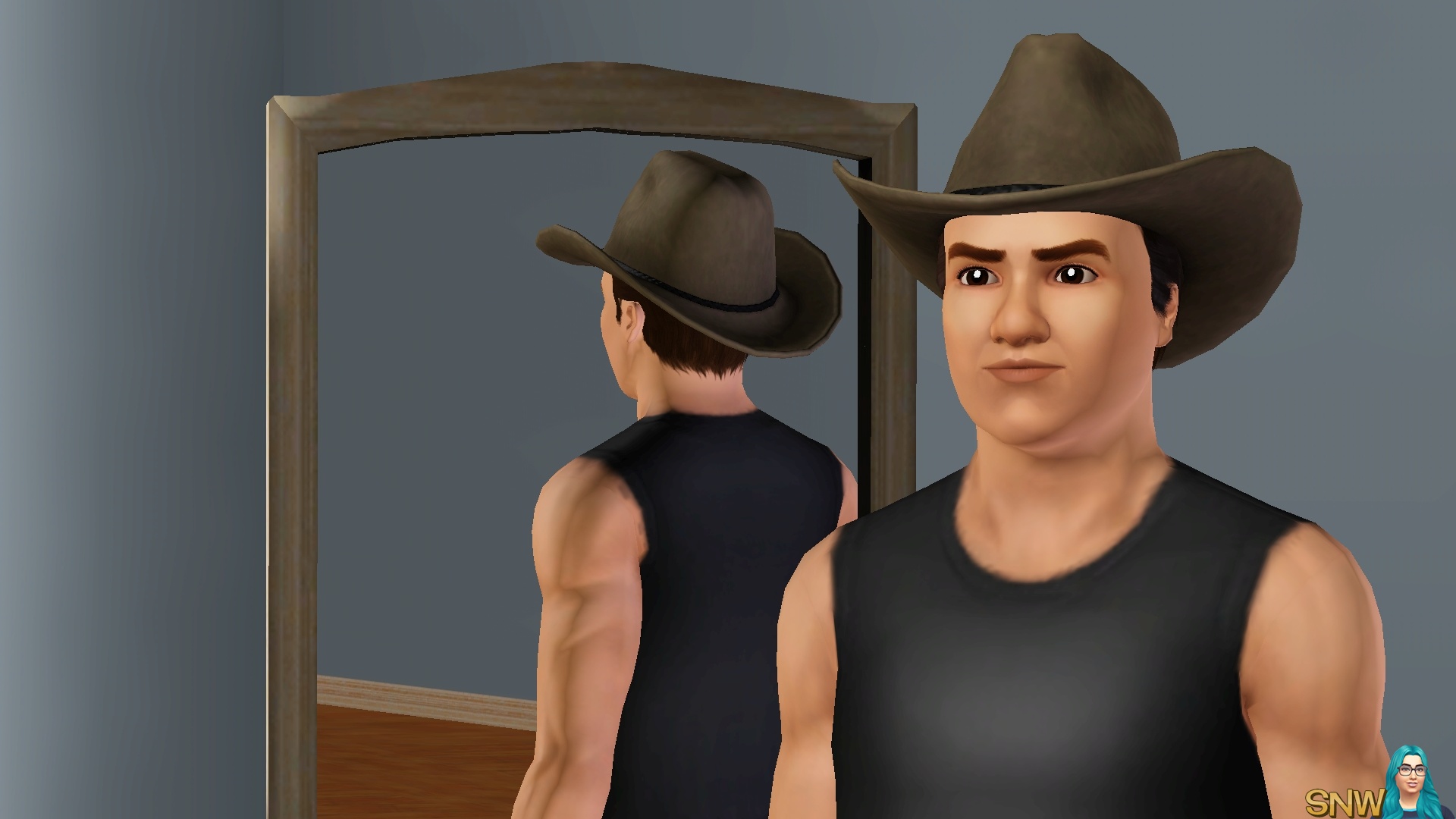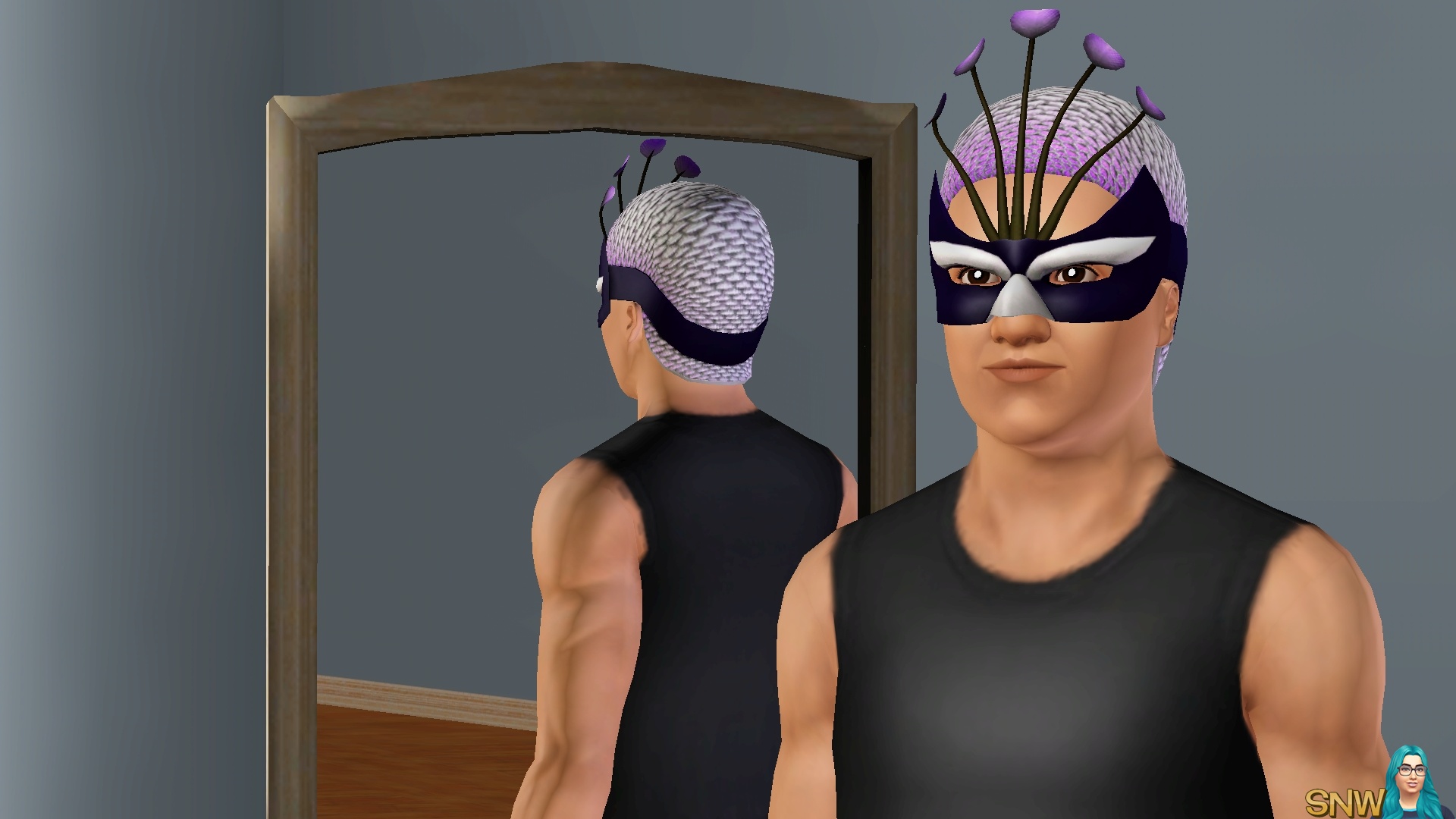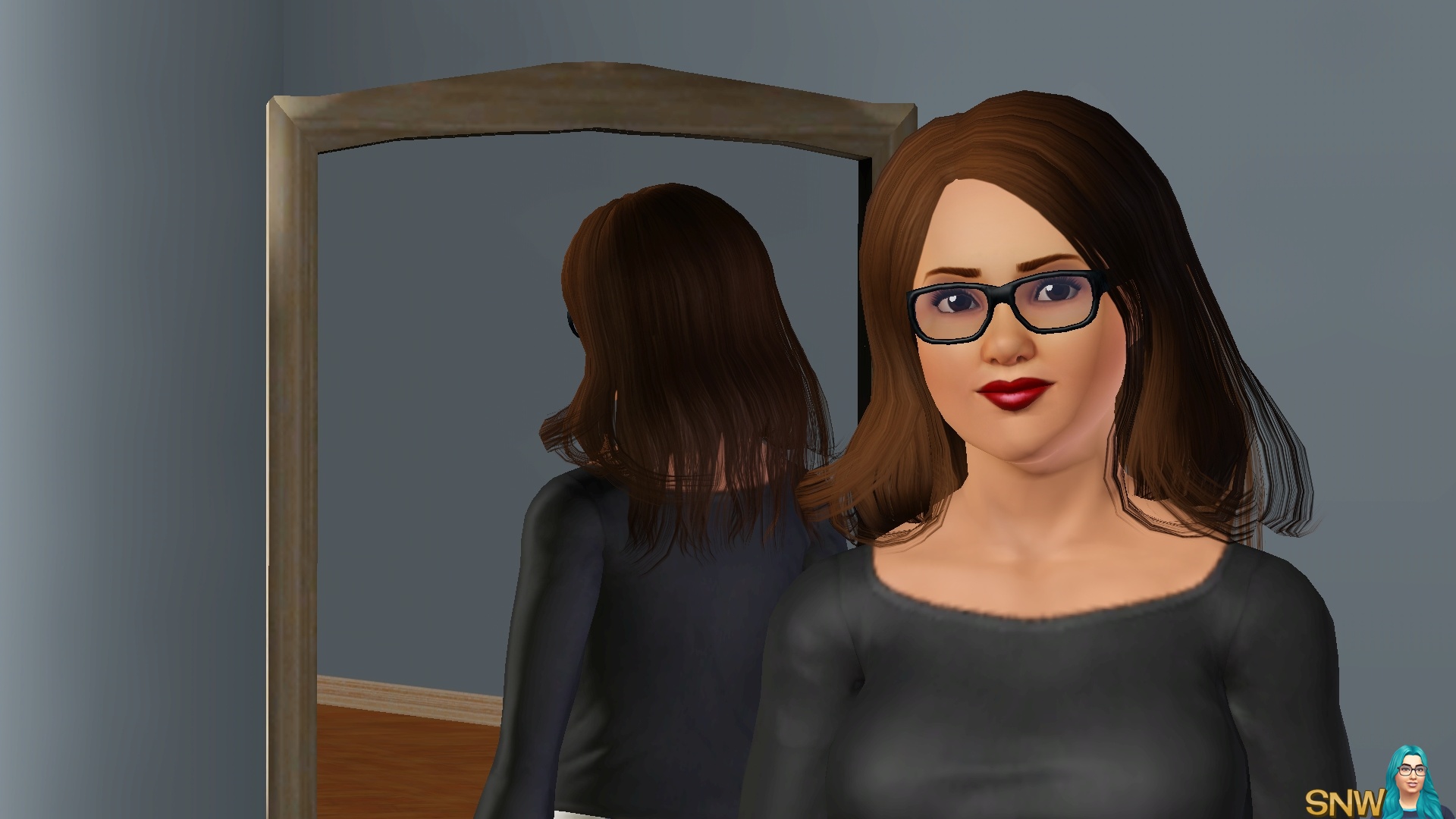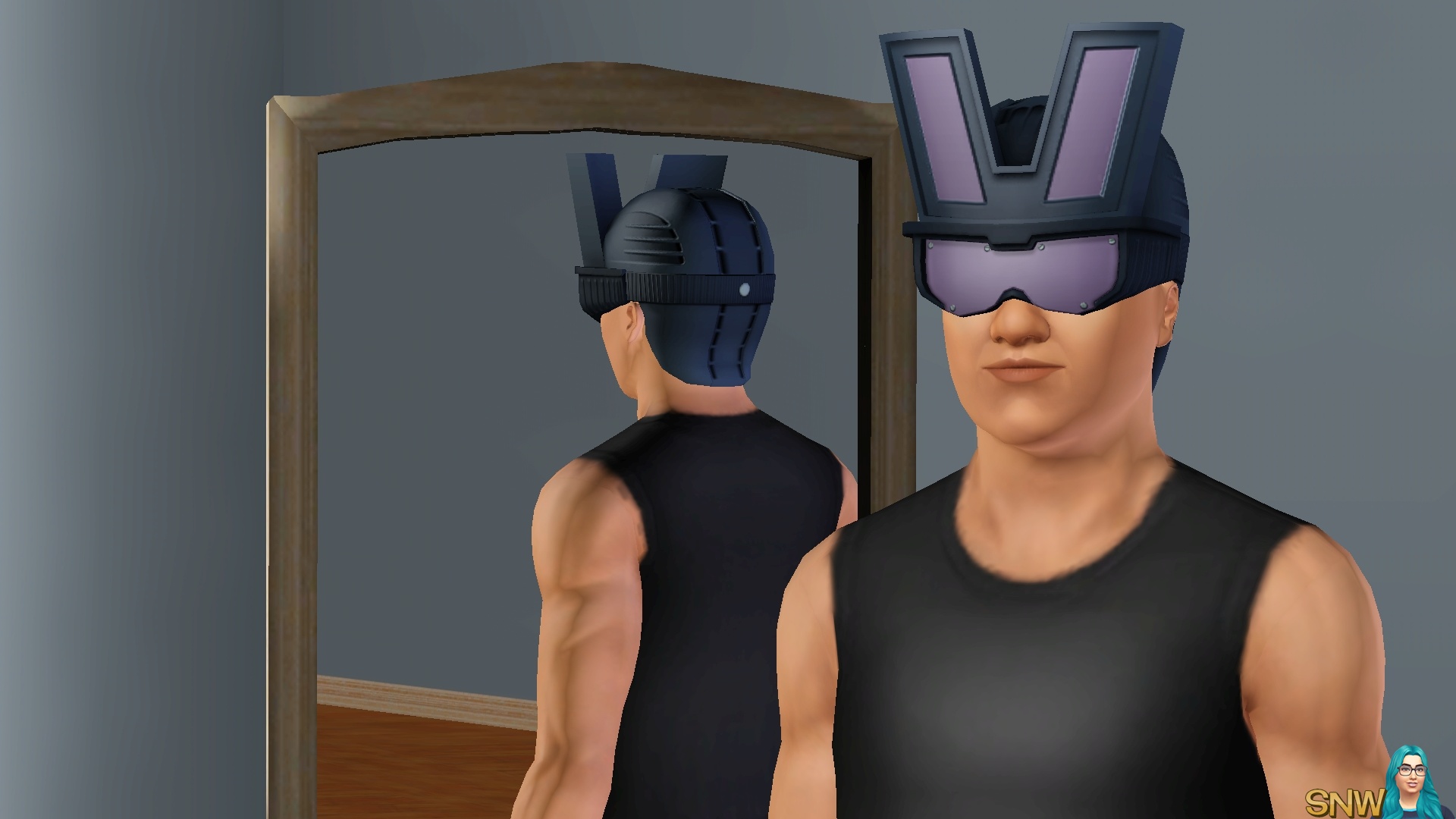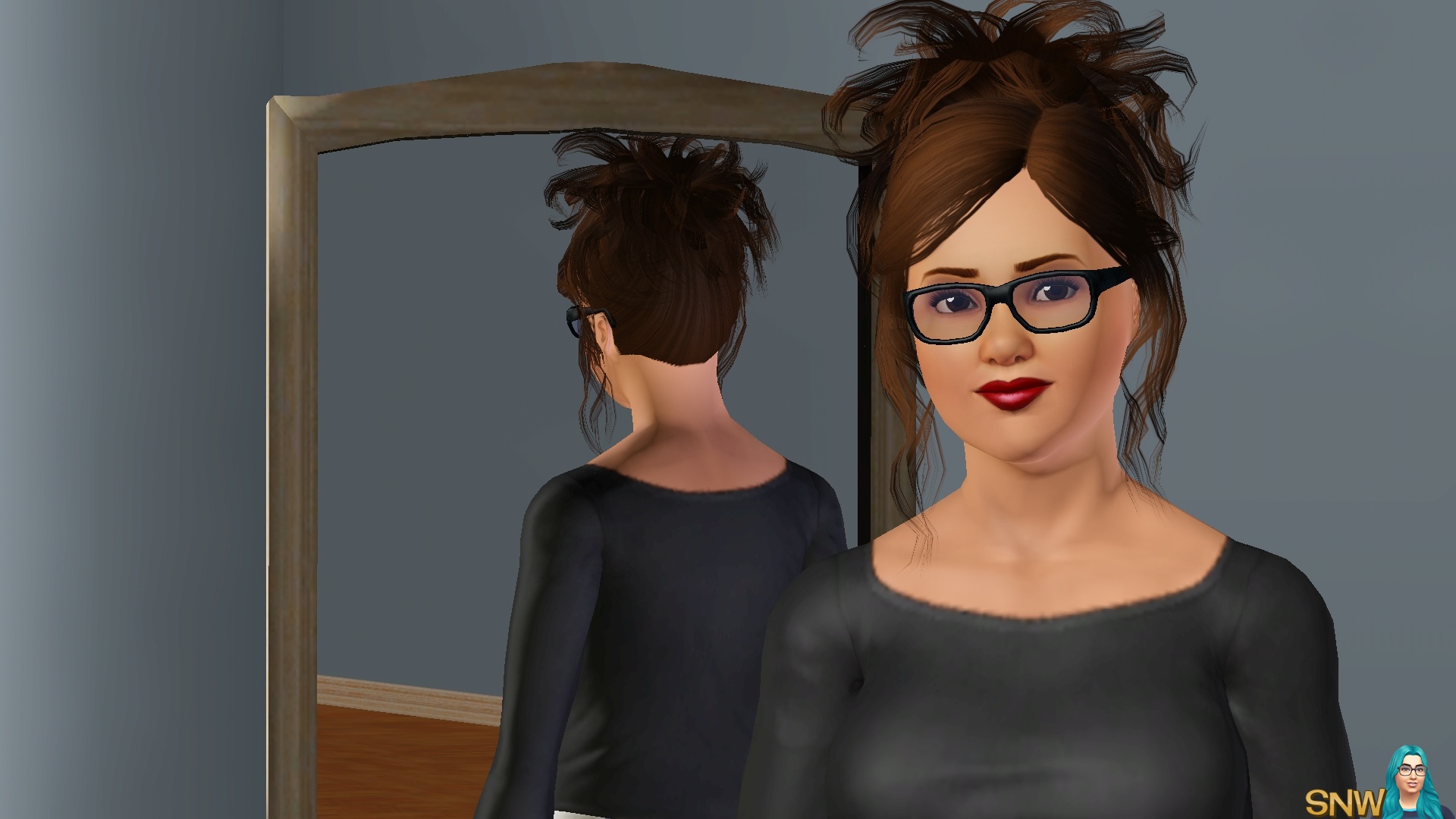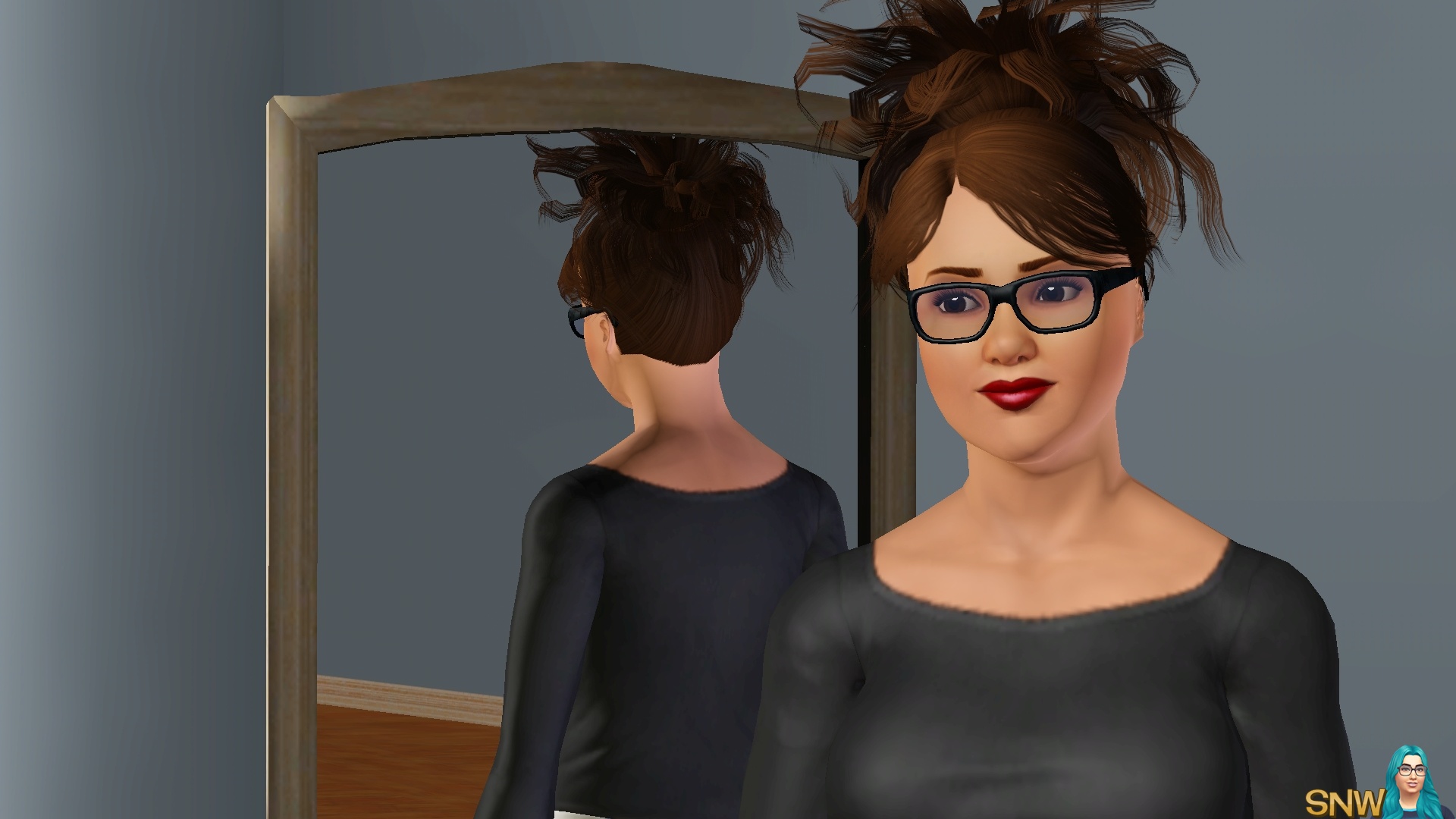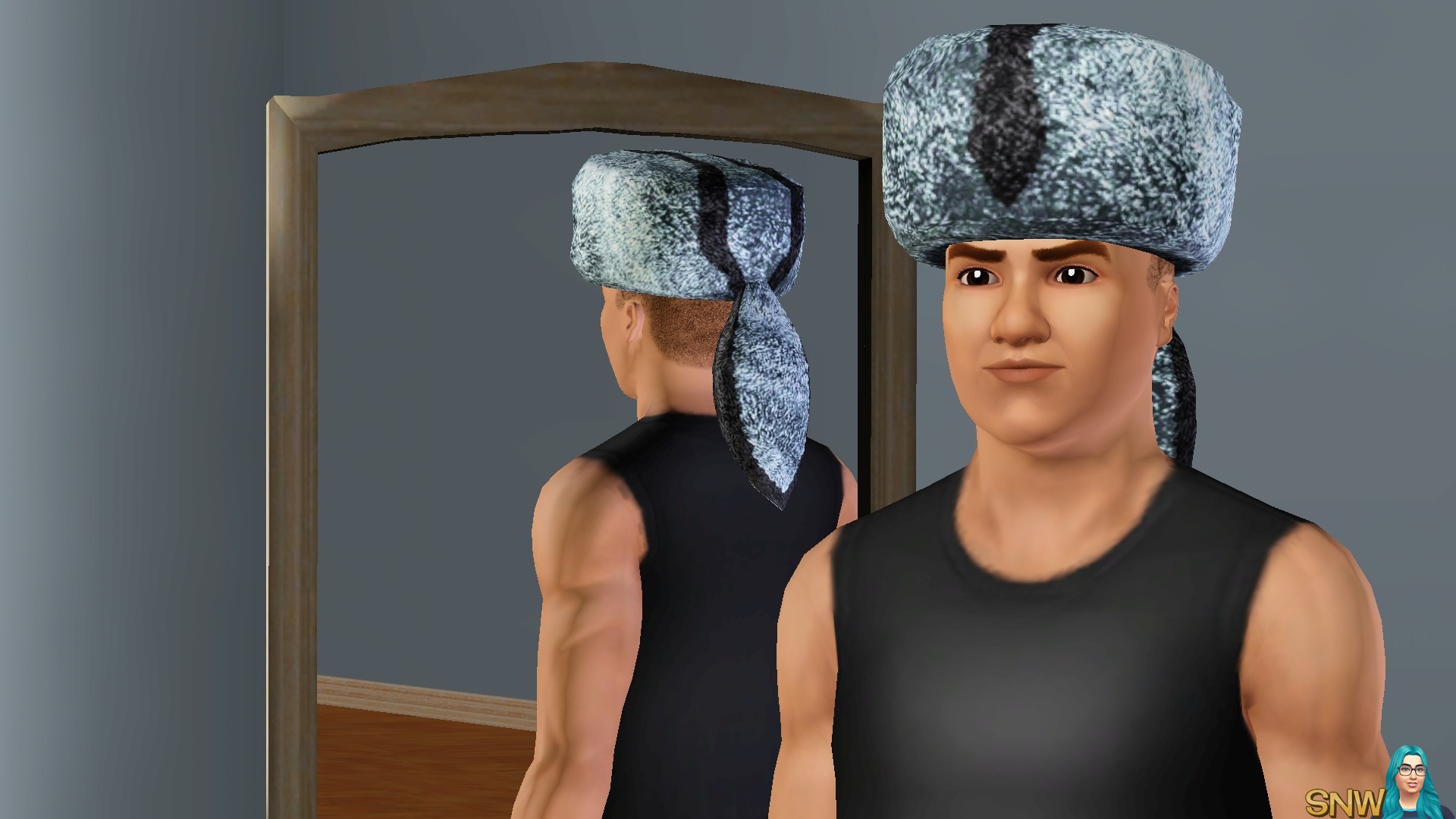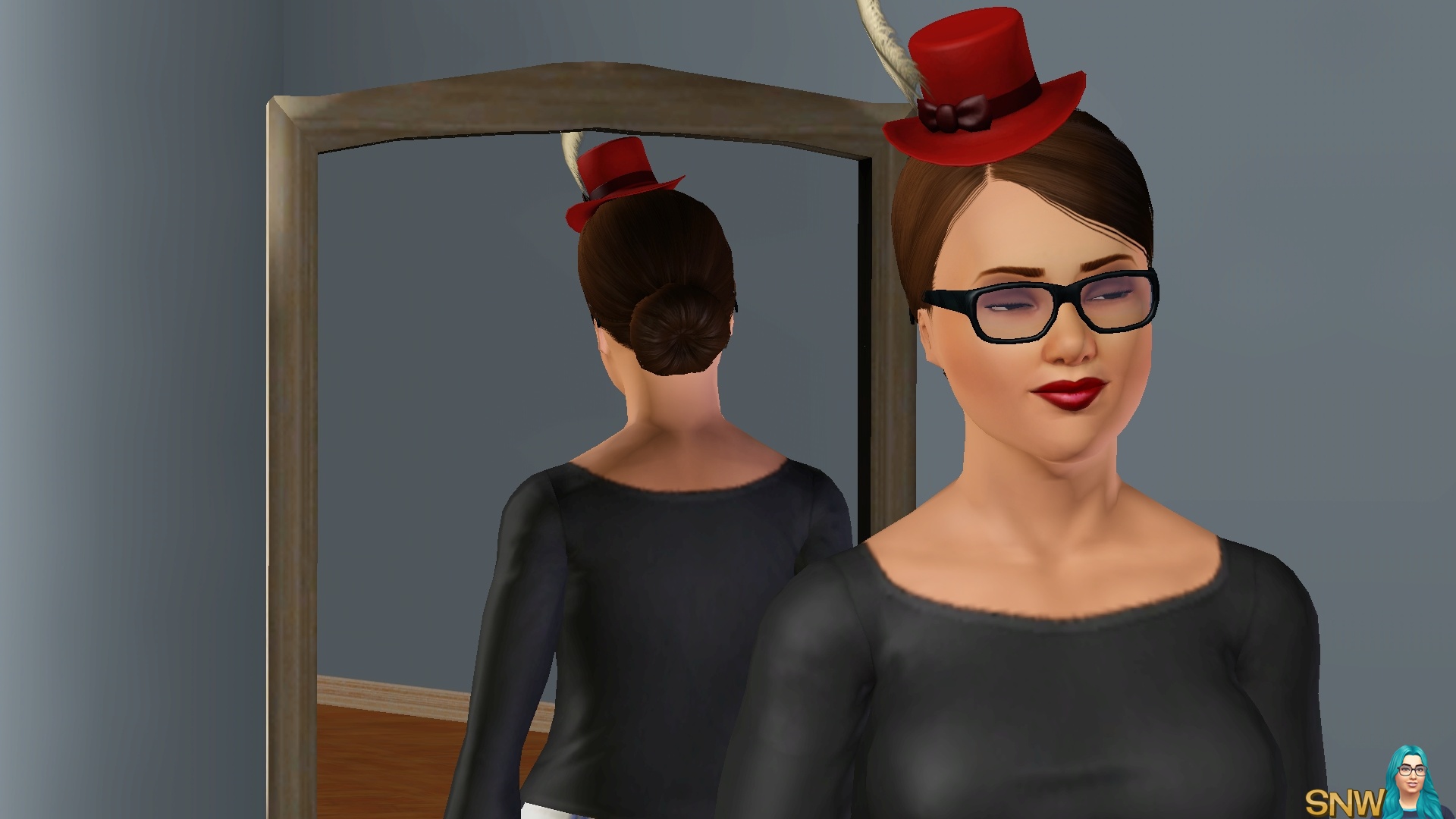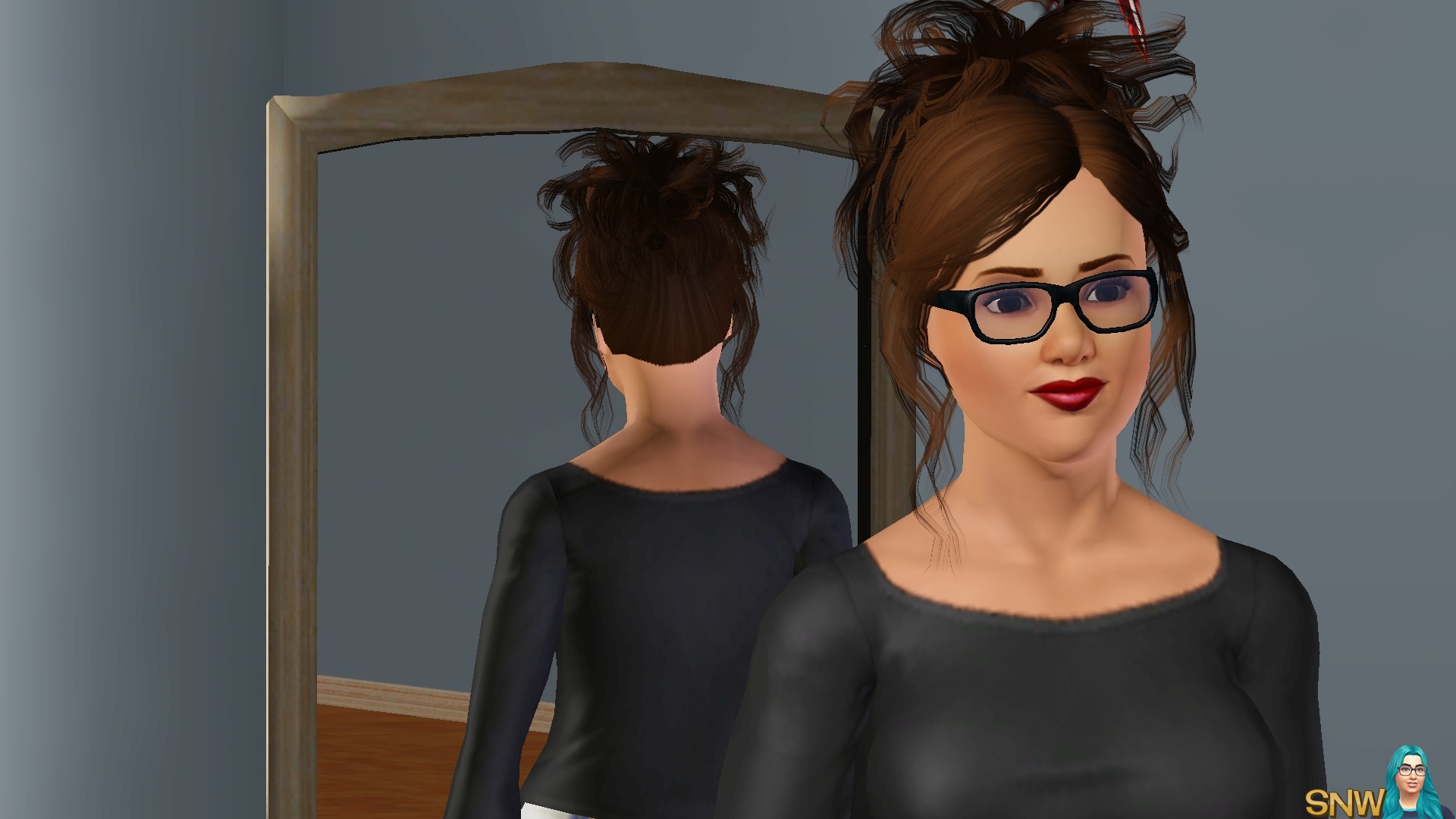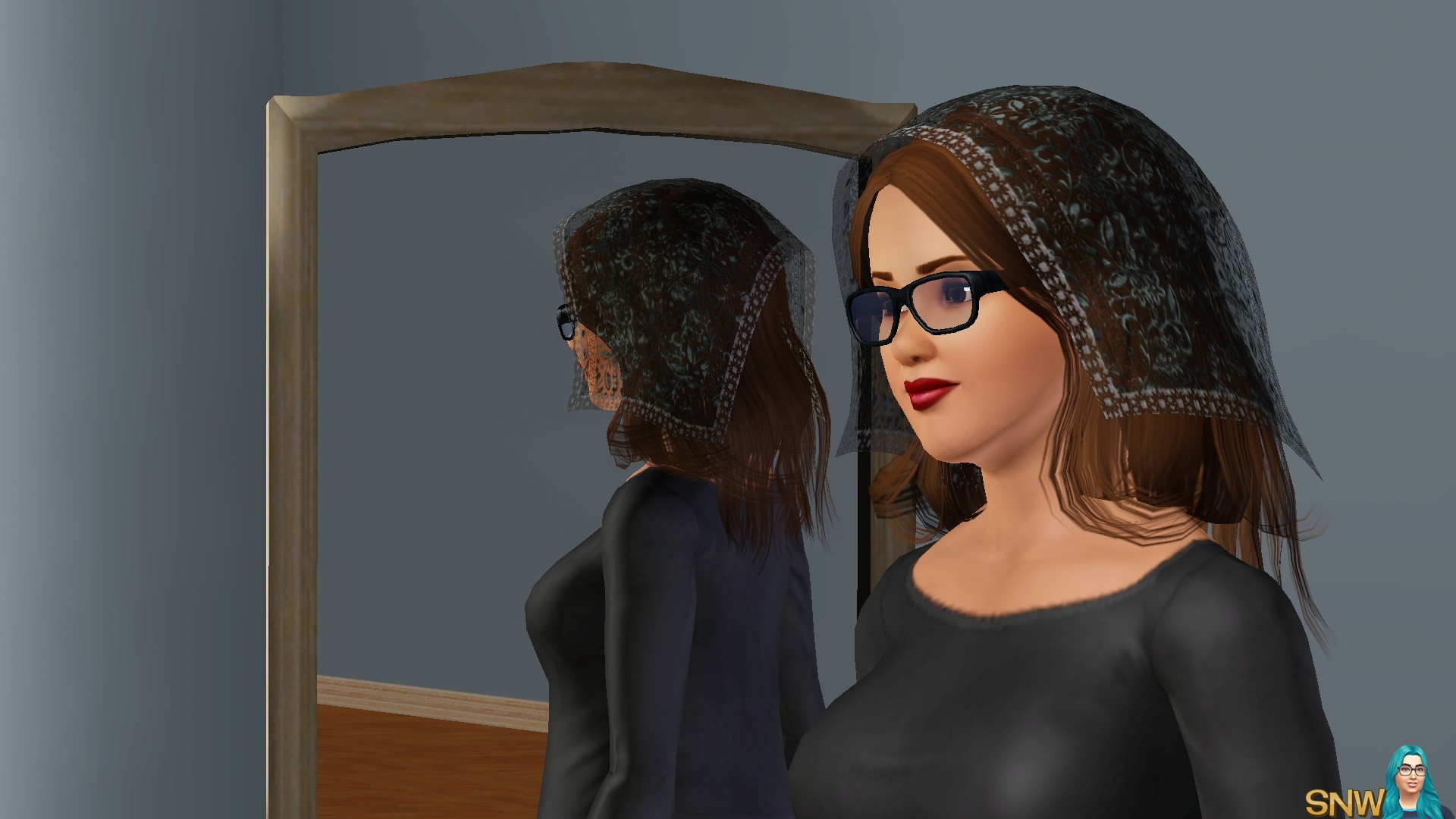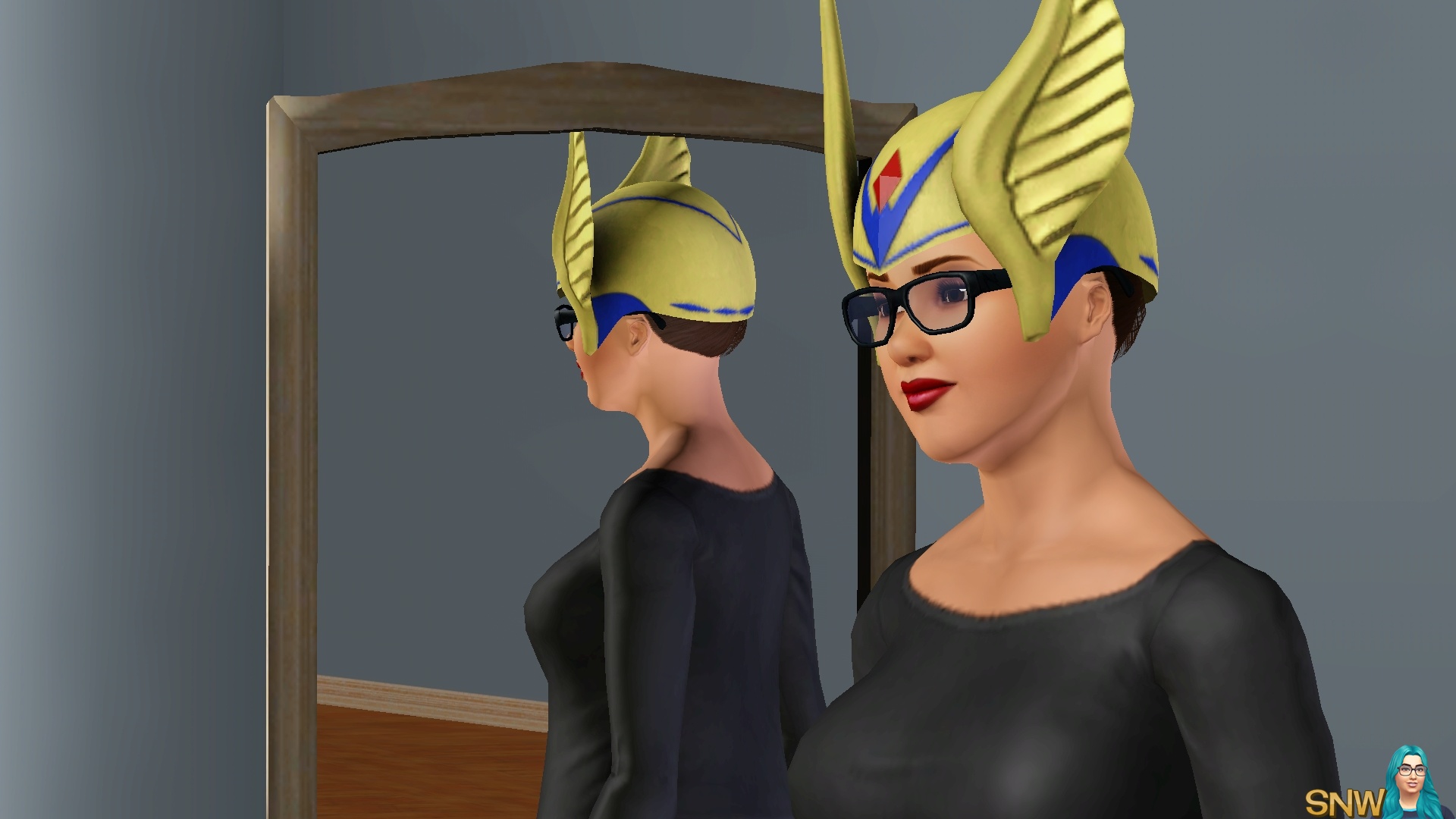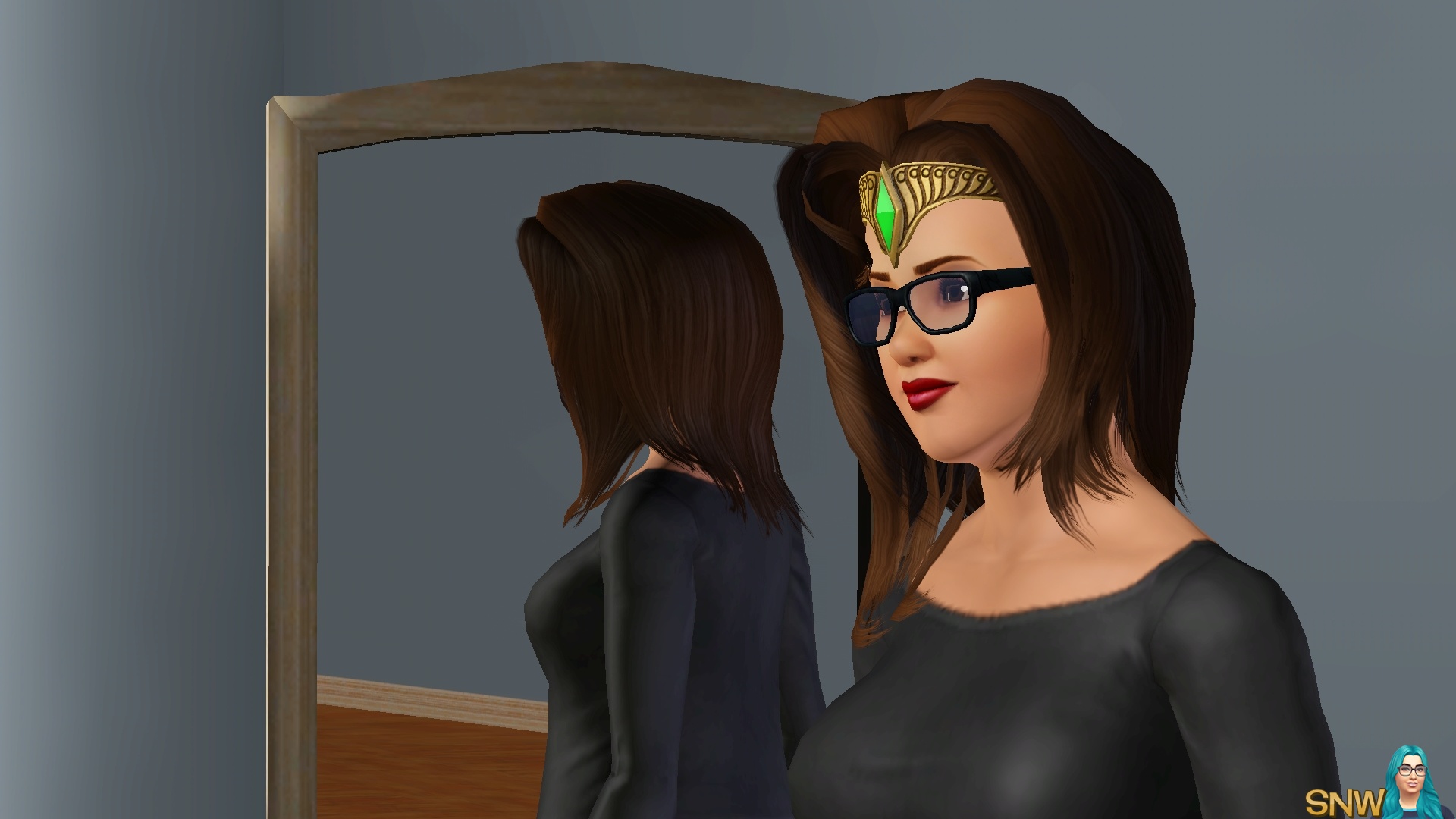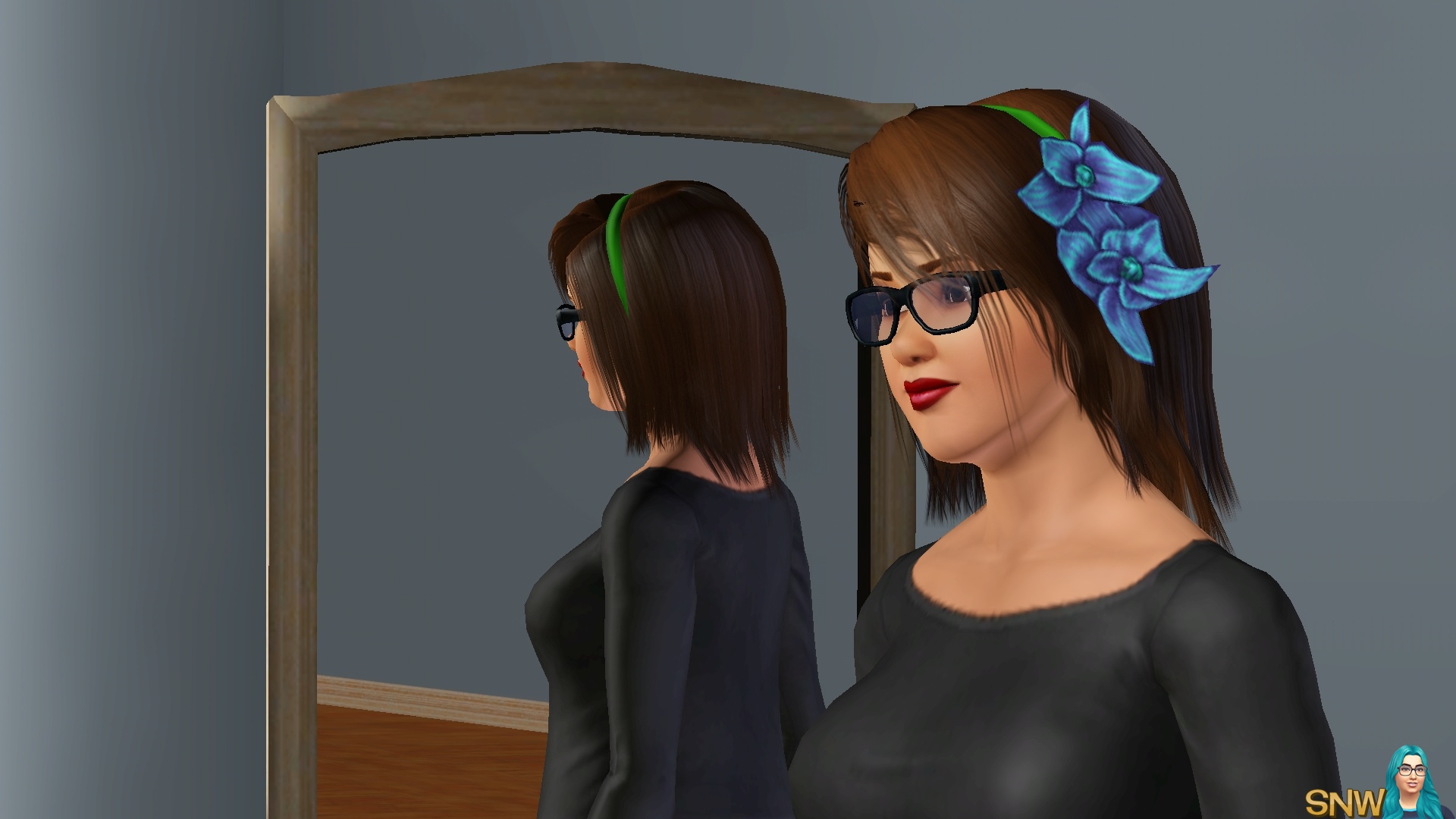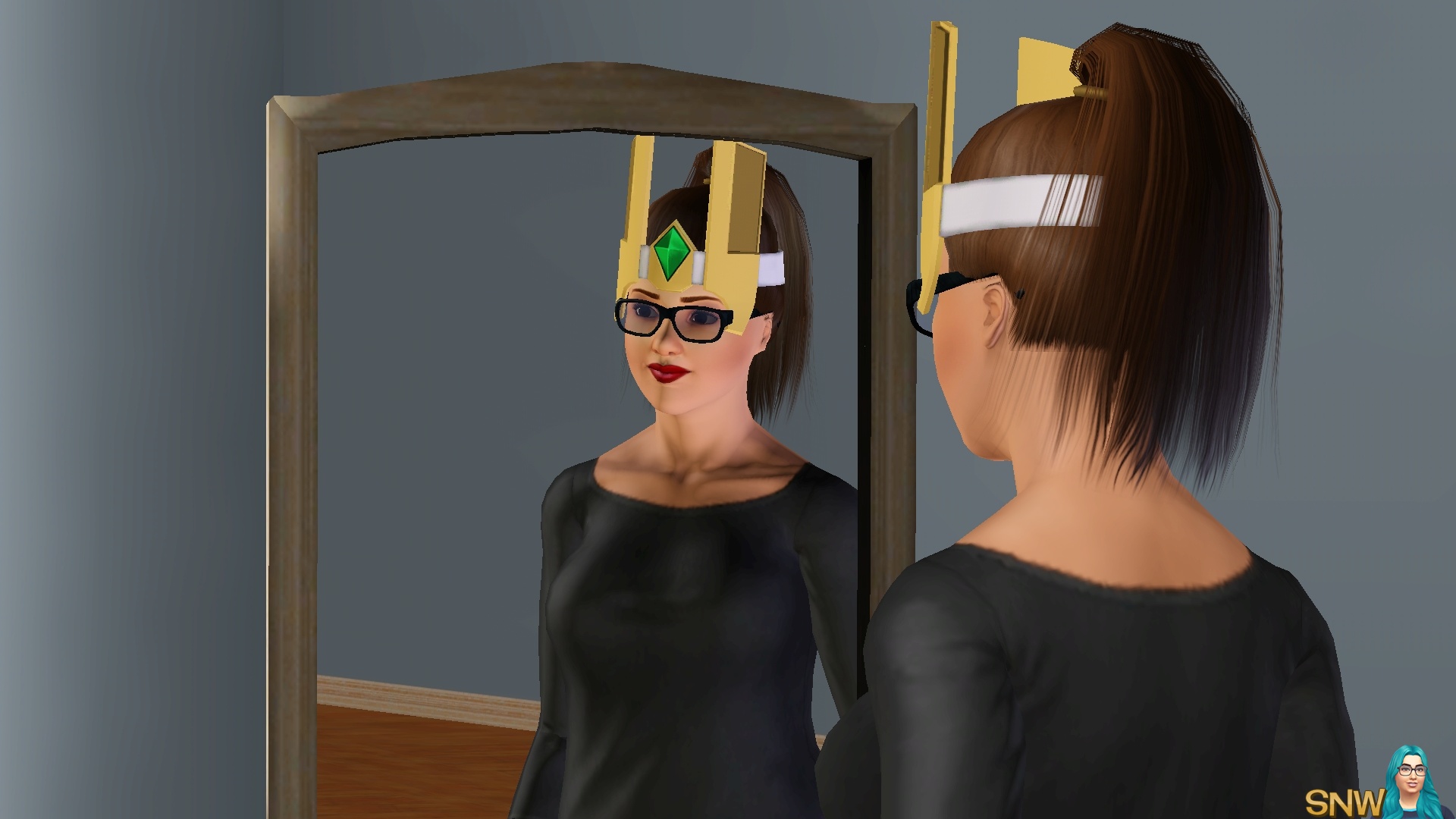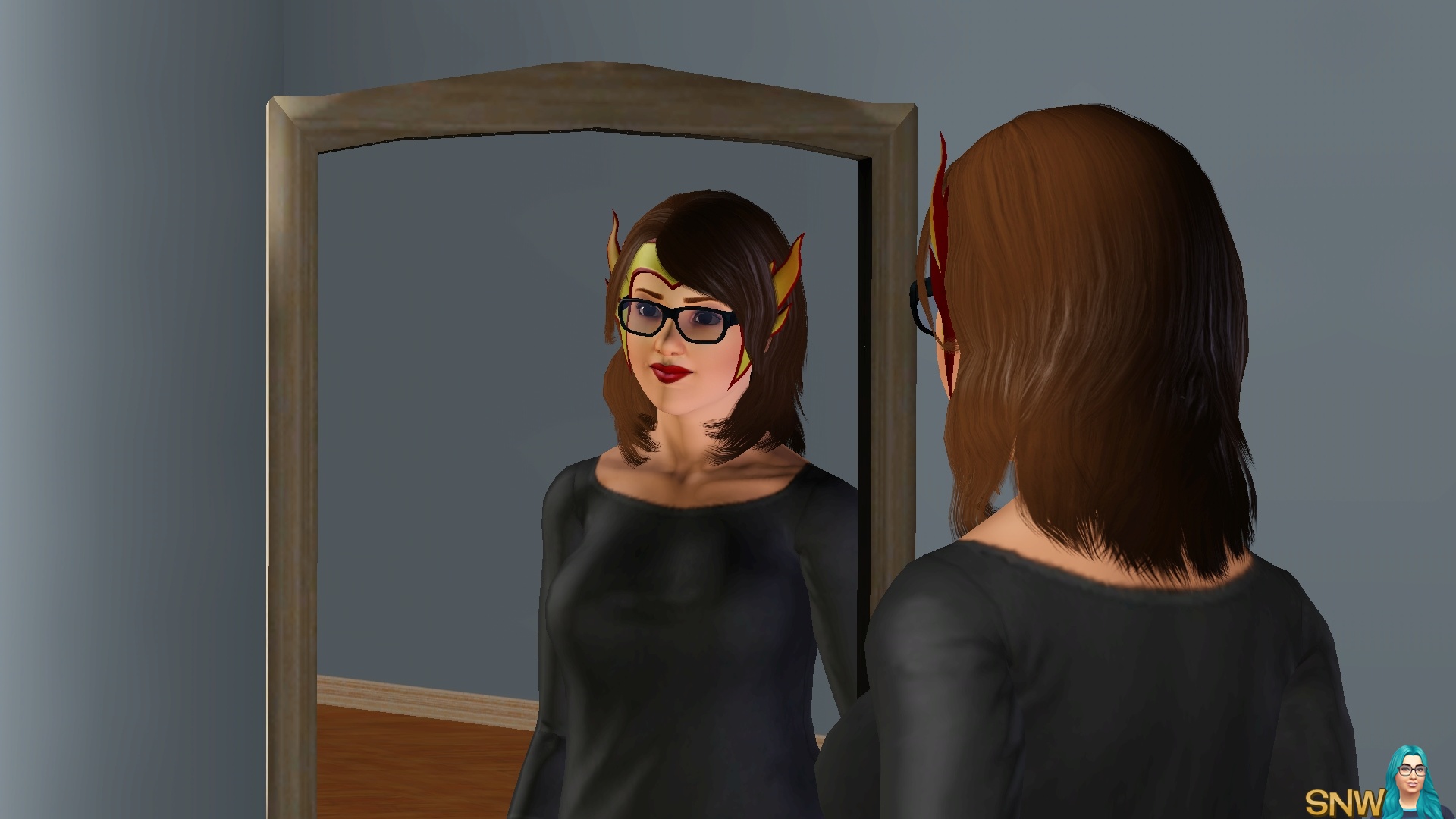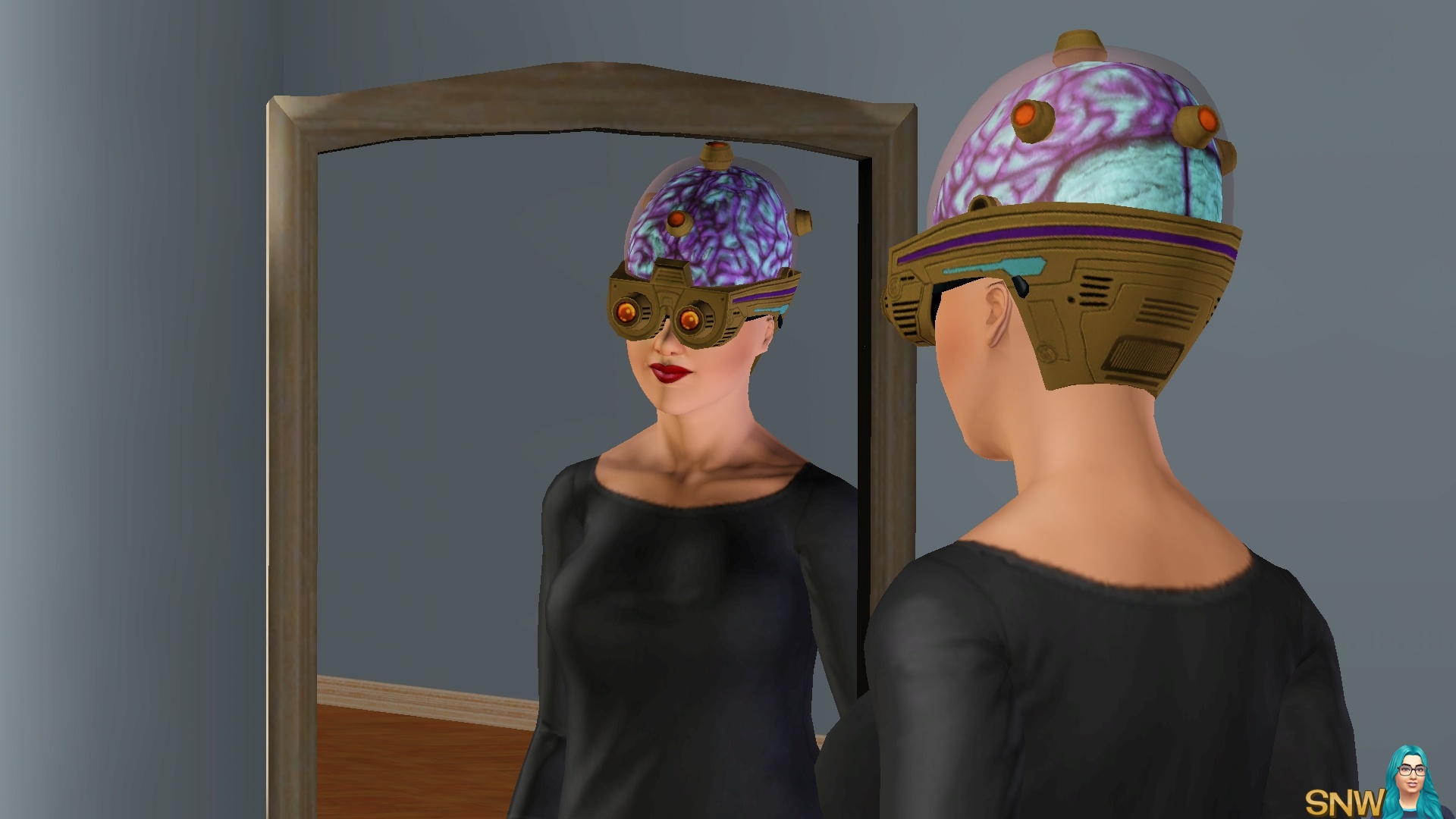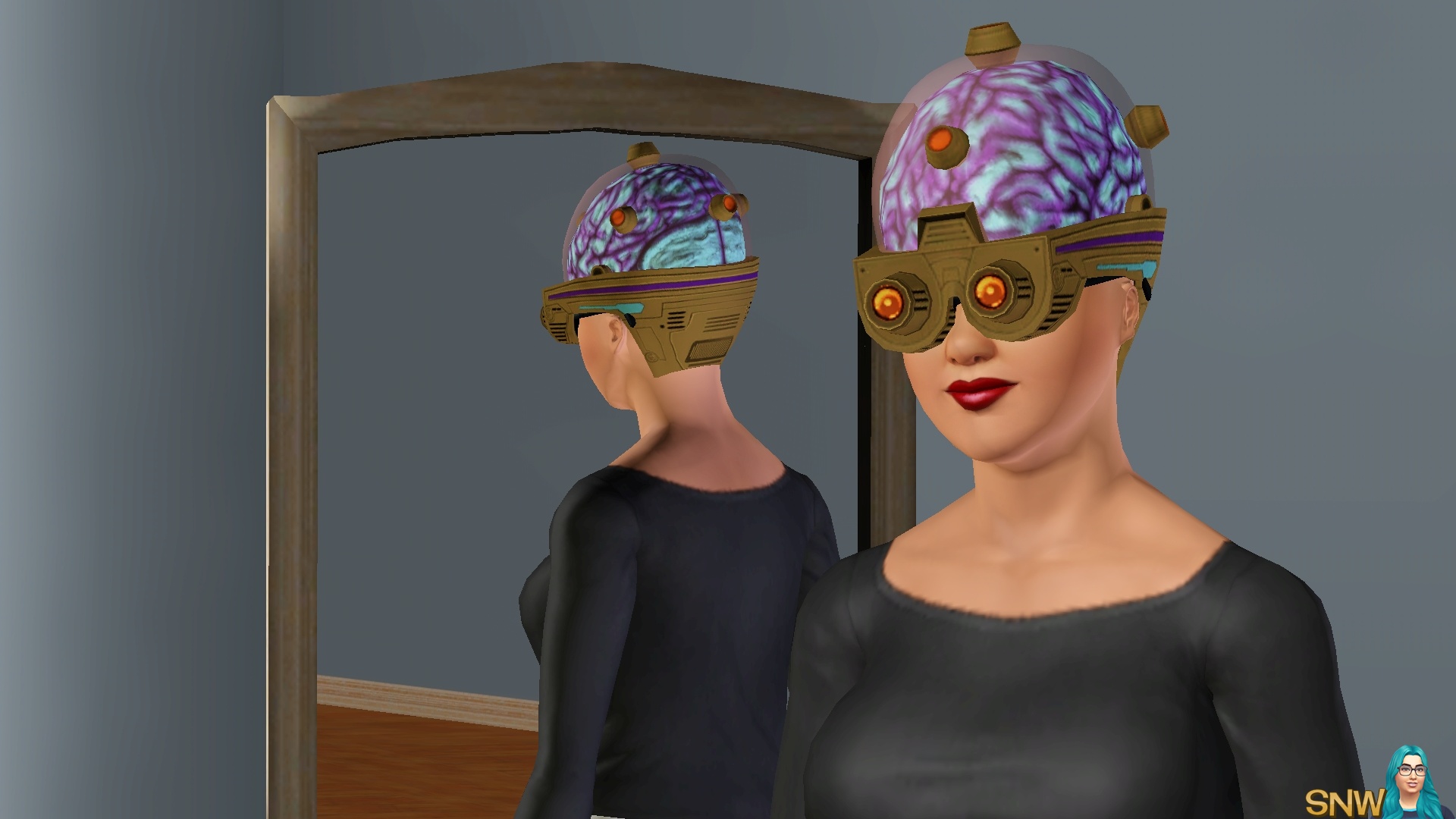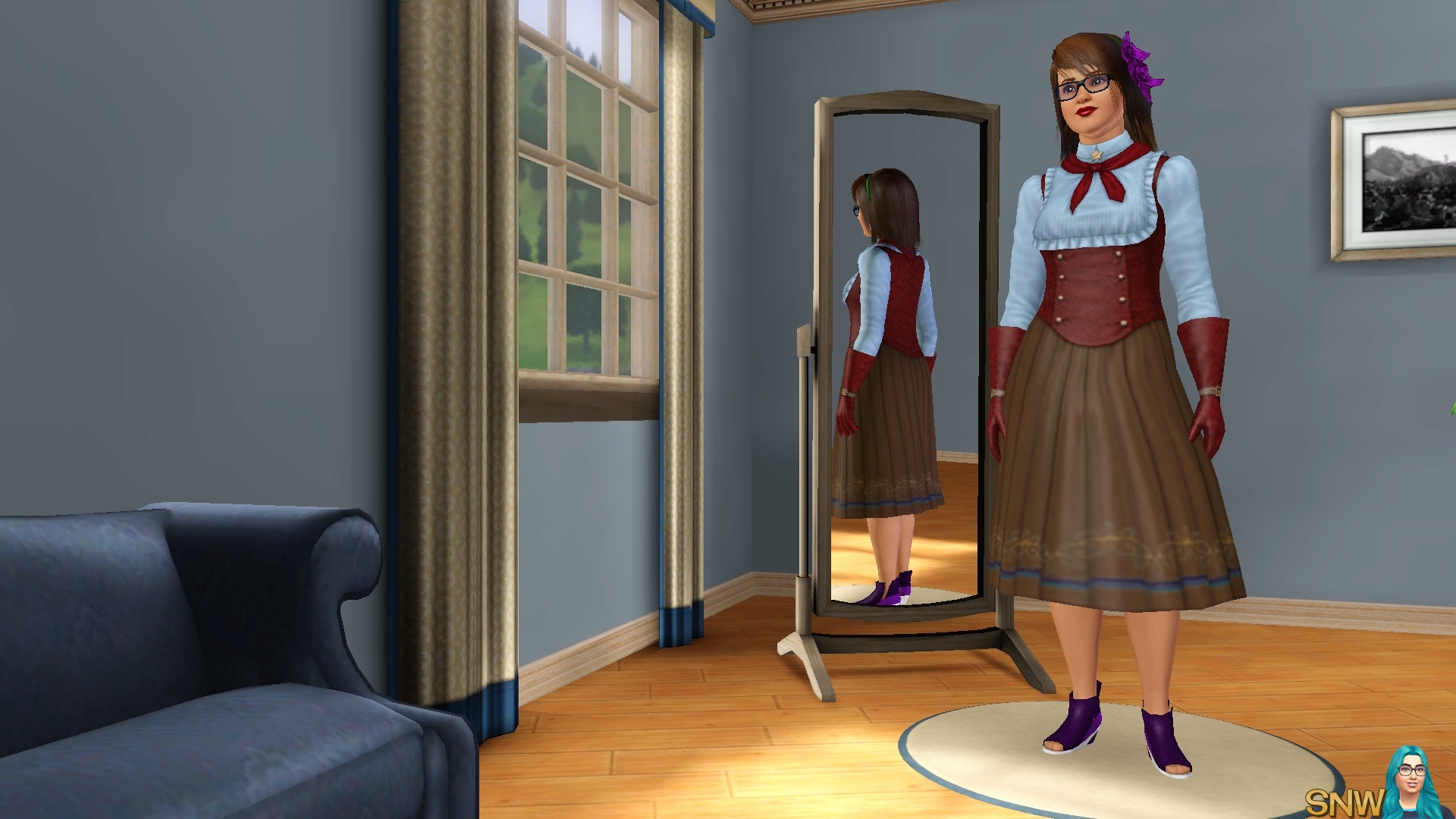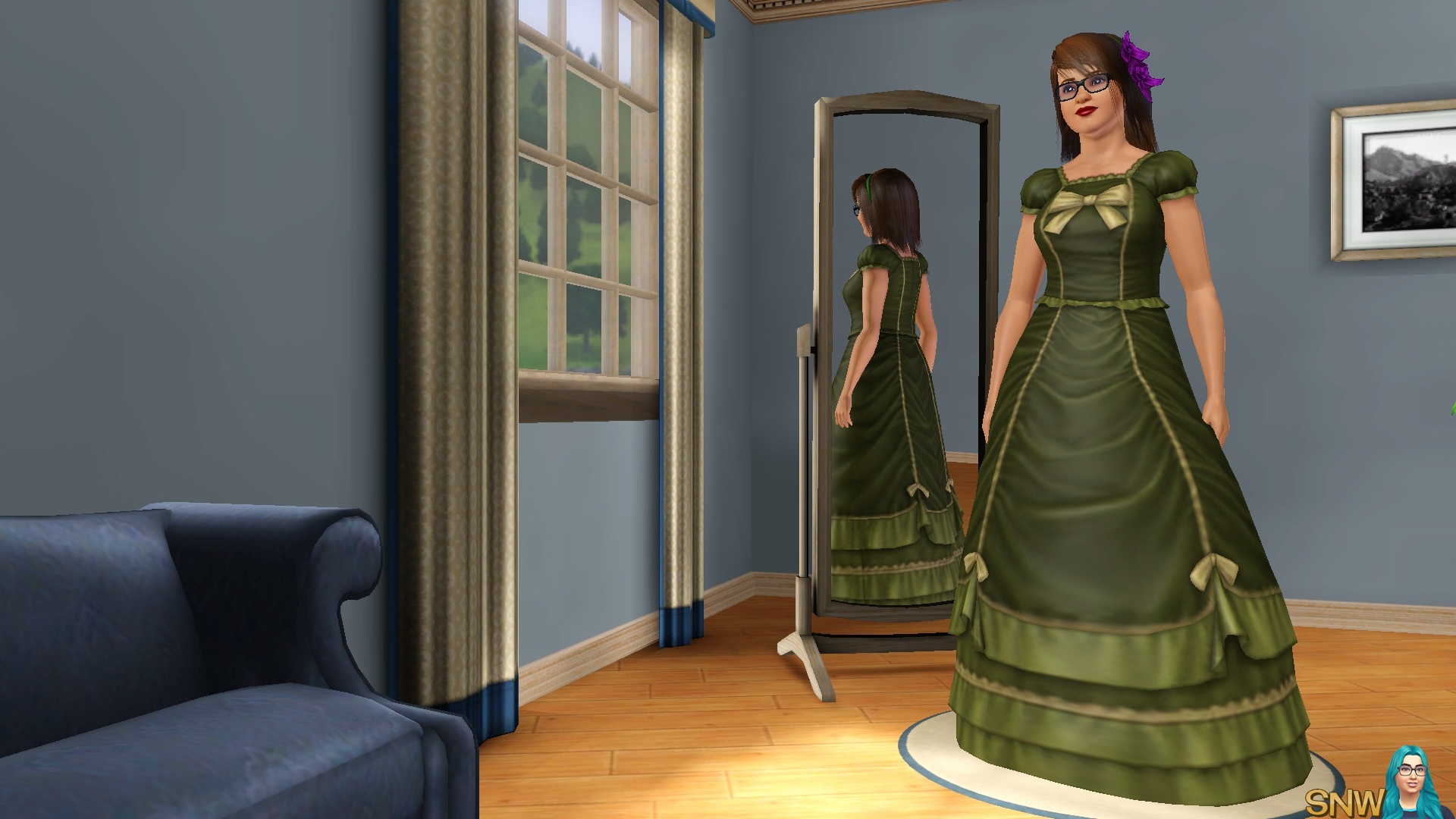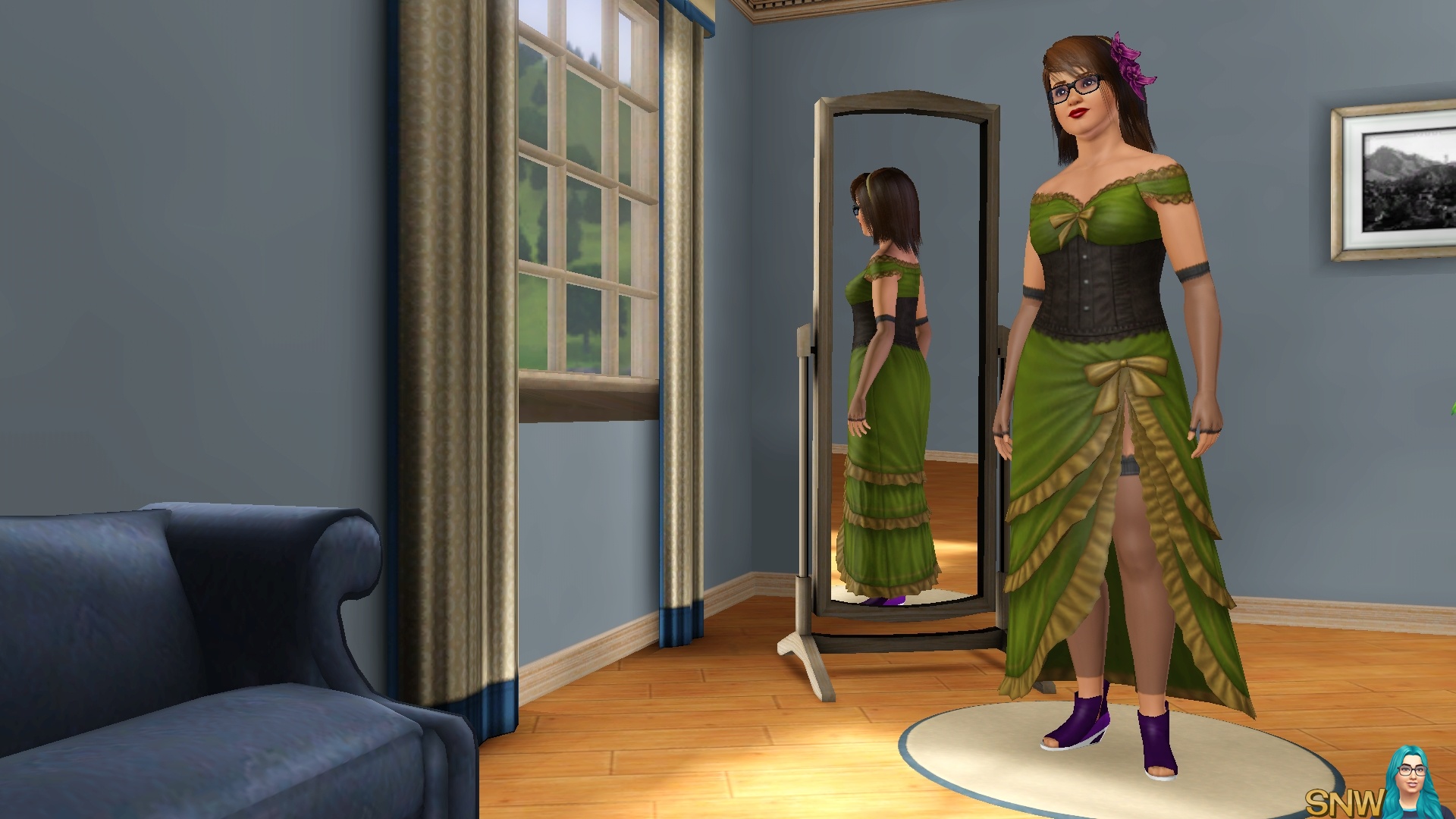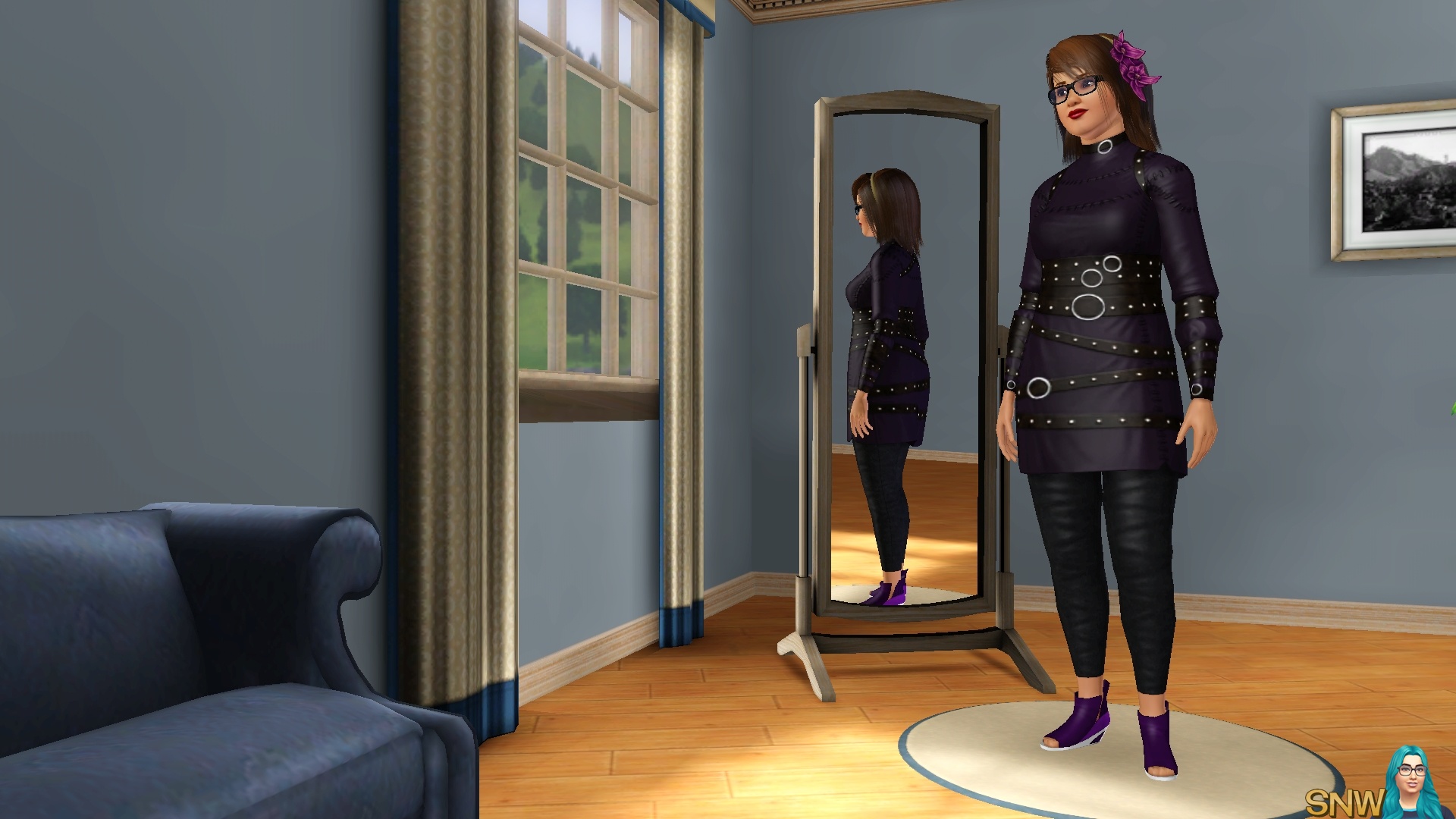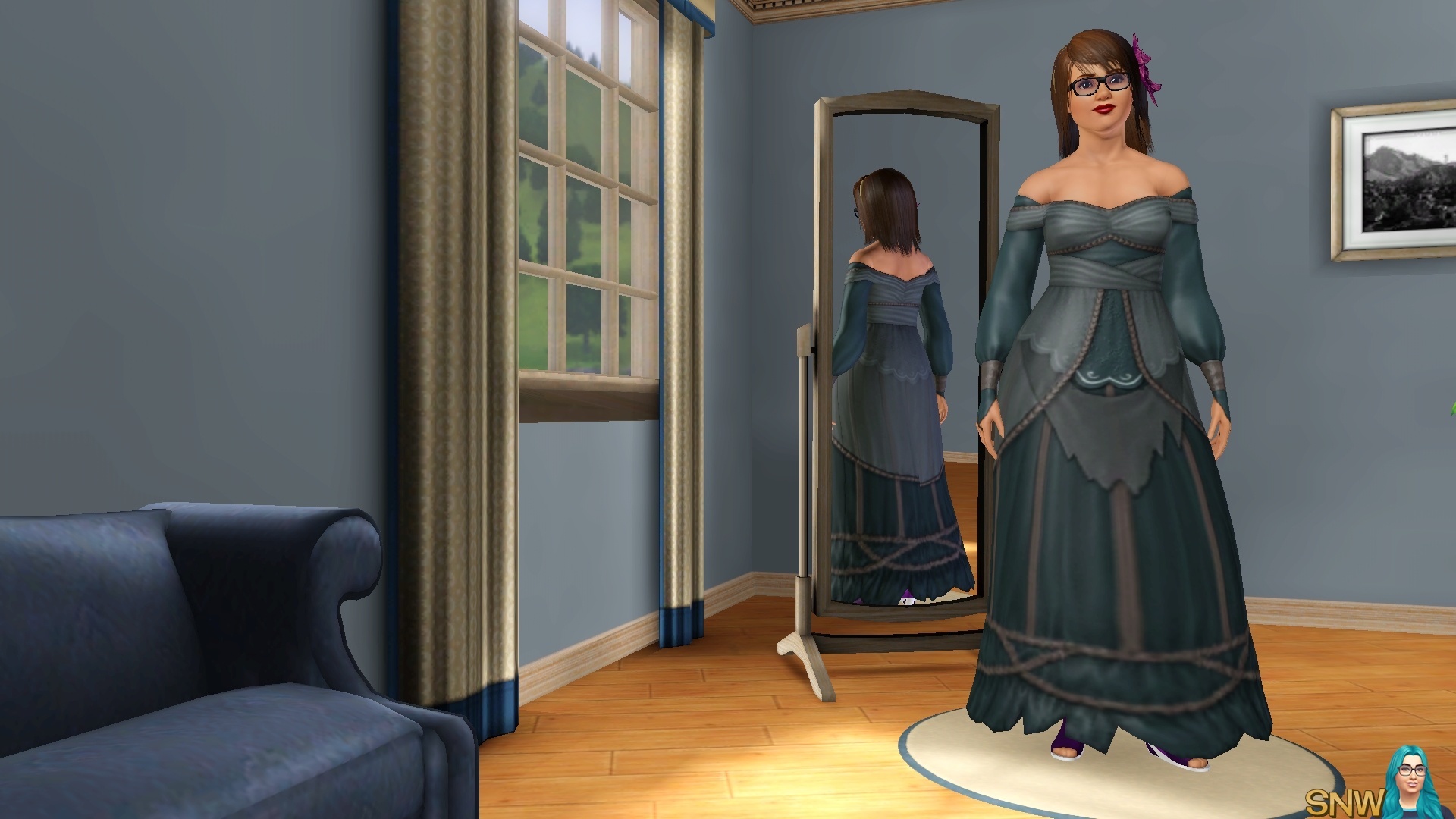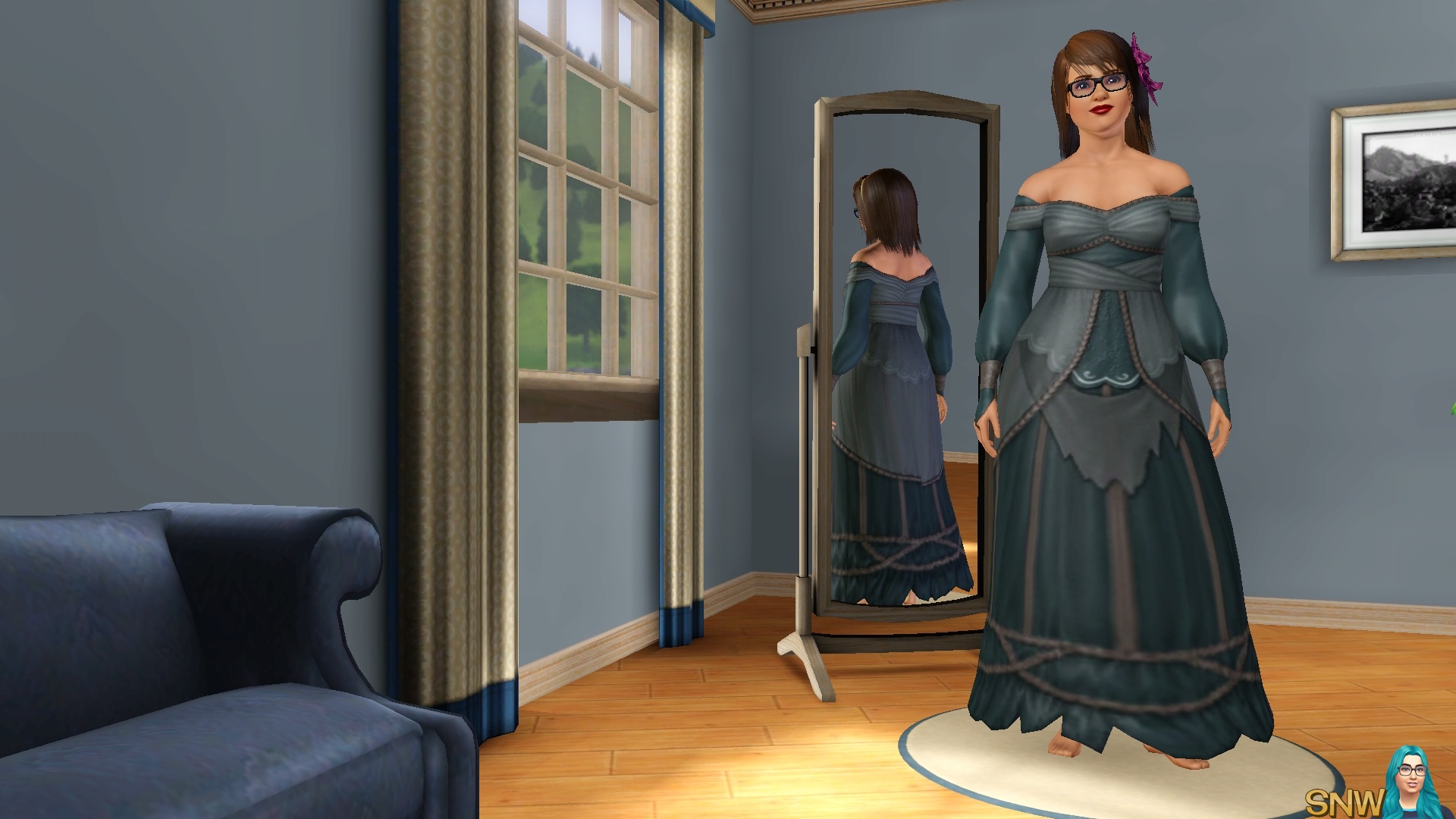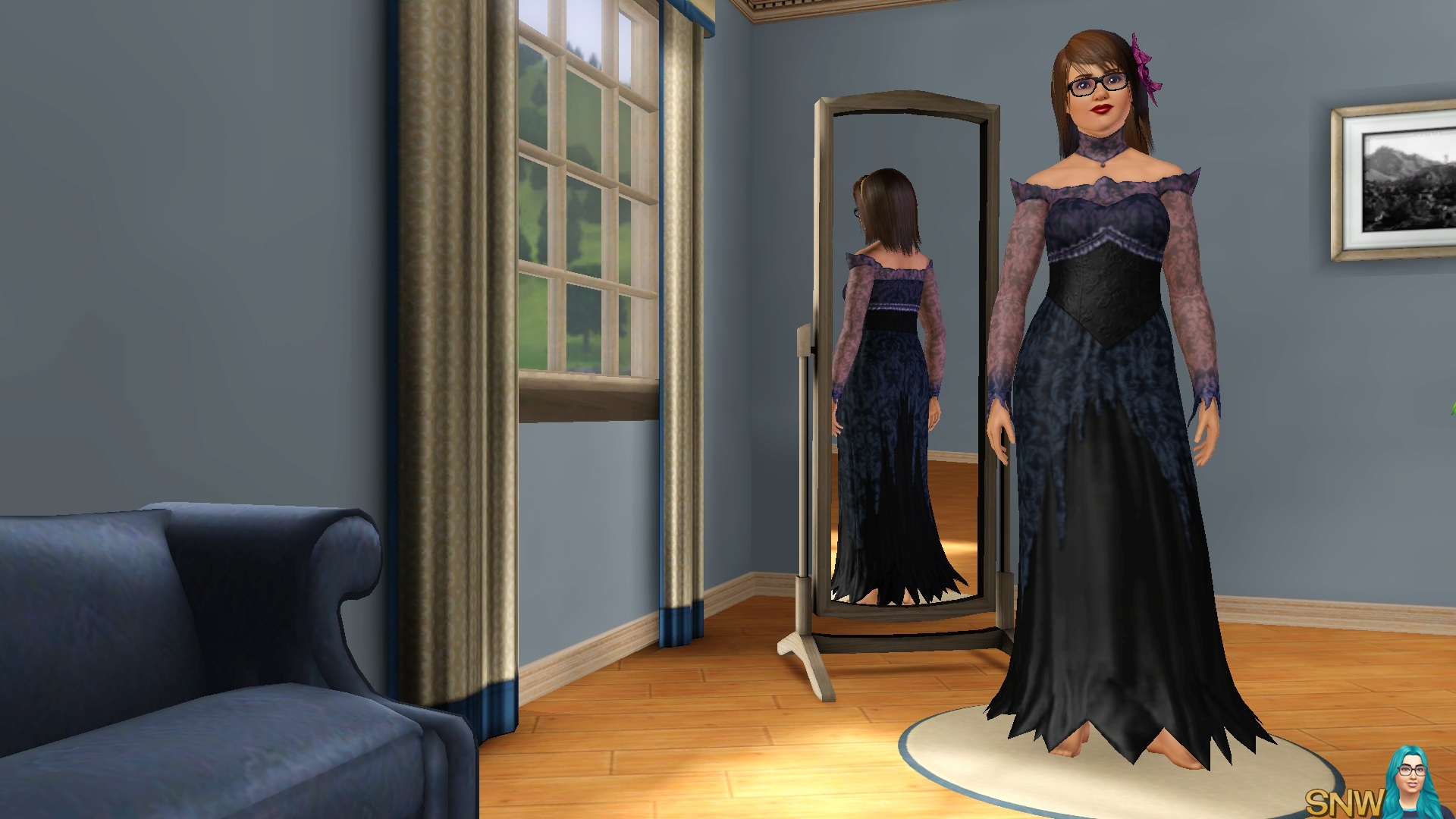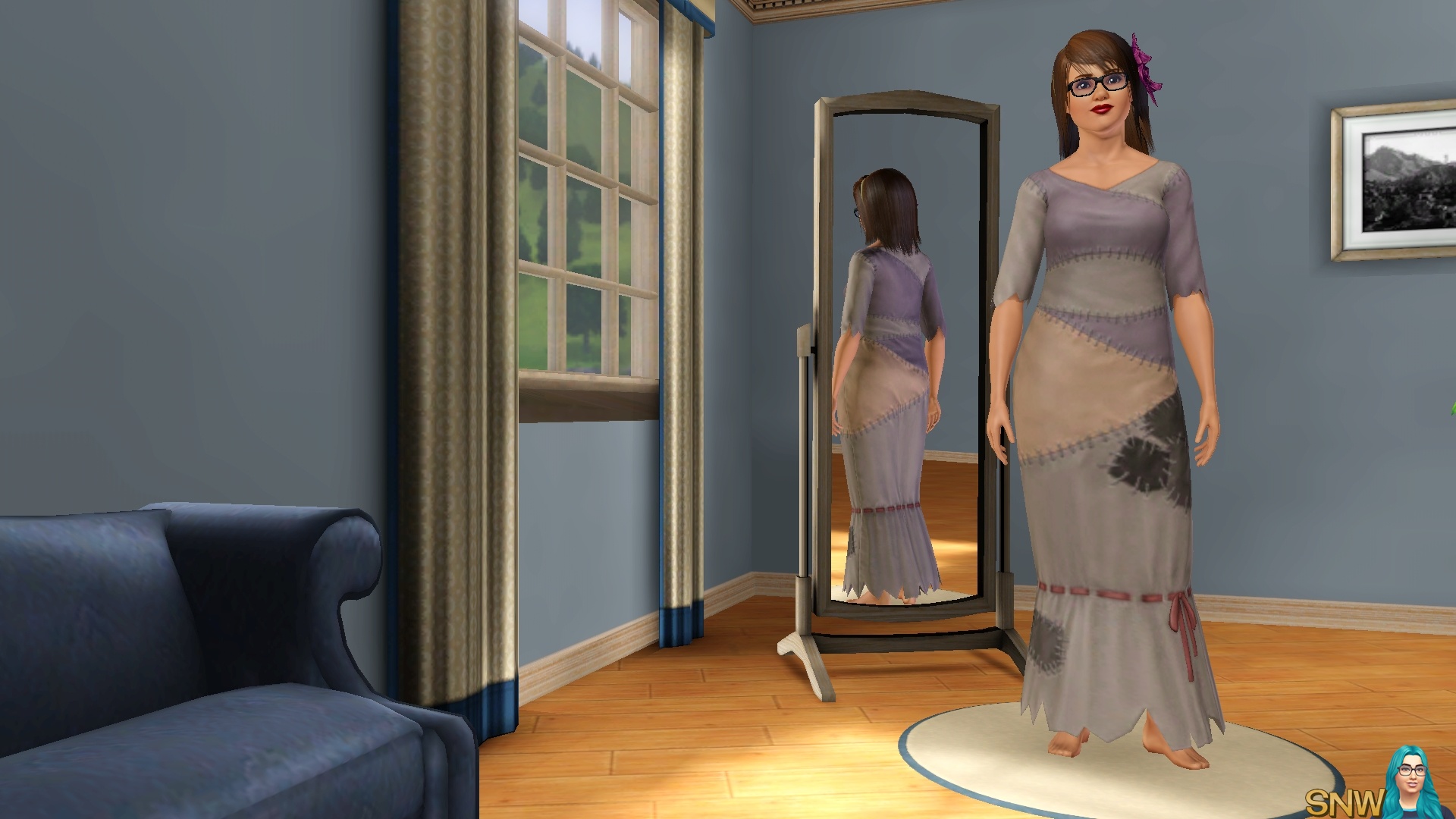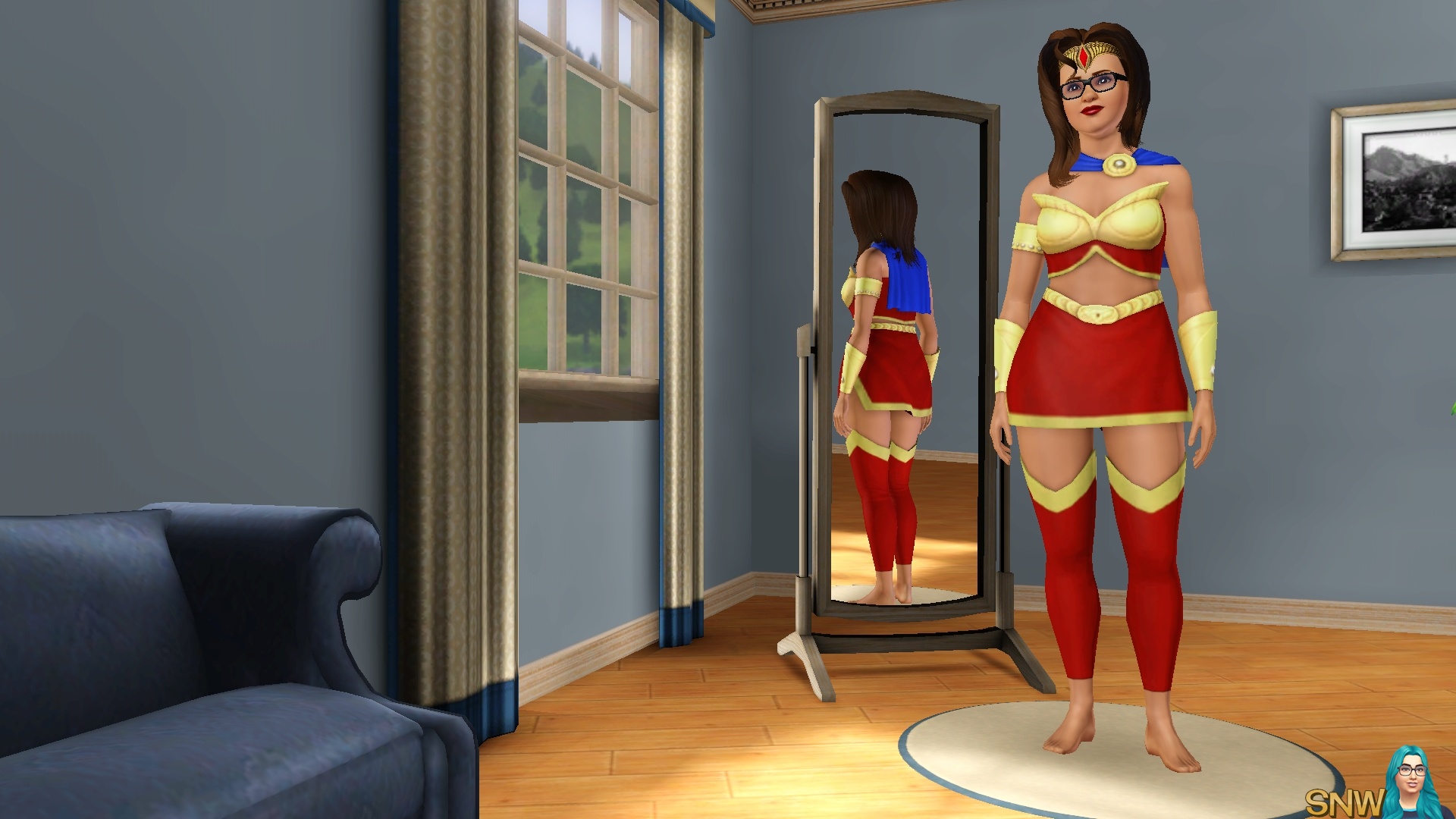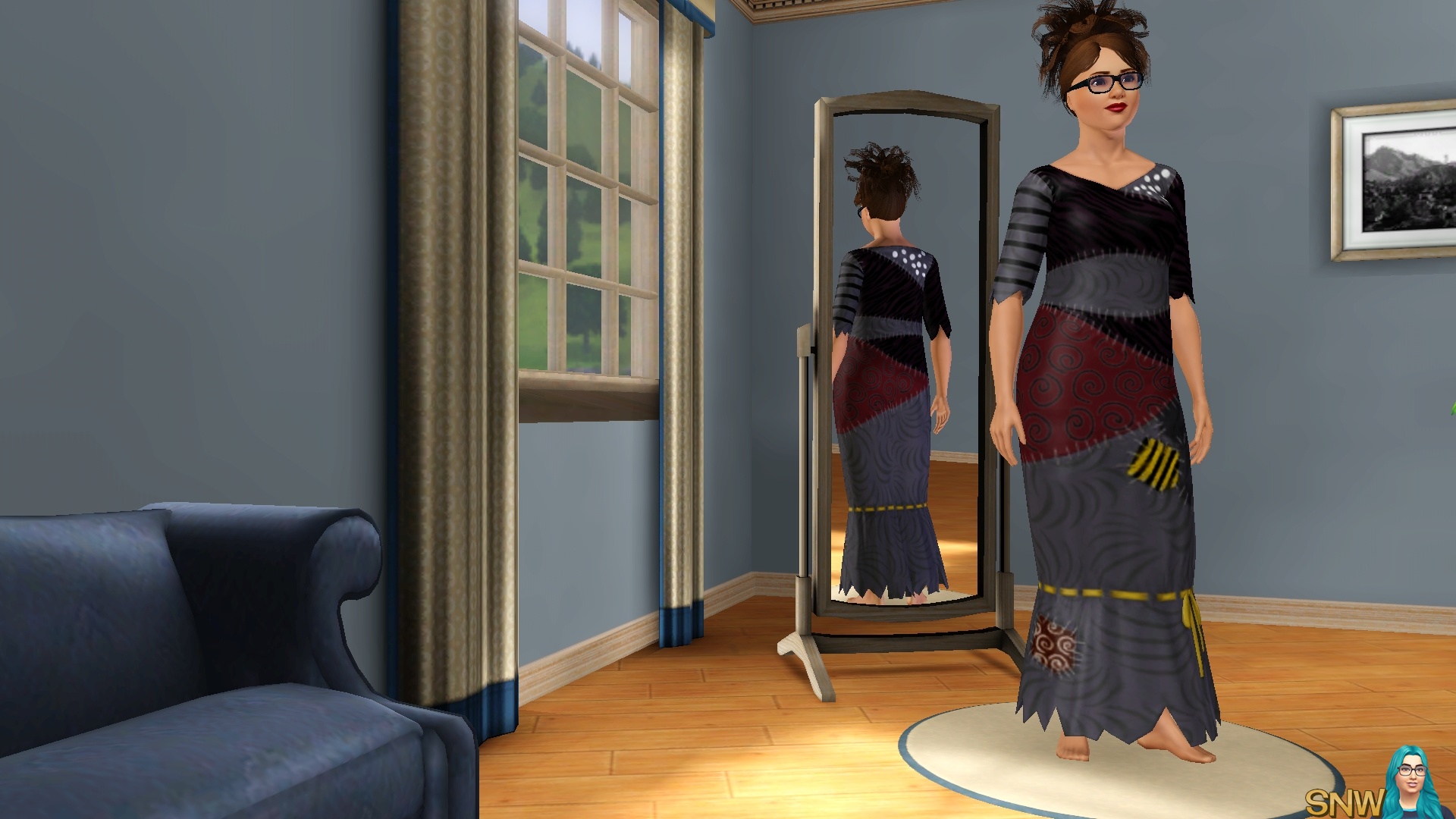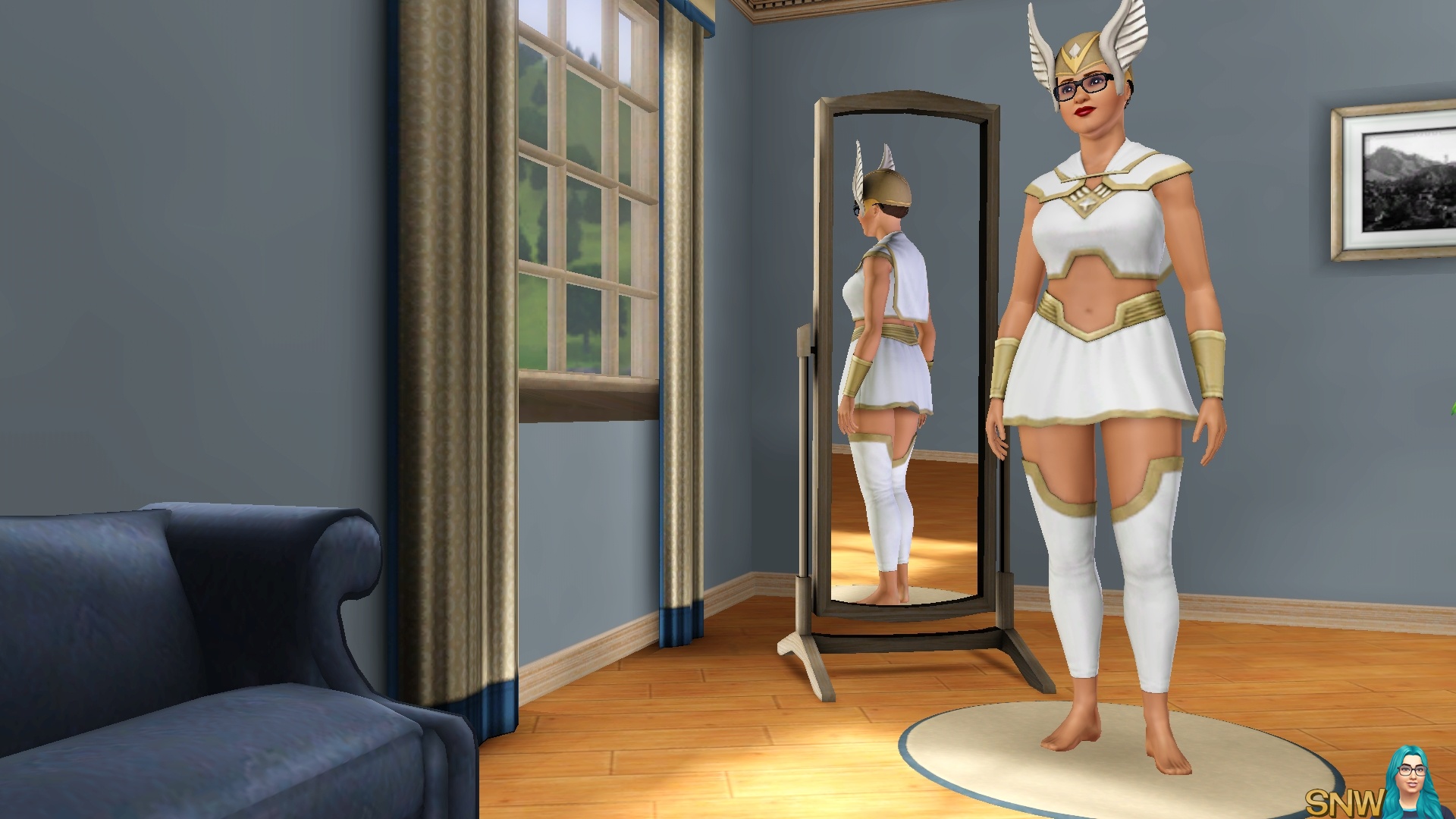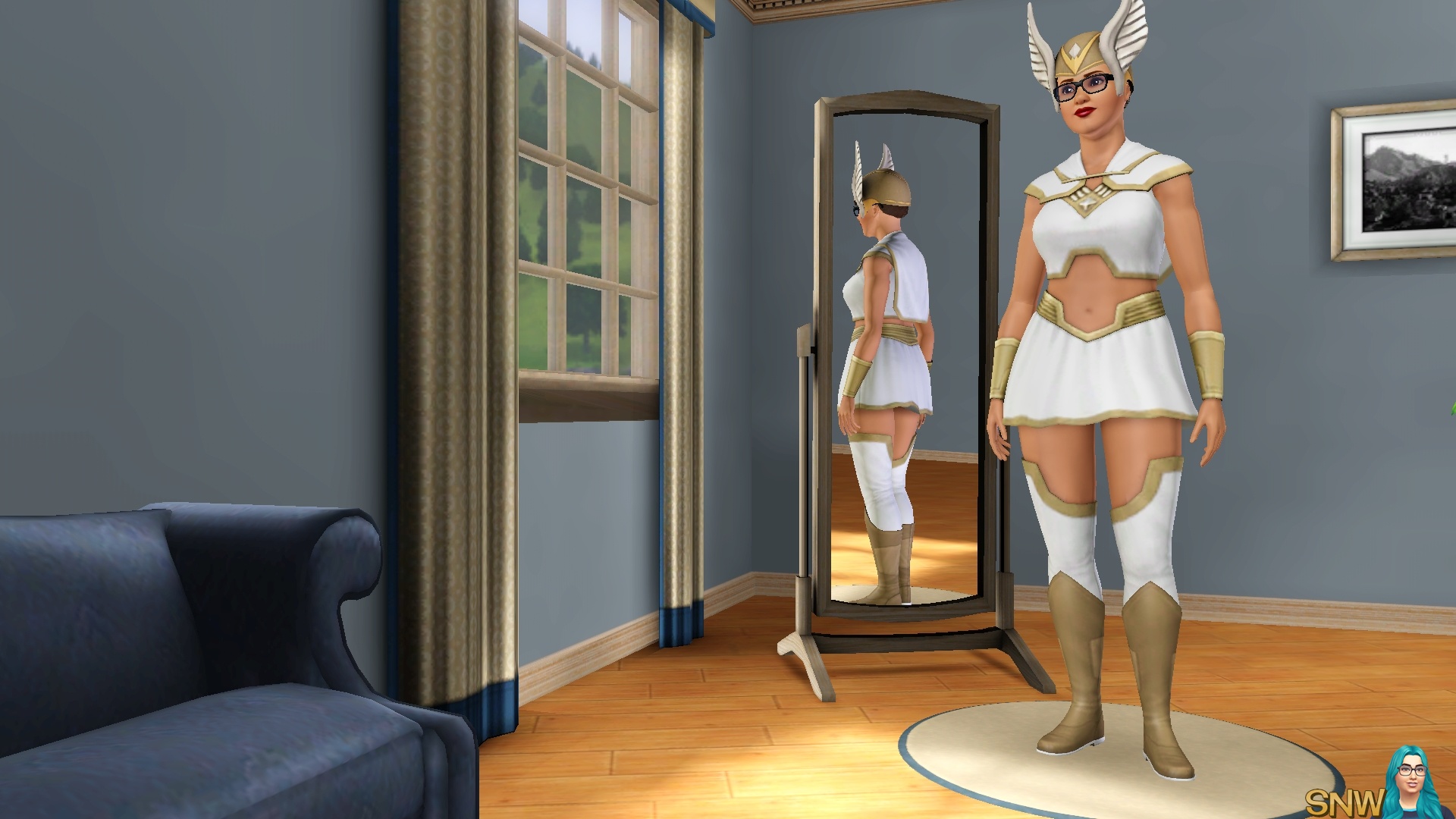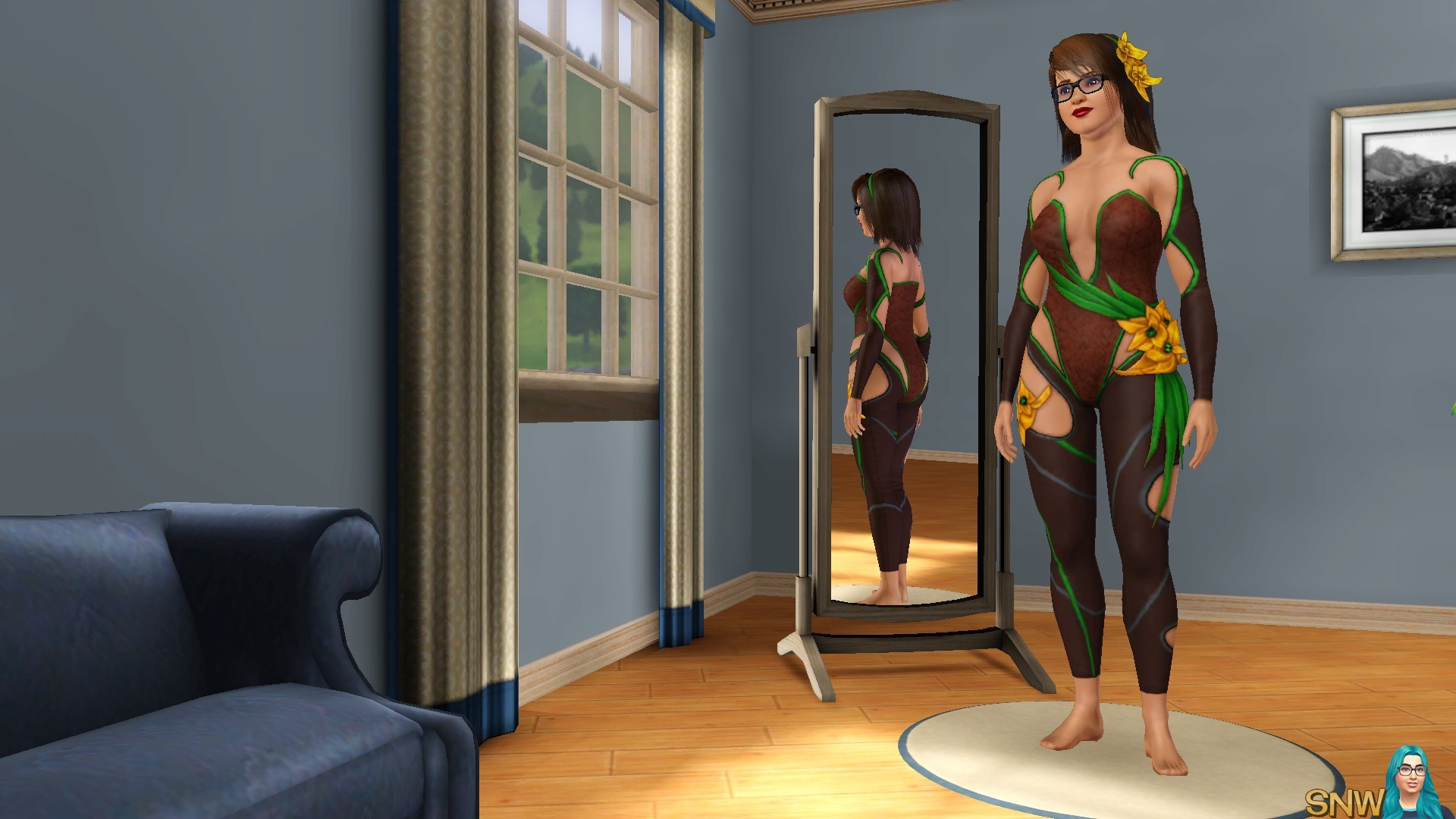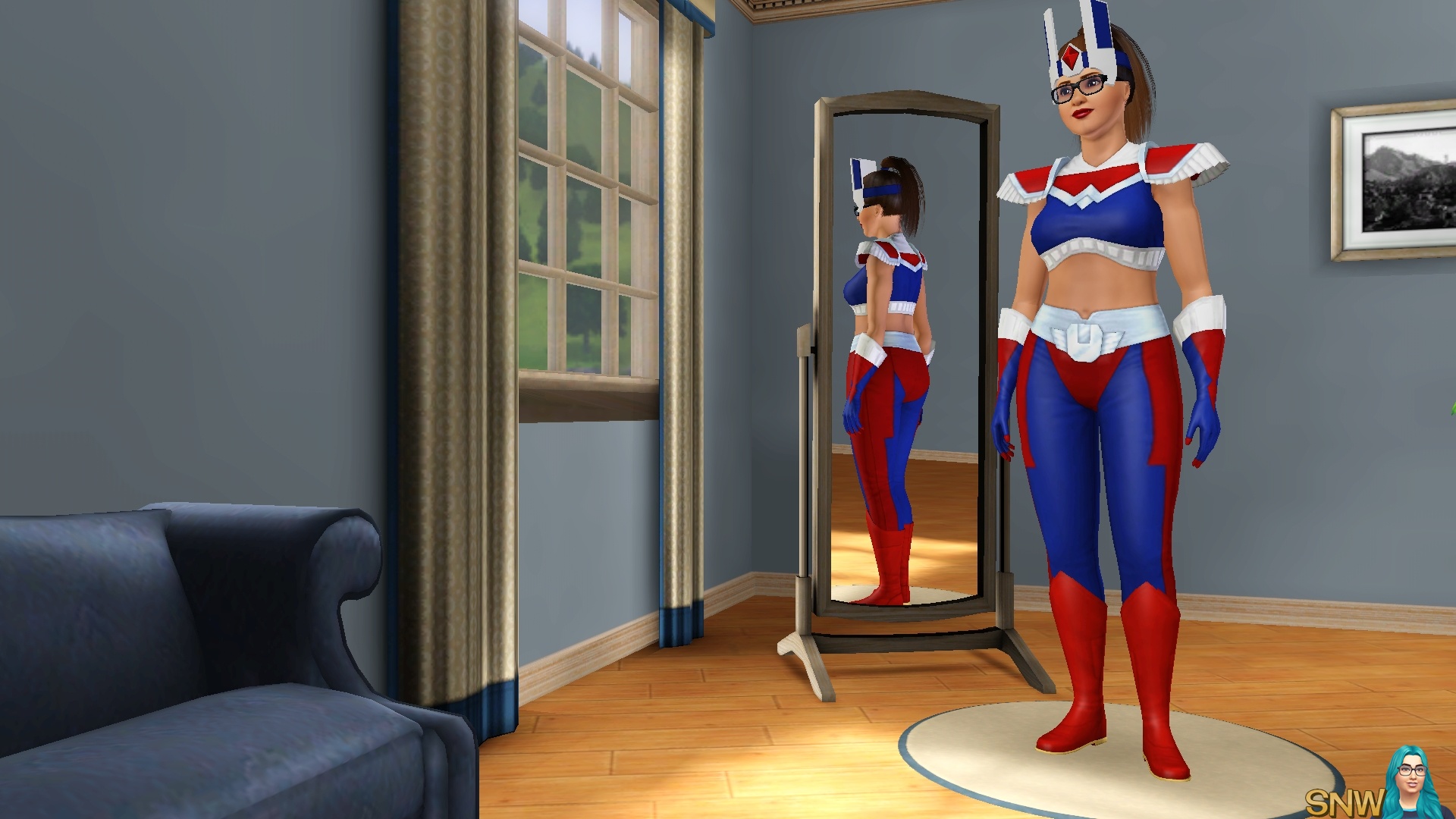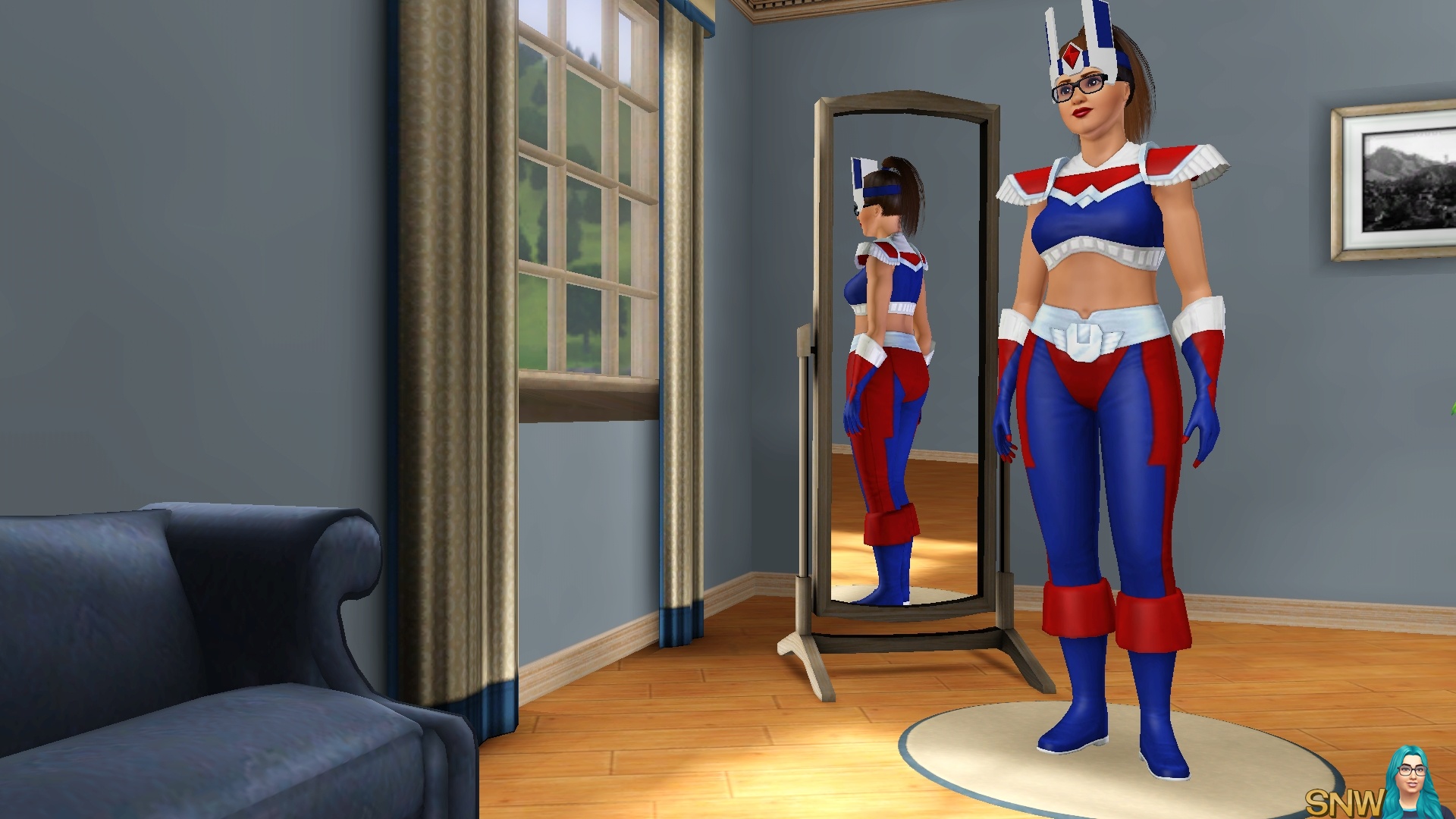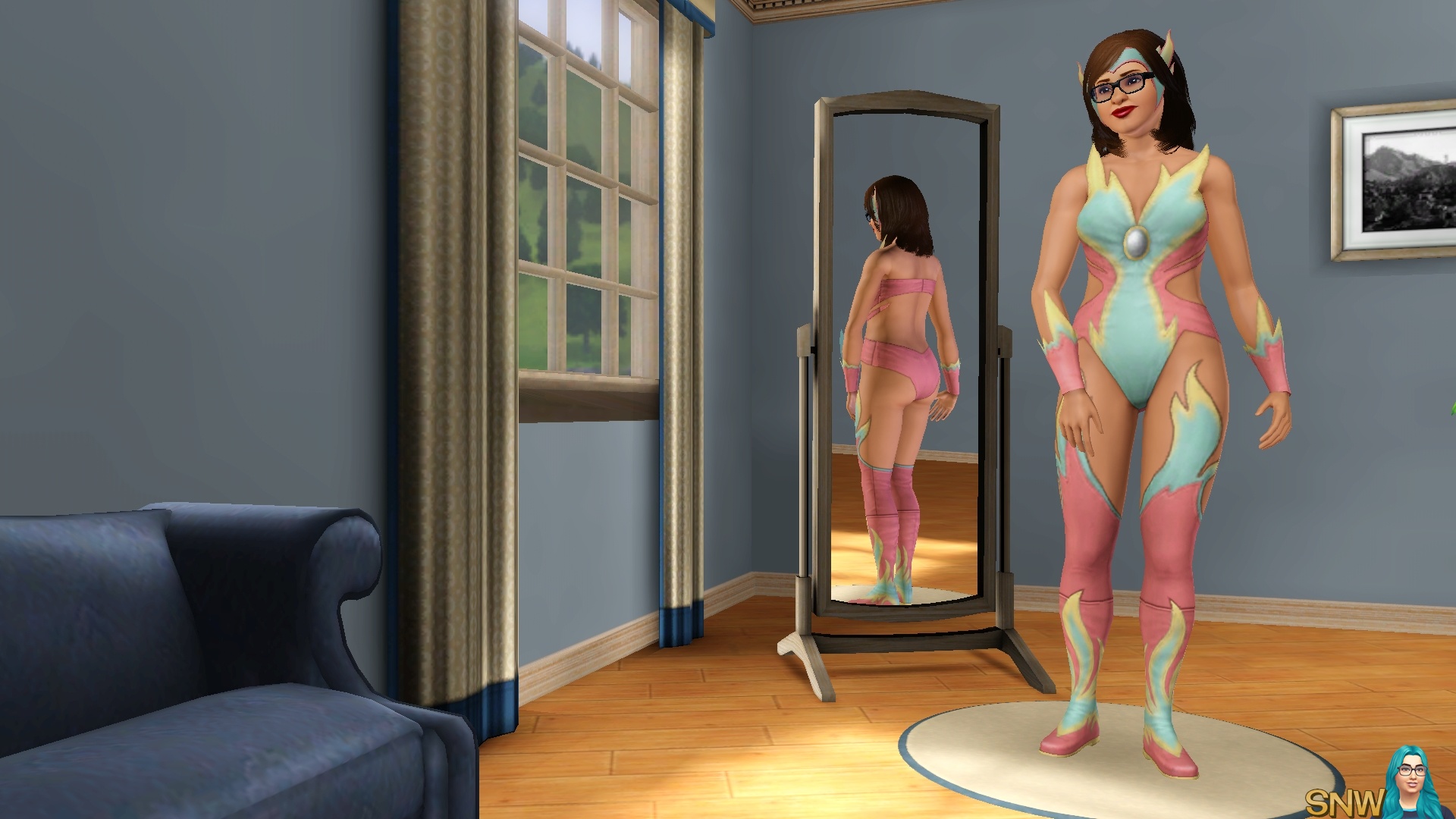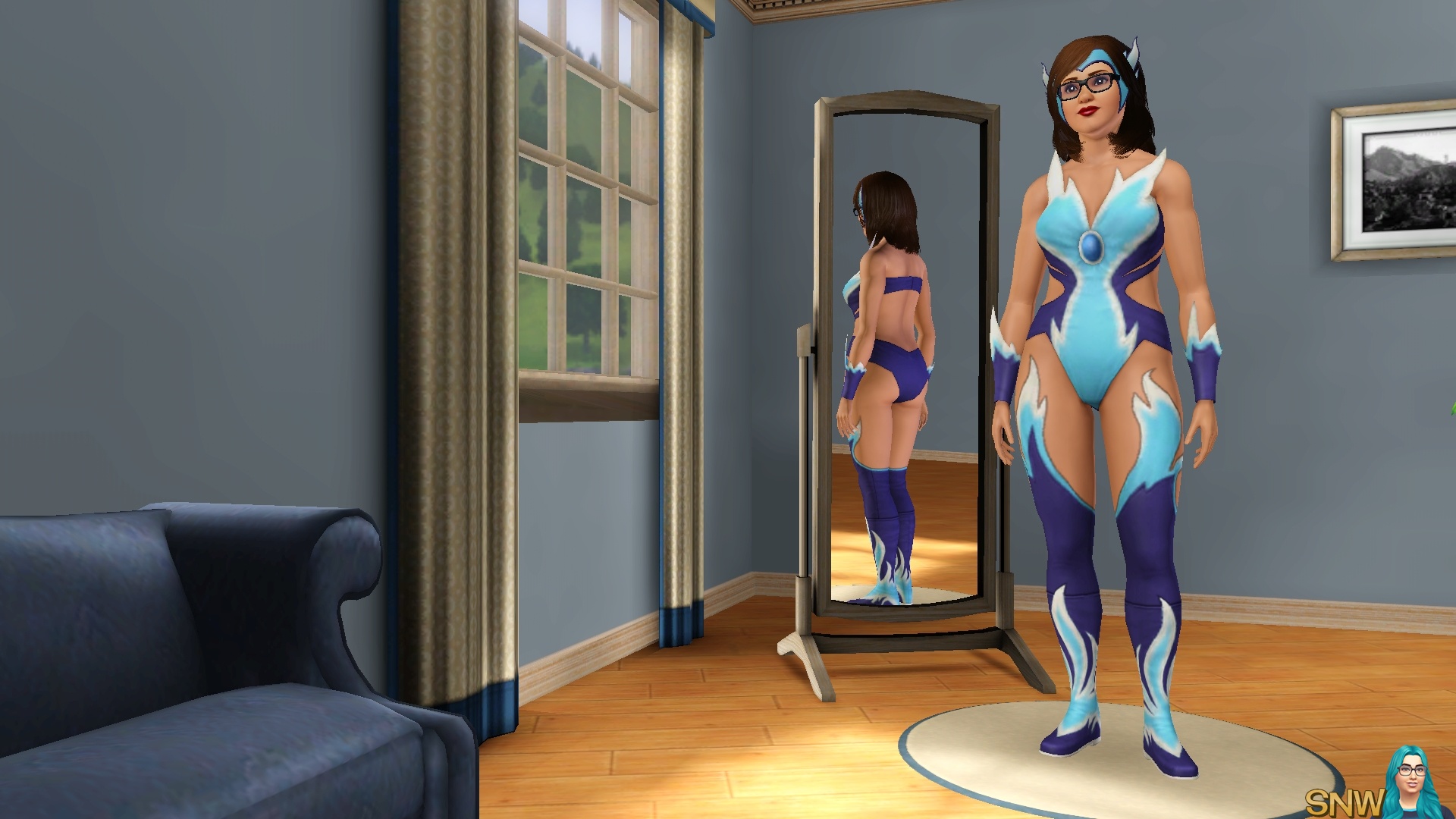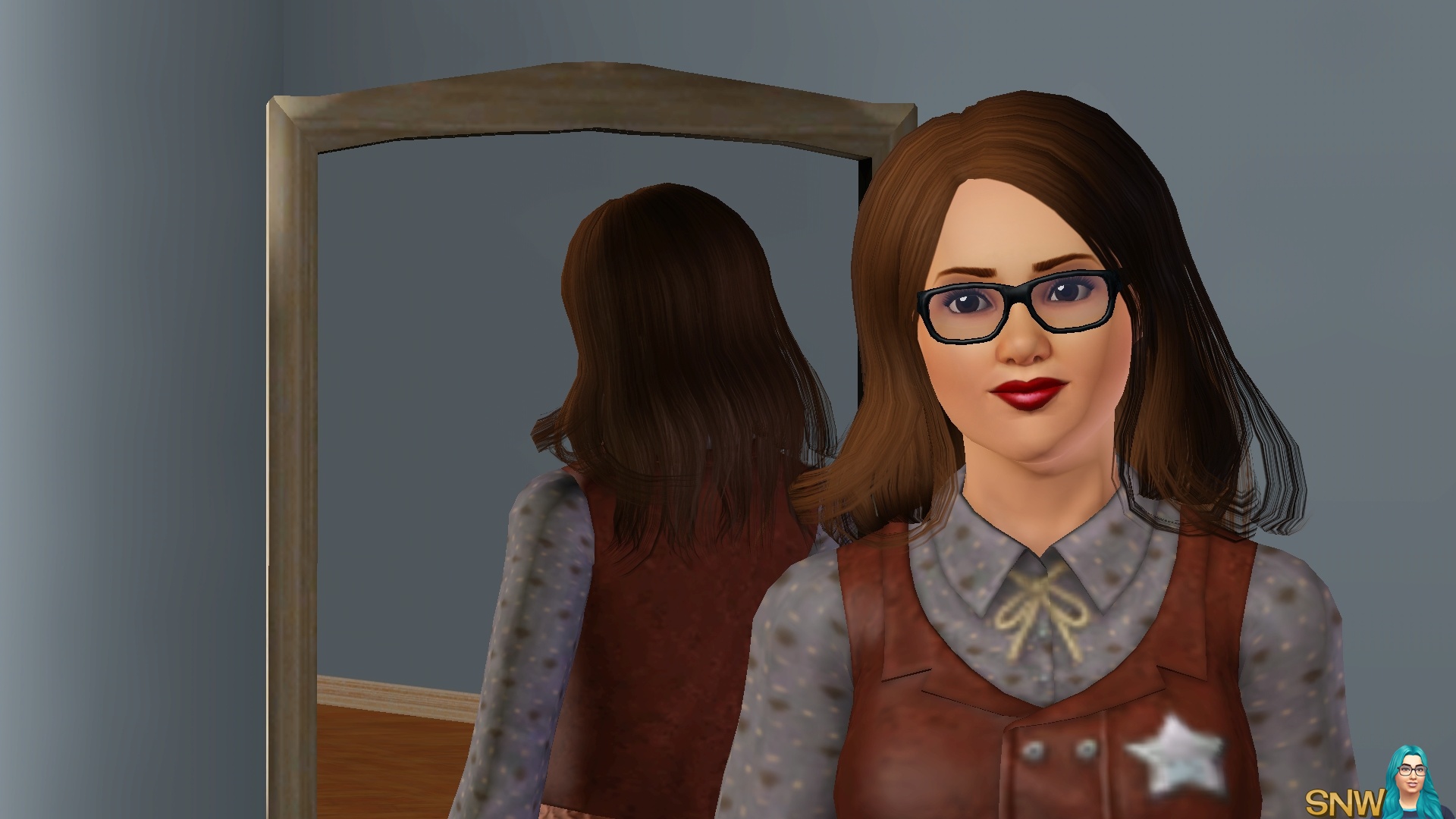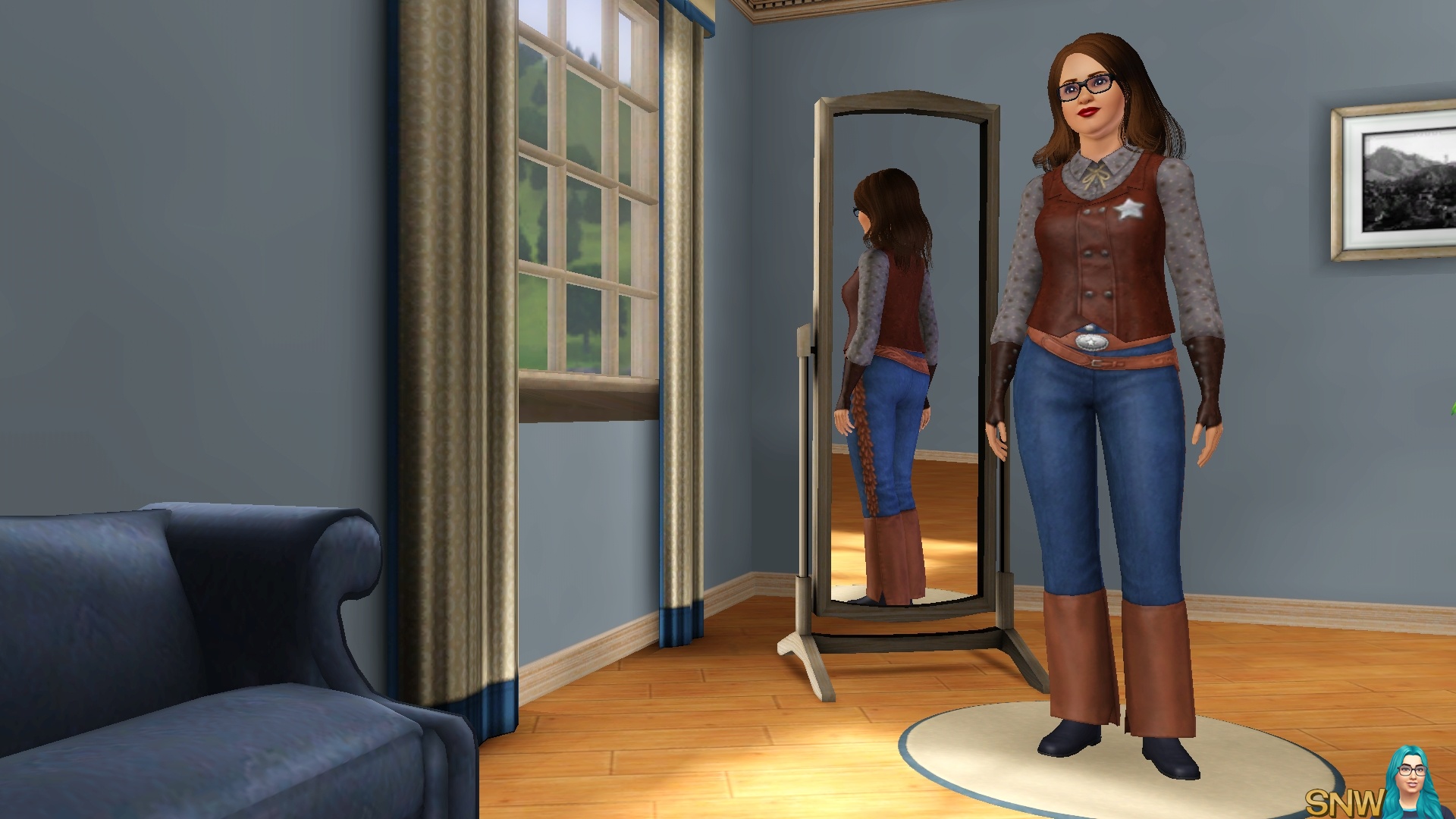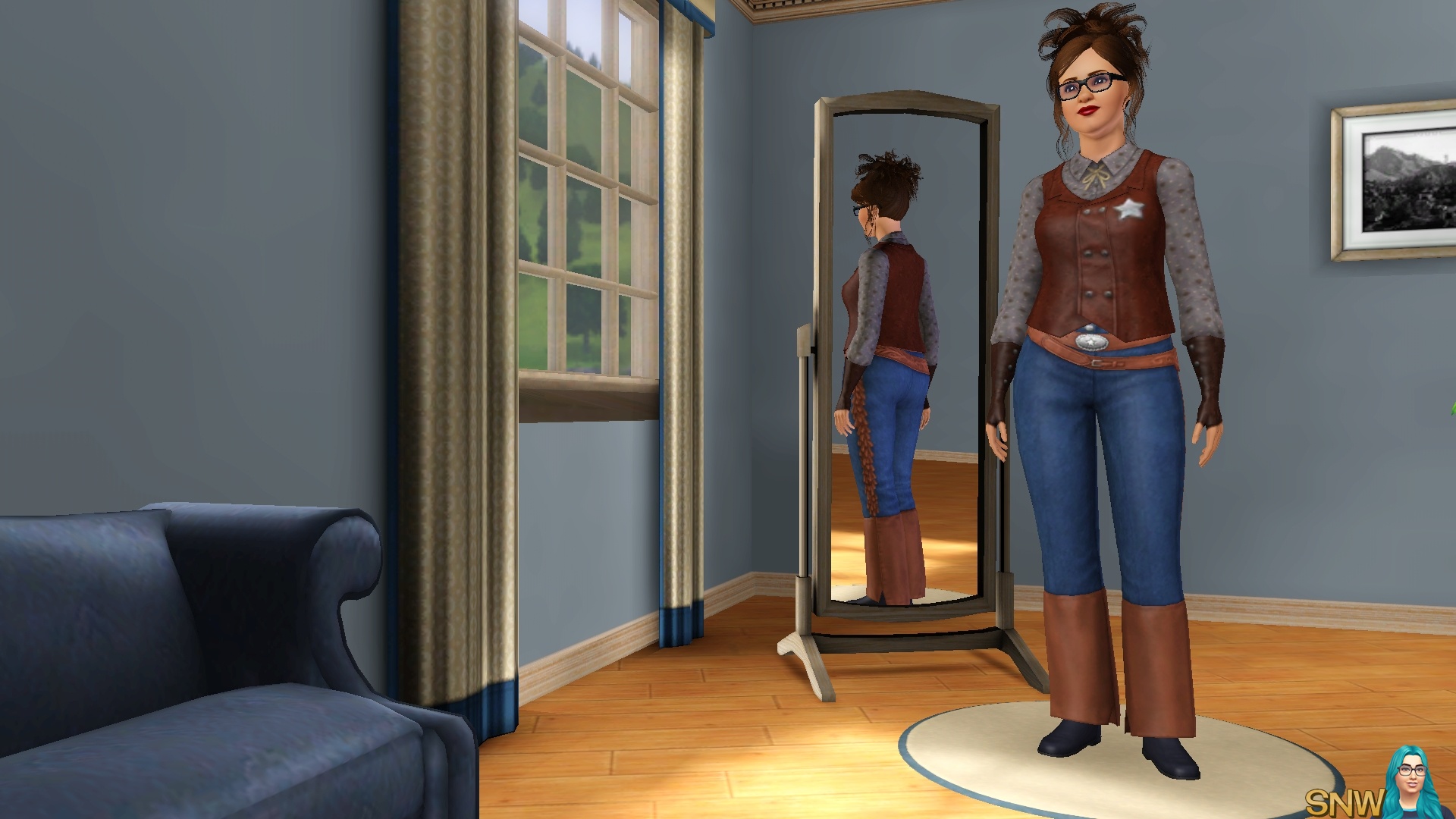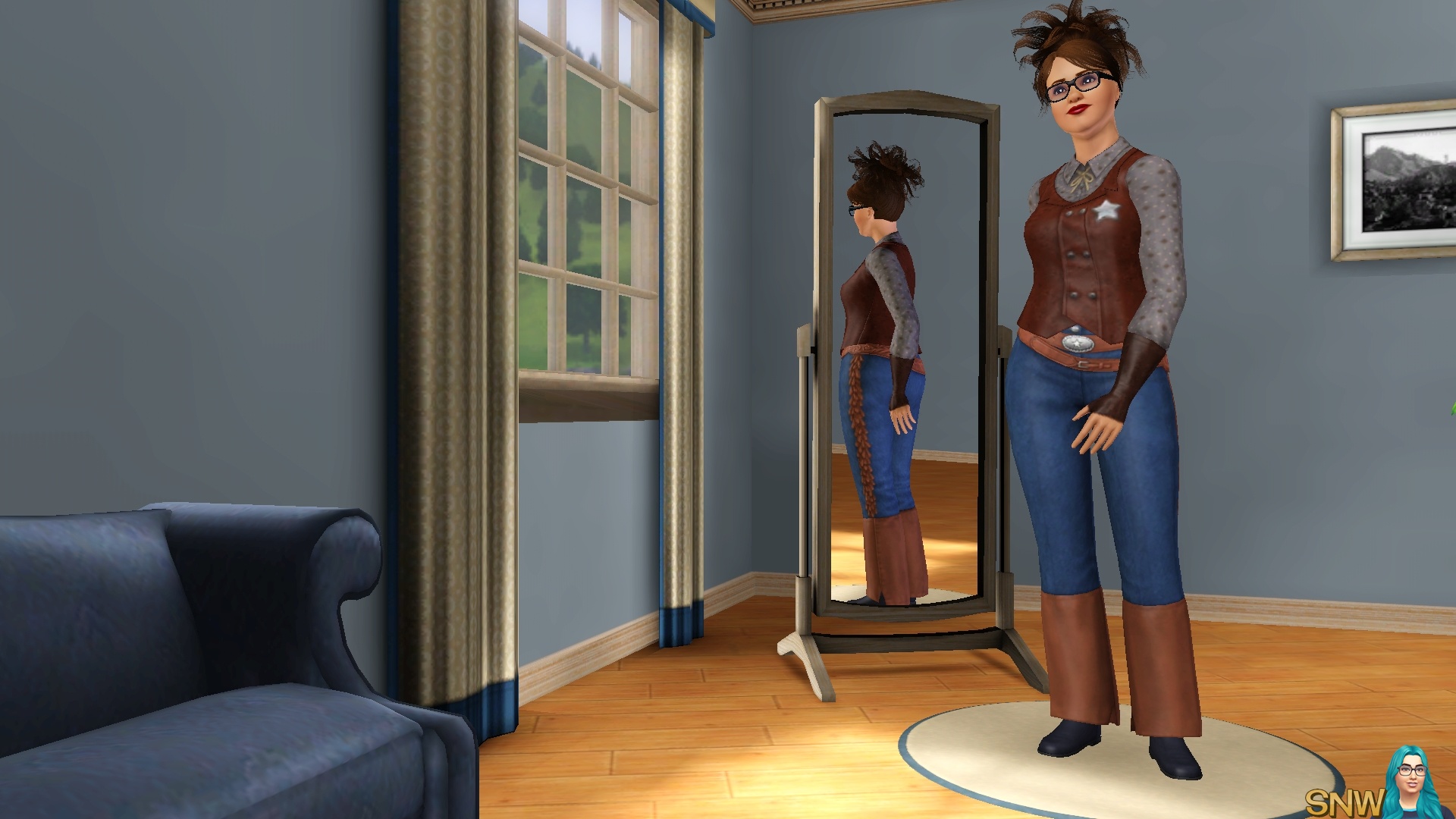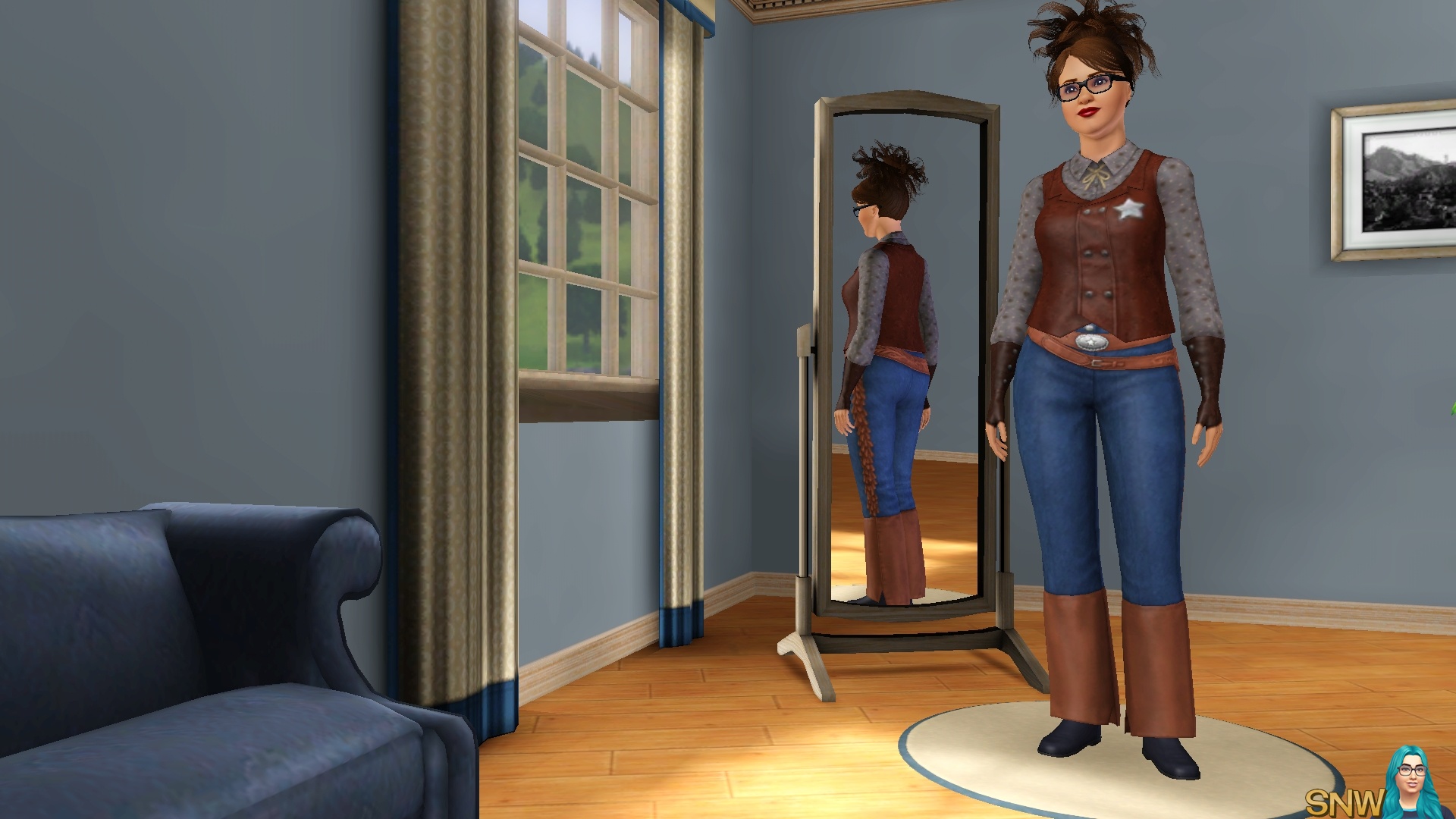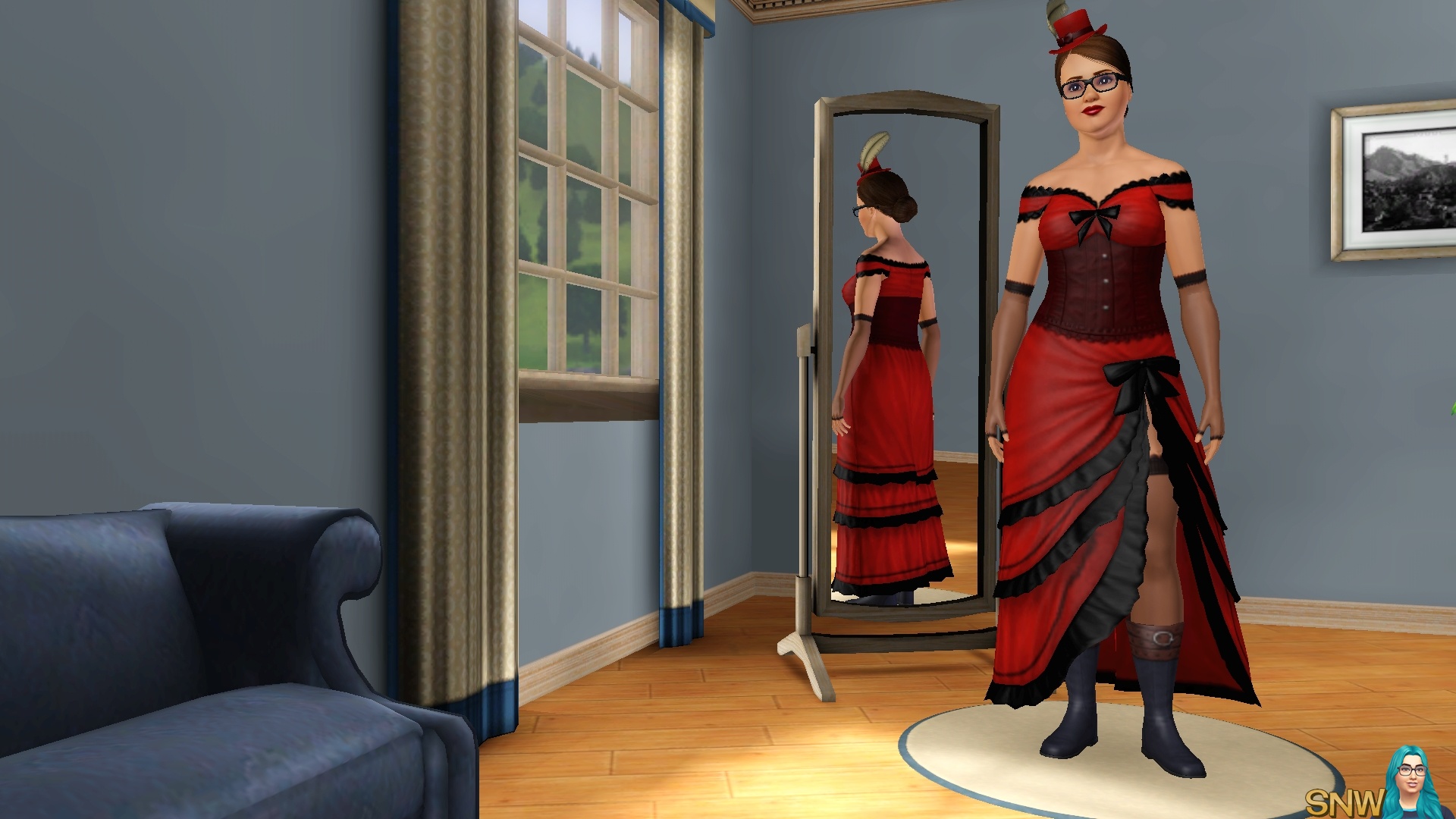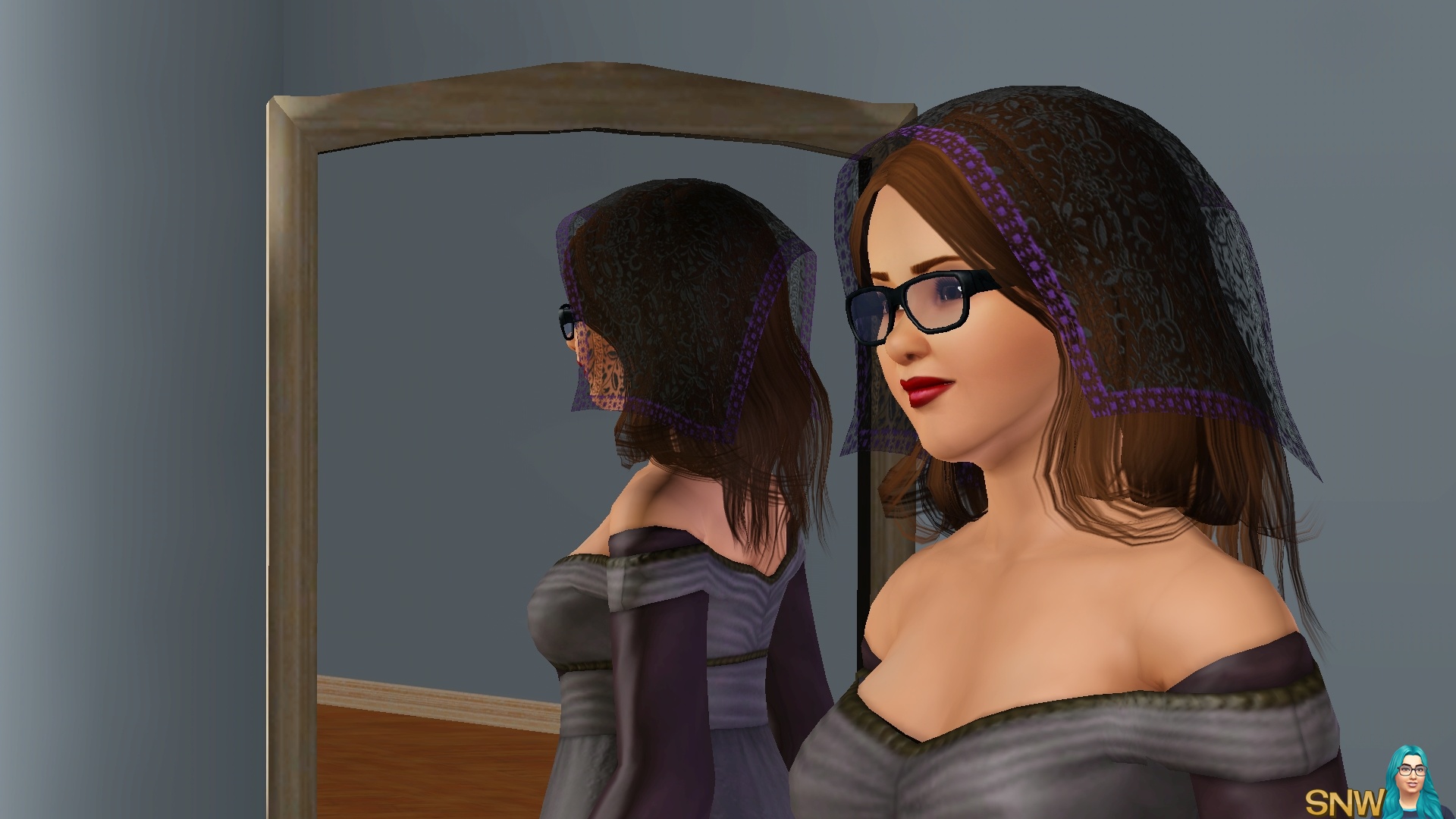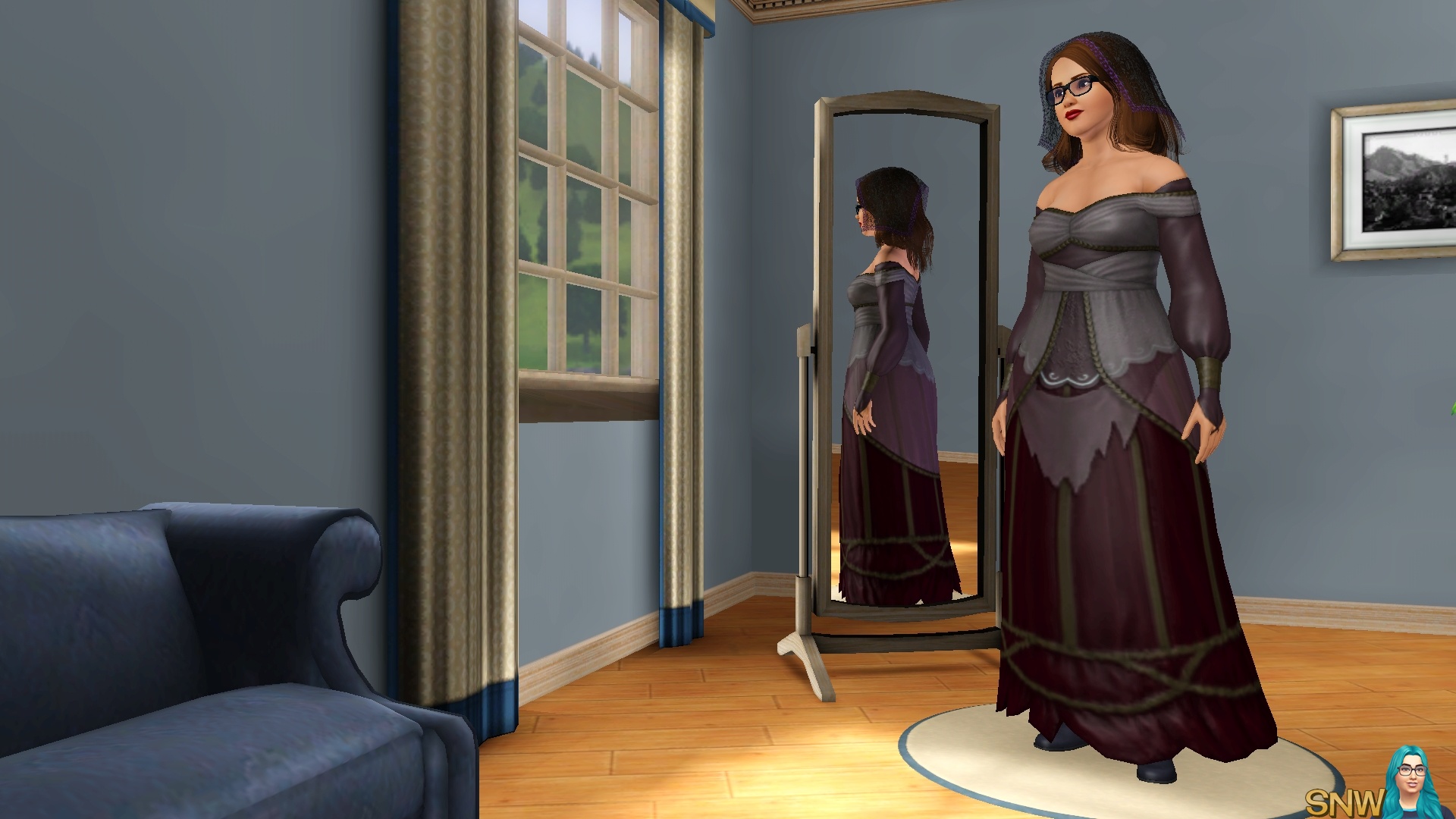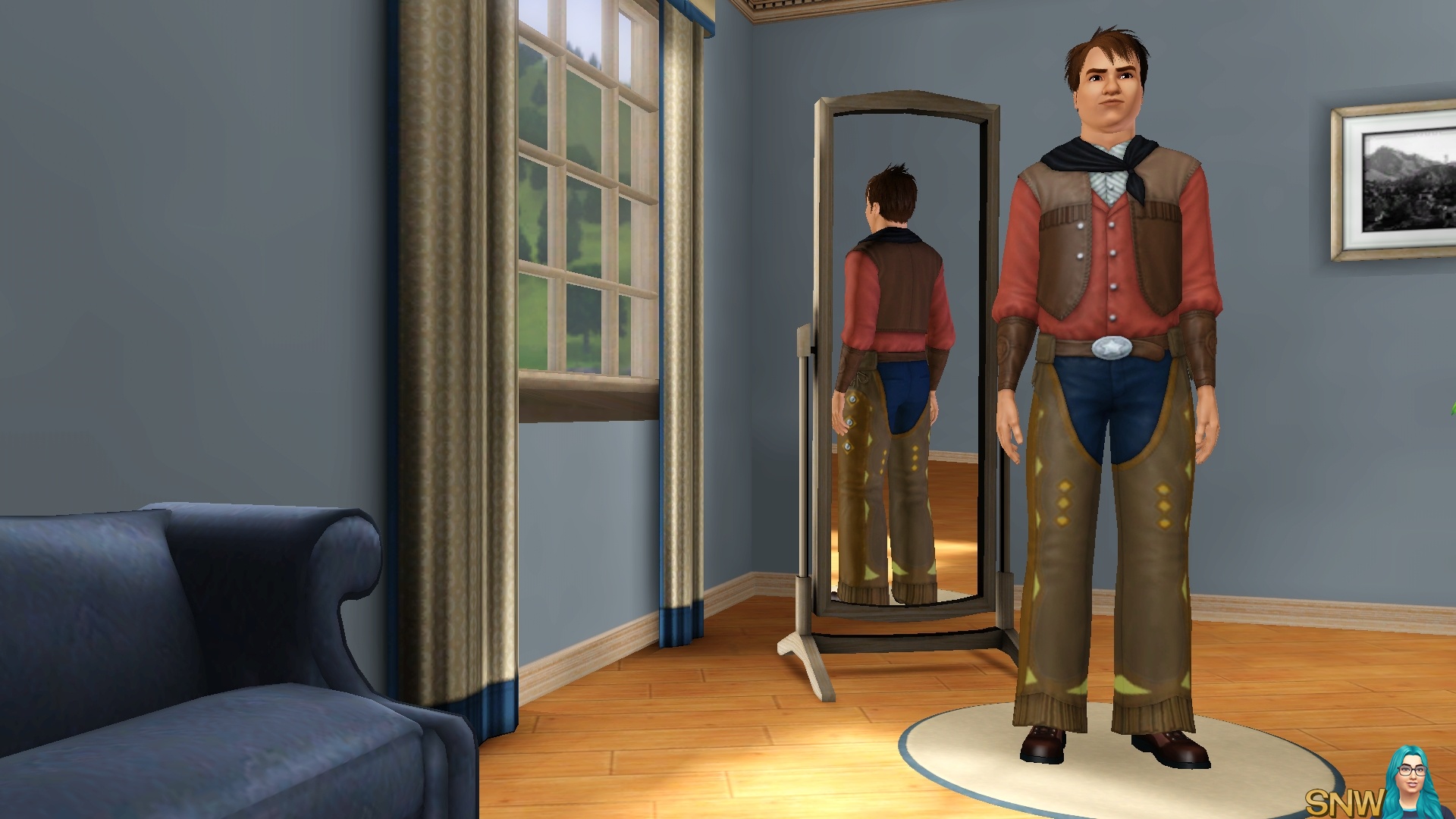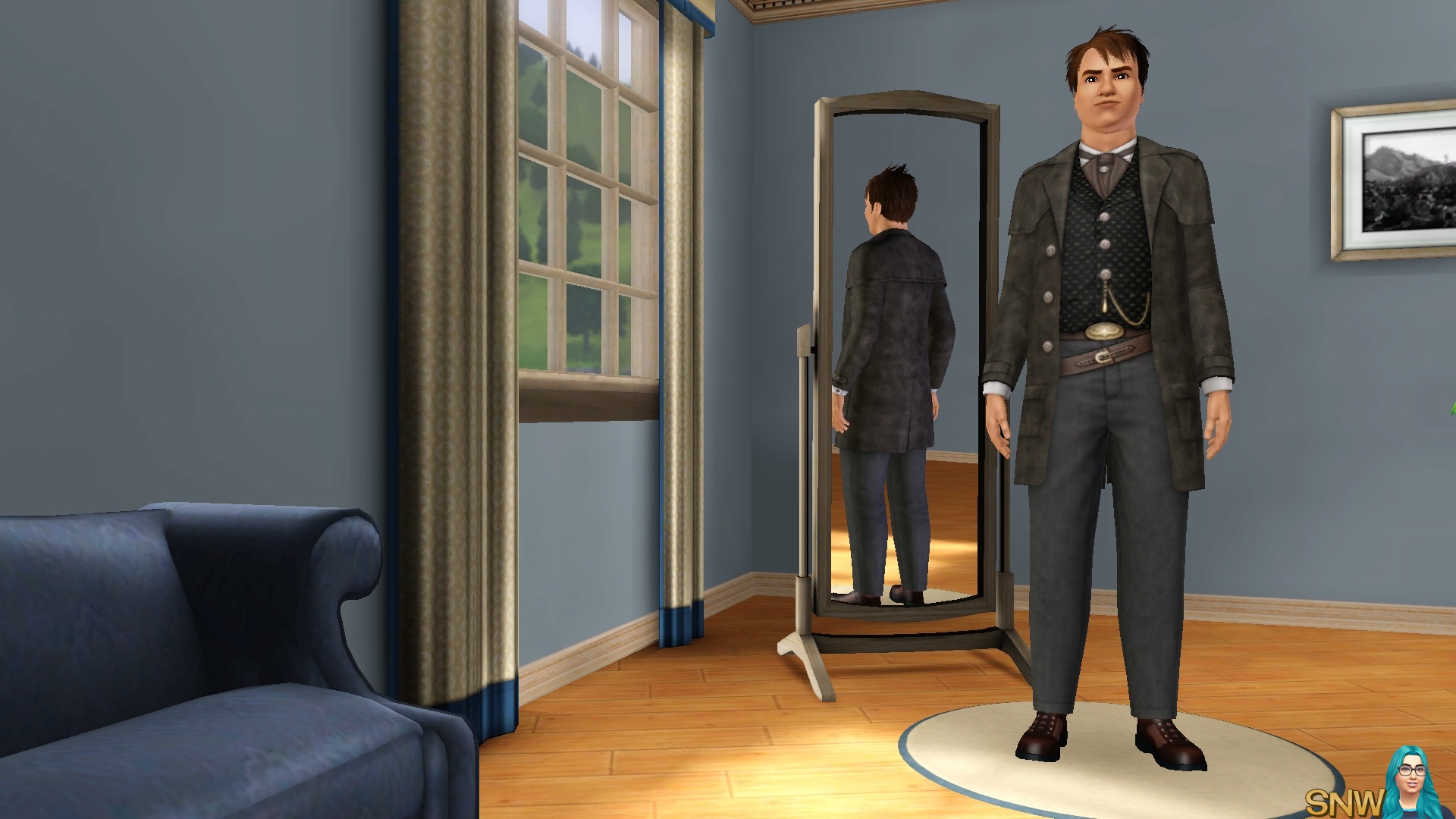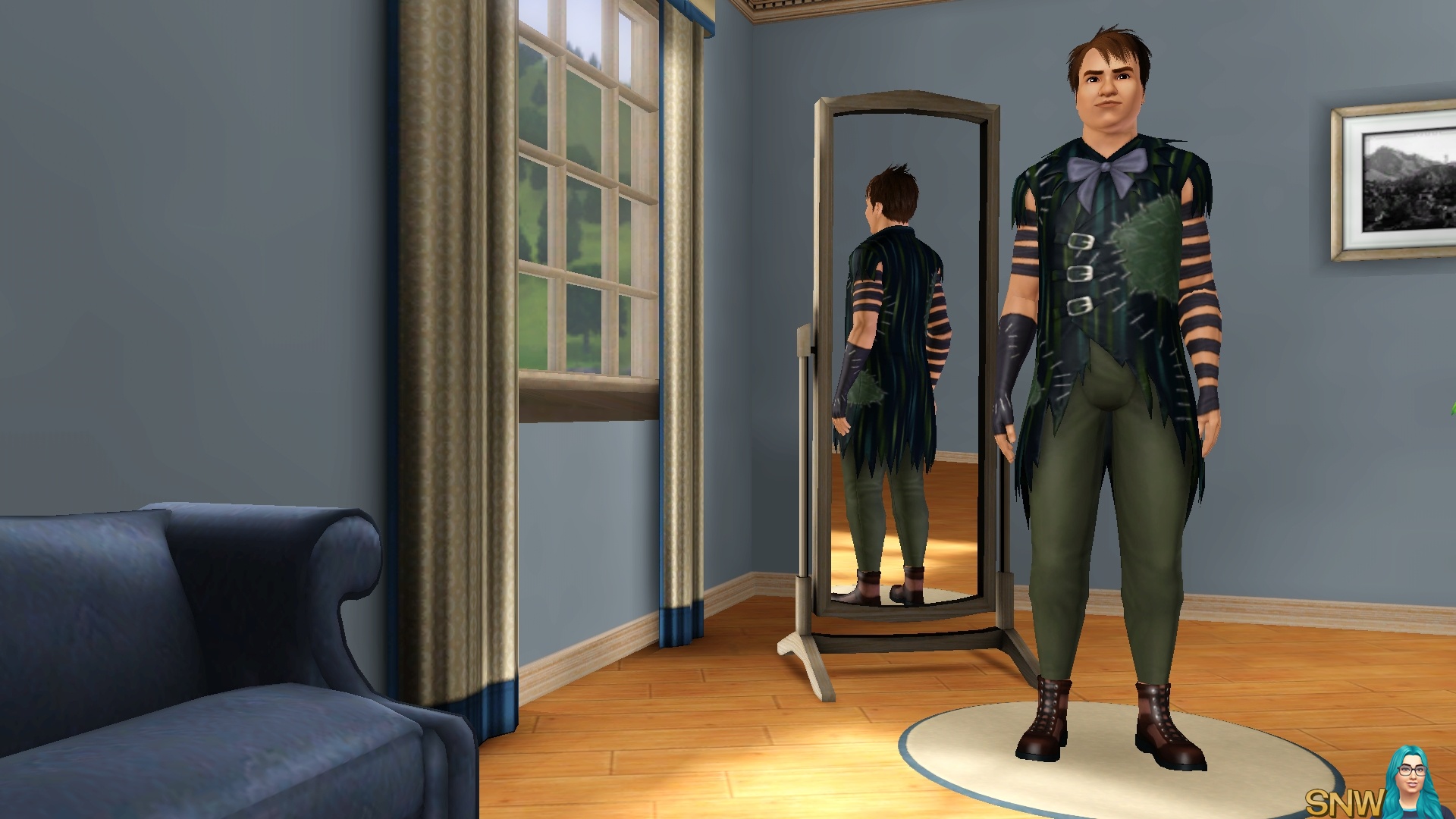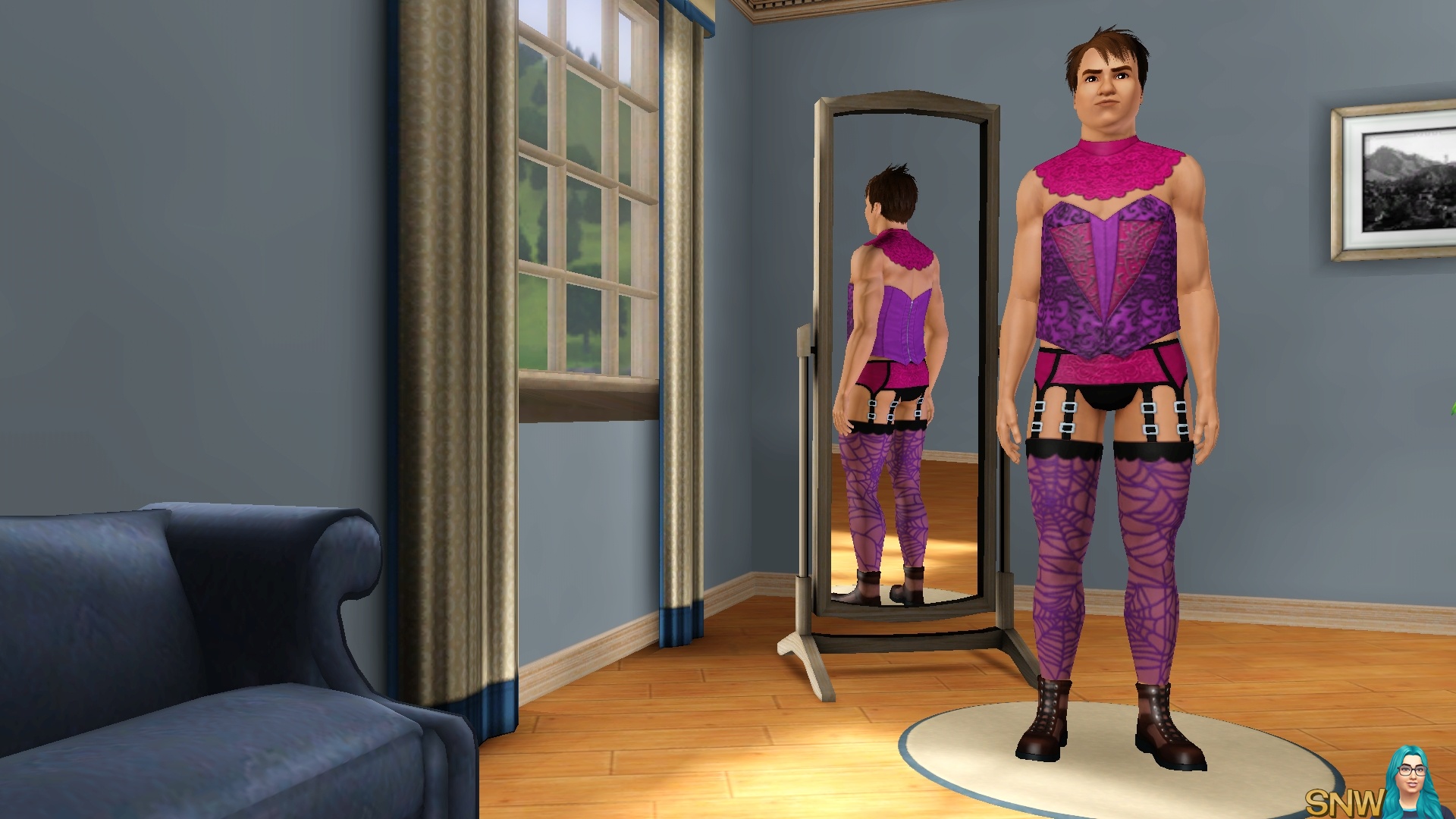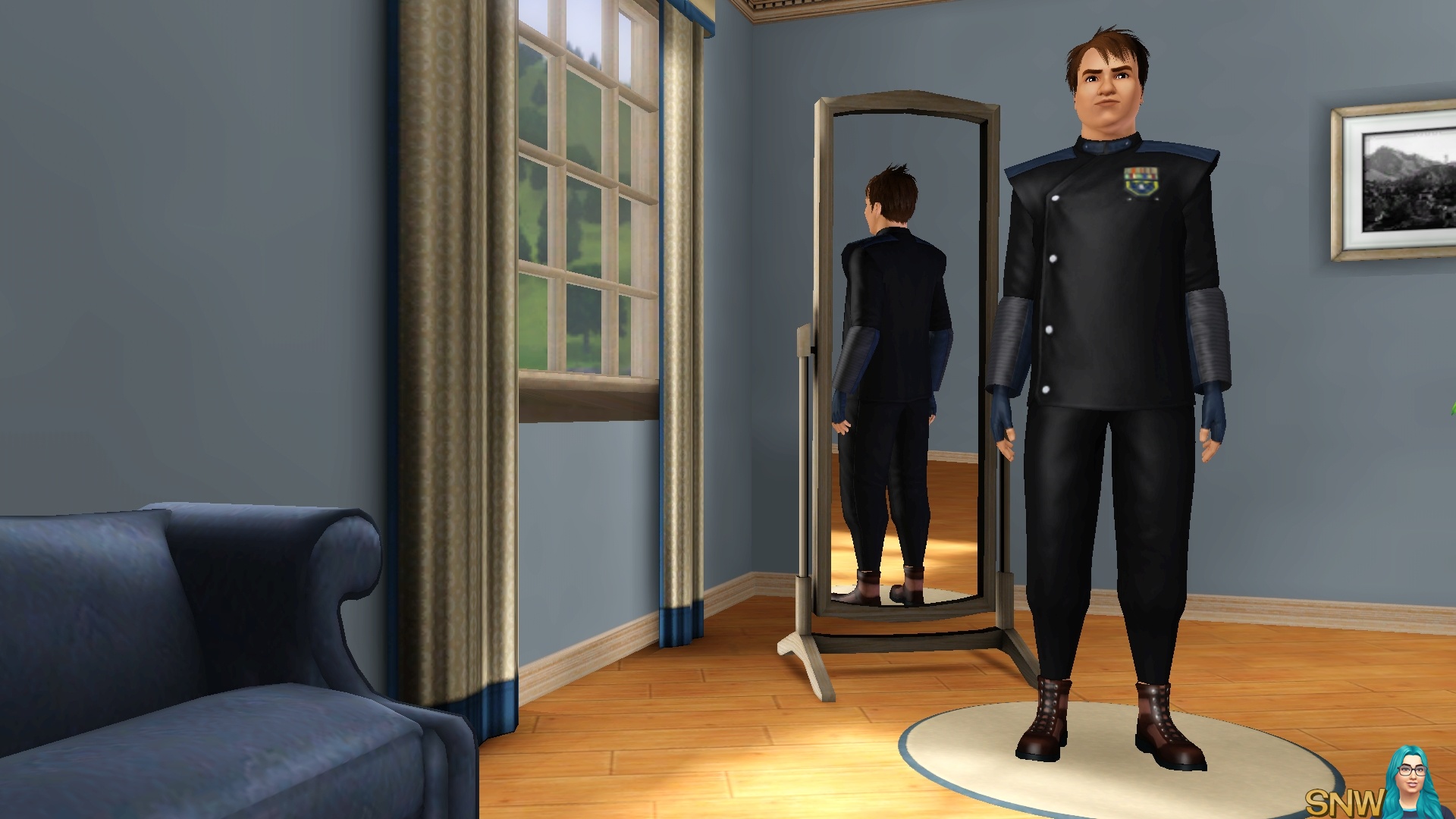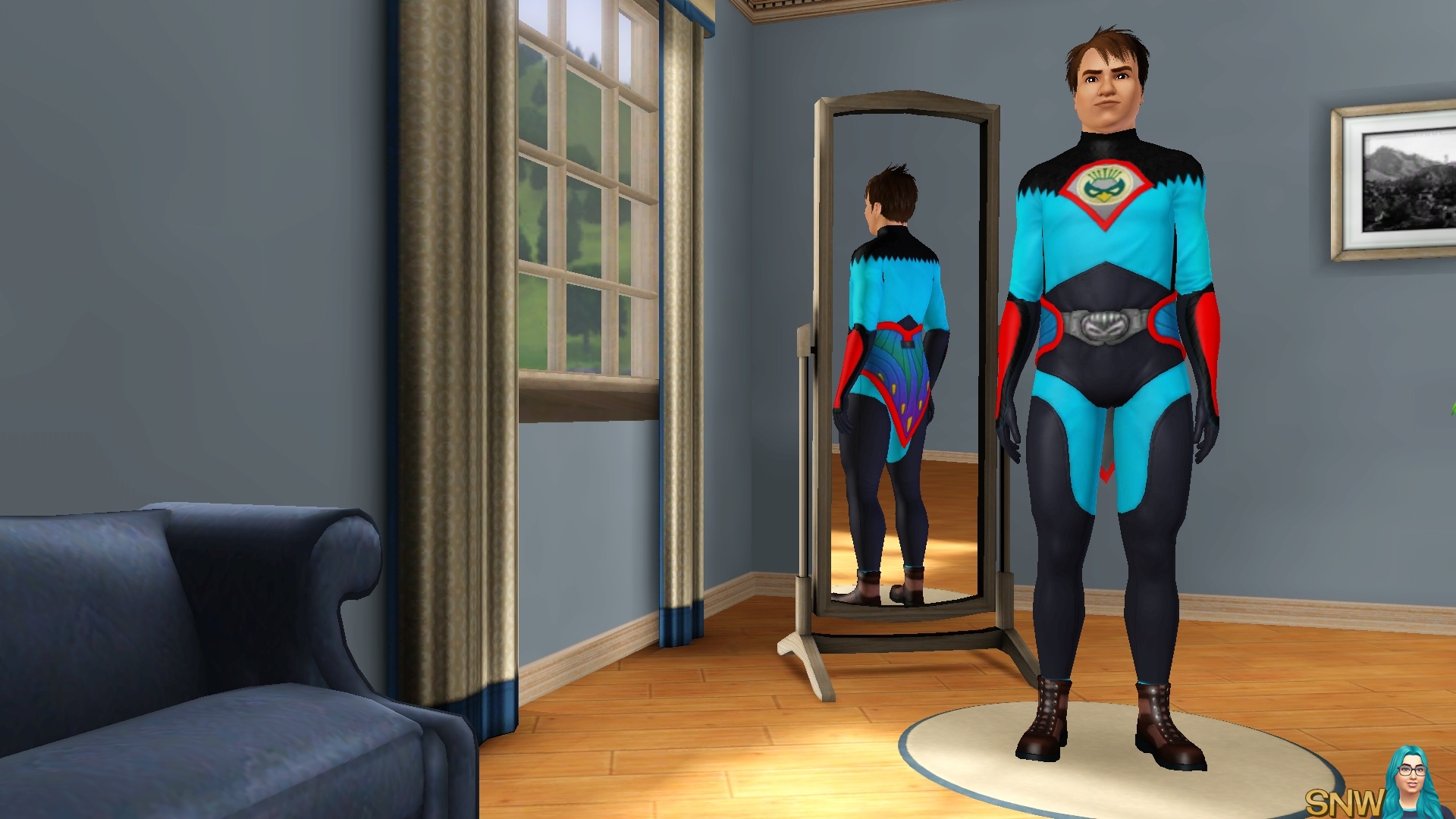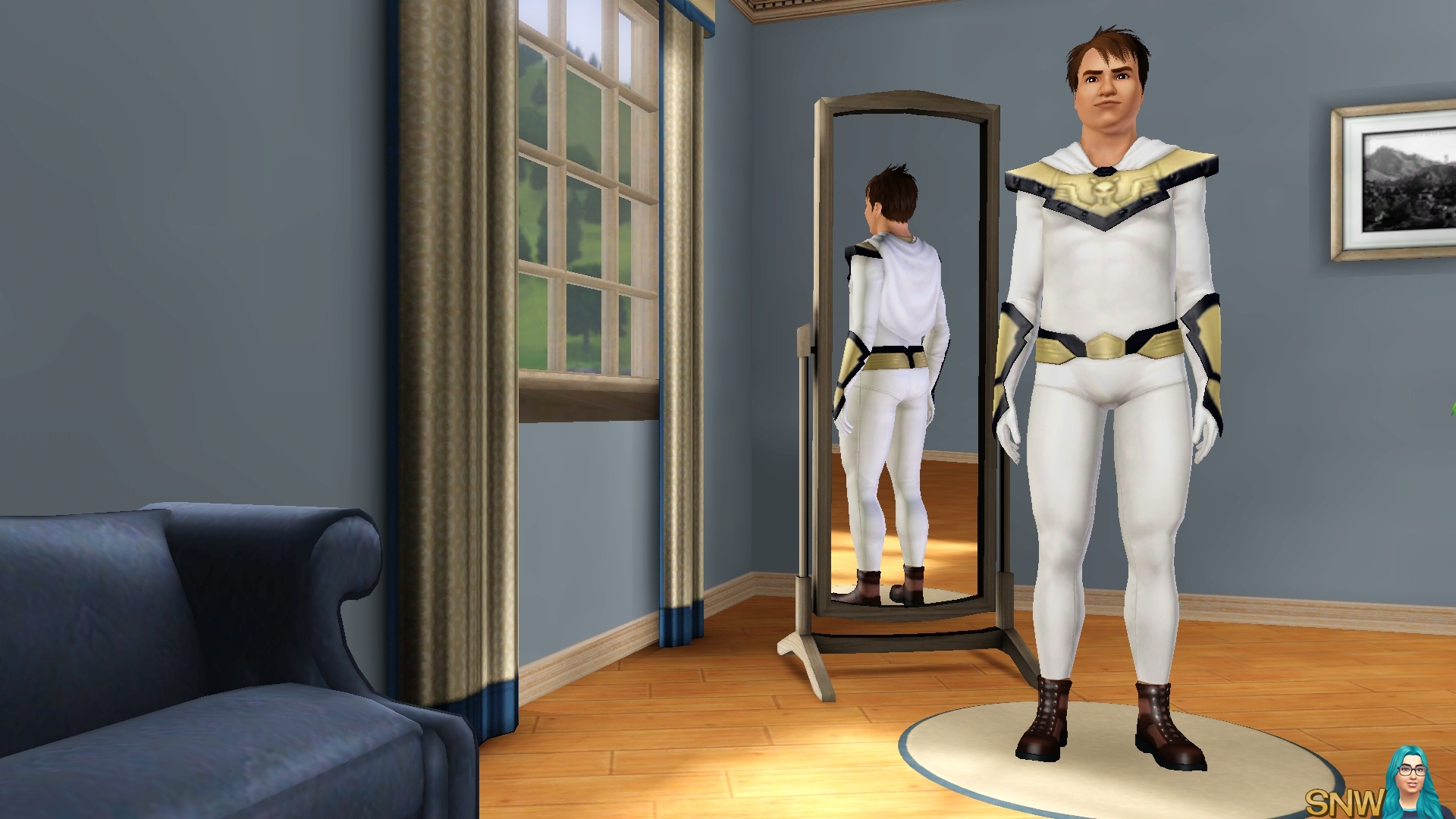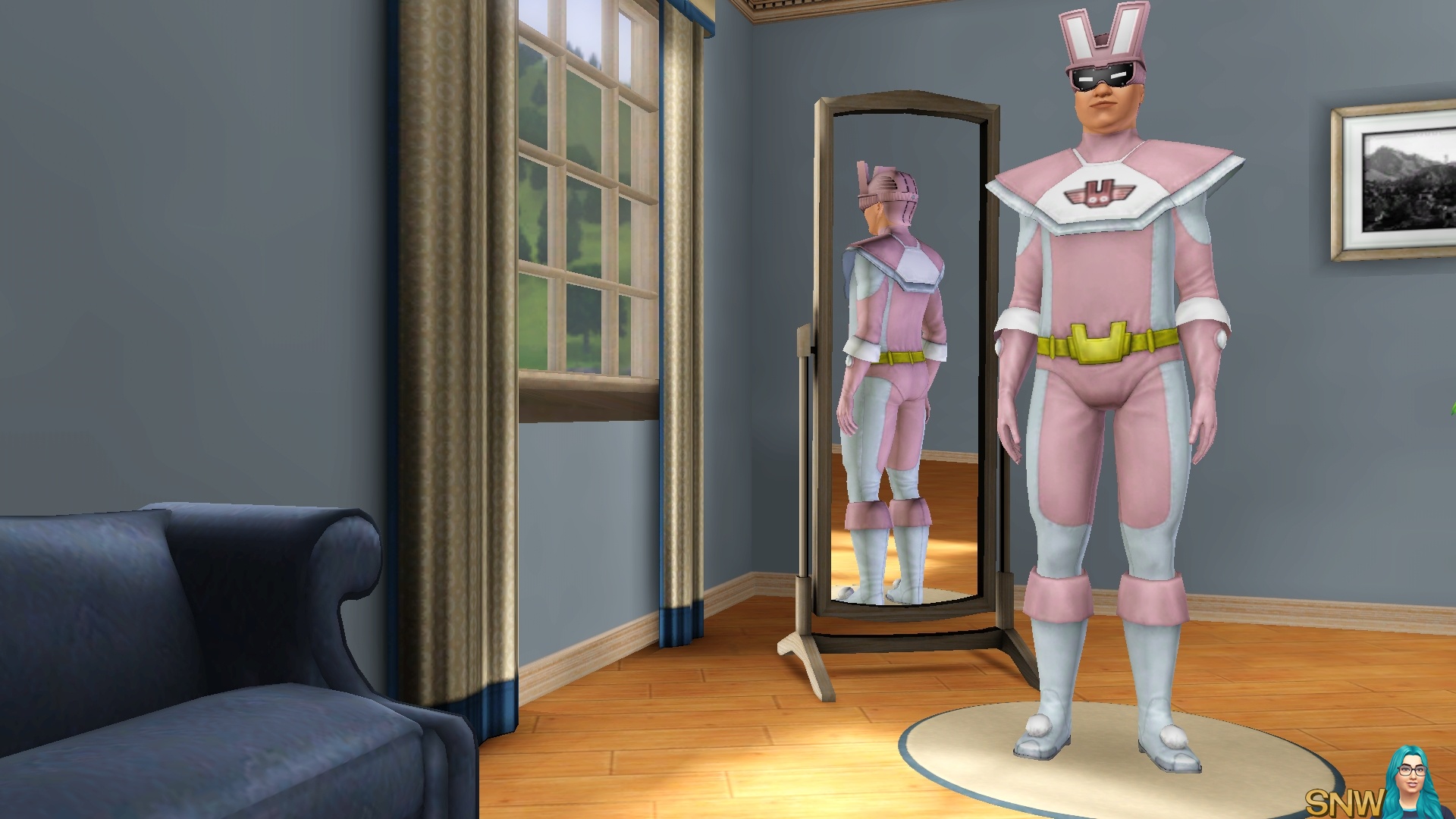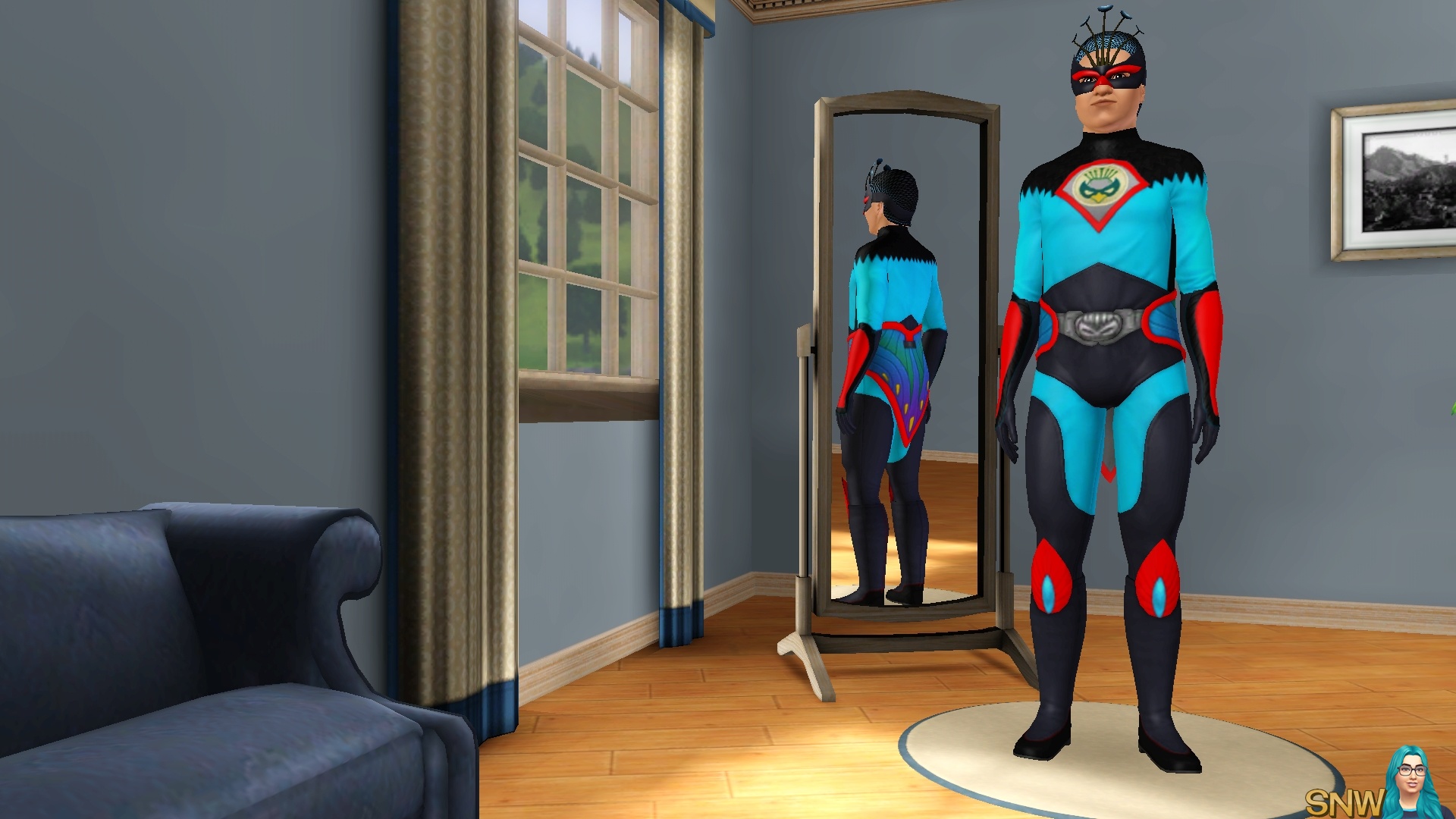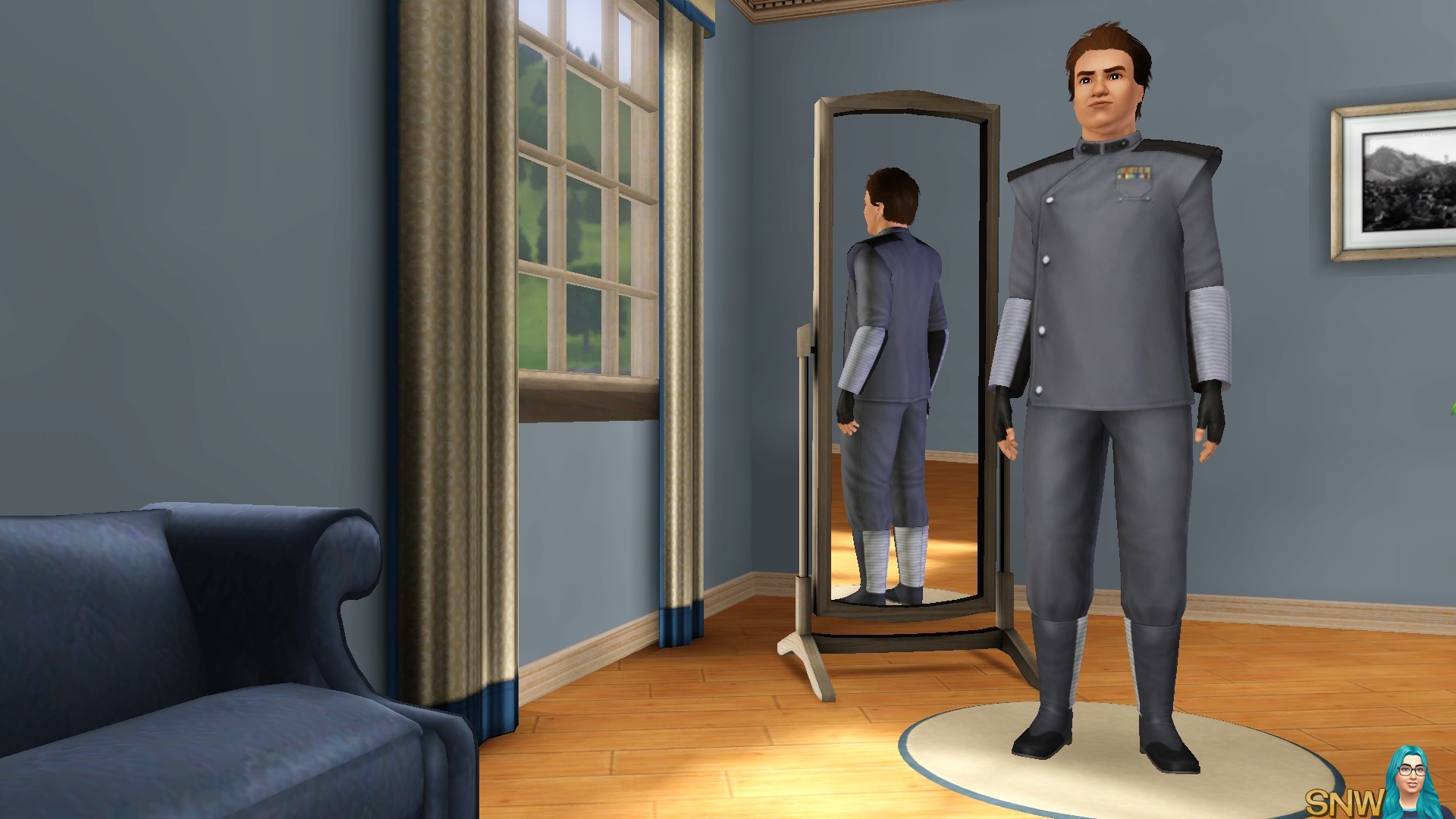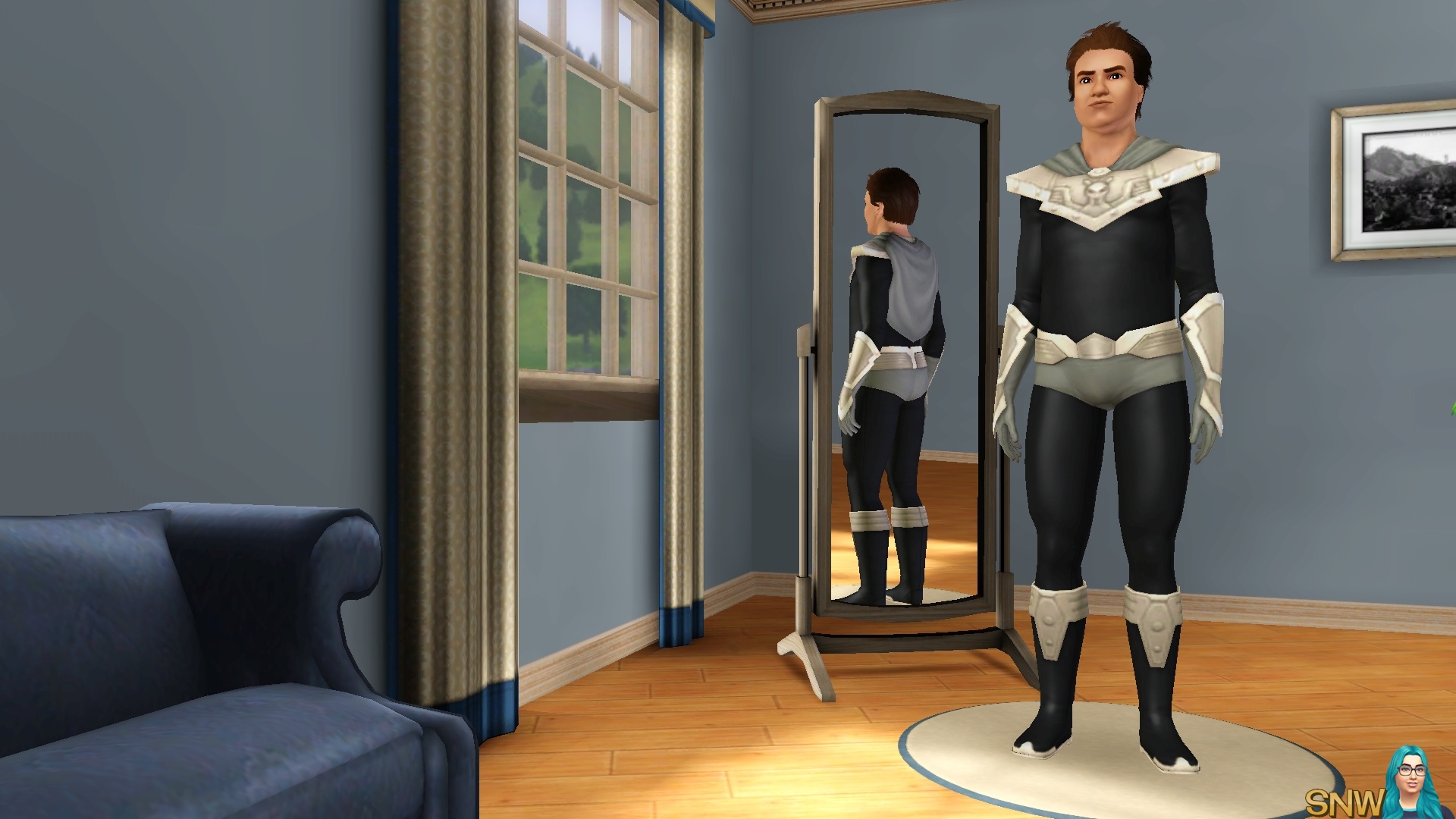 Although this is not exactly a preview, I feel it should be listed as such, cause it's still a "special" and not a news article.
I was very busy during Sims Camp with a lot of things. And I didn't have a lot of time to check out everything from Movie Stuff. But I did manage to capture some of the awesome new outfits and hairdos in Movie Stuff. Check them out!
Female Hairdos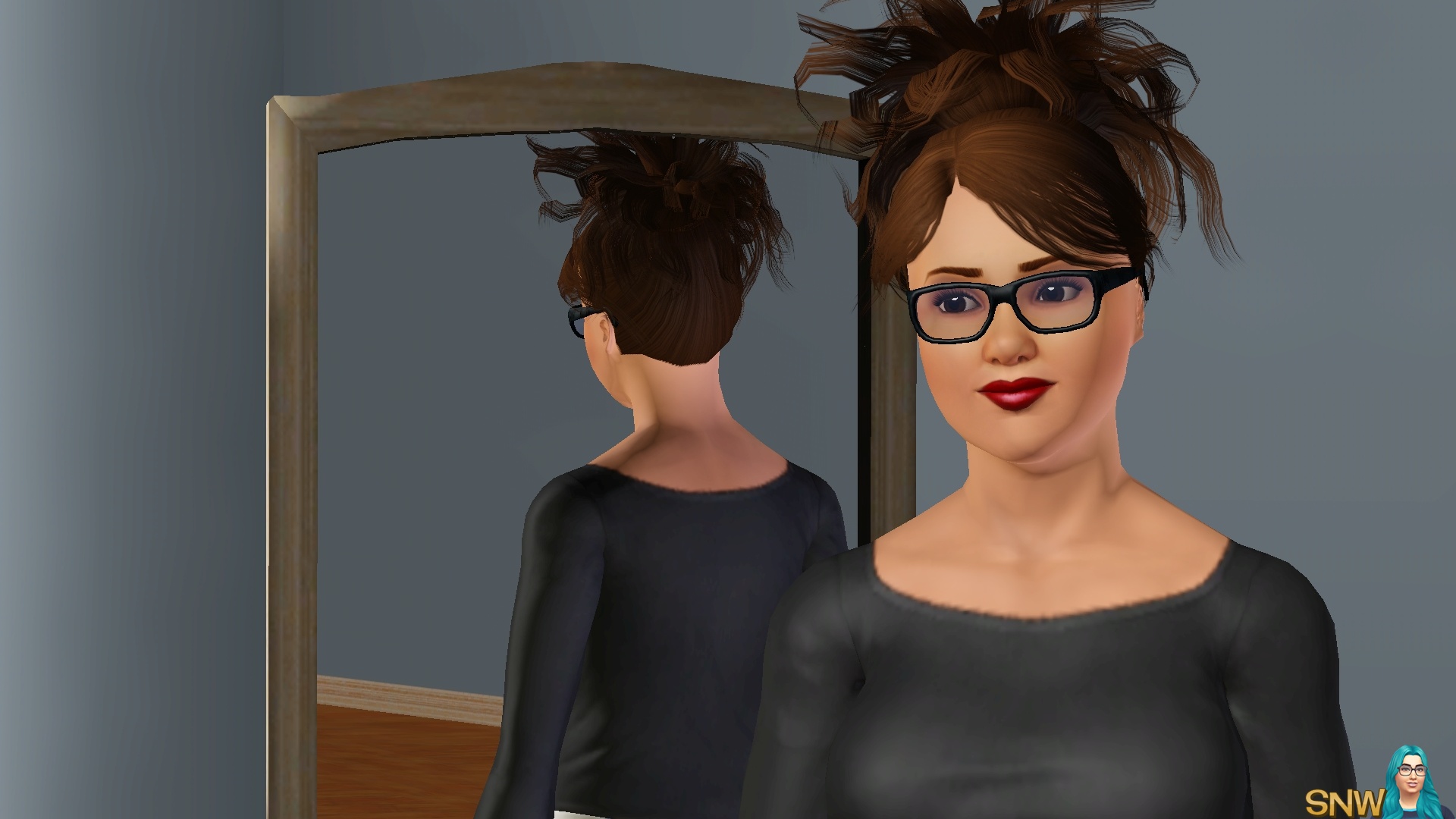 Cute updo.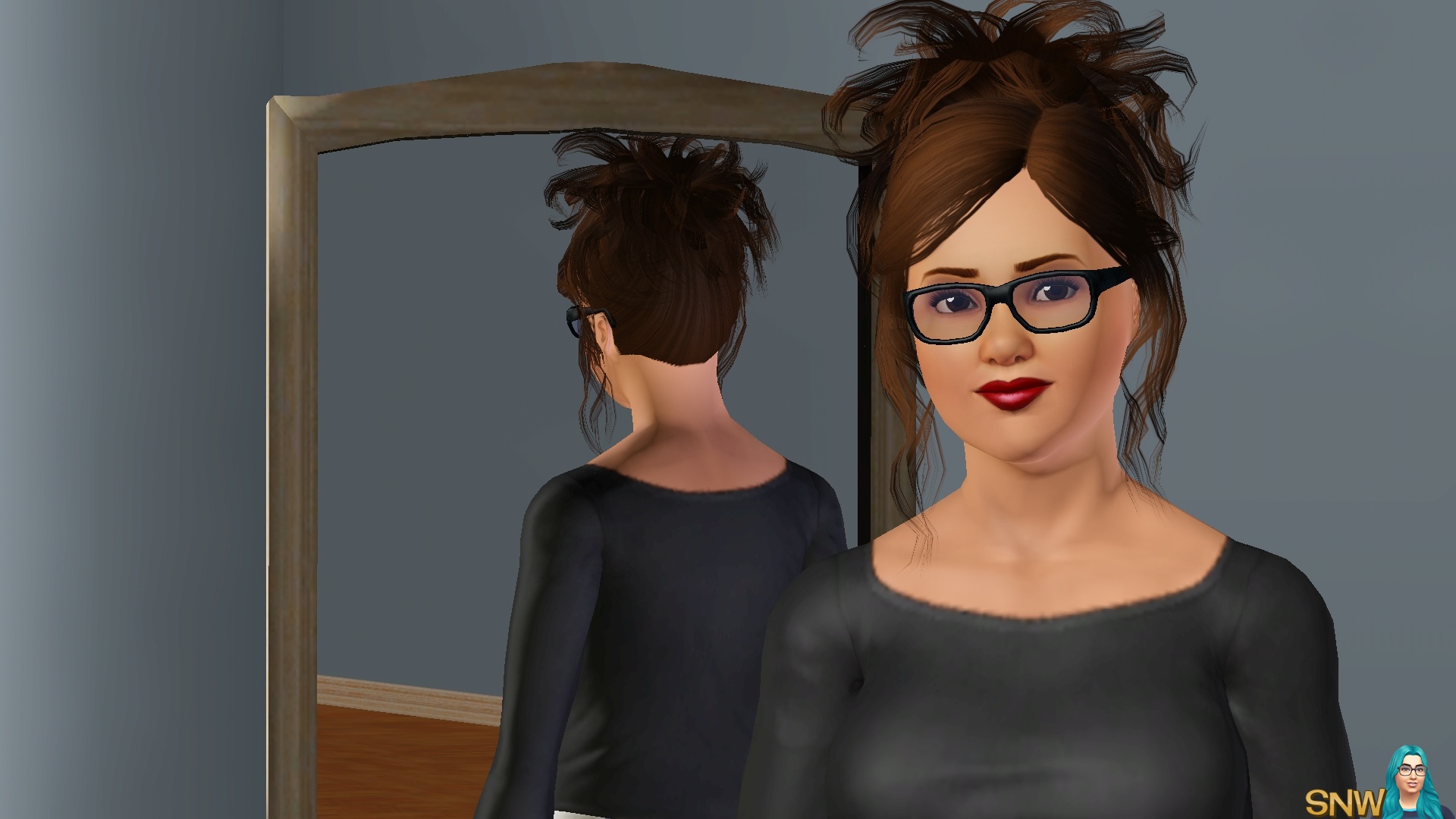 Same updo but with strands on the sides of the face.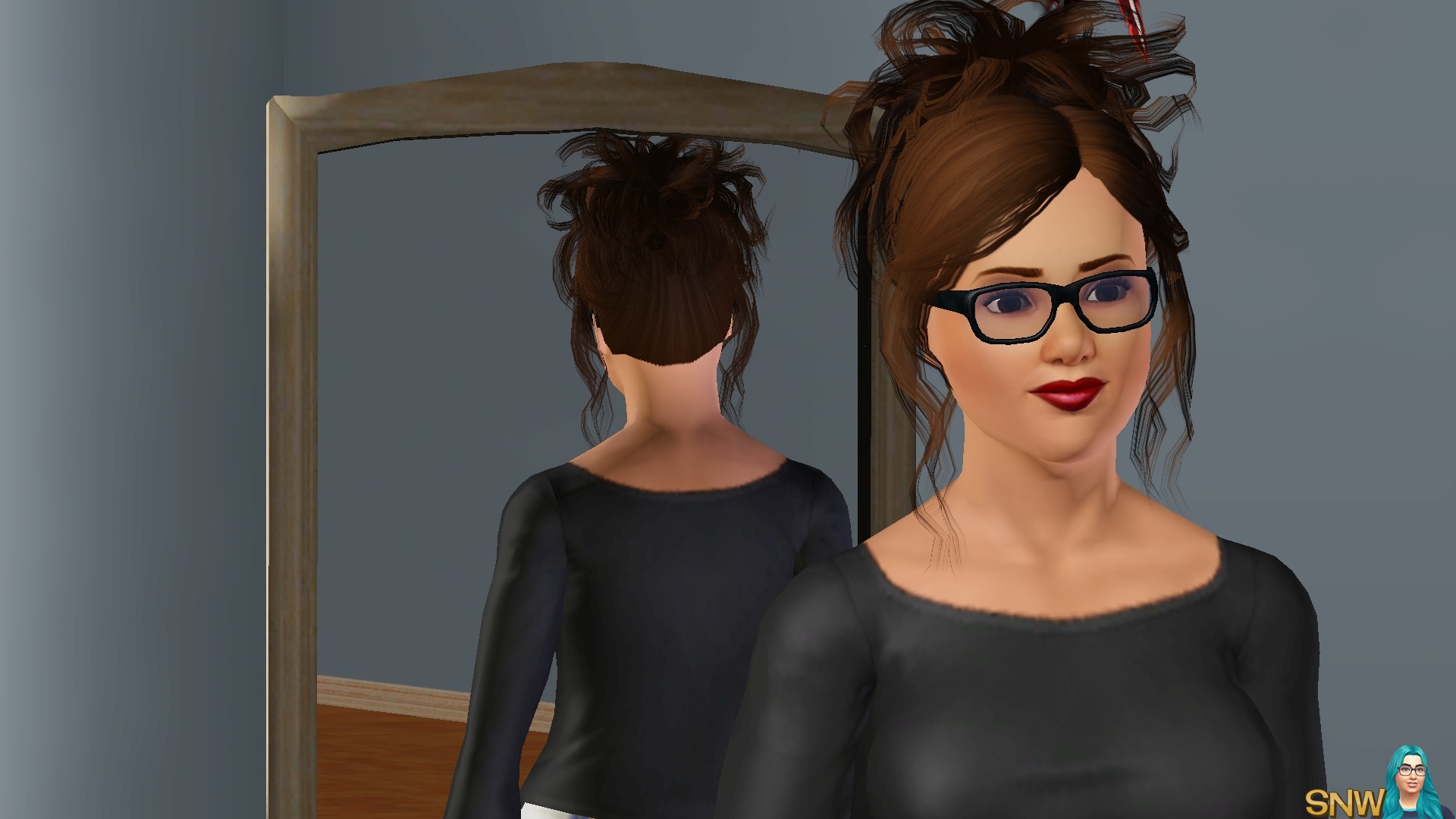 Again the same hairdo, but now with a feather in it. Unfortunately I had trouble getting that on the picture.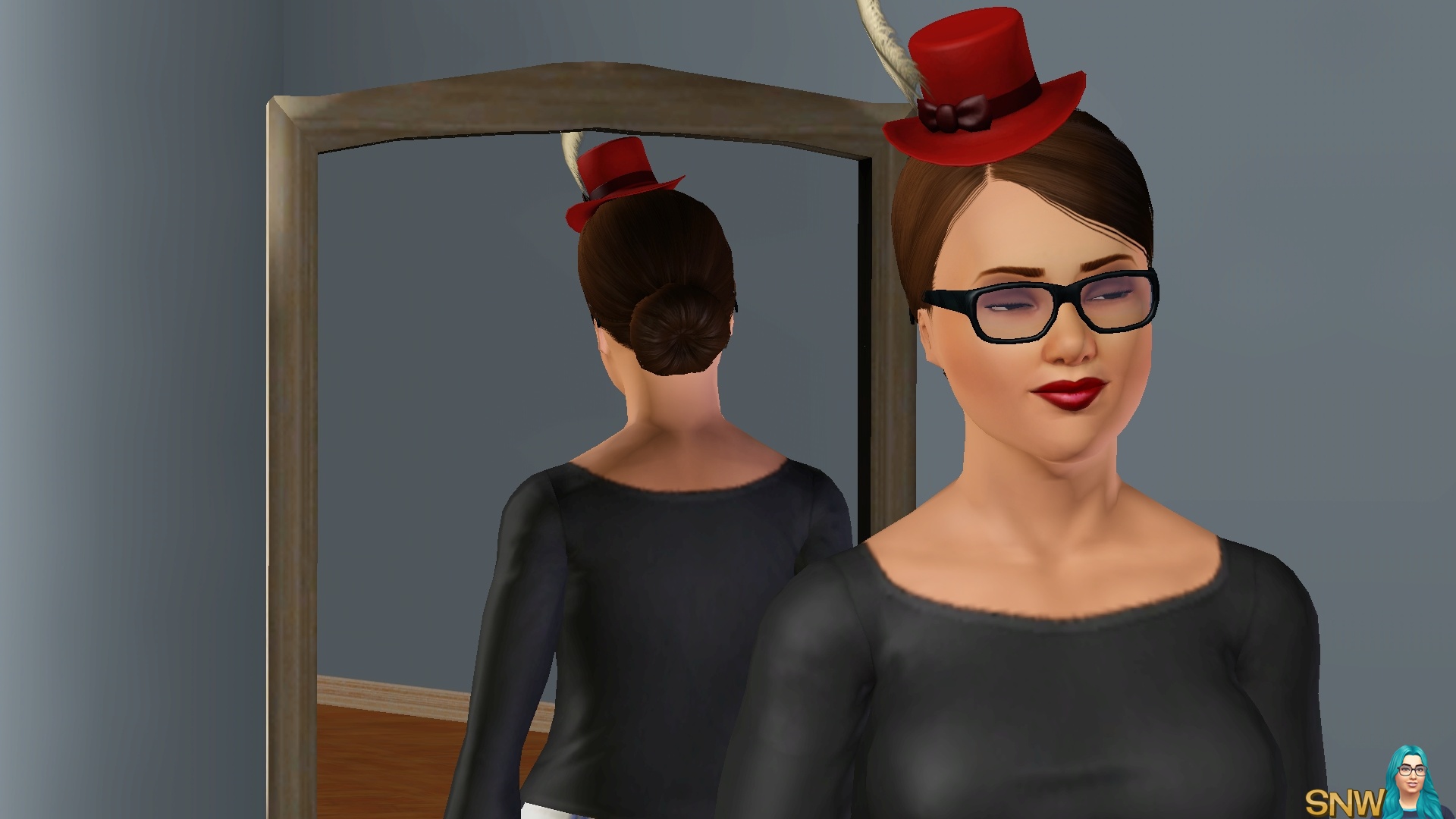 Derpy face. I think this is a cute little hat. Reminds me of the More Magic store set! Though this one is smaller.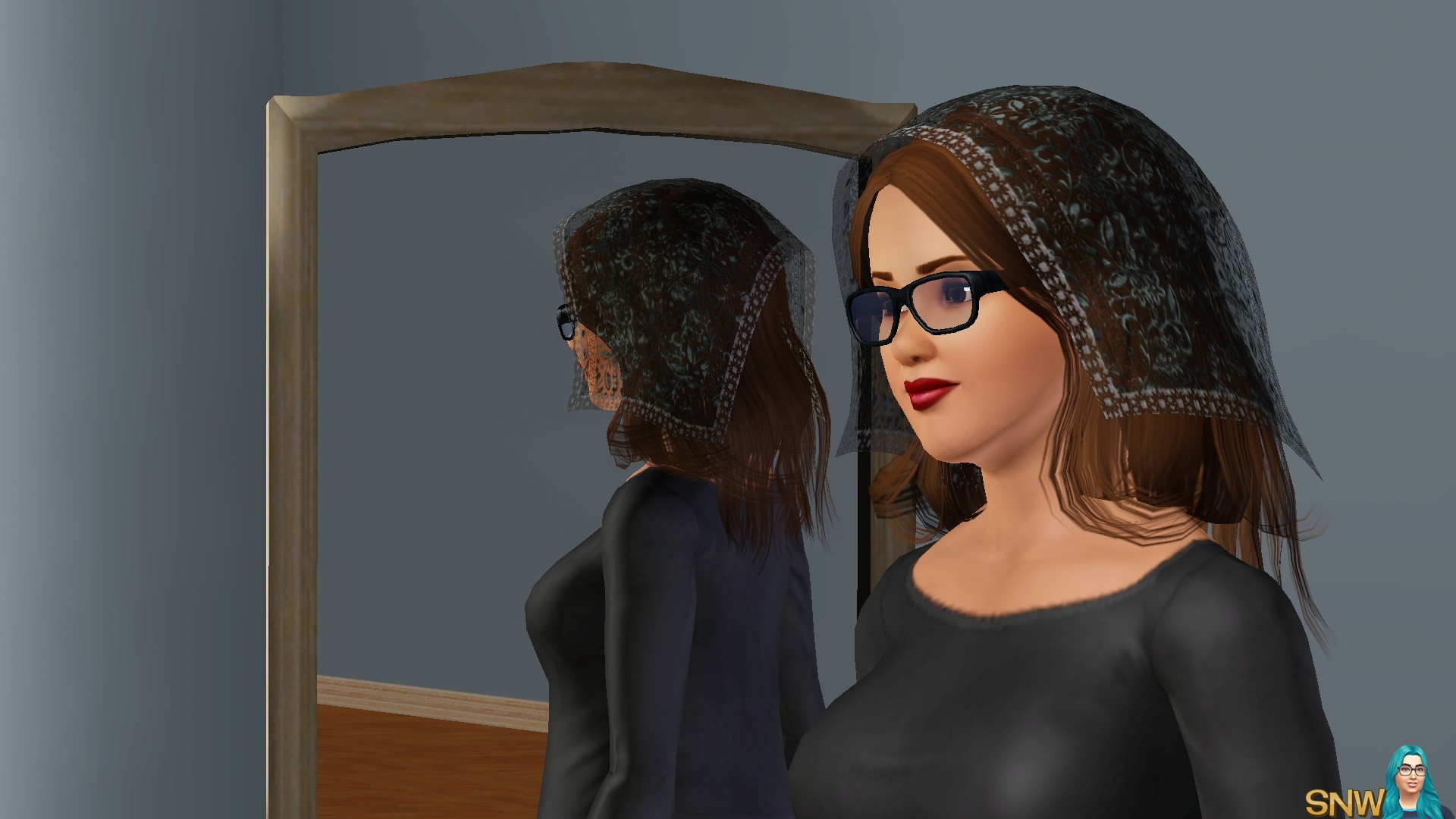 Pretty veil.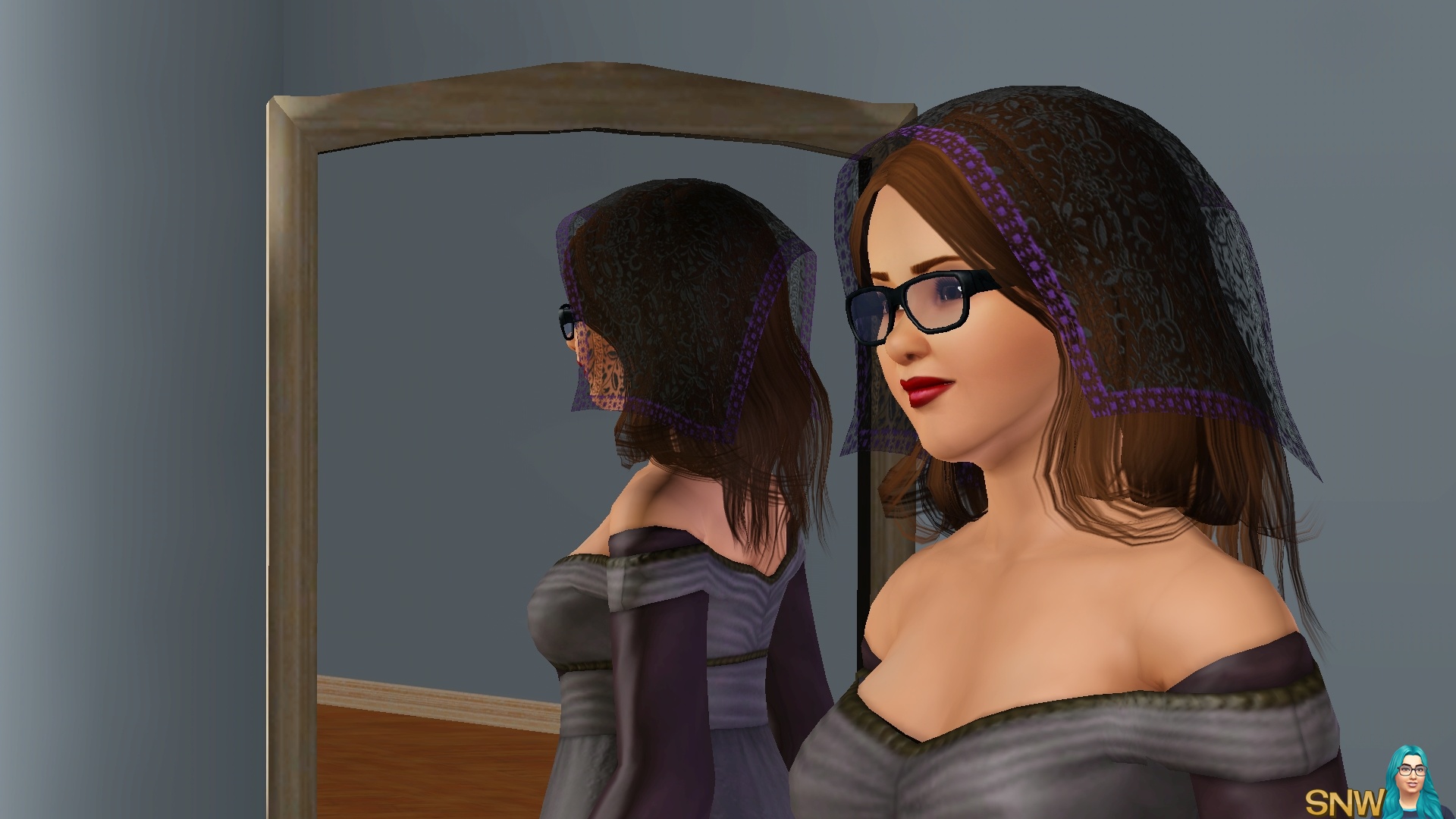 But I like it better with these colours!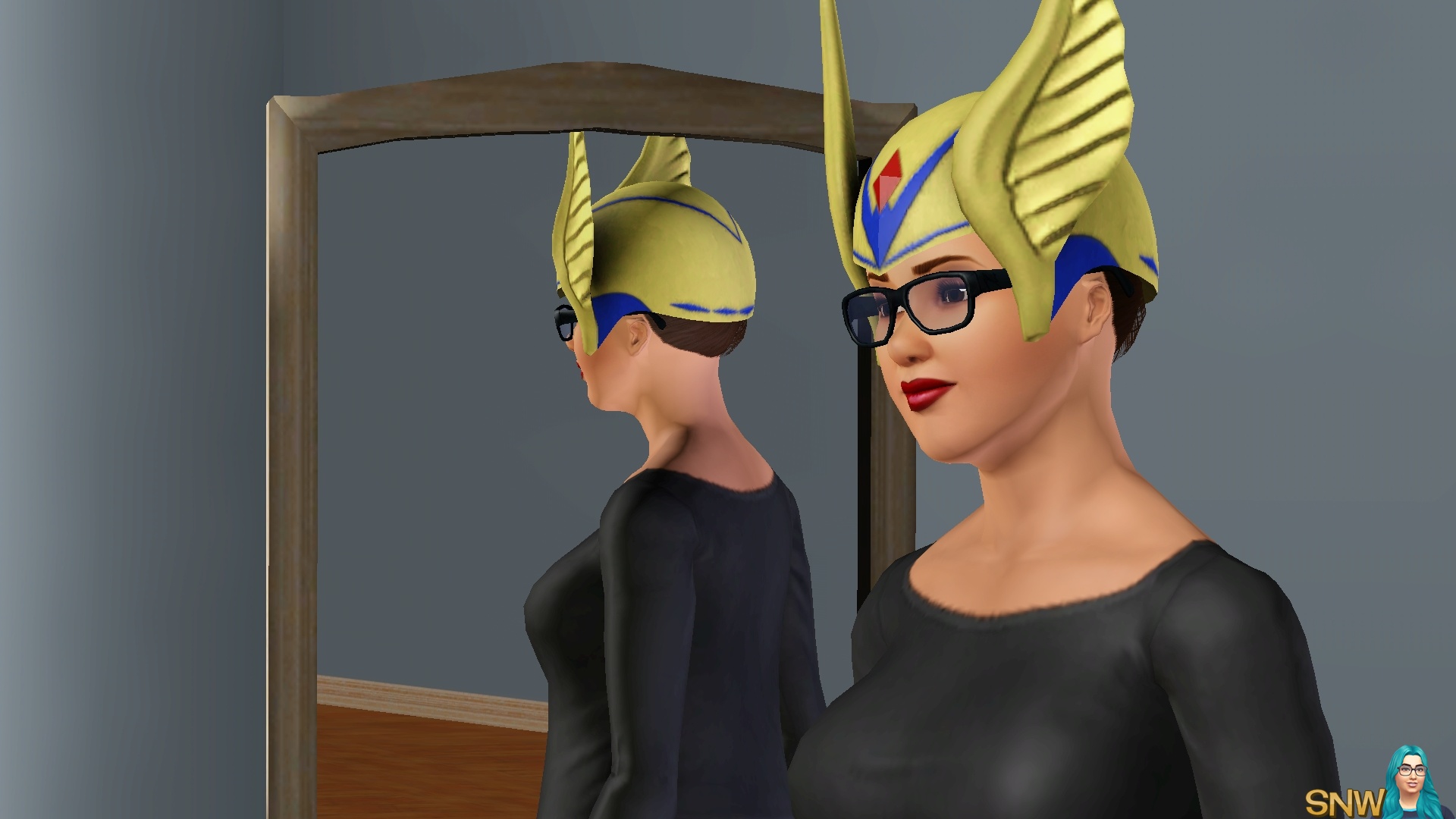 Rosie's got wings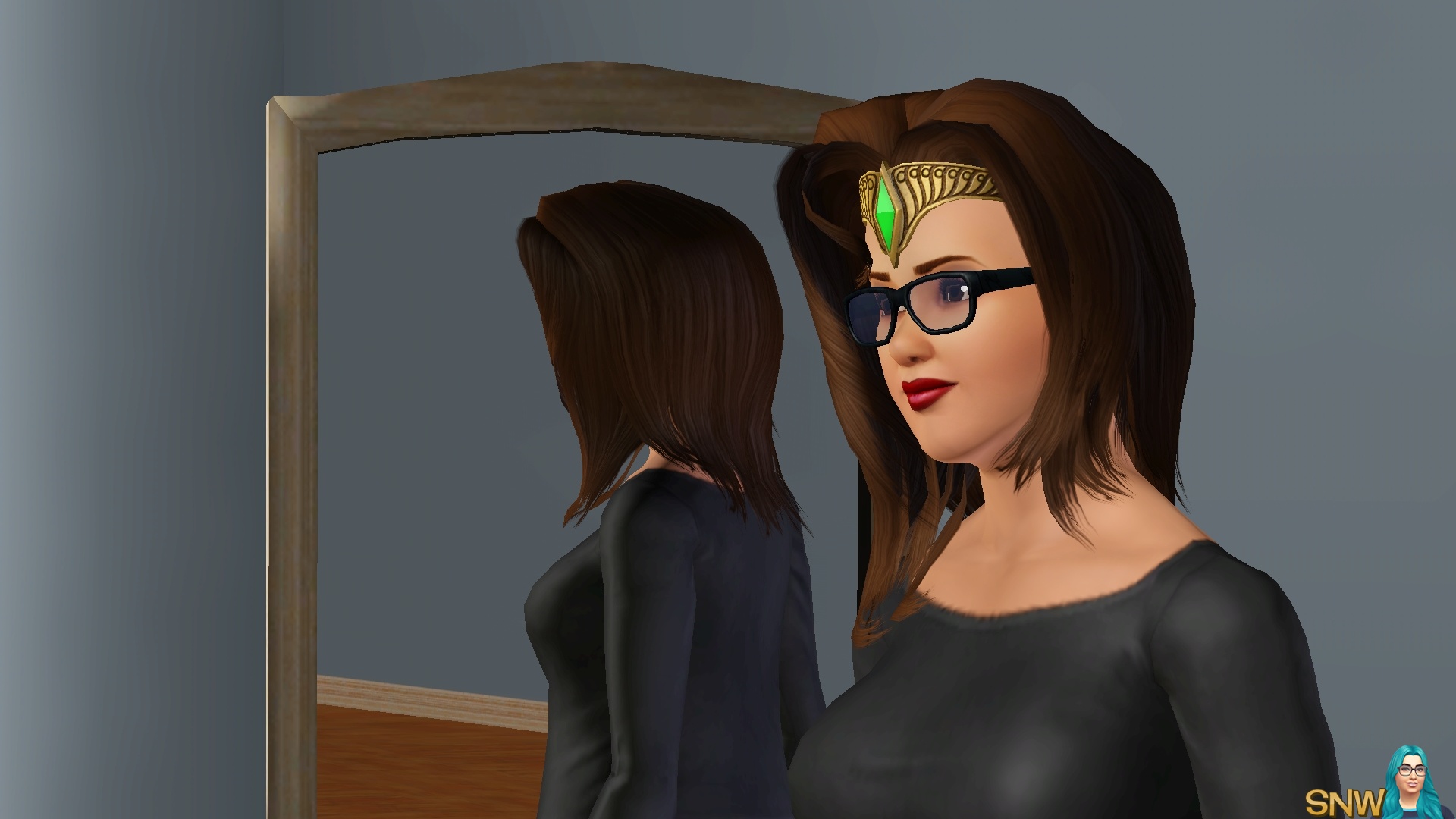 Do you like my plumbob?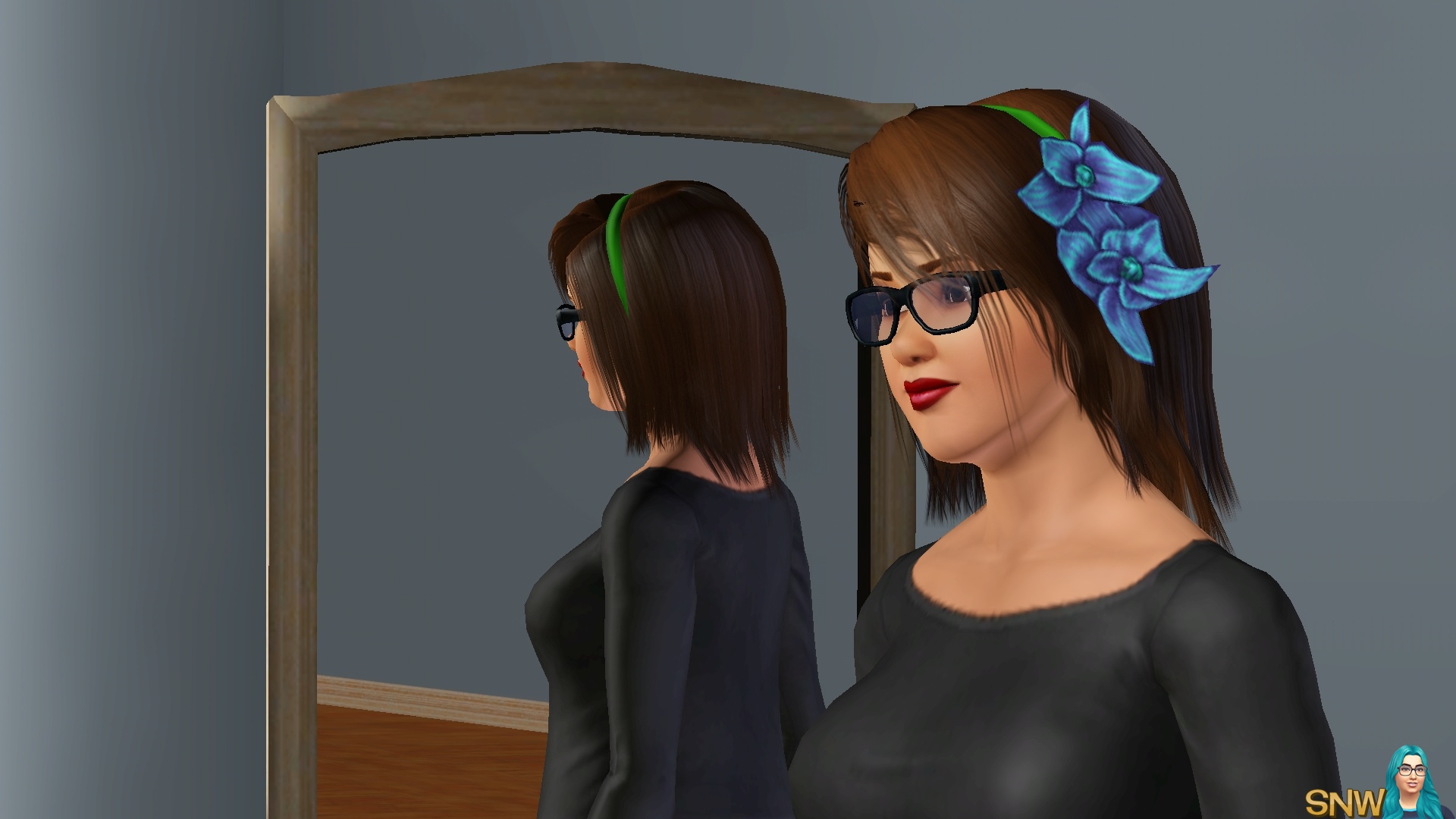 I love this hairdo, but I would have loved a second one without the flowers as well!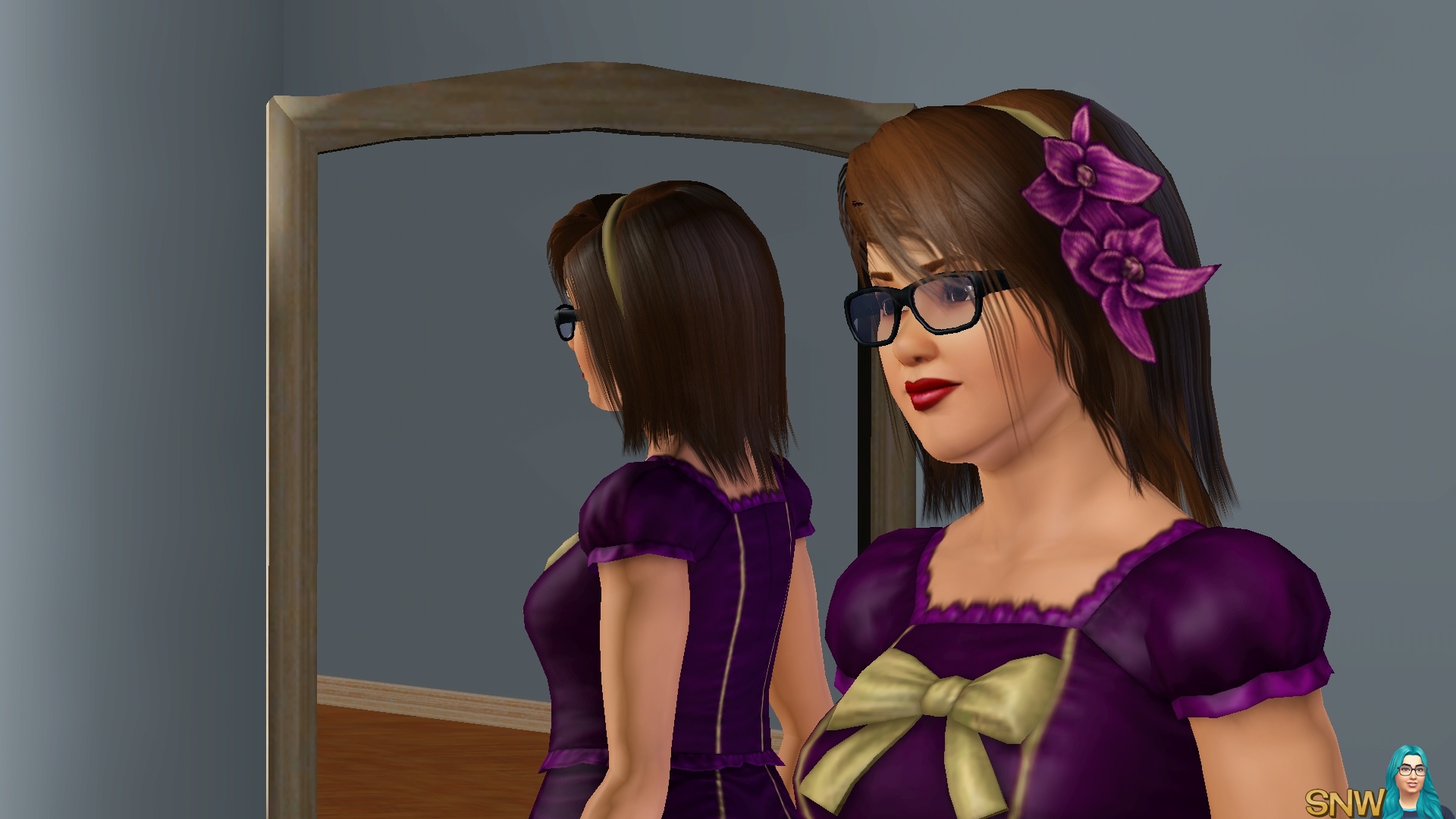 Look at that, I can't wait to make this in my game! This will be one of my favourite new hairdos!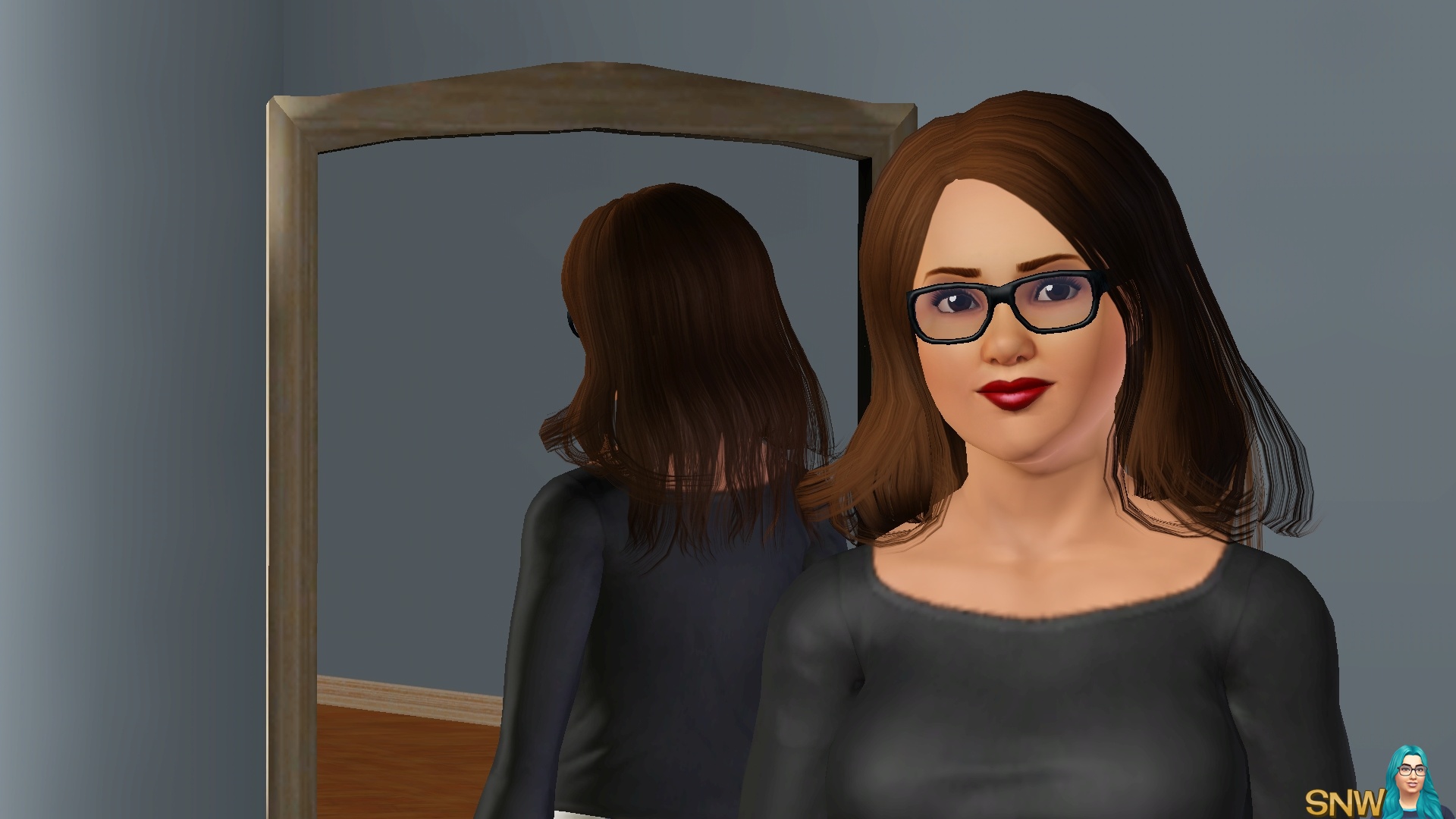 This is another one of my favourite new hairdos. You can use this for every day outfits...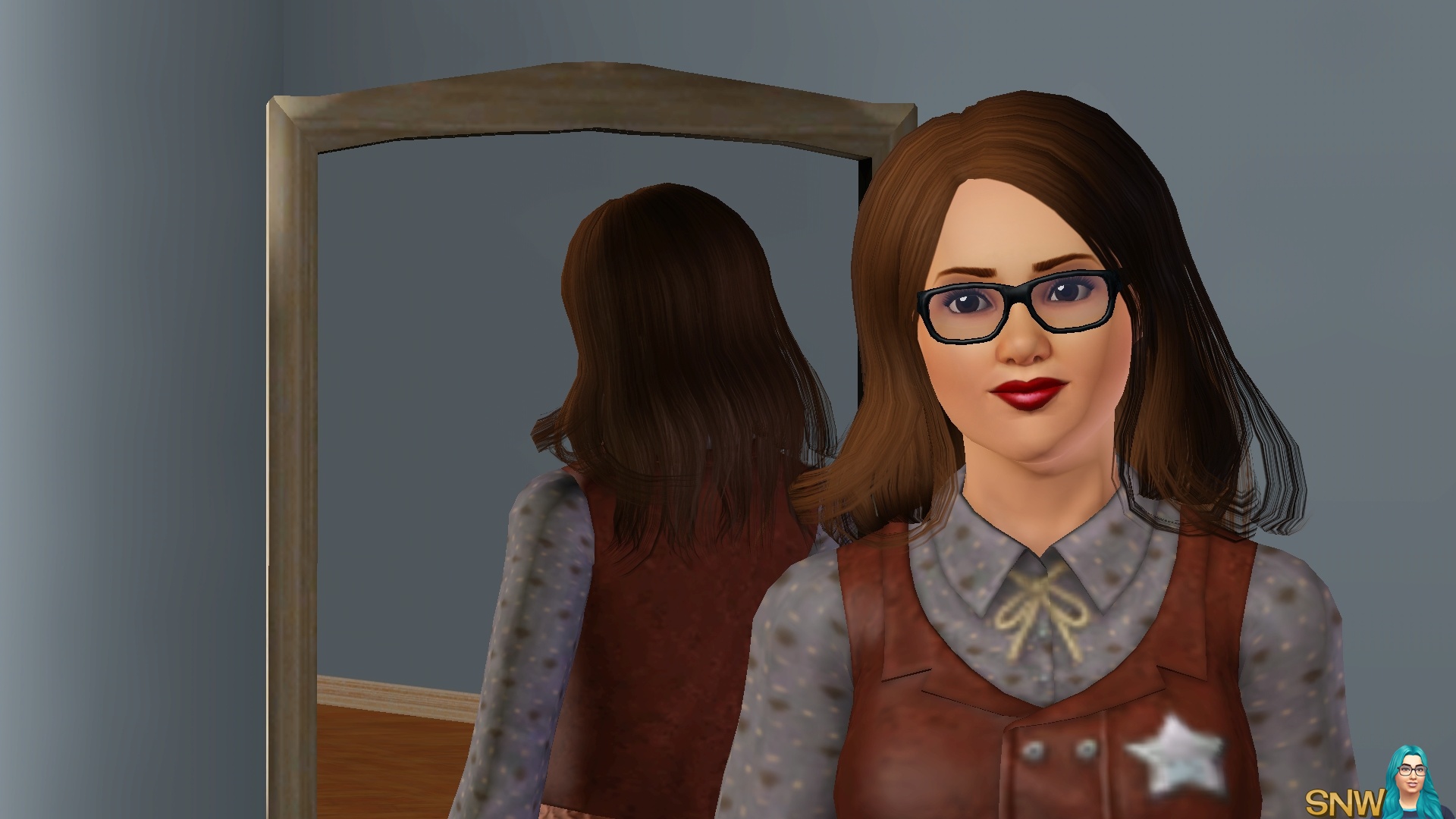 ...but also fits the theme stuff really well! I think I'm going to use this hairdo A LOT on my Sims.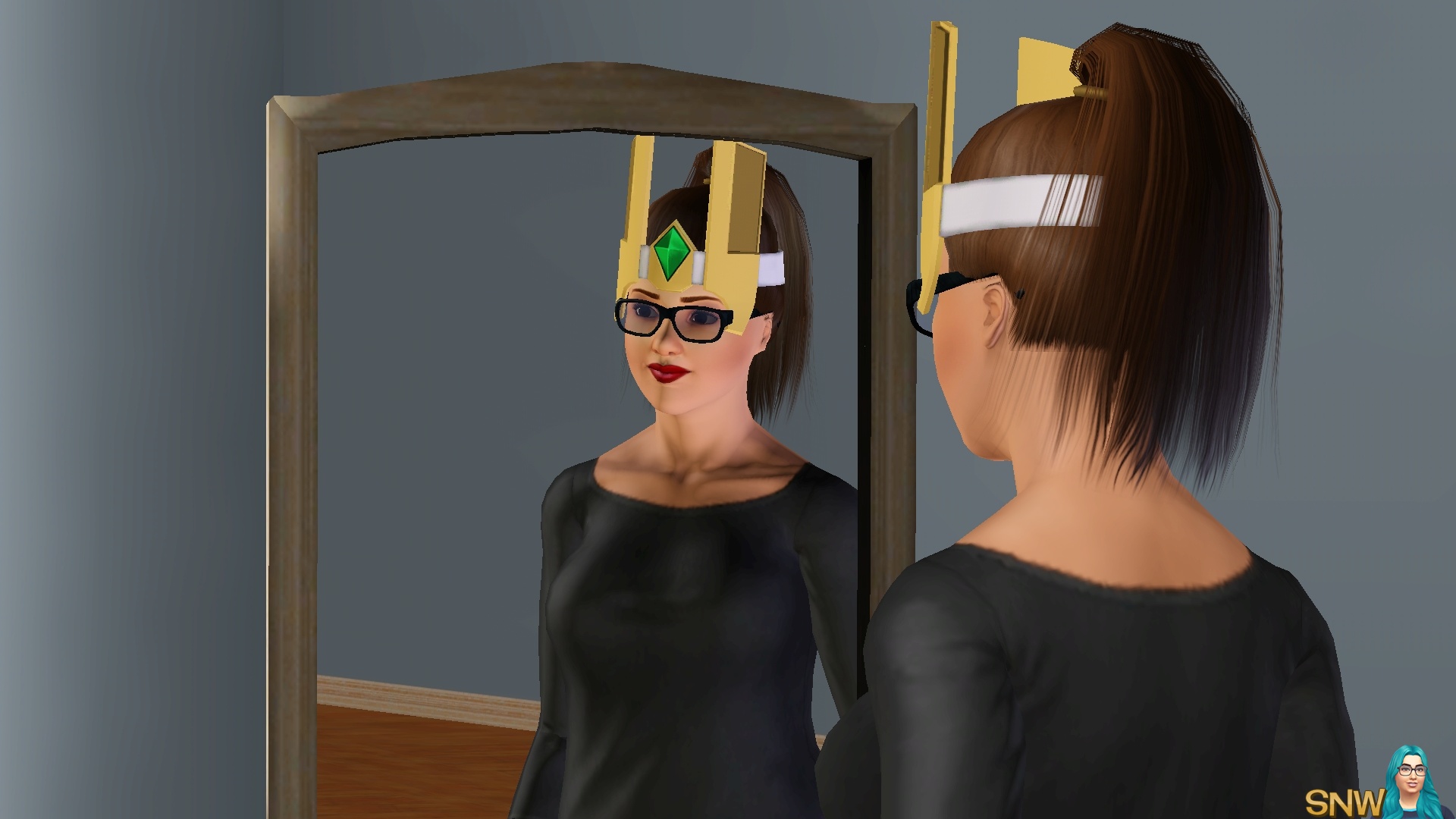 Another superhero hairdo. Although not really for everyday use (unless you are a superhero, of course) this is still very cool.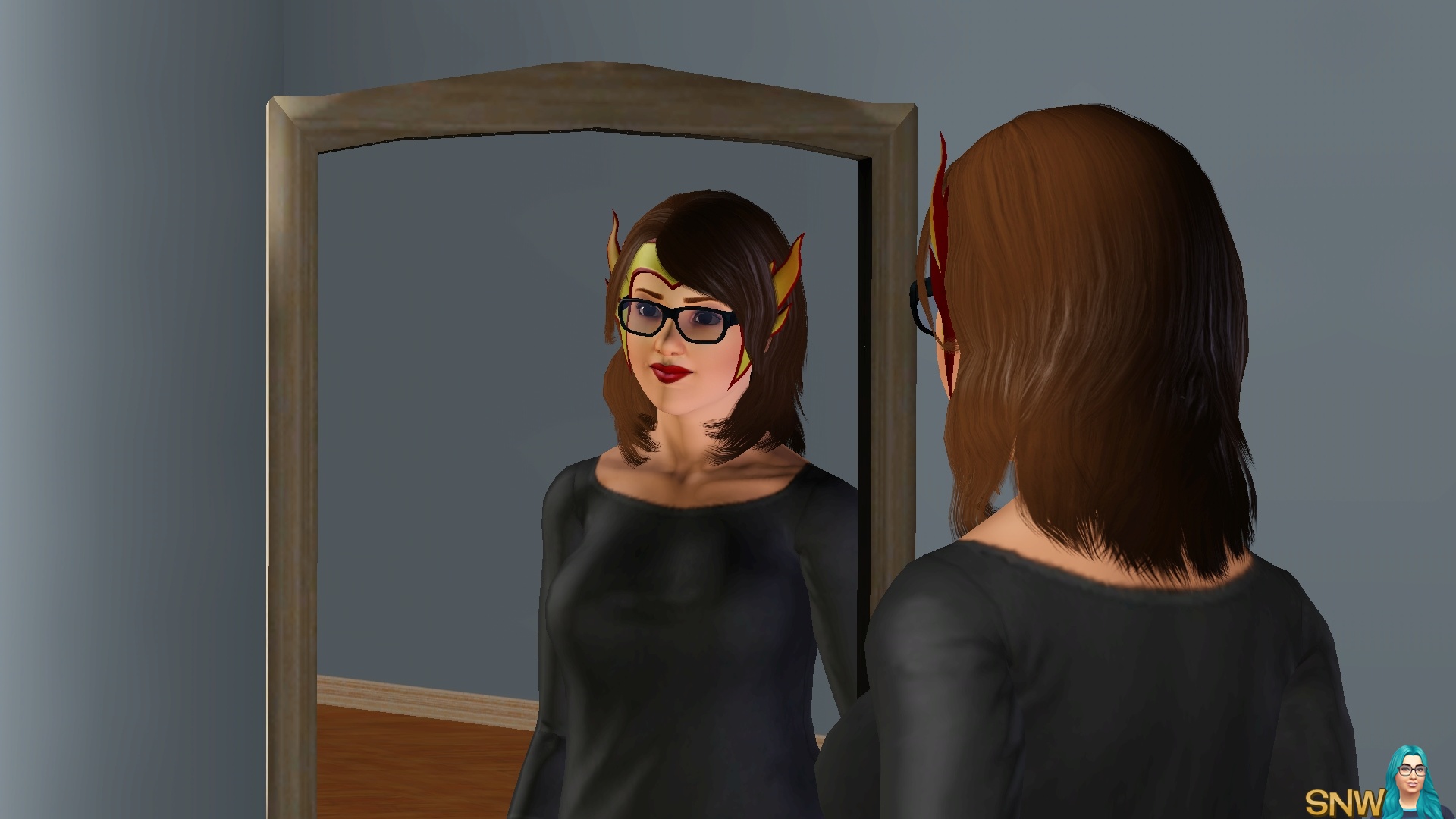 This is so cute!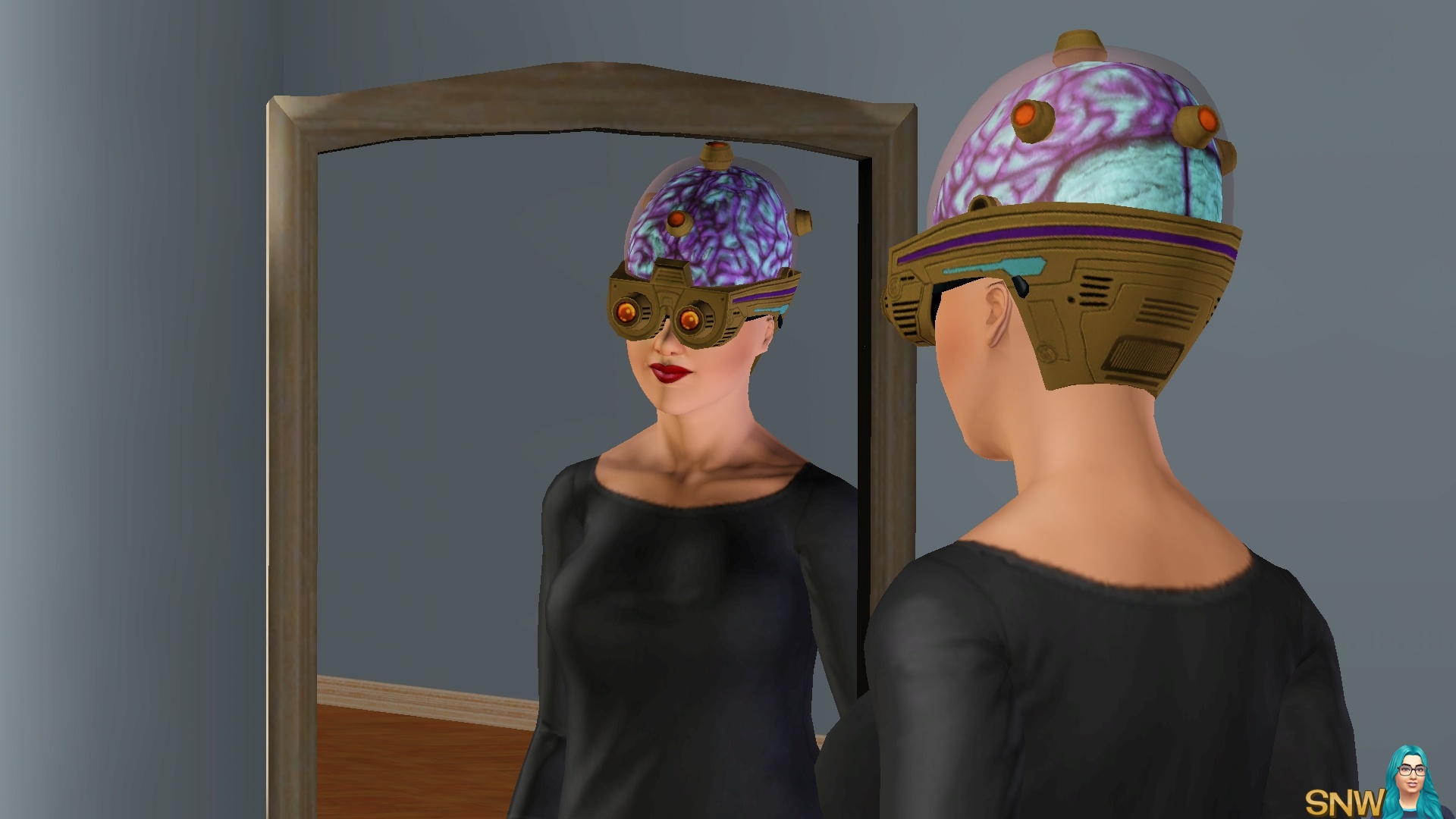 I am a bit in awe over here. Not sure if I like this or will use this a lot. But it may come in handy in stories!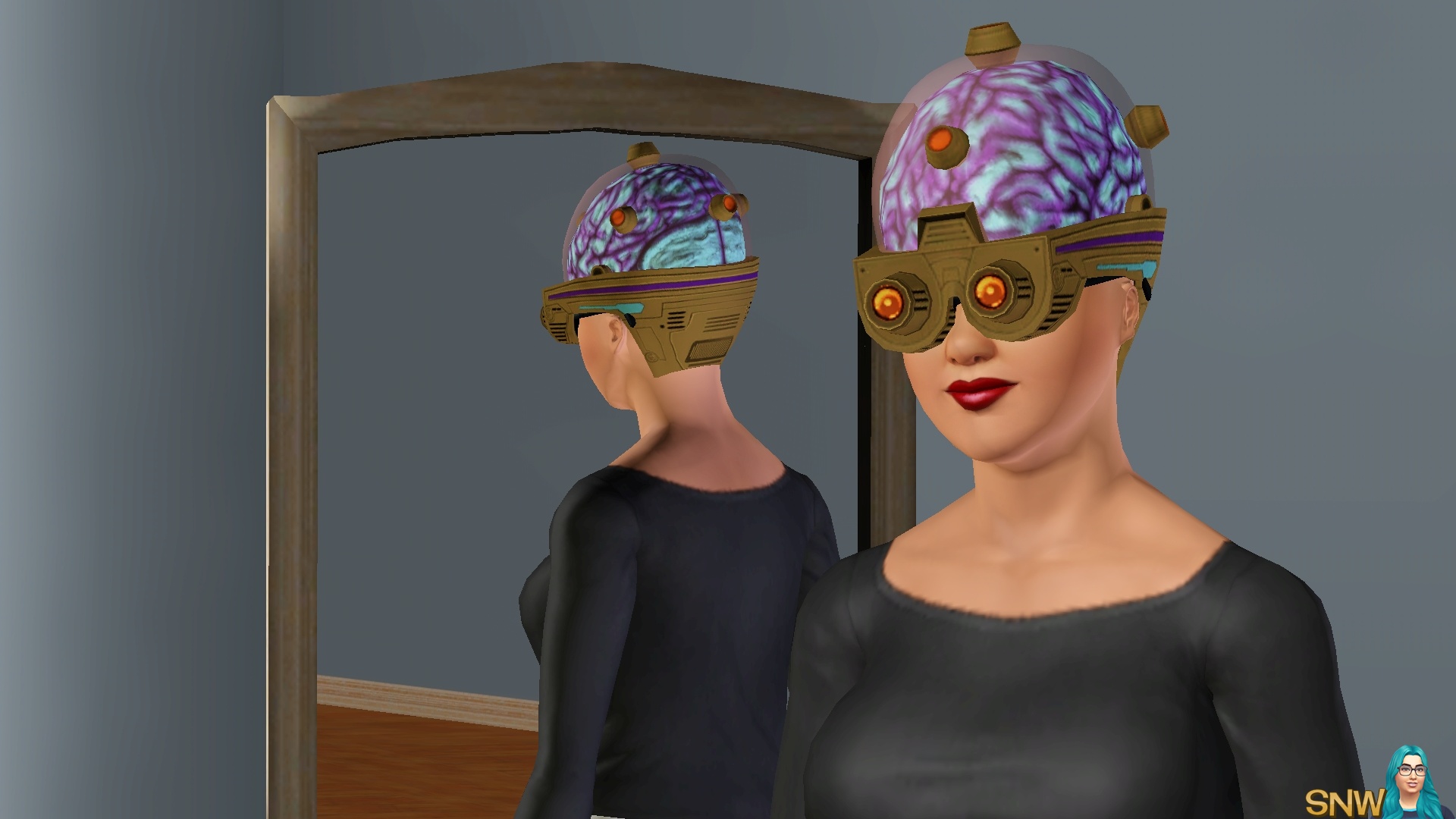 Different view.
Female Outfits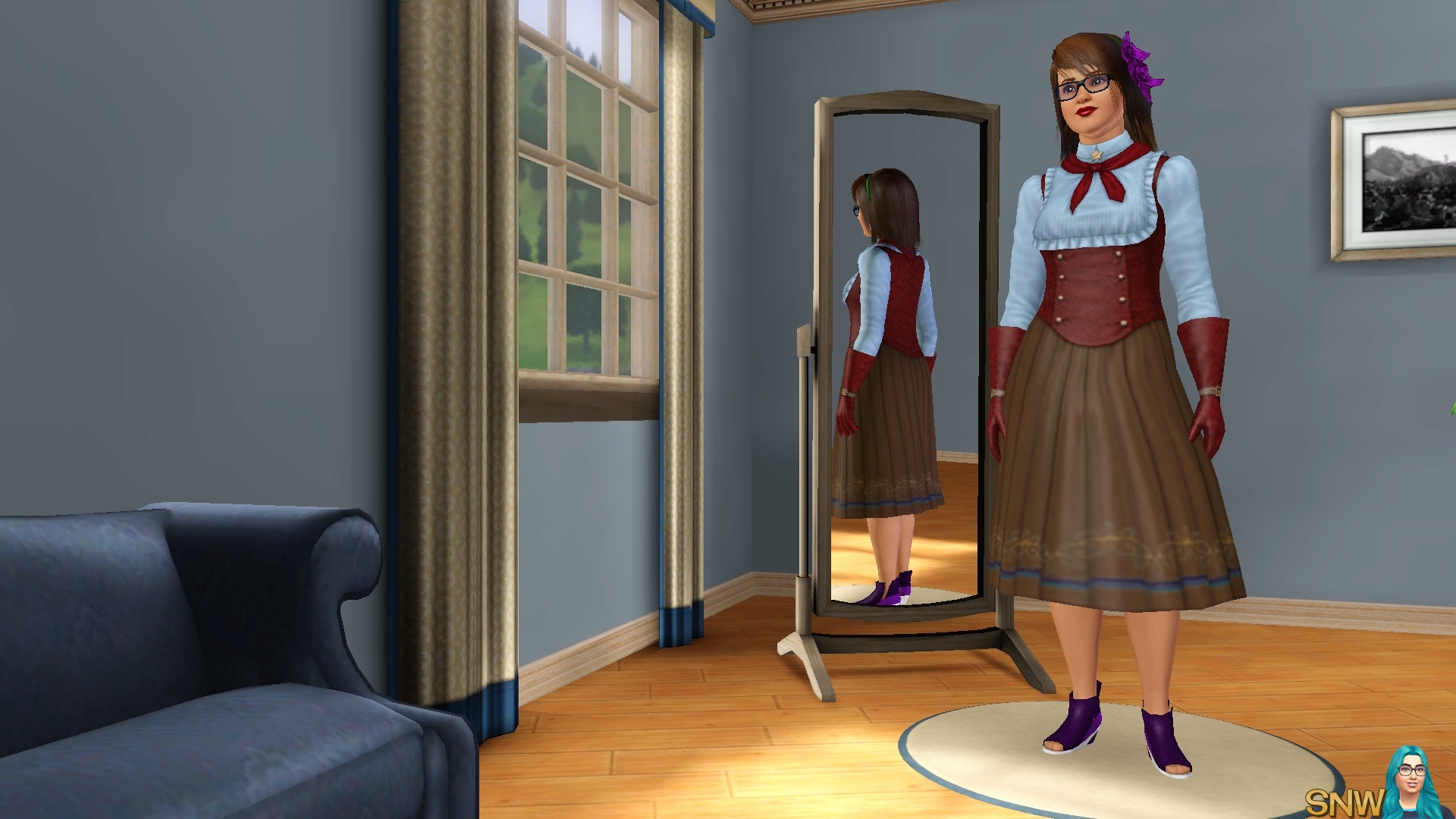 Yihaaaw!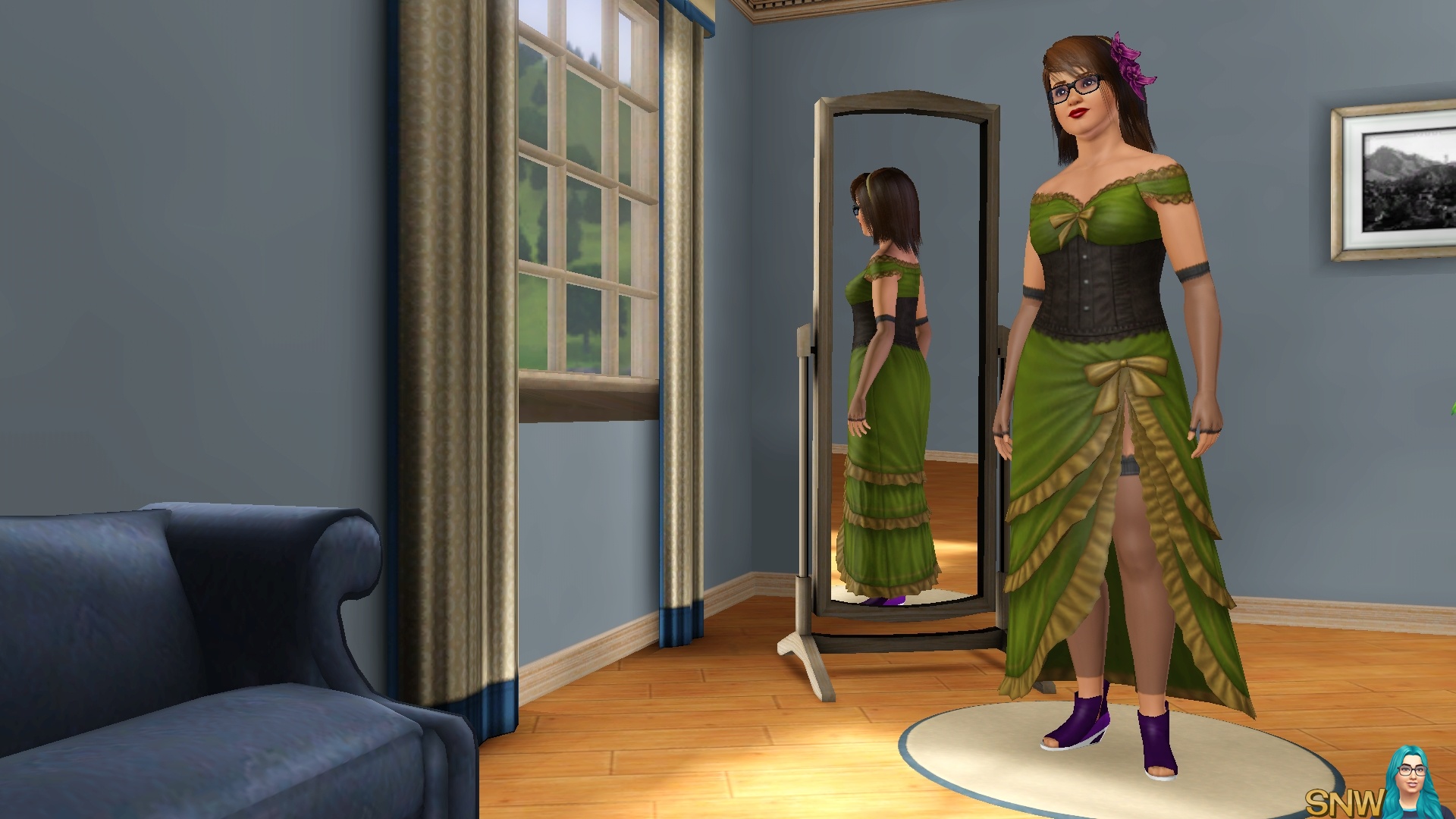 Oh look at that, I love this dress. Can't wait to try it with a different colour palette, as this green is not really my colour scheme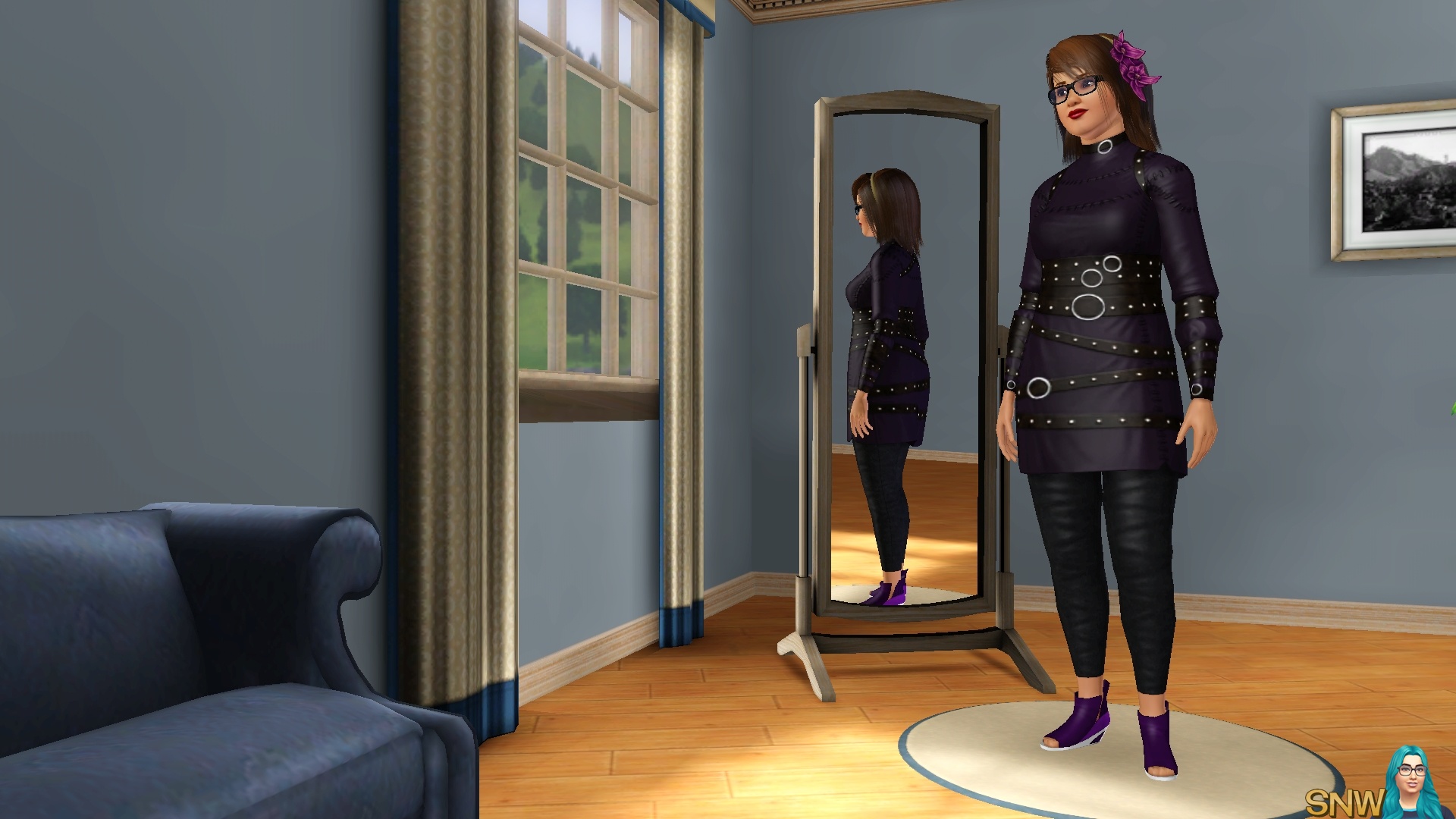 This is different... Not for me. But I'm sure there are people who love this!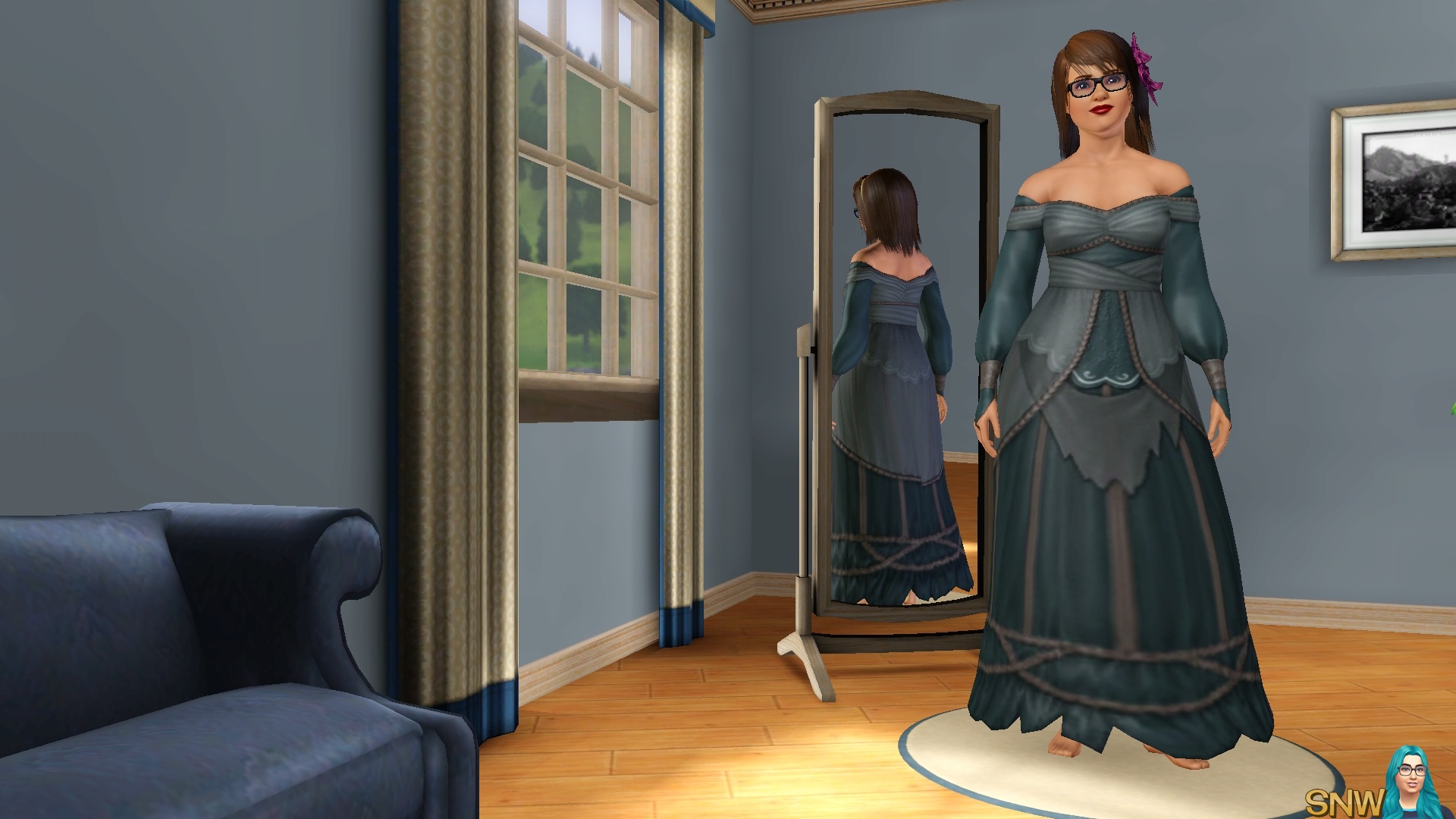 I luuuurve this dress!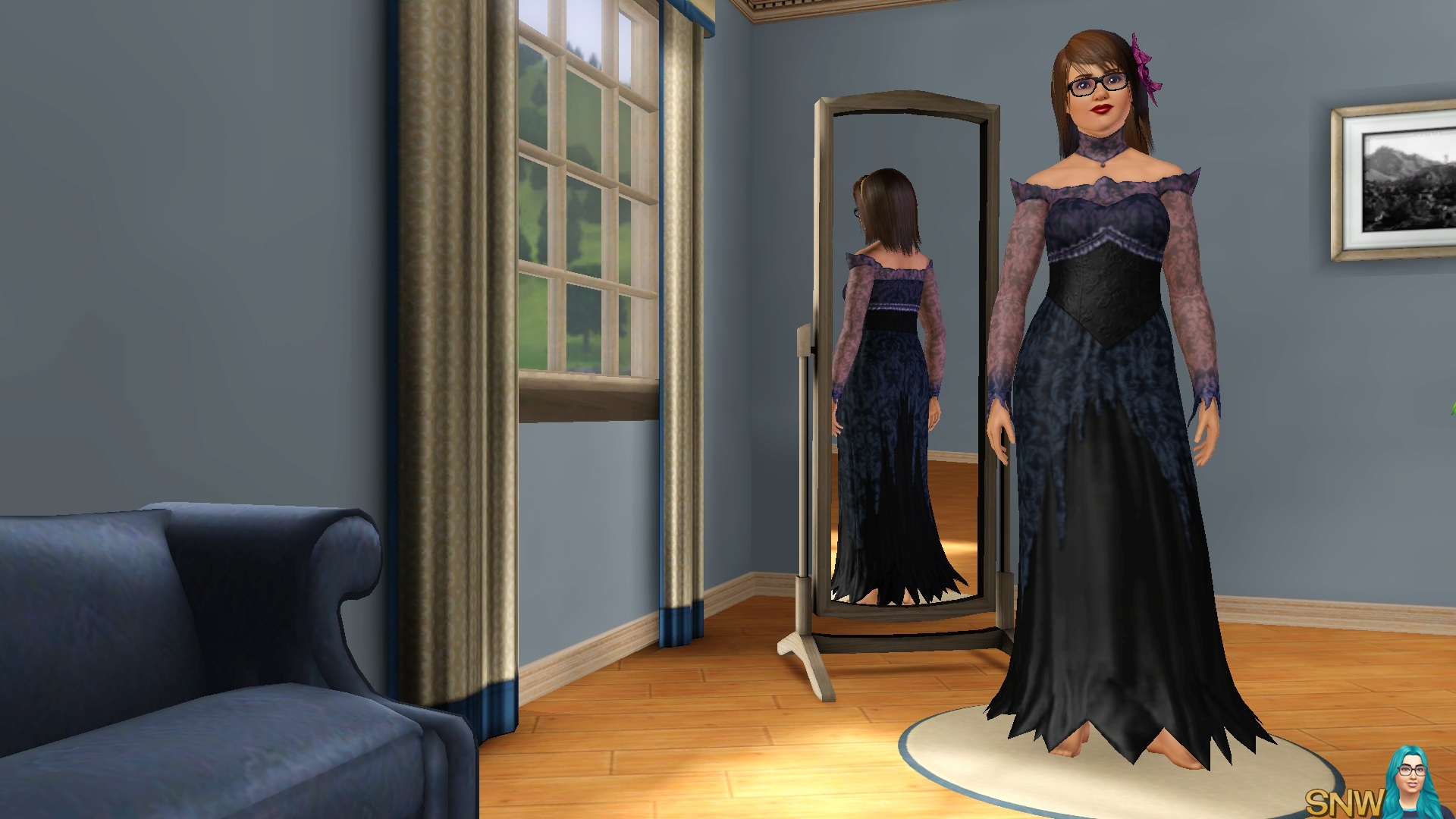 So gothic! Reminds me of the Addams Family hahaha!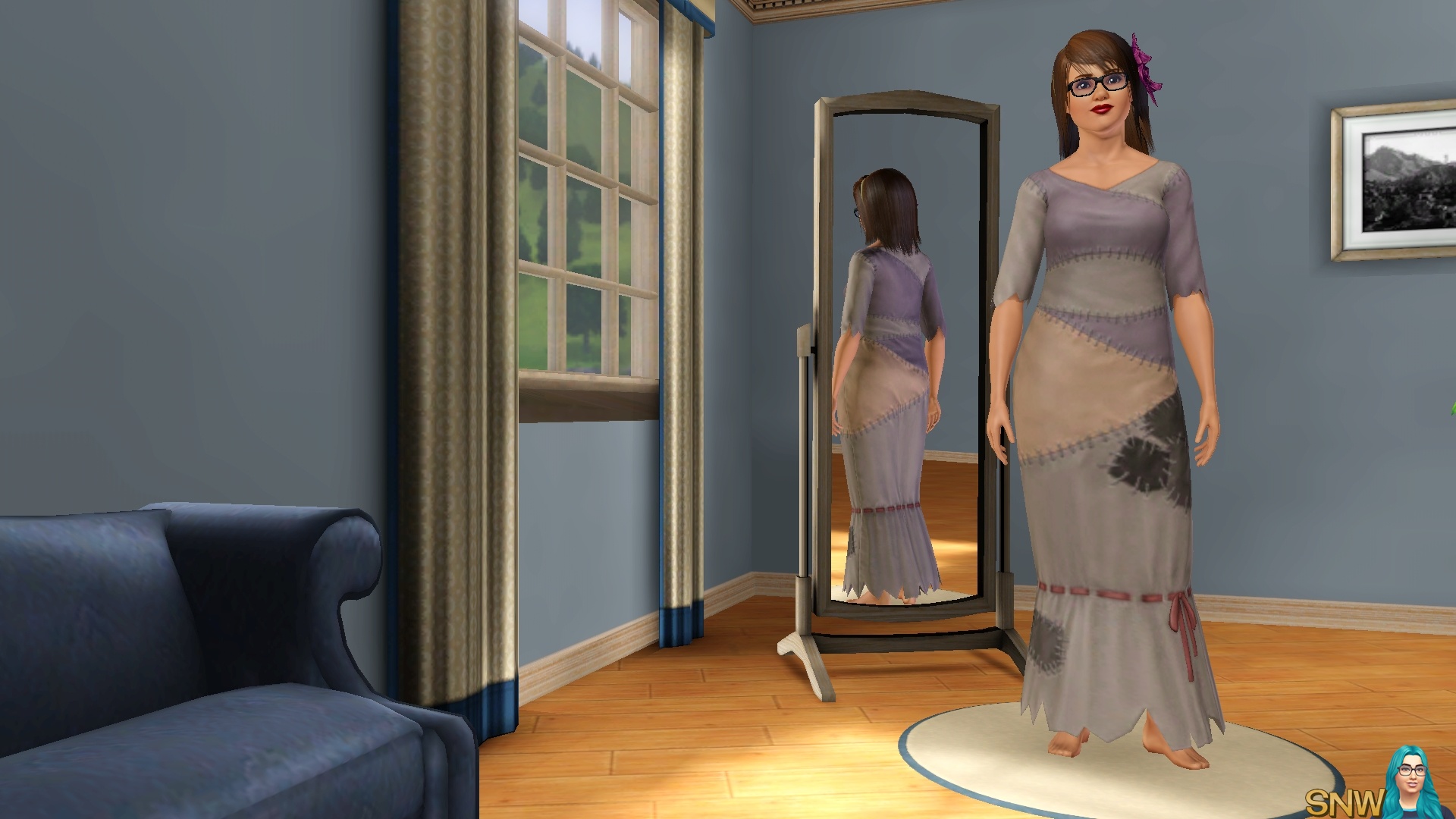 Corpse Bride?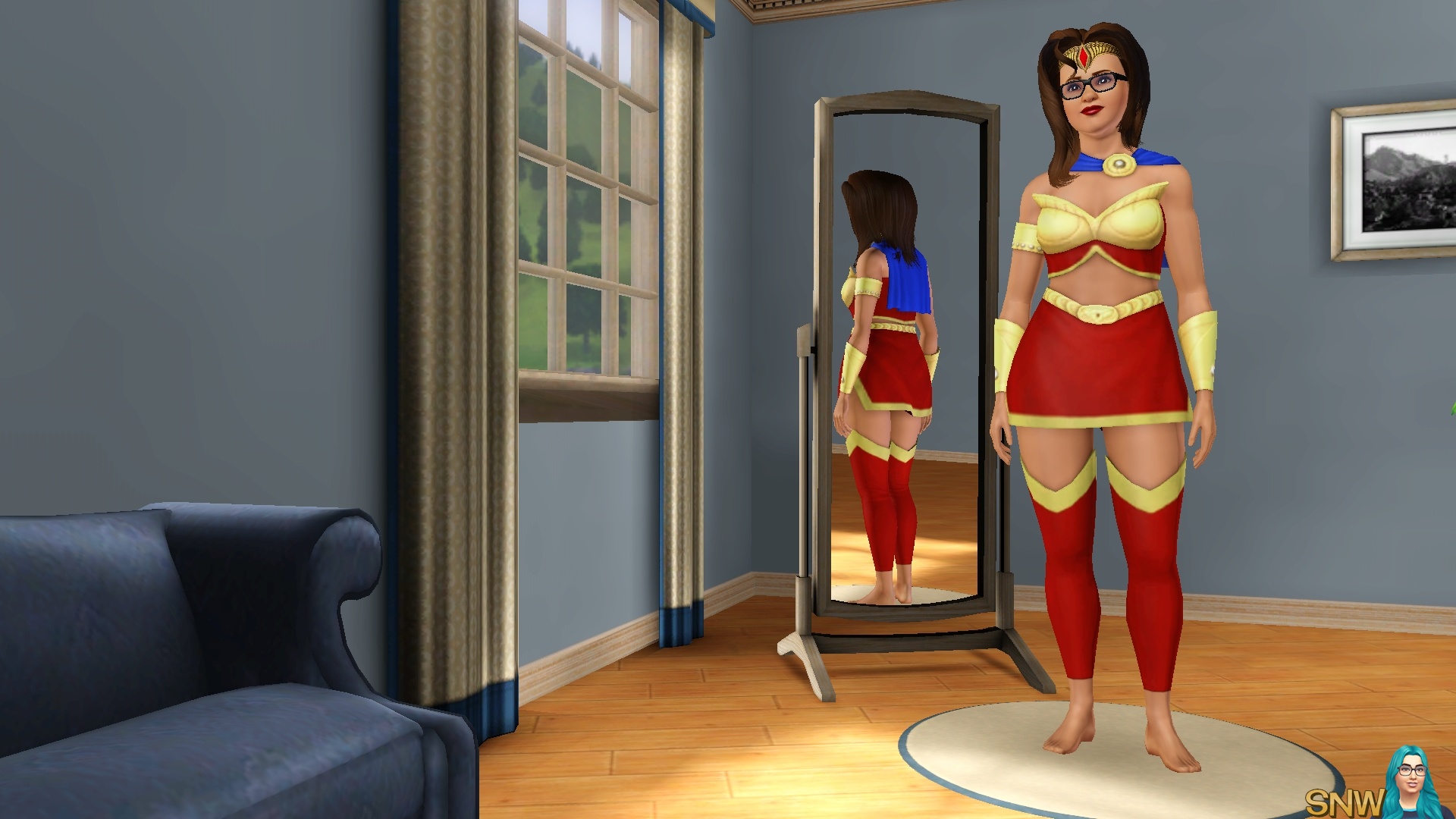 Wonder Rosie!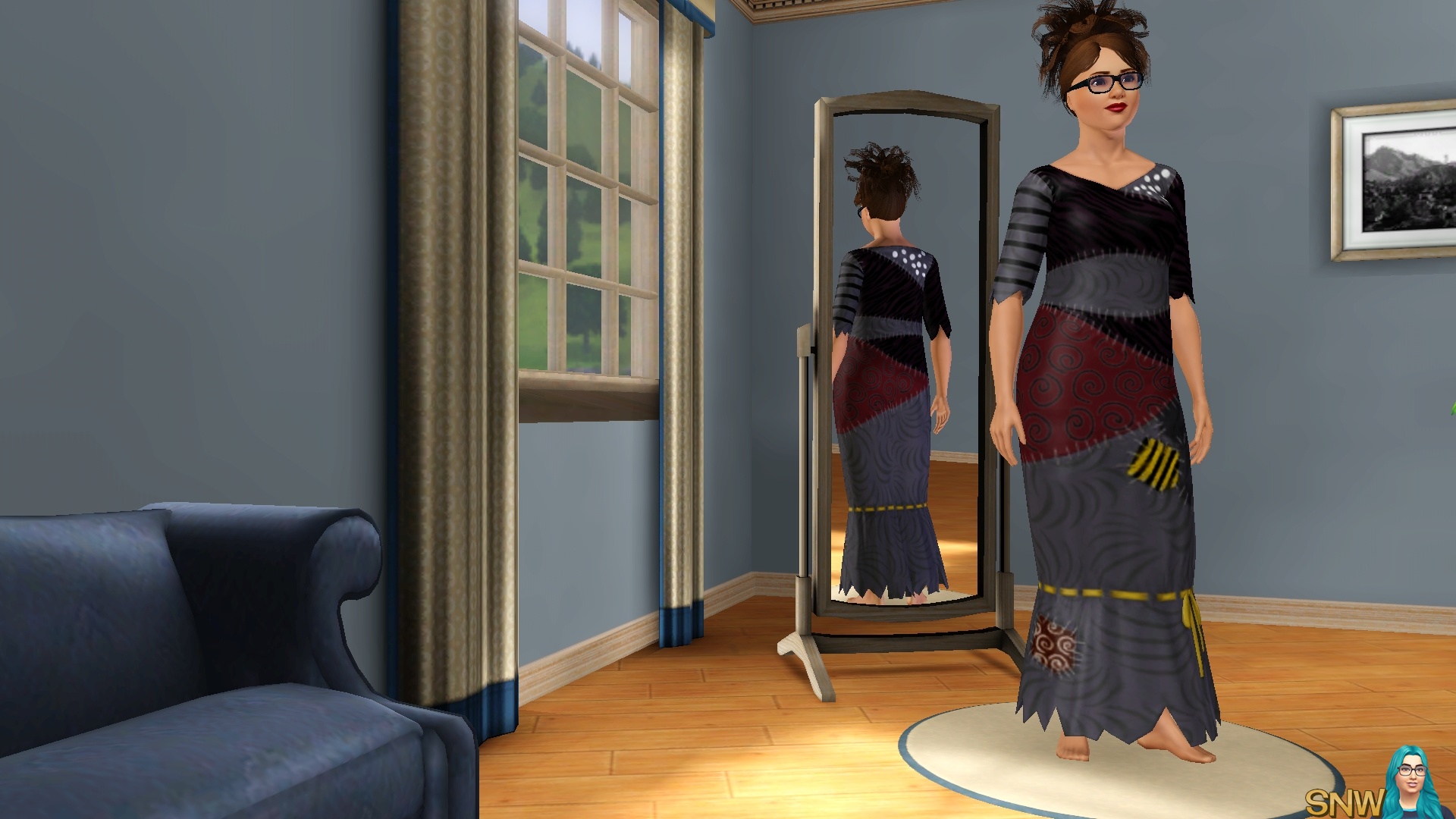 Corpse Bride with Helena Bonham Carter hairdo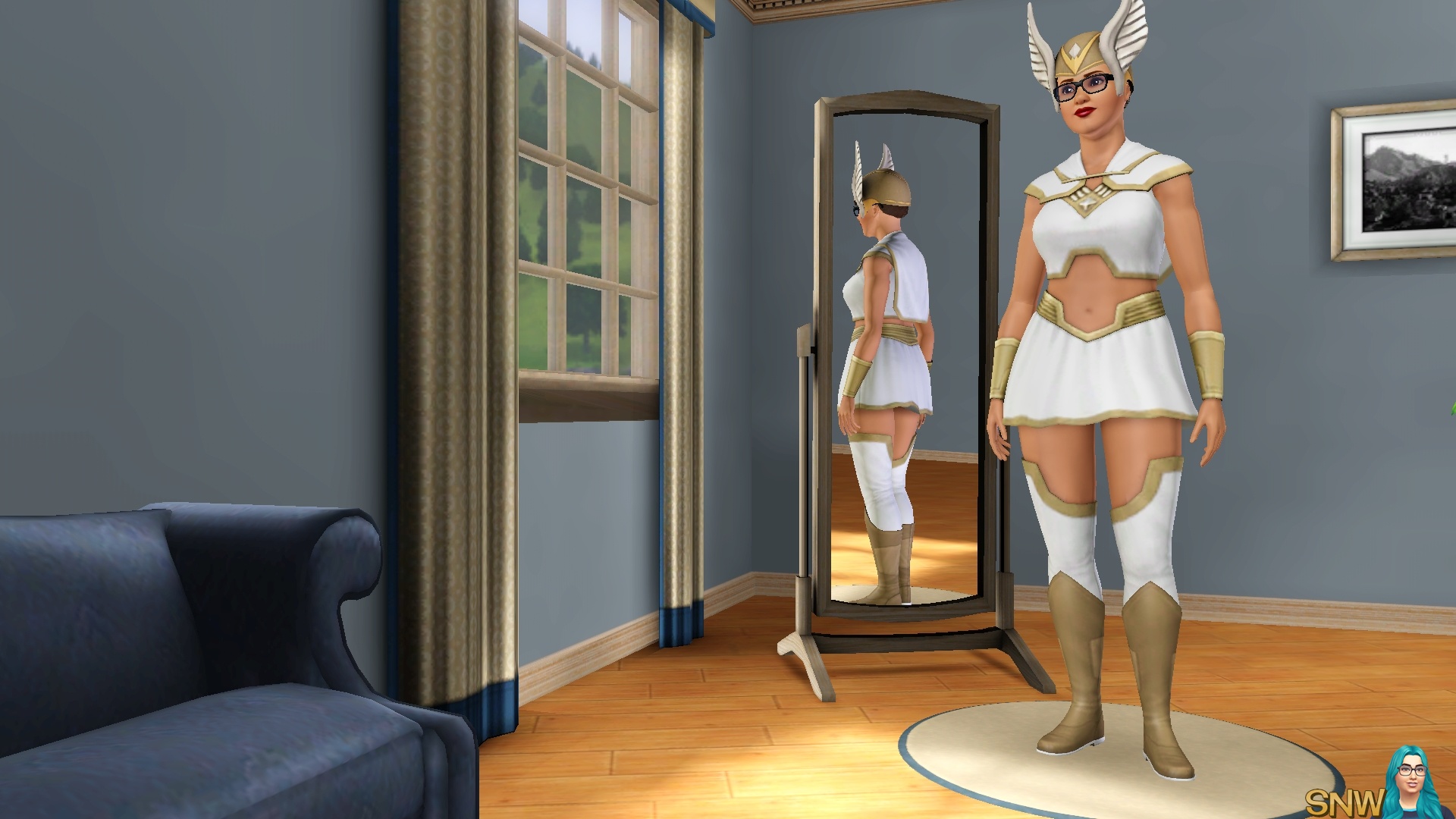 Captain Rosie?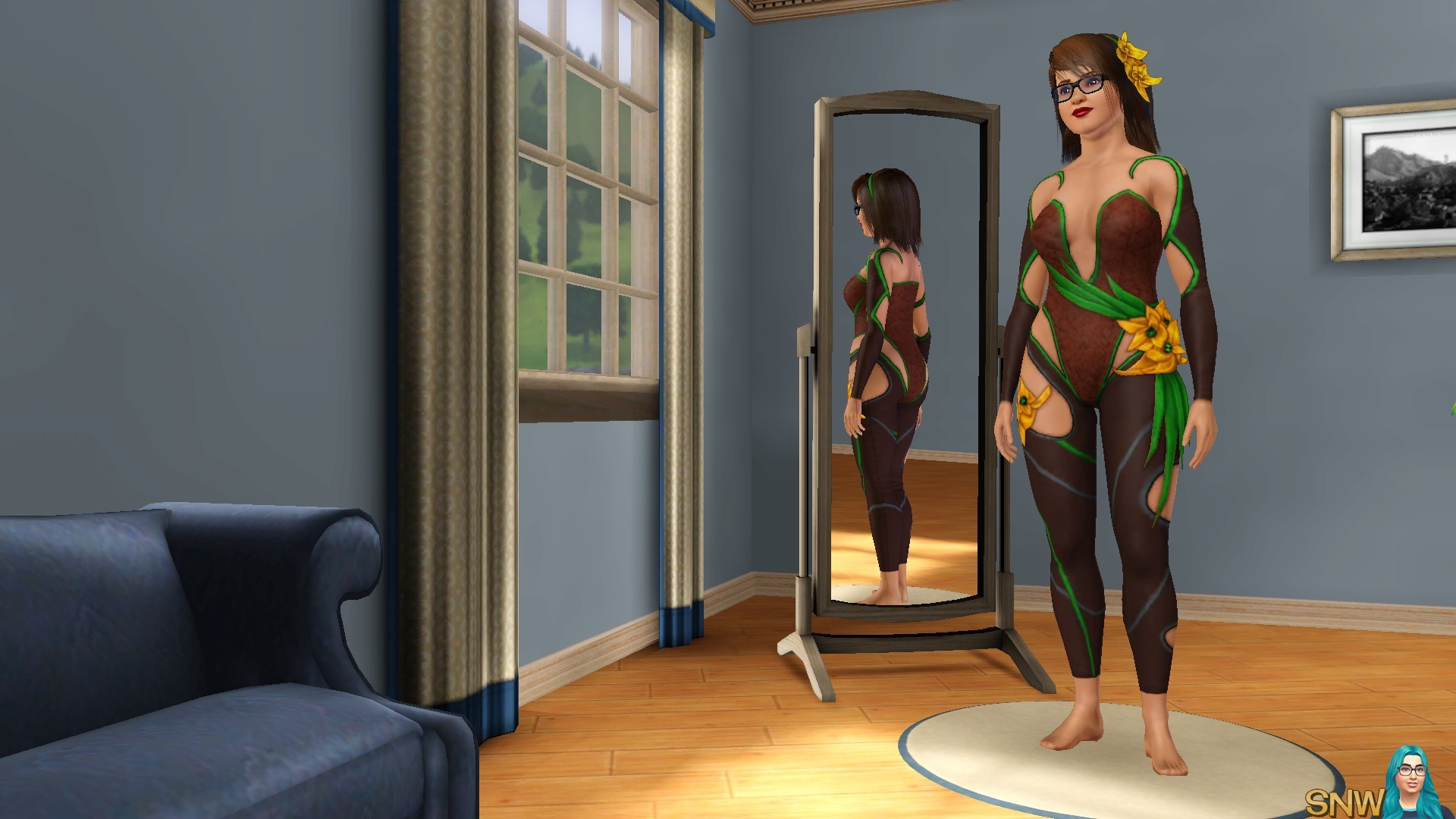 Ivy Rosie

I think this outfit is awesome for Plant Sims as well by the way...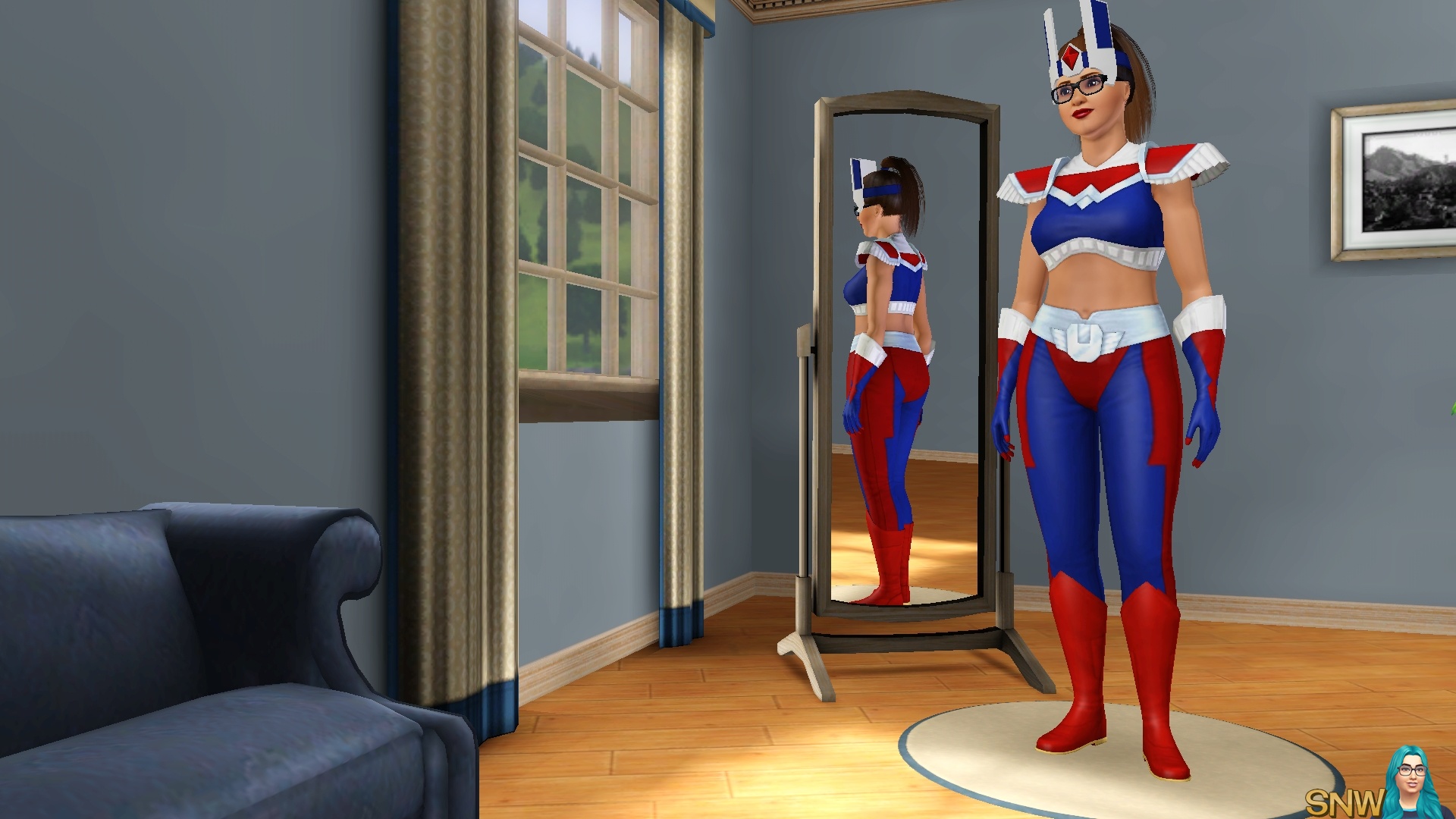 Look I found matching boots!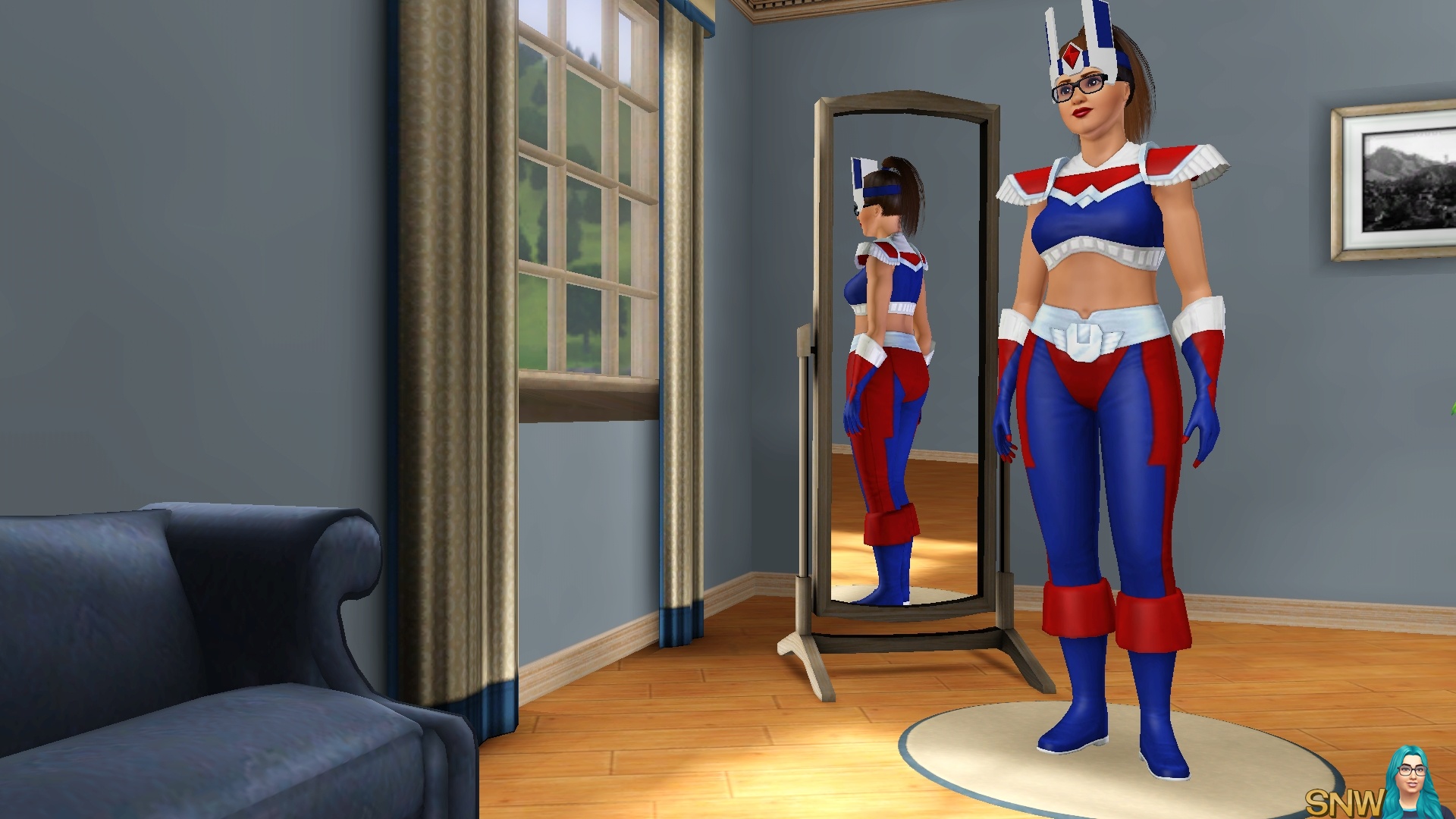 Or these?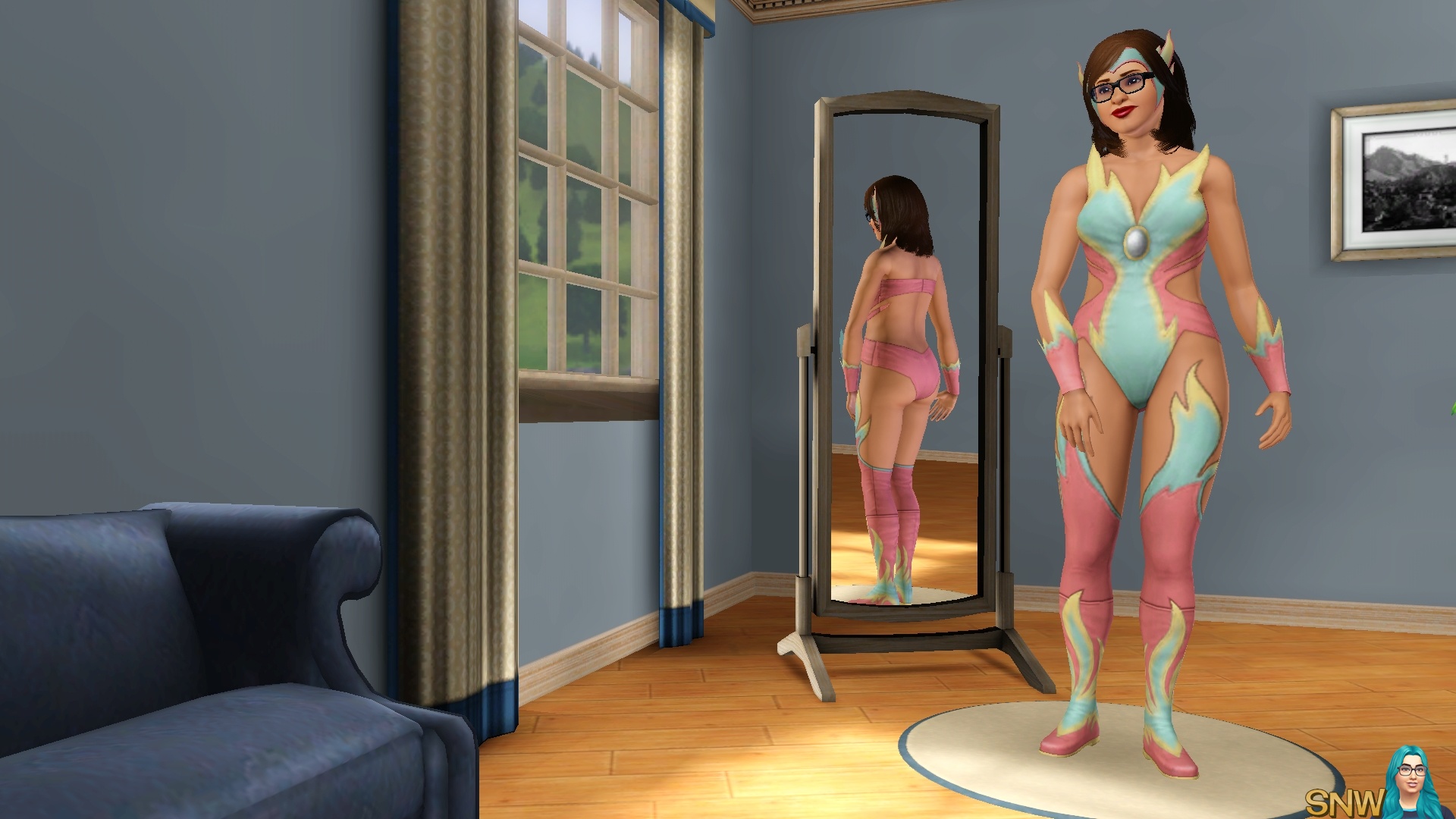 Hahaha this is so cute. I love the colour schemes for this outfit. There's cute/sweet...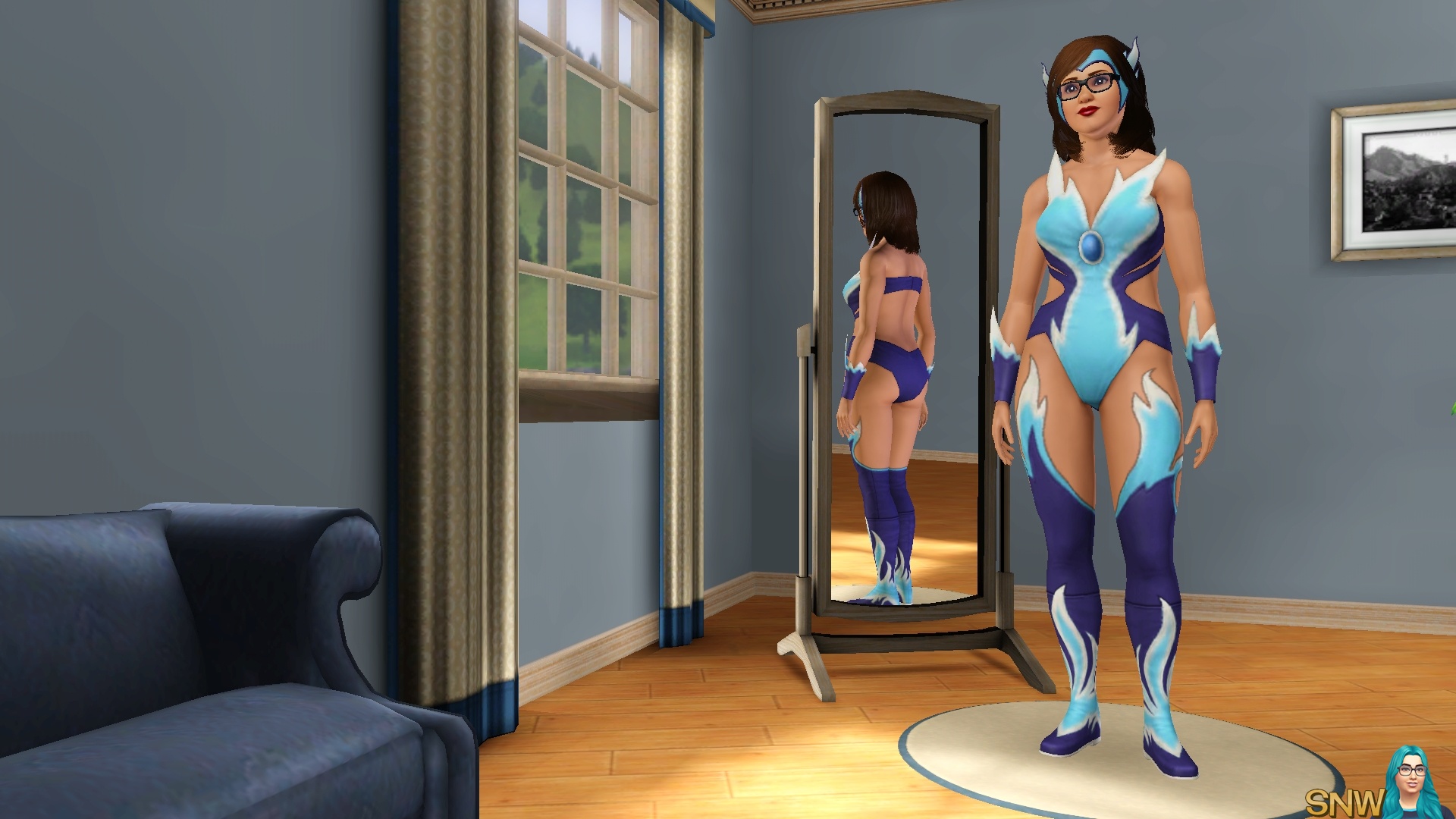 And a cool blue colour scheme as well. And there is one more I think, but I decided not to capture all of them to leave some of it a surprise to you!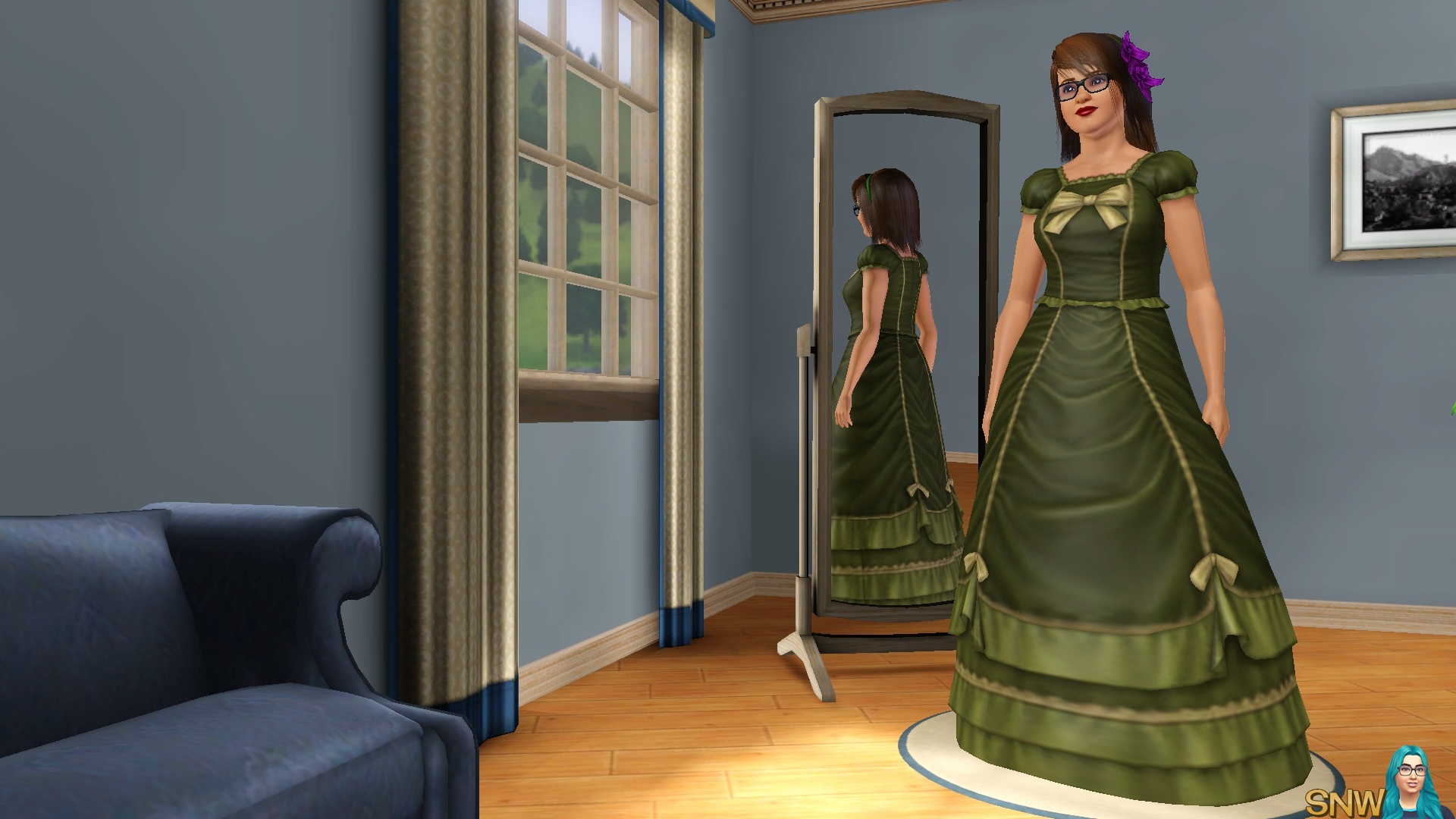 Pretty dresses, oh my goodness! I love how there are so many new hairdos AND outfits in this stuff pack!
And check out the same dress with a completely different colour palette! I love this purple/gold combination. And the hair, although "meant" for another outfit, fits this dress perfectly! Or at least I think so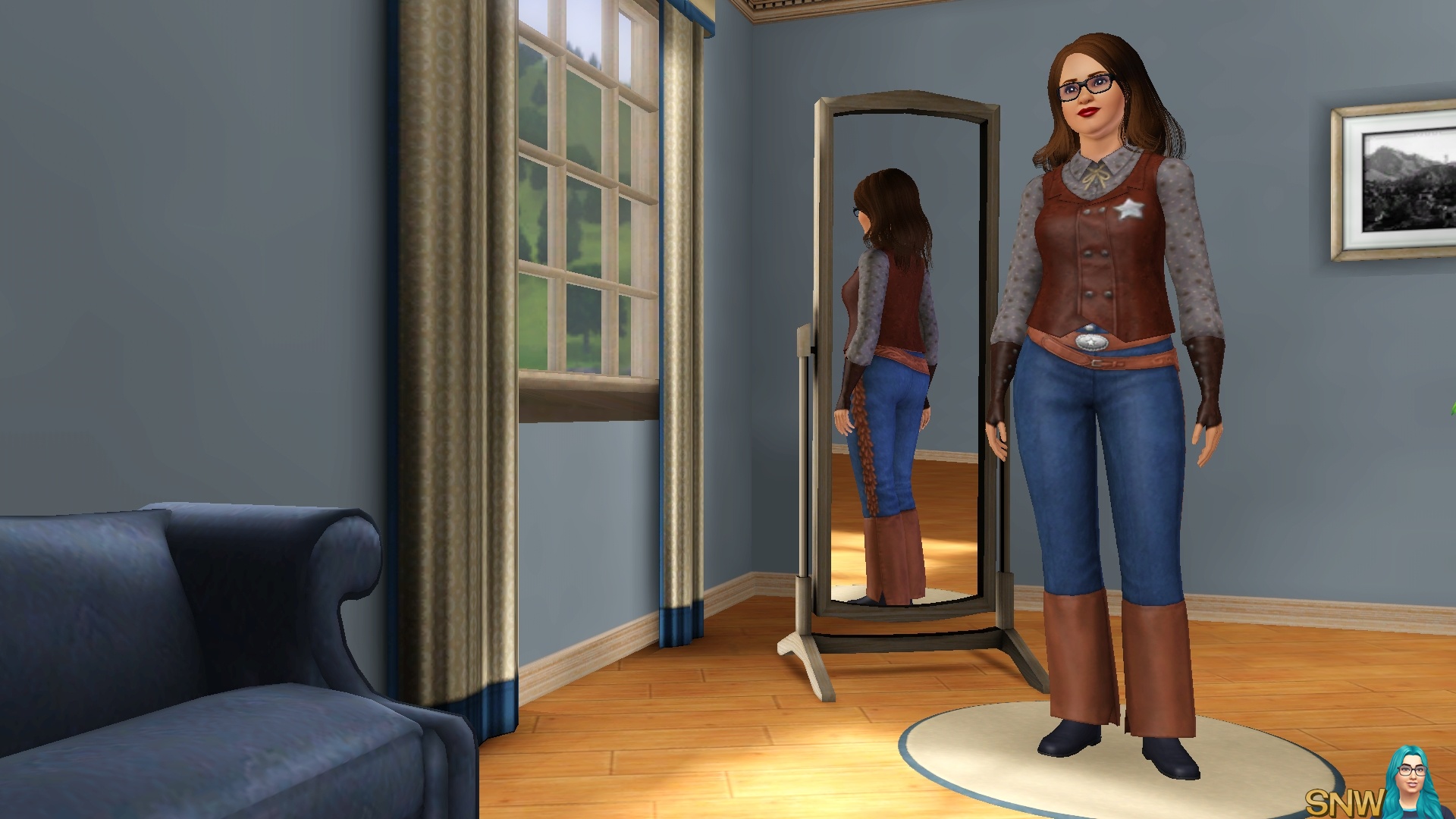 Where's mah horse?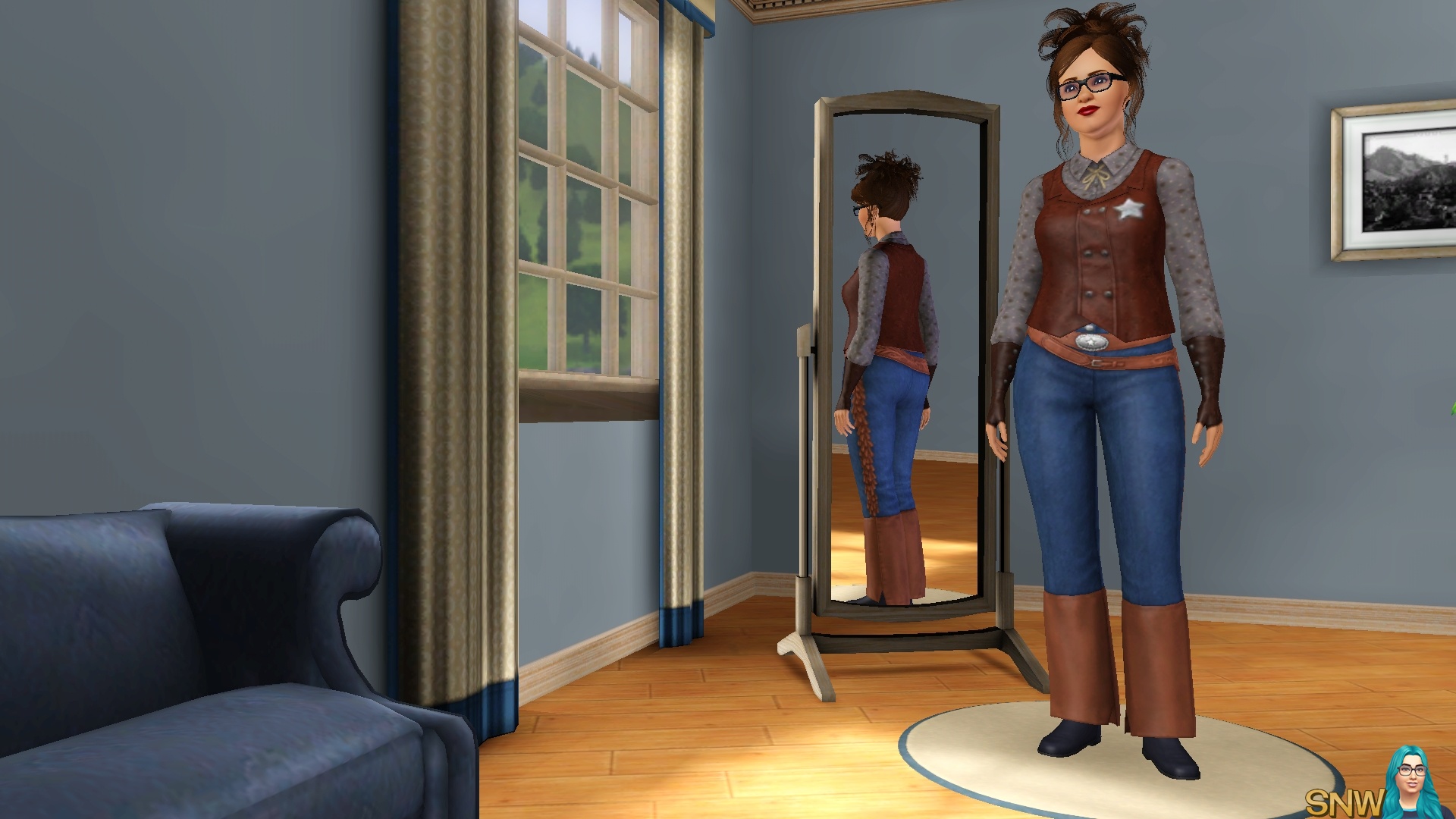 Looks nice with the Helena Bonham Carter hair as well. Yes, I will call this hair the Helena Bonham Carter hair lol.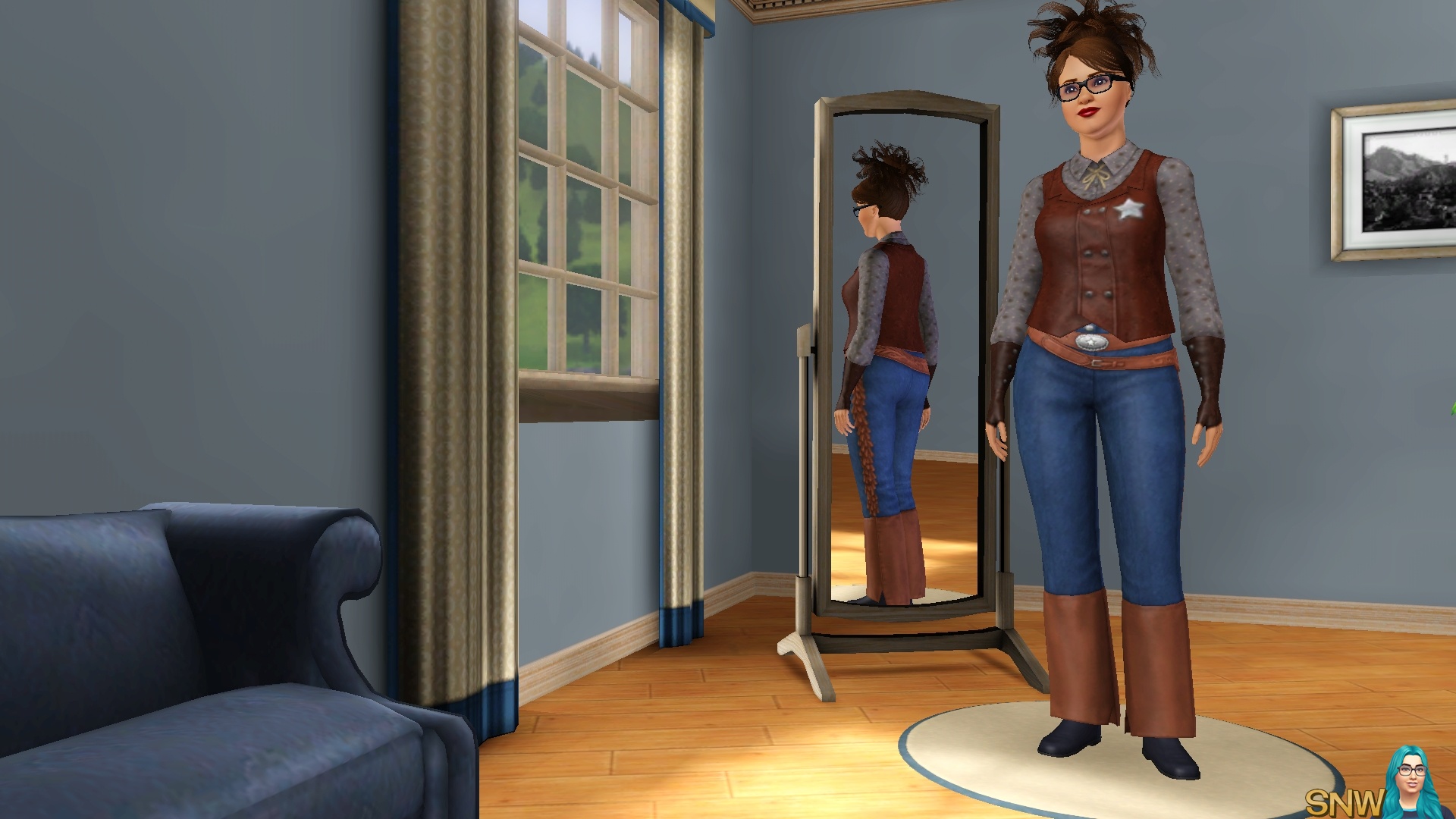 Mind the subtle difference in the hairdo!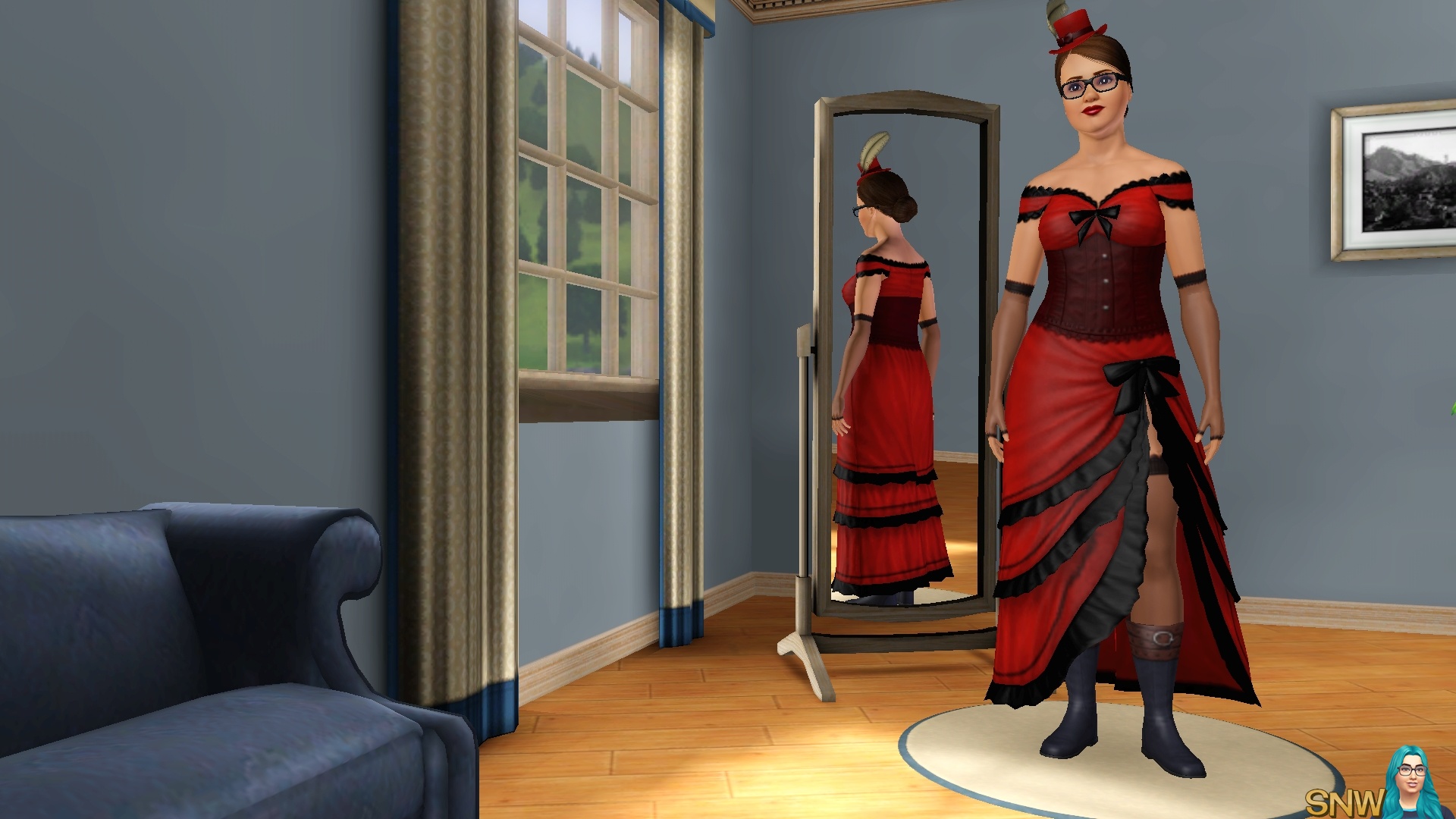 Off to the saloon!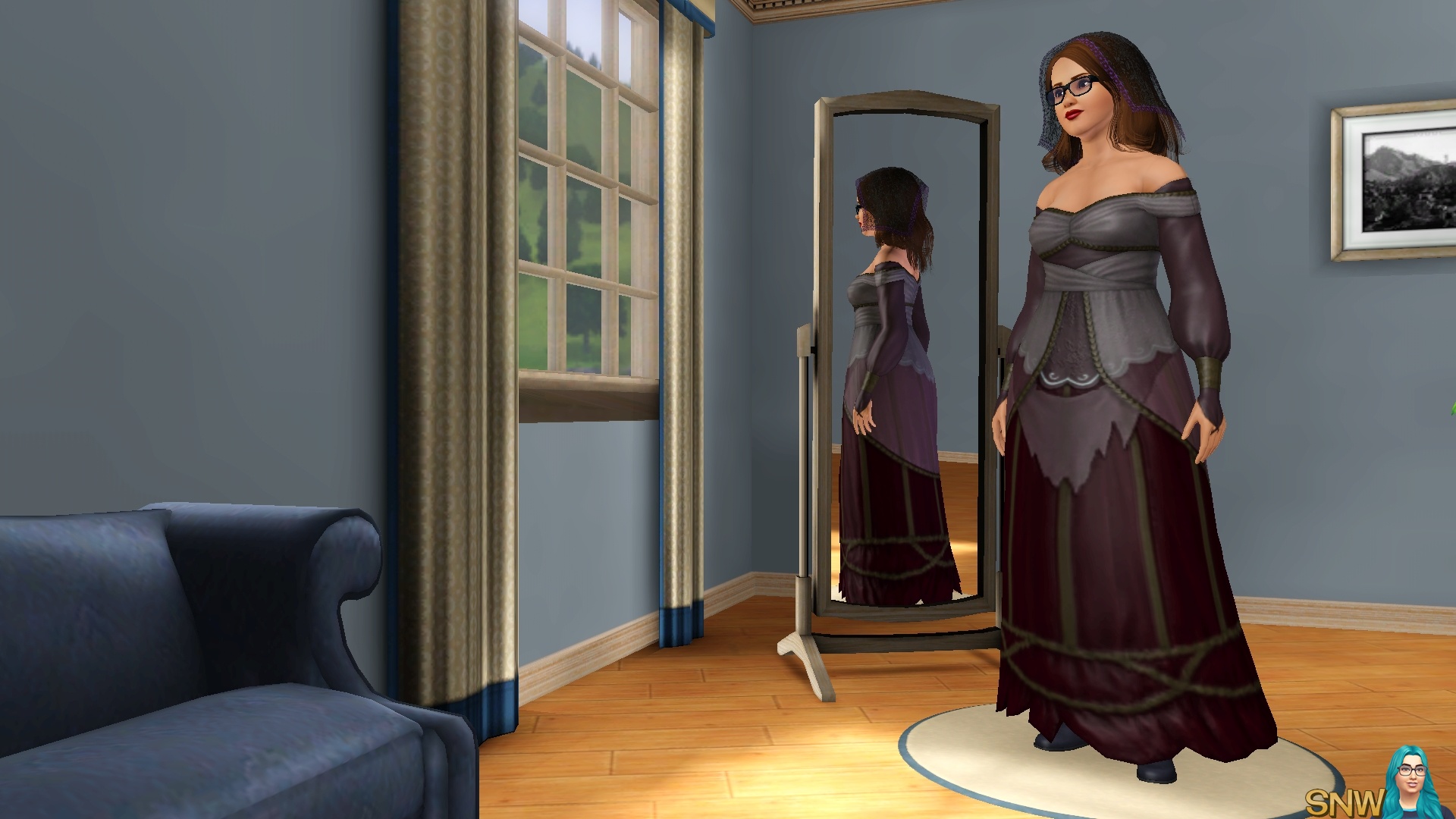 How do you like the dresses (and other outfits) in this pack? I can't wait to get my hands on this to be honest. I don't want to bash any previous packs. Because I certainly bought all of them, and not just because I collect them. But I think this pack is one of the best ones of the stuff packs. There is so much new stuff. Hairdos, outfits but also objects. Unfortunately I never got to that part as I was too busy with the other stuff, but I will certainly show off the good stuff once I get the stuff pack myself!

Male Hairdos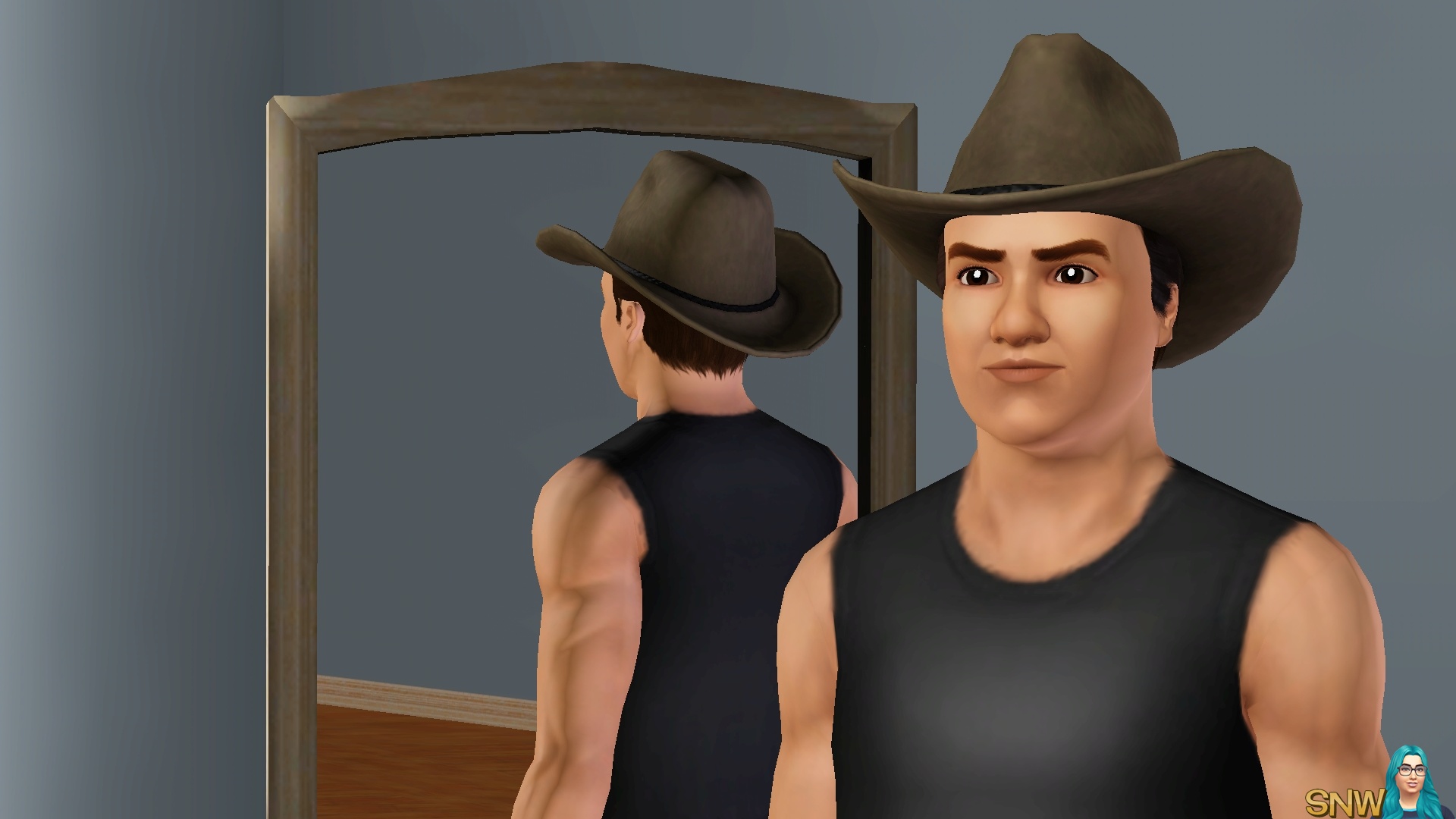 Another cool cowboy hat for male Sims. I said another, cause we already have one in the base game afaik. But I did check at the event and this one is definitely different.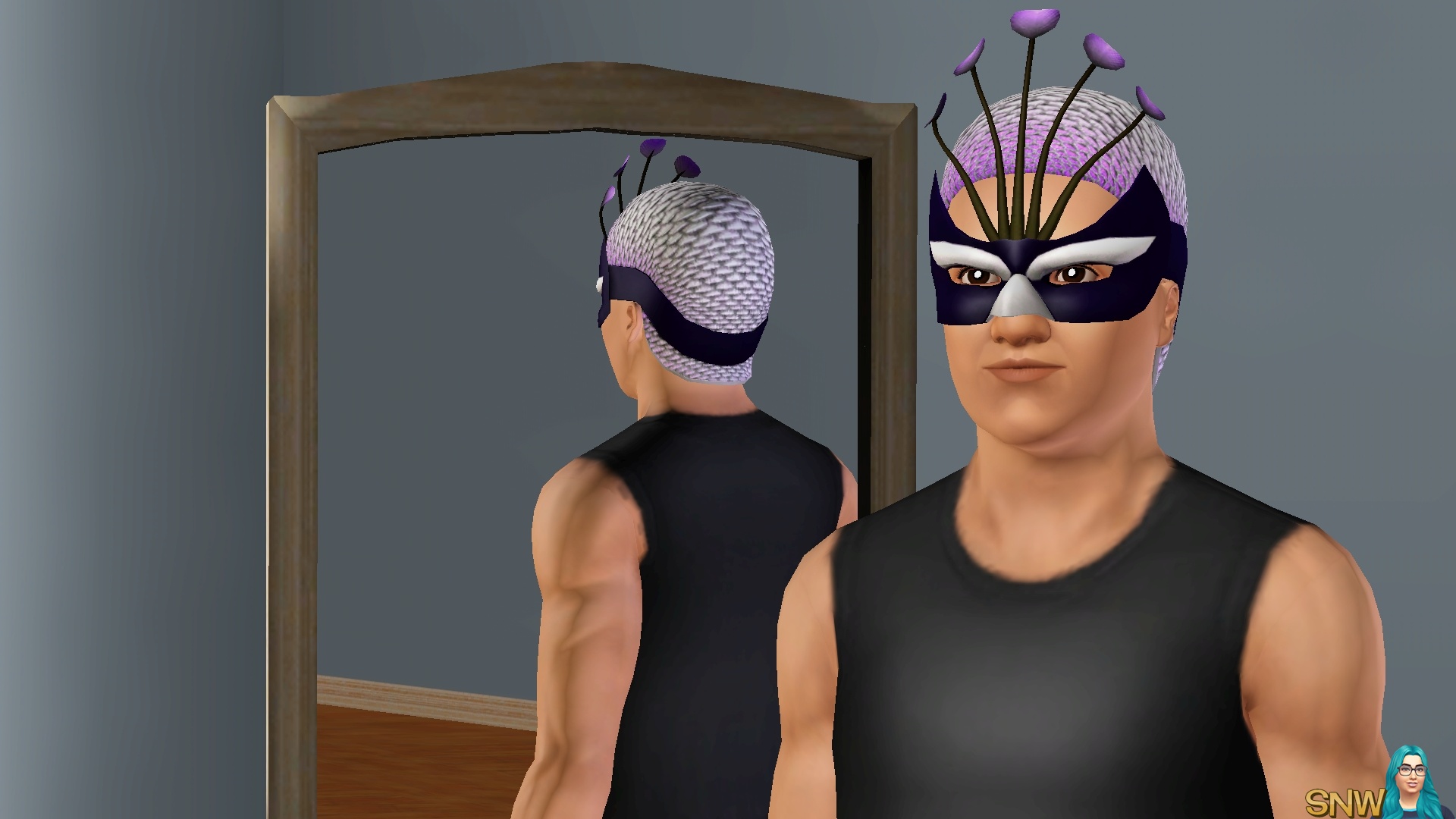 Peacock Man!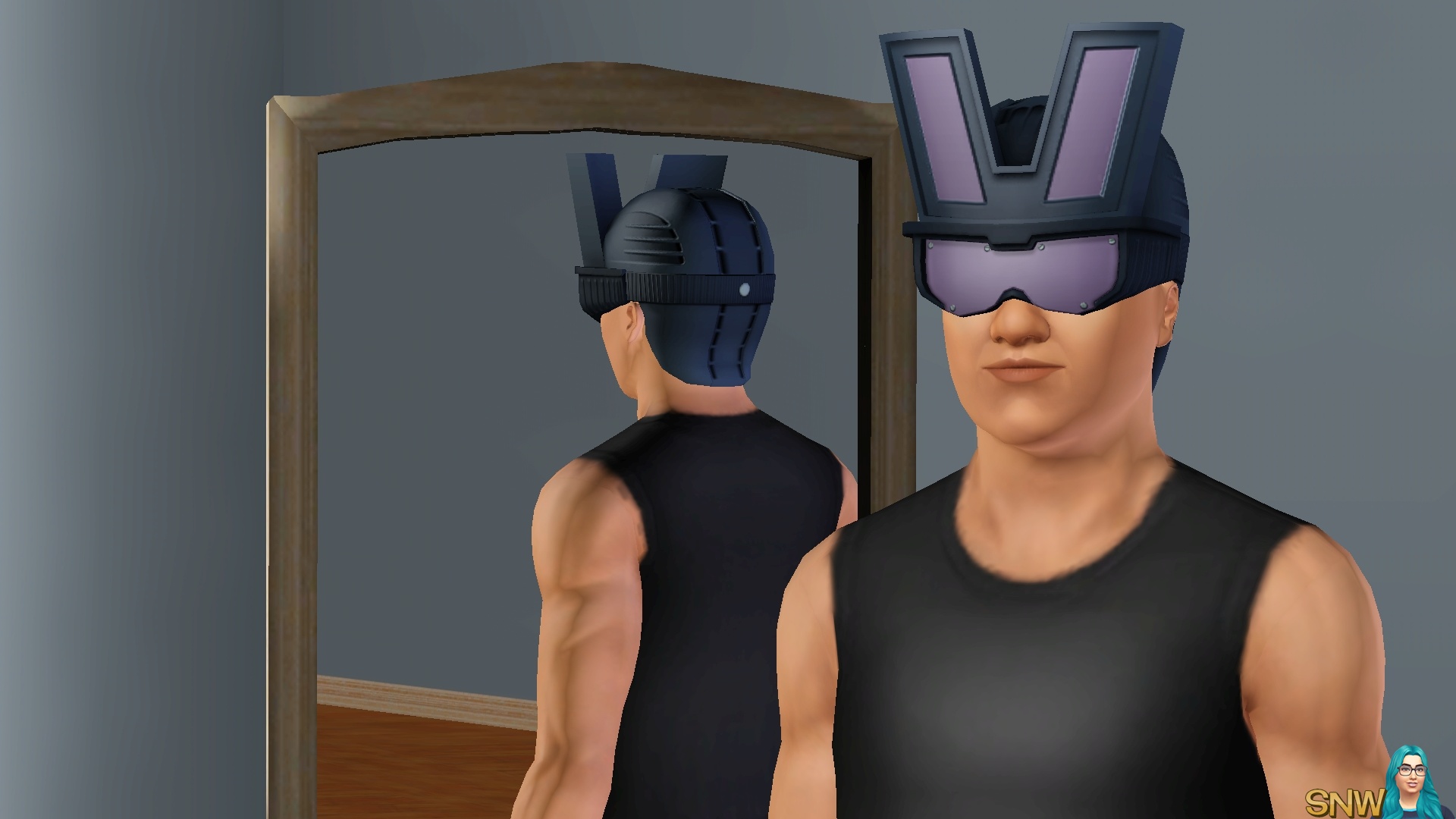 Freezer Bunny Man!
Brain Dude?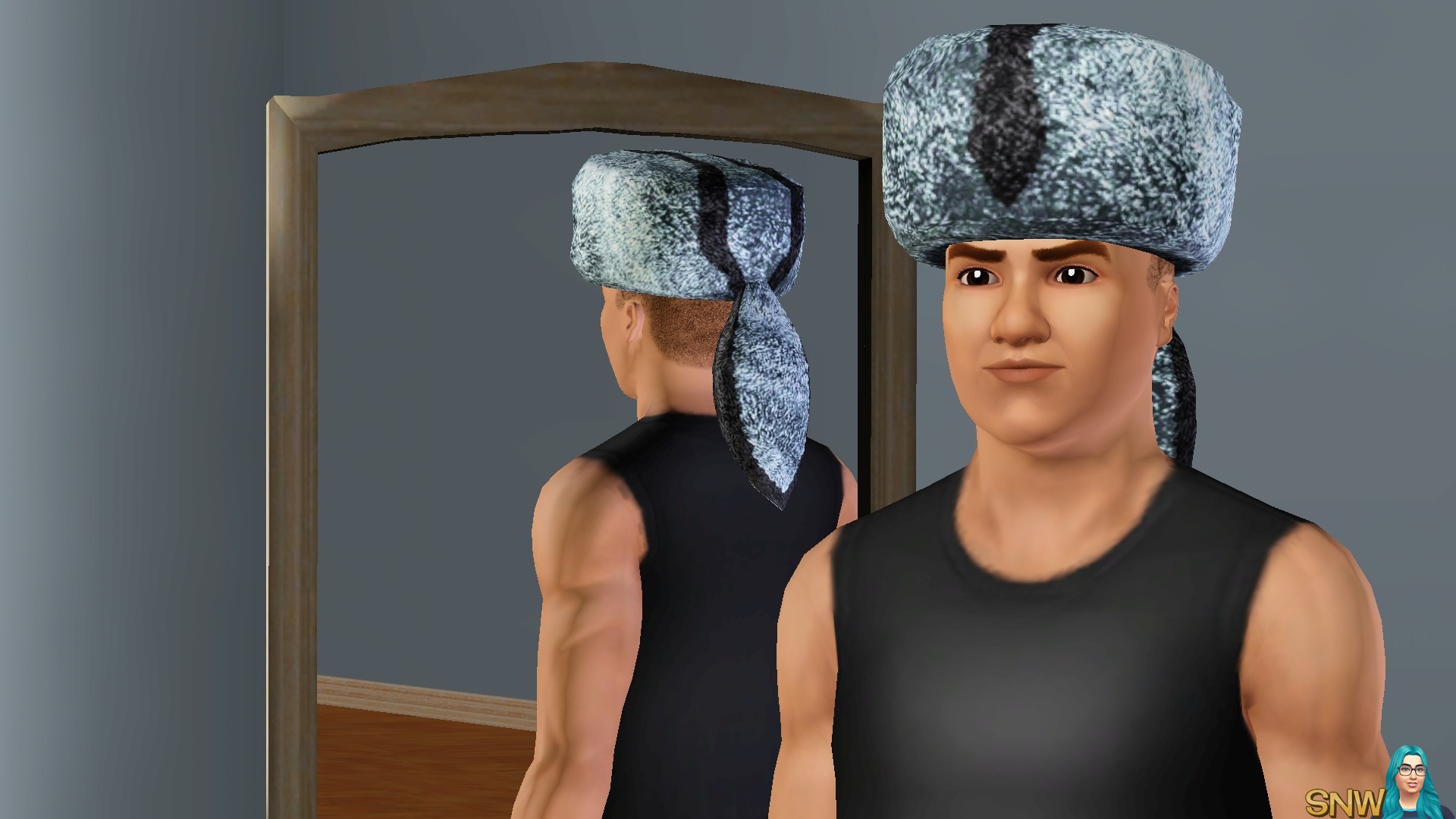 I just can't place this one, I'm sorry.

Male Outfits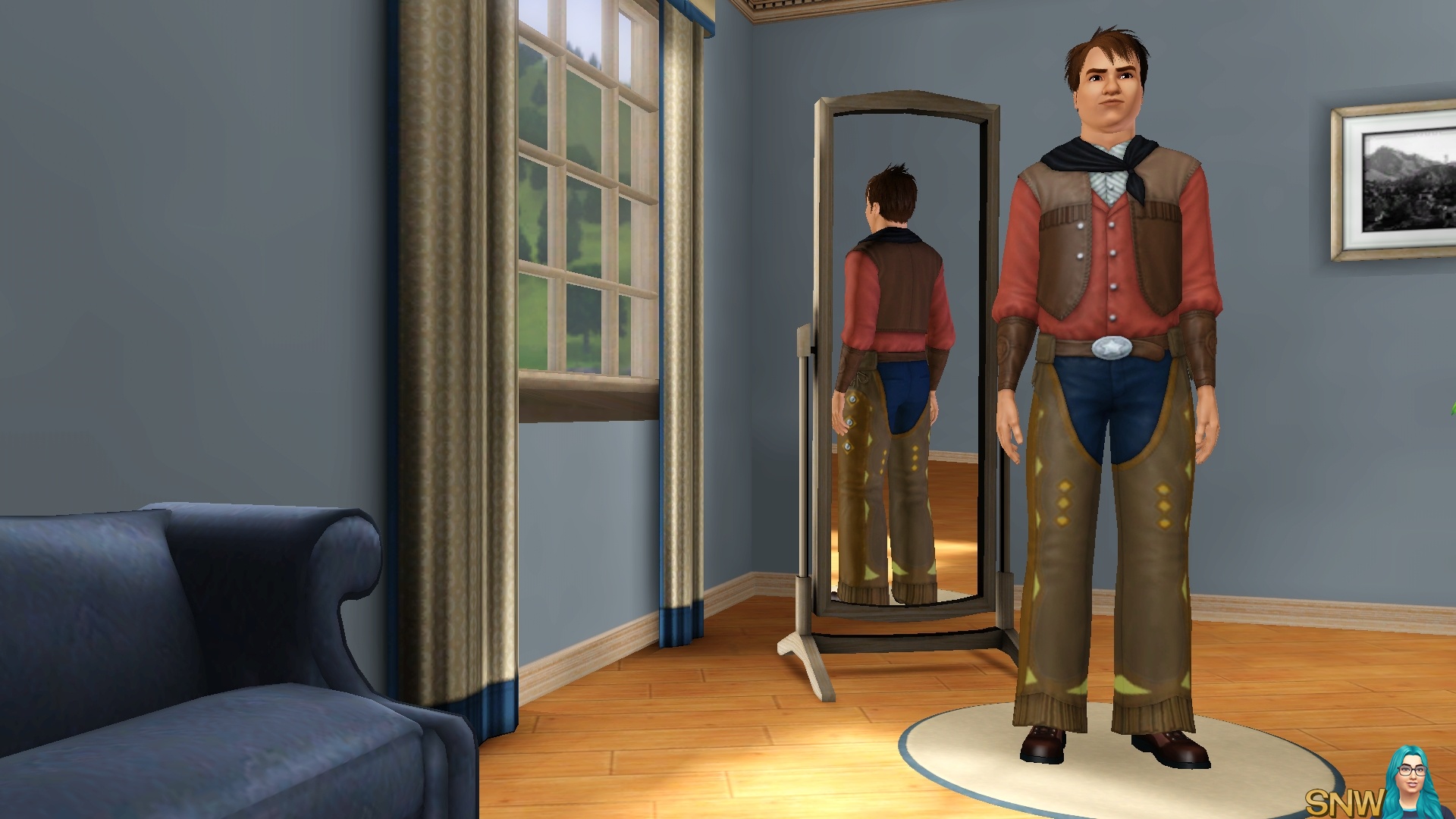 Western outfit for male Sims.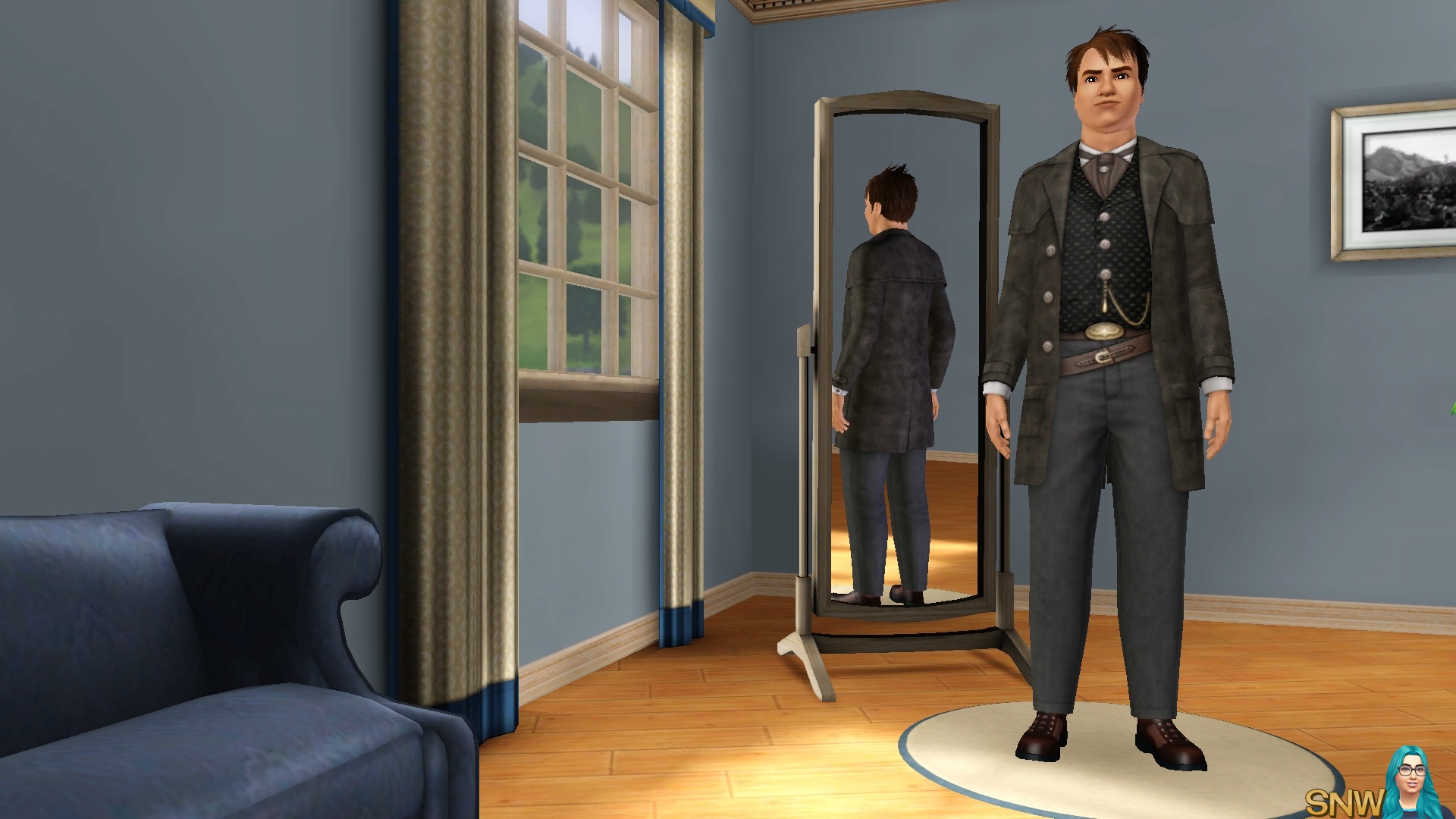 Another Western outfit. I think? Right?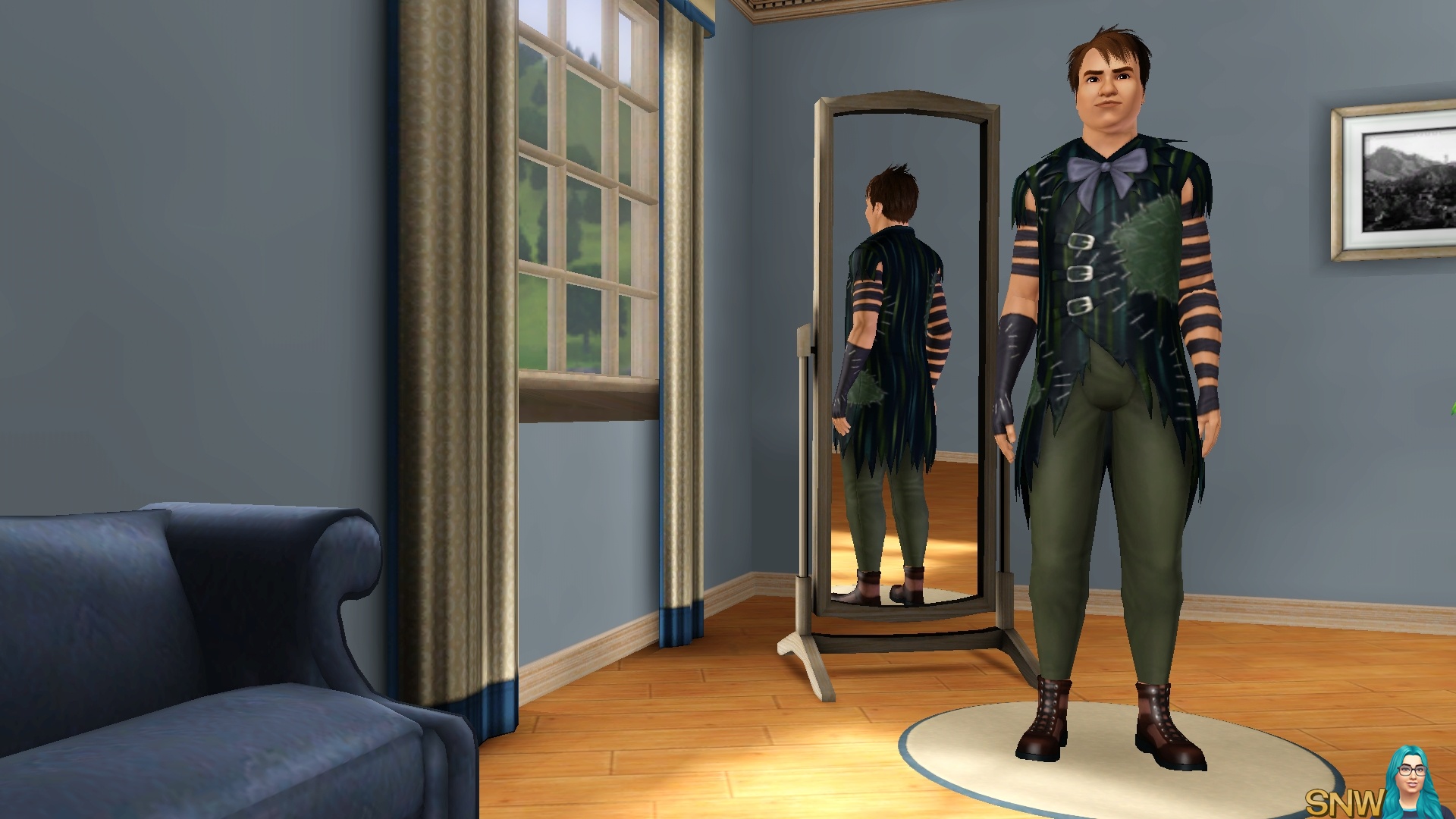 Is this a gothic outfit? Corpse Bride inspired?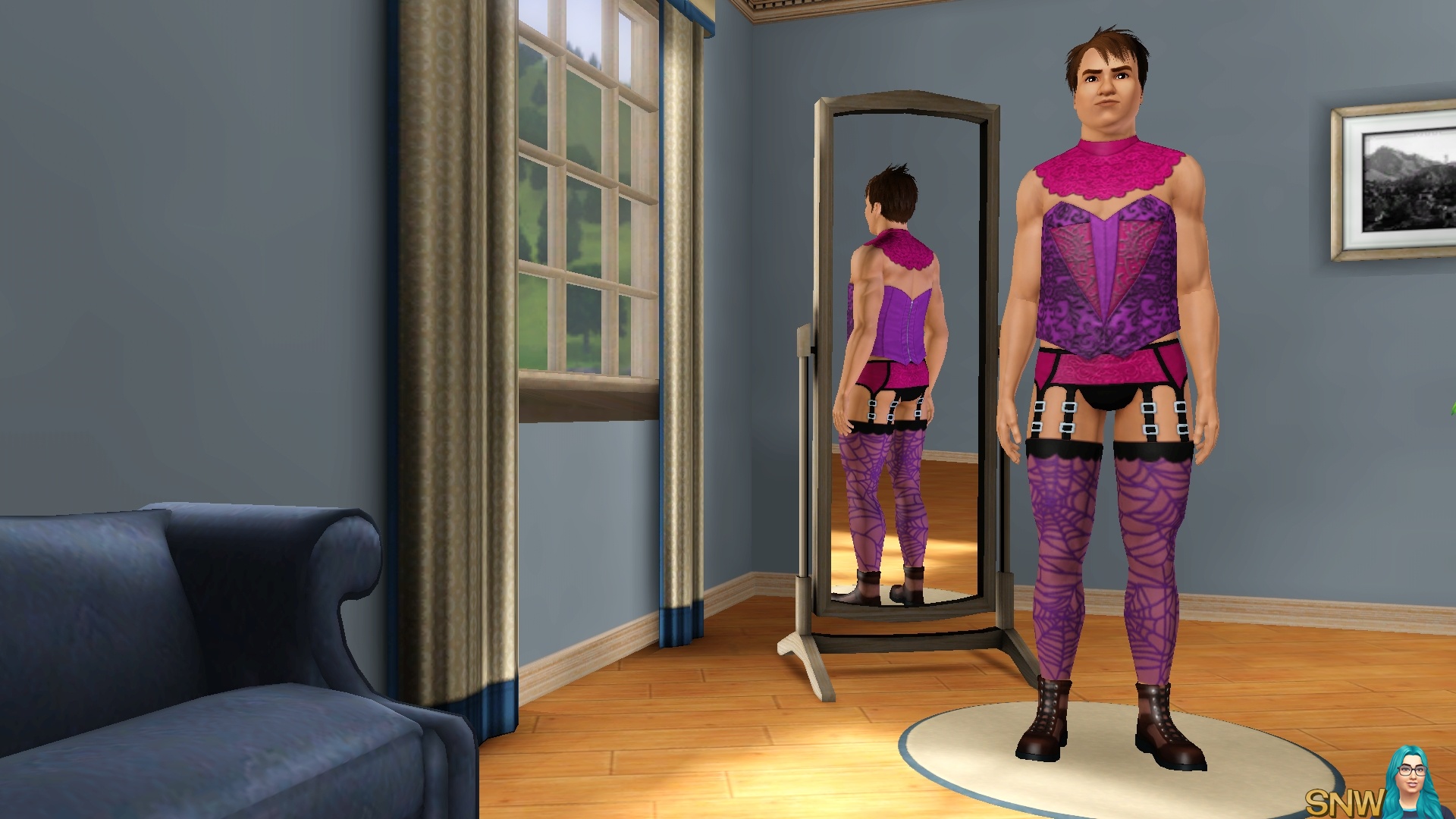 I uhm. I am lost for words here. I remember hearing some people at the event ask if this was an error, or intentional.

I am pretty sure it's intentional but I feel silly that I don't know the reference for this one.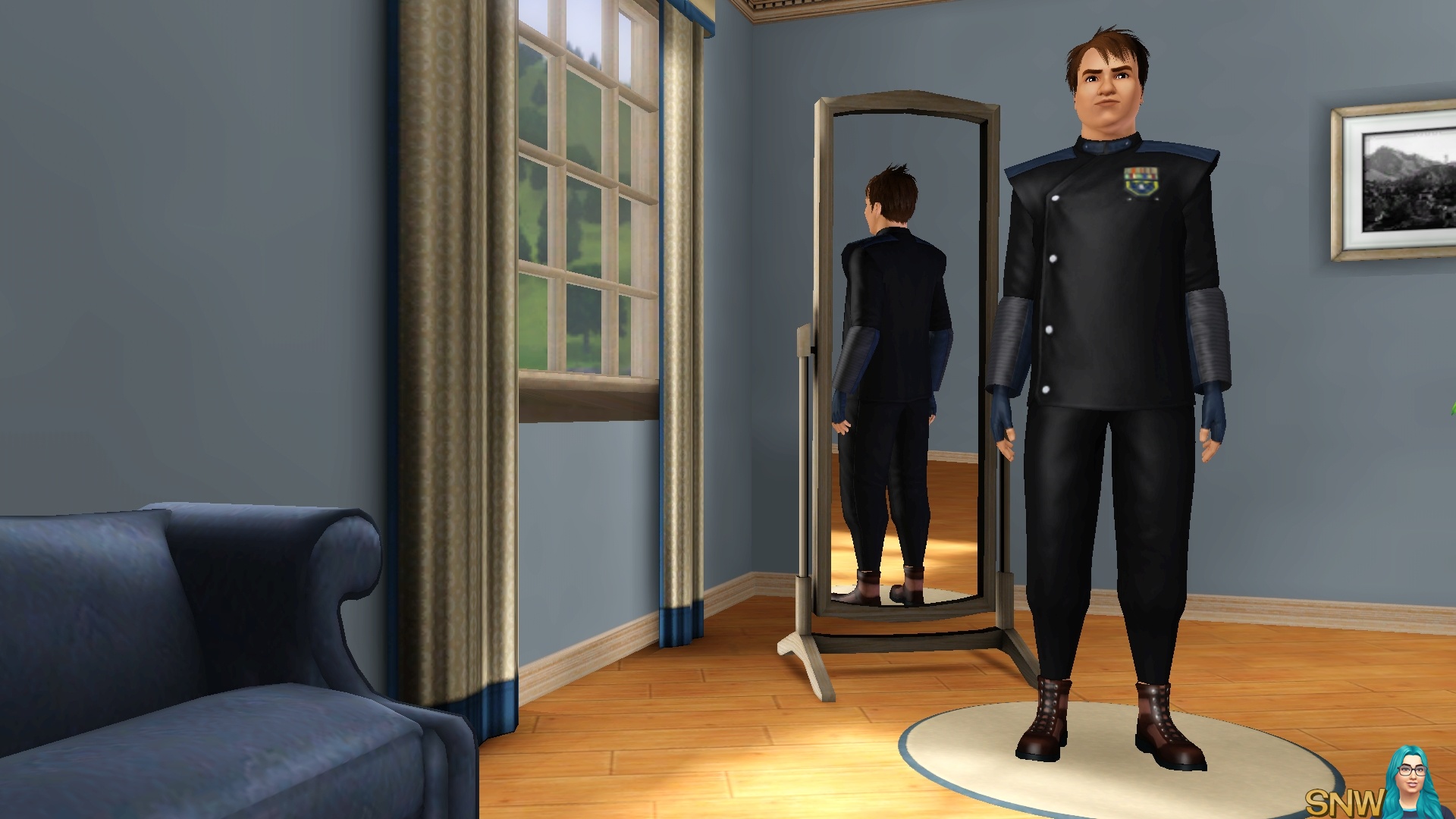 Oh I think this one goes well with the Russian hat thingy!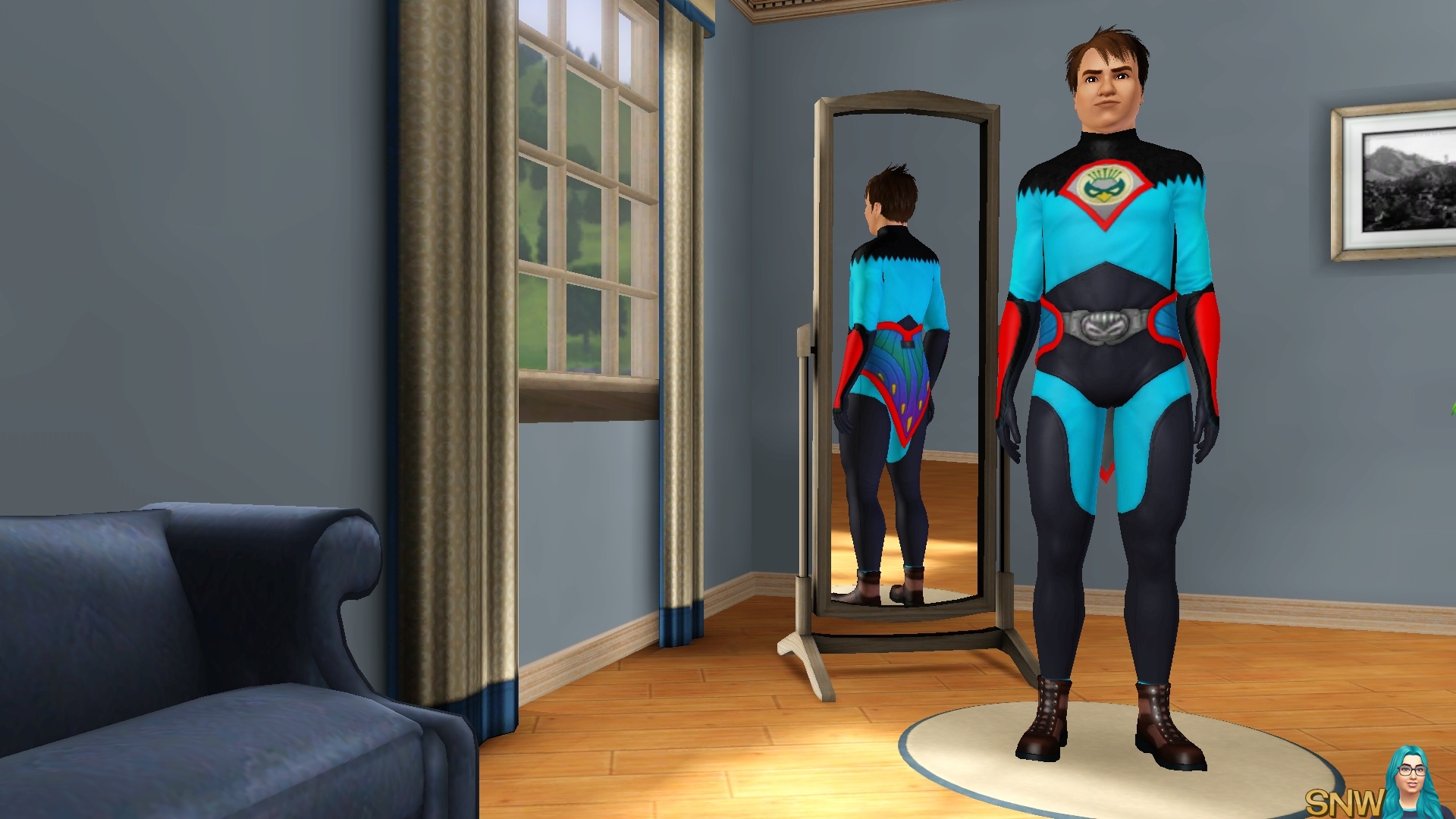 The outfit for Peacock Man!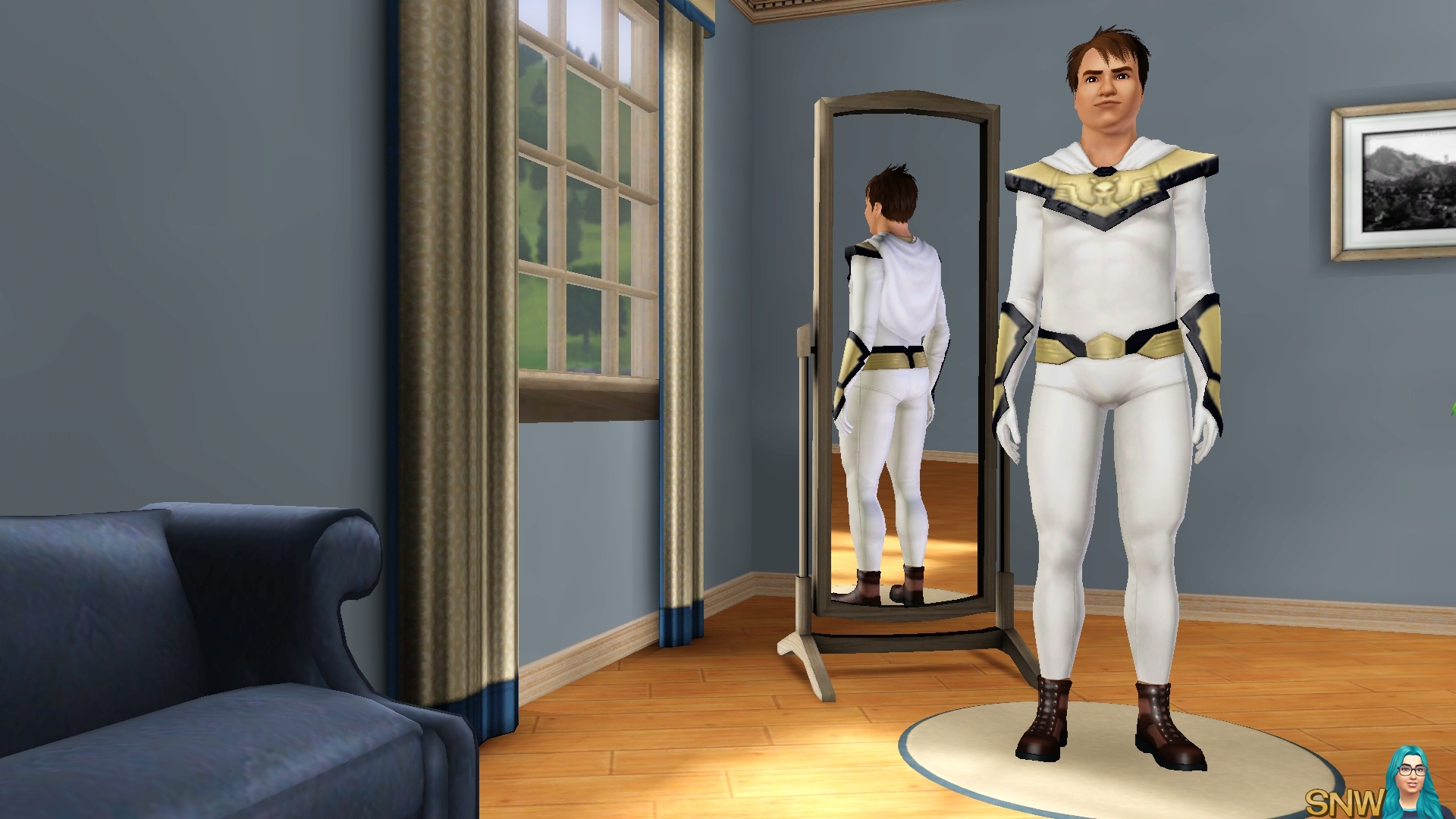 Maybe this isn't your colour, honey...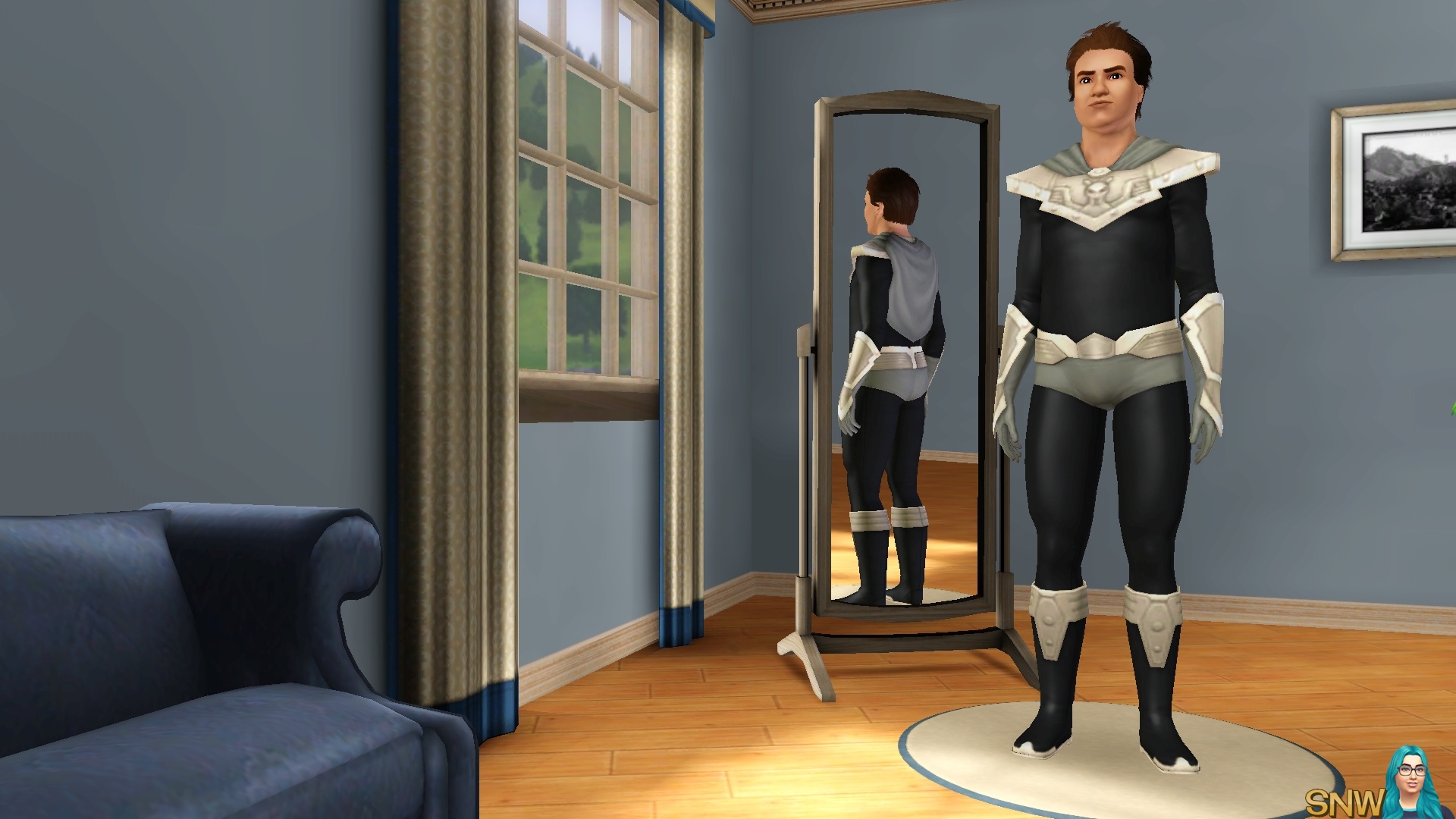 This is better...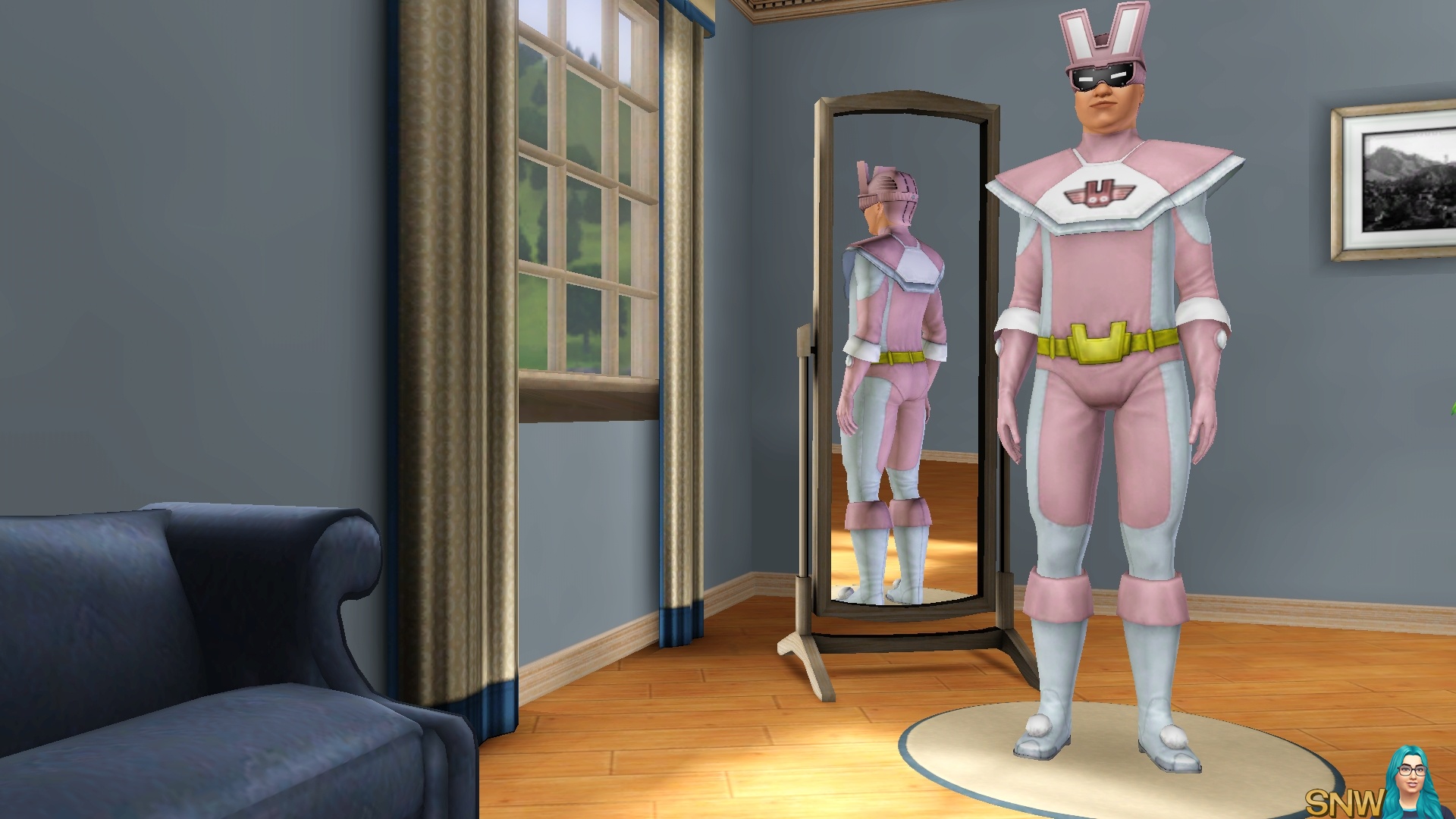 FREEZER BUNNY MAAAAAN!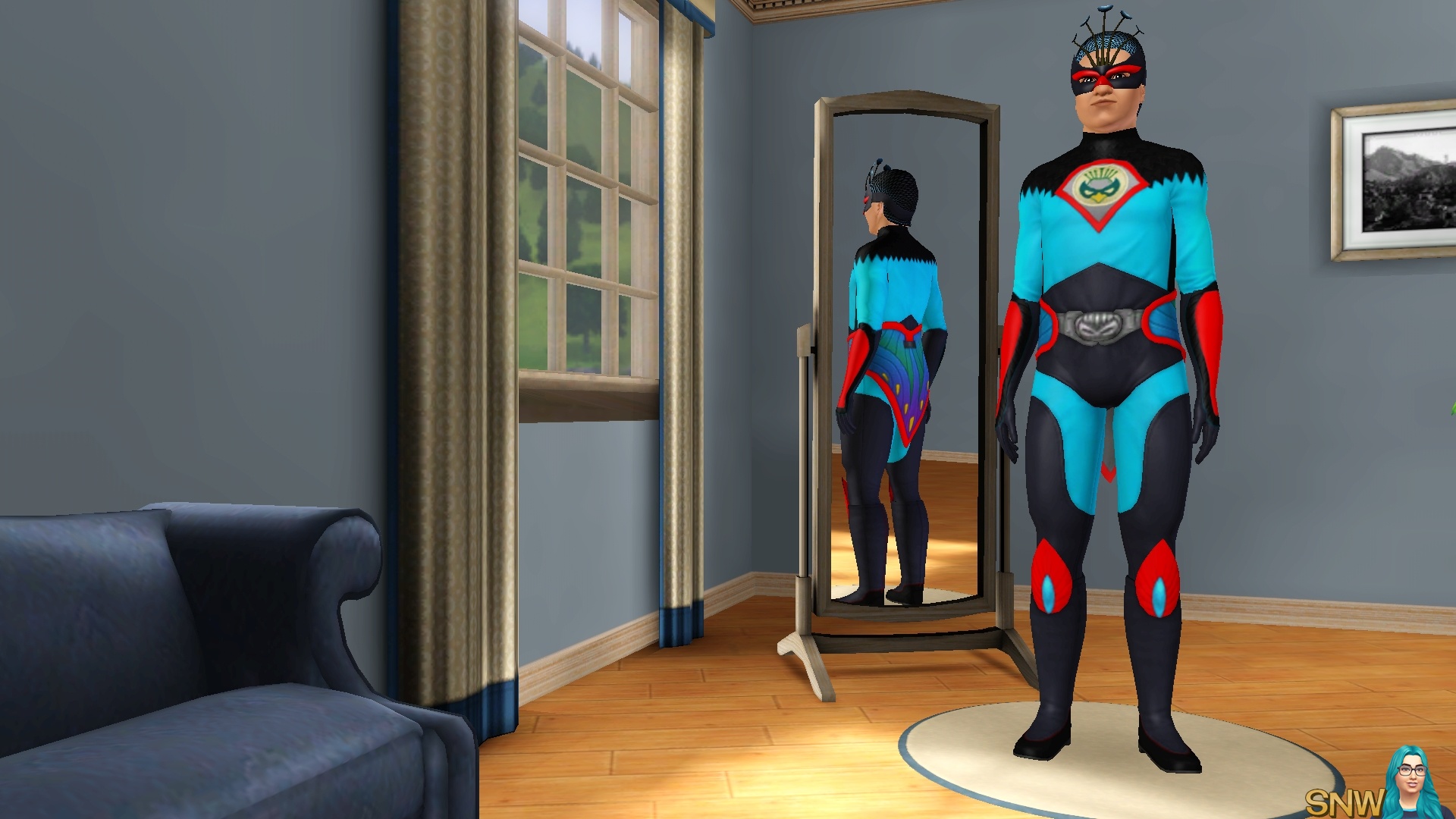 Here's the full outfit with hairdo for Peacock Man!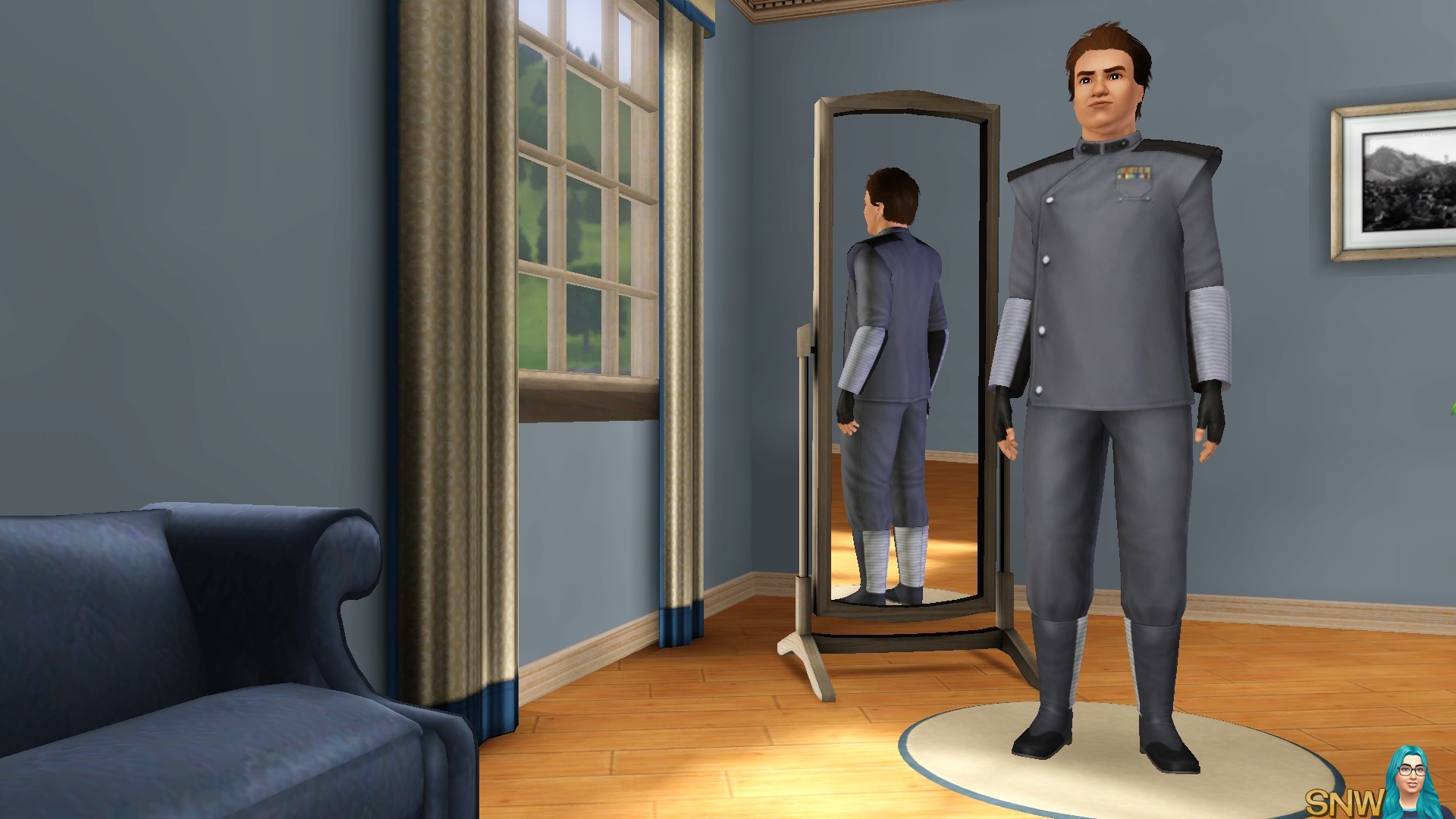 I think this is kinda spacey as well. I can see this one in a story about aliens and space. Yeah...
I hope you liked all the pictures, and my opinions on them hahaha. I think I had more screenshots from the outfits. But some of them may have been removed. I am not sure. Anyway, this should give you an idea of what to expect when you buy Movie Stuff. I only have screenshots of the CAS things, and only a selection. But you can already tell there are certain themes in here, which will come in quite handy for story tellers. Even if you're not a story teller, I think this pack will be useful. I would buy it for some of the hairdos alone.

The Sims 3 Movie Stuff will be released on September 10 in the US, September 12 in most of Europe, and September 13 in the UK!