More Magic! premium content - REVIEW!
Sunday, January 29, 2012 - 23:50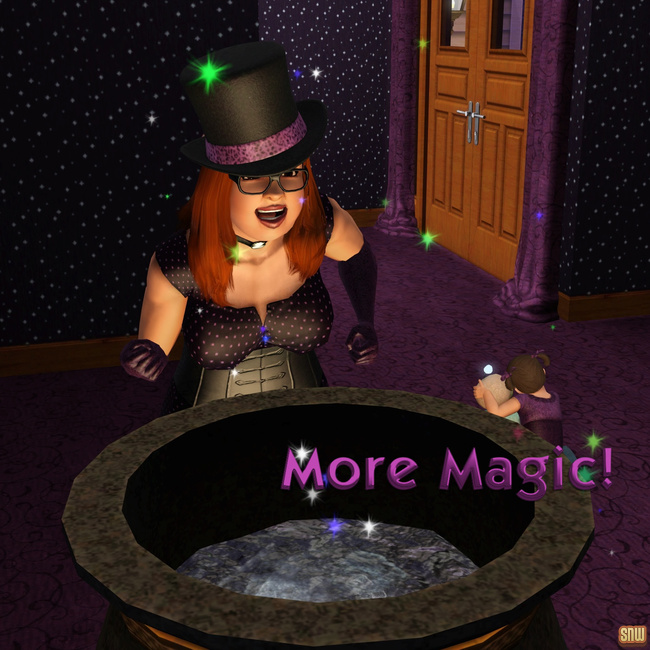 Want to learn more about the new More Magic! premium content from The Sims 3 Store? Well, we wrote a compact review to show you the new items. All 12 of them! Enjoy and when you're done reading, please let us know what you think! :woot:
---
Clothing & Hairstyles
This new store set has some magical hair styles and outfits for both men and women. Especially the sooth sayer style has been taken care of. I personally think it would have been nice to have actual witchy clothes as well, for the cauldron. But I do like the hats that have been added. Somehow they seem very steampunk to me. Very cool!
---
Soothsayer's Crystal Ball / Soothsayer's Seat Soother Chair
The crystal ball allows Sims to tell fortune. Either for themselves or for other Sims on the lot. They also have the option to tell bogus fortune. Tellings fortune results in advice or wisdom, but also in moodlets. My Sim got a moodlet for good luck the first time she used the crystal ball!
Some of the dialogs shown when telling fortune: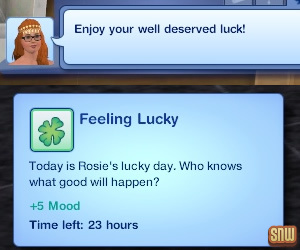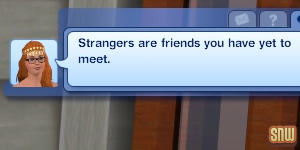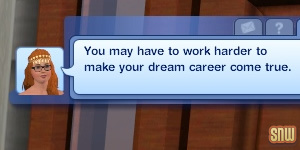 I couldn't resist making an animation from the telling fortune action. My Sim got bad news which is clearly visible: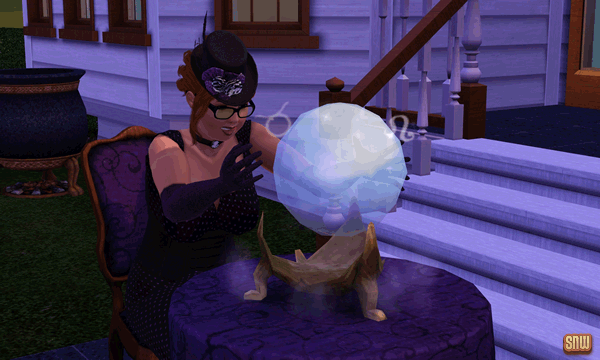 The crystal ball (table) has a matching chair; Soothsayer's Seat Soother Chair! Just like the crystal ball (table) it's fully customizable.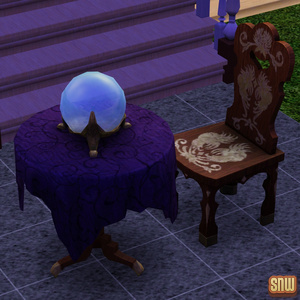 ---
Lord Vladimir's Magic Cauldron
The cauldron is an object that I have yet to figure out. I have tried to play with it, but I guess it takes some practice. And I didn't want to wait too long to show you the new store content.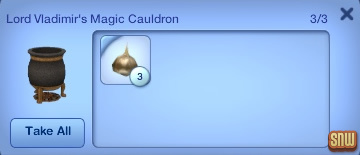 Sims can add up to 3 items in the cauldron by choosing Open. You can choose Conjure but I don't know what this does exactly. Once the ingredients have been added, you can choose Brew potion.
Depending on the ingredients, a potion will either fail (nothing happens) or succeed. When succeeded, a Sim can drink the potion. Don't want the potion? Just choose Dispose of potion, and start over.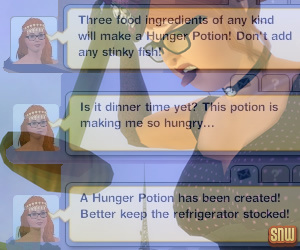 My Sim has so far created a hunger potion and a sleep potion. I was unable to find the required items, but if you add a rainbow beetle, rainbow trout and a rainbow gem, then you'll get a special potion.

Other potions I already discovered in my game are:
3x gems = emotion potion (Sim wants to be loved and hug other Sims)
Diamond, gold and black goldfish = Fast reading potion. Keep a lot of books in your inventory before you drink this potion!
My Sims using the cauldron:
A moodlet for using the cauldron: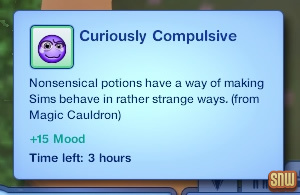 ---
Malleable Mimic Voodoo Doll
This is the Malleable Mimic Voodoo Doll. You can buy it in the catalog, like the other objects. And once you have chosen to bind it to another Sim, it will eventually go into your Sim's inventory. Obviously, you cannot use the voodoo doll on babies and kids. There has never been an easier way to torture another Sim.
Binding the voodoo doll does not always go too well. I tried it on different families and in one of the families, the Sim who was trying to bind the voodoo doll to another Sim, got an angry reaction. The Sim grabbed the voodoo doll and threw it away. So it doesn't always work out, and I'm not sure why. Perhaps the relationship has to be good?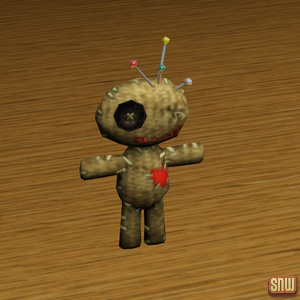 Binding the voodoo doll is easy. Just click the doll and you'll be given a dialog where you can choose a Sim.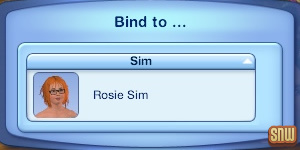 This is what binding a Sim to a voodoo doll looks like:
And these are the various actions you can choose with the voodoo doll! The nice ones are Bless and Cupid's arrow. Which leaves us with the not so nice ones; Curse (Sim stamping on the voodoo doll), Pins and needles (Sim stabbing the voodoo doll), Hot foot (Sim lighting the voodoo doll on fire), Wet pants (Sim pouring water over the voodoo doll, resulting in the victim to pee in public).
Oh and did I mention the voodoo doll also gives moodlets?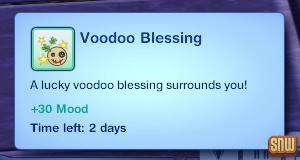 ---
Lady Ravendancer Goth's Book o' Spells (not part of the More Magic set)
This item is NOT included in the More Magic set, but it does work well together. With the Lady Ravendancer Goth's Book o' Spells, one can learn the Enchant spell. Once this skill has been learned, a Sim can use it on the other magical objects (the cauldron and the crystal ball). I have tried this, but I haven't discovered what the use is exactly. If someone knows, be sure to let me know!
A few extra Magic screens I made in the game:
---
Special thanks
A special thanks goes out to EA Netherlands for giving me the opportunity to review the new premium store content. I'm happy to show our readers the cool new features.
Another thank you is due, for Cheetah from The Sims Zone, also known in real life as my boyfriend. He helped me resolve some serious issues I was experiencing with my game, which I was unable to take care of myself. So thank you!
If you love magic, these items are definitely a must have!
The set normally costs 2200 Simpoints, but is now on a discount, so you only have to spend 1850 Simpoints. Sale ends February 9, 2012. So be quick!

Site Comments
Hello cool looks that you arent having any problem weel i do but anyway i just want to know the F*** your spellbooks works ...have you use any mod or what kind of computerdo you have and my last question if you have install hidden springs so cool post
I own Hidden Springs and have it installed and some how the More Magic Set fixs the Spellbook.
Nice review and screenshots, but... ONLY 1850?! That's something like $18.50! For 12 objects! :doh:
Just to say, the More Magic Set does not fix the Spellbook so if it was fixed, it was something else you did. Some have even gotten worse, like gettiing the jumping/resetting bit.
Hi
I love your blog, your always so early with all the new stuff

Im in here a lot, but i kinda feel sorry for all the simmers who don't know about your blog, SO
maybe you would be an angel and publish some of your stuff on the sims wiki? http://sims.wikia.com/wiki/The_Sims_Wiki
I know they only have a tiny tiny bit about potions, and nothing on any of the objects here, and it's a shame for everyone who doesn't come in here and misses out.. Pleeeease?