Talking Simlish with Gabriella Cilmi
Friday, October 10, 2008 - 23:00
We chatted with UK-based Aussie songstress Gabriella Cilmi about recording "Sweet About Me" in Simlish!
---
Talking Simlish with Gabriella Cilmi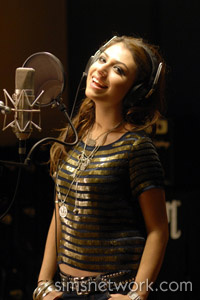 UK-based Aussie songstress Gabriella Cilmi is a pro at scoring firsts.
Not content with toppling Madonna from the #1 position in Australia's Motorola ARIA chart at just sixteen years of age, she's also the youngest ever solo artist to get to Australian top spot and the youngest music artist to be nominated for the UK's Q Awards (she's up for the breakthrough artist 2008 award).
Her debut hit single Sweet About Me went top 10 in ten countries, including UK (#6), Germany (#2), Holland (#3), Austria (#3), Switzerland (#3), Croatia (#1), Norway (#7), New Zealand (#6) and Italy (#9). In Australia, it topped the charts for several consecutive weeks and became one of the biggest hits of the year.
Now Sweet About Me is notching up another first for Gabriella - the song has been re-recorded in Simlish for The Sims 2 Apartment Life, making her the youngest artist in the world to ever have their music featured in The Sims!
Watch the clip to hear the song and see how the Simlish re-record went. Also check the picture gallery to see some snaps from the studio session.
We snagged some extra time on the day to get Gabriella's take on the big wide world of The Sims...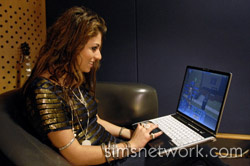 How well do you know The Sims?
I first played The Sims about six years ago. It was one of the coolest games because it was completely new - kind of like the real world - all captured within a computer screen. There hadn't ever been anything like that before so it was really exciting to see.
What kind of videogames are you into?
I'm more into games where you can create something. That's why The Sims is so good because you can choose to be different characters and you have the freedom to do so many different things.
Next time you play The Sims, what character would you create first?
I'd probably start off with myself, but with a different hair style. I've always wanted to cut my hair and change my hair colour. Lately, every time I go into stores I end up trying on wigs for fun, so I'd probably change my hair a bit - I'd really like to colour my hair purple!
What would be one of the first things you'd do with your new Sim?
Building a house takes a lot of time... and I always want to dive straight in and explore the different places you can go and things you can do. So I'd probably just buy a house really quickly instead and get straight on to different stuff, like meeting other Sims.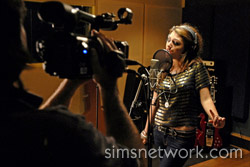 What in-game scenario do you thing the Simlish version of 'Sweet About Me' would make a good soundtrack for?
It just sounds so fun, I imagine it playing in a bar. It'd be the perfect soundtrack for going on dates and playing footsies beneath the table. Or just going out and having fun! I'd like to hear it if I was getting my Sim to play pool... can you play pool in Sims? I'm sure you can!
What other songs would you most like to hear in Simlish?
'Time Is Running Out' by Muse or 'Whole Lotta Love' by Led Zeppelin - that'd be outrageous!