New Fan Interview
Thursday, November 15, 2007 - 22:00
We talked with ultra-modern content creator Simcredible to get some insight into custom content creation. Come check it out!
---
Fan Interview - Simcredible
MaxoidMoonBelly from The Sims 2 talked with community member Simcredible of Simcredible Designs to give some insight into custom content creation!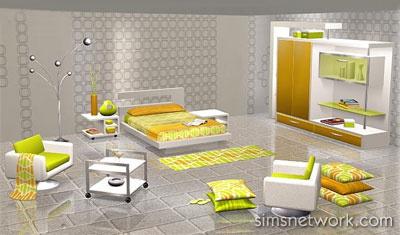 MaxoidMoonBelly: How did you first hear of the Sims, and what got you into playing the game at first?
Simcredible: The first time I heard about The Sims was watching TV. A program about games was presenting The Sims and I was amazed about it. I simply loved the game! When I first played The Sims I simply forgot about the time and spent the whole weekend in front of the computer enjoying that brand new life's generator. A thing I really love in The Sims is that each time you load the game is a new experience. That power of controlling a family really caught me and the lots of possibilities that can happen while playing the game really made me (and still makes me) forget about the time.
MaxoidMoonBelly: What do you like about the sims game?
Simcredible: The Sims is an incredible game! It's hard to name just a thing I most like about it. But as I said the possibility of being lots of people plus controlling them is amazing. I really enjoy the game play. I love to decorate, to create, to build but I still prefer to play because it opens lots of experiences especially because I love to create different people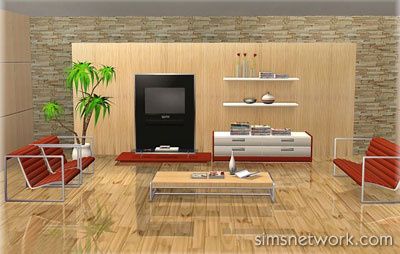 MaxoidMoonBelly: What is a memory you have of a fun or favorite moment in the game with your Sims?
Simcredible: They are so many... I really have special moments with my Sims and I use to keep all great memories in pics. I have lots of Sims shots to remember and enjoy favorite moments. A great memory I have was the day I started a family with 28 Sims (using a file from Inge Jones at SimLogical that allows more than 8 Sims on a lot) and each week a sim should leave the house until the grand finale when just 3 Sims would remain and then just one would be the winner. To make this project I had people here at my home plus my close friends playing with me, giving opinions, voting to decide who would stay and who would leave, we used to create tasks for The Sims inside the house etc. Was great!

Due to Real Life sure we all were able to play just on weekends free time but during the week we used to comment about the game, how it would be when the weekend arrives, who would be "fired" and so on. We really, really had lots of fun! I have this one project pictured in more than 180 pics!
MaxoidMoonBelly: What inspired you to start making your own creations?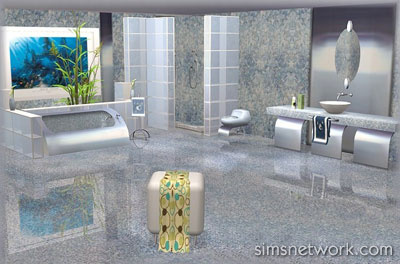 Simcredible: I started creating on Sims1. At that time I had lots of families and those families had the same furniture so, I started to download custom content. But I must confess... I am soo curious...100% curious... and after my first download I decided that I would learn how to do that. I simply thought that the possibility of create something for the game was incredible. I started looking tutorials because I put in my head that I would not give up until I could create something. And so, after lots of reading and effort I finally created a chair

I was so excited! And so my Sims families changed their decorations and I finally could have my houses looking different. The Sims 2 is even better to create because it opens a lot of new possibilities. To be honest, my big inspiration to start creating was my passion for modern rooms. I really enjoy contemporary furniture.
MaxoidMoonBelly: What would you say is the biggest challenge to making things for the game?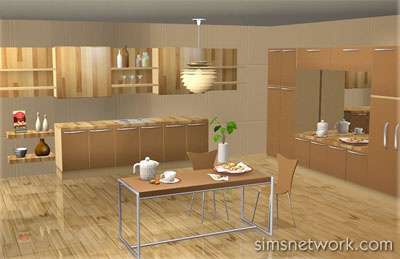 Simcredible: My biggest challenge is to adapt some of my ideas with the bases and animations that come with the game. Sometimes it's not easy to adapt an object with the bases we current have in the game. My knowledge with animations is very limited and sometimes I have to create simple decorative pieces when in fact I would like to put more realism on them. Another thing that is a challenge to me and deserves a comment is the fact that we're always trying our best to keep our meshes in an acceptable polygon number. It makes a lot of difference in the game play, especially for those with no powerful machines

MaxoidMoonBelly: What programs do you use (modeling and texturing)?
Simcredible: For modeling I use MilkShape 3D and Rhinoceros. To texture I use Corel Photo Paint.
MaxoidMoonBelly: Where did you go to learn how to do modeling and texturing?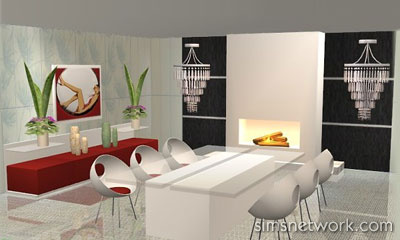 Simcredible: I started to deal with textures before The Sims because I had a website (not Sims related) and I started to create graphics for it; so I acquired some knowledge about texturing. But when The Sims happened on my life I simply decided to get myself better and so started to read and learn more about texturing.
The Sims2 is not like The Sims 1. The 3D files need to have low polygon numbers in order to keep a good game play so I noticed that much of the object appearance would be on the texture instead of the mesh itself. So, was clear for me that I would need to improve my textures to have a good looking object with low polygon mesh.
What helped me to have better textures and also how to make my 3D models was reading tutorials on the net, specially on Sims community and 3D forums. All tutorials and information are valuable but I have to say... I also tried things by myself which is very important . The only way we can improve is trying, practicing.
MaxoidMoonBelly: What are the most requested items you get asked to make?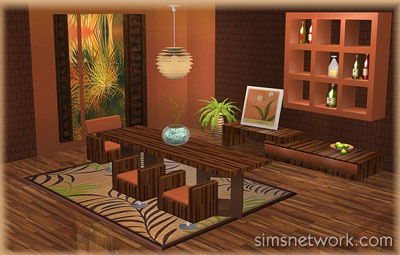 Simcredible: We don't usually take requests but I like to stay tuned in about what people enjoy. People use the comments on our Guestbook or also at our Forum telling what pieces they prefer and sure we try to pay attention. We try to provide varied content to our site such as skins, make up, genetics, walls, floors, etc. But our main goals are really objects sets and single objects creation and people know that. The favorite sets we have comments and requests are always kitchens. People really enjoy having more and more kitchens!