Upcoming Pets Soundtrack
Friday, September 15, 2006 - 23:00
GameSpot gives an inside look into the upcoming The Sims 2 Pets soundtrack.
---
Flaming Lips, Pussycats in Sims 2 Pets
By Tim Surette
Music artists The Flaming Lips, Pussycat Dolls, Hot Chip lead roster of 24 artists contributing Simlish versions of songs for Sims 2 Pets.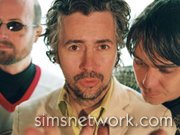 While most of the attention is on the soundtracks of Electronic Arts' sports games, one other franchise has been pulling in big names for quite some time now. However, those big names--which include The Black Eyed Peas, Depeche Mode, and Howard Jones--aren't exactly intelligible, because they sing in a very foreign language.
The franchise is The Sims, and the next installment of the series will continue the tradition of featuring famous musicians singing songs that make Bob Dylan sound like a speech coach. Joining the previously announced teen sensations AJ & Aly will be alt-rockers The Flaming Lips, sexy songstresses Pussycat Dolls, and nerd-core act Hot Chip.
"We've always been known to jump at opportunities that challenge us to do something totally fresh that we've never done. Needless to say, recording 'Free Radicals' in Simlish allowed us to do just that," said Flaming Lips front man Wayne Coyne.
The soundtrack is as follows:
Artist / Track / Platform
Aly & AJ / "Chemicals React" / PC and Console
Brazil / "Candles Cast Long Shadows" / PC and Console
Cowboy Troy / "I Play Chicken With a Train" / PC and Console
Cut Copy / "Future" / Console
Dena Deadly / "Fortuzala" / PC and Console
The Flaming Lips / "Free Radicals" / PC and Console
Hot Chip / "Colours" / Console
Hot Chip / "So Glad to See You" / Console
Isabelle Huang / "Hit It" / PC and Console
Jessi Malay / "Topsy Turvy" / PC and Console
Joanna J / "Unthinkable" / PC and Console
Kristen Dex / "Come On Come On" / PC and Console
New Amsterdams / "Turn Out the Light" / PC and Console
Prescott / "Dixie Dixie Where Have You Been All My Life" / PC and Console
Prescott / "Hurt Nobody" / PC and Console
Ralph Myerz and the Jack Herren Band / "Boombox Breakdown" / Console
Saving Jane / "Girl Next Door" / PC and Console
Skye Sweetnam / "Boyhunter" / PC and Console
Something for Rockets / "I Never Know" / PC and Console
Tanaila / "Wow Wow Wow" / PC and Console
The Films / "Black Shoes" / PC and Console
The Format / "The Compromise" / PC and Console
The Netw0rk / "Topy Apa Ty" / PC and Console
Pussycat Dolls / "Don't Cha" / PC and Console
Touchstone / "Simpatico" / PC and Console
W of P3 / "Aff Wubbas Doo" / PC and Console