Gamespy Checks Out Nightlife
Wednesday, September 7, 2005 - 23:00
"GameSpy hits the streets with some digital friends in EA's latest update to the Sims 2 world."
---
The Sims 2: Nightlife Hands-On
By Dave 'Fargo' Kosak
GameSpy hits the streets with some digital friends in EA's latest update to the Sims 2 world.
Spiffy:
Adds restaurants with waited tables, new relationship gameplay, cars, and a downtown area with tons of new objects.
Iffy:
No sweeping changes such as University's college-age.
Dear diary: My attempts to become a vampire have again been thwarted. Ever since we learned that "Vampirism" was in the upcoming Sims 2 expansion pack, Nightlife (see it all in our earlier preview) I was dying to try it out. Since we recently got a build of the expansion here at GameSpy, I made Vampirism a priority.
Now, turning my Sim into a vampire means that I'll have to find the "Master Vampire," who wanders around the new Downtown area late at night. That meant that I was going to have to hang around downtown late at night. No problem: the Downtown area that comes with the pack is sprawling, with dozens of bars, restaurants, clubs, out-of-the-way dives, and no less than three bowling alleys.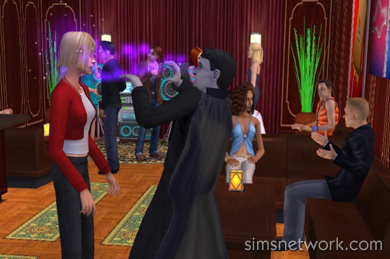 It is my personal belief that vampires get all the chicks.
And who better to stay up all night than a college student? I thought for sure a college student would be the first to turn. From my own halcyon days of schooling, I seem to remember that my campus was crawling with vampires. Or at least with pasty white guys who hung out in the computer lab during the wee hours.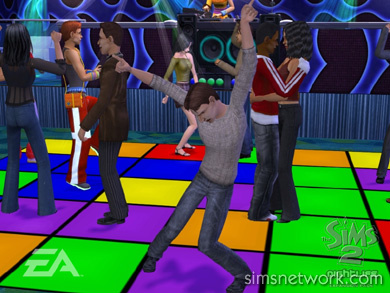 Sweet moves on the dance floor.
On creating my character (a brooding guy with dark hair, natch) I discovered the first sign that something was afoot in SimCity: before finishing up I had to select my Sim's turn-ons and turn-offs. It's possible to, for instance, be really into red hair and glasses and turned off by perfume. Of course, some truly bizarre combinations are available, like a Sim who's turned on by people with body odor who wear face paint.
As is typical with Sims games, it's hard to focus on getting any one particular thing done because there's so much to do. Like buy a car. Did I even need a car to become a vampire? Of course not, but I had to have one. For the chicks. Five car models are available, with about a dozen paint-jobs for each, so even the smallest car has some variety. You can give your little hatchback a Wayne's World paint-job, or leave it with rusted fenders and mismatched panels. There's also a pick-up truck, a minivan, a classy sedan, or of course, a slick sports car.
Buying a car requires that you first build a driveway, which attaches to the road. Later on you can add a garage door and a garage. Some of the sample homes in the expansion pack have some classy carports, so it's possible to be creative with where you house your wheels. Aside from getting you downtown or to work without requiring a taxi or carpool, cars can be a date destination in and of themselves. You can sit inside and listen to the radio, make out, or -- to put it delicately -- steam up the windows. If the family minivan is rockin', don't come knockin'!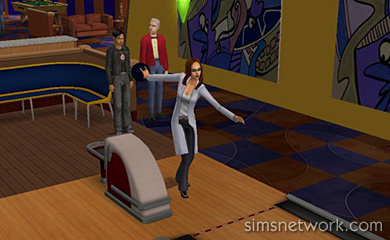 What hotblooded young single can resist sultry bowling action?
Okay, so now I had wheels in the driveway, but no fangs in my face. I decided to scope out the Crypt O' Nightclub, surely a vampire haunt if I ever heard of one. Sure 'nuff, this place was the pimp: old gothic wrought-iron railings, dark decor, red walls, black curtains, dead trees, and a DJ spinning the hardest of house beats. In Nightlife you can sidle up to the bar, order a few drinks, even chat up and hit on the bartenders. I proceeded to do all of these things, but no vamps were in sight.
It seems that if you have a few drinks and then hit the dance floor, you'll stumble around like a stricken pi¿ata. It was awesome. Not very smooth, though. However, I did manage to get the patrons to join me in a rousing line dance.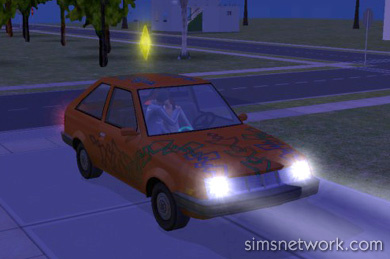 Making out in my sweet ride.
Okay, day two: me and mom hit the bowling alley together. You'd think a night at the lanes with mom would be a terrible way to meet people, but one cool thing about Nightlife is that "the magic" can happen anywhere. If you click on your own Sim and select "Scope the Room," you'll check out the whole place. Sims that get your motor running will shimmer and they'll appear in a thought bubble over your head. I immediately took to this chick named Onya: being that my Sim had the "Pleasure seeker" aspiration, my wants immediately rolled over and turned into things like "Talk to Onya" and "ask Onya out." Hedonism is good.
Turns out that vampires don't like to bowl, or if they do, they must only come during league night. So after another night on the town I was back to the drawing board, with nothing to show for it but the phone numbers of several hotties. I put these to good use: Nightlife now has a "Group" feature, so it's easy to kick off a party with a bunch of friends. Clicking on the telephone will allow you to "Manage Groups," so you can stick a bunch of your friends in a group. Then you can invite the whole group simultaneously either over to your house or out on the town.
You can either host a formal group outing -- which will be scored, like a date, and may give you rewards -- or you can go out "just for fun," which is a way of getting a bunch of people together with no strings attached. I didn't want to be tied down in case I met up with my vamp, so I called up a bunch of girls (including the local college cheerleader) out just for fun to "Rodney's Hangout." Rodney's is a great little bar with a piano, a pool table, and a couple of poker tables. My group hit it off big time. There was dancing to the jukebox, beverages, and before I knew it I was playing cards.
When Sims sit down to play poker, they drop a load of $100 Simoleons on the table, winning or losing about $10 greenbacks a pop. Of course, my vampire-wannabe seemed more interested in playing with his chips than actually playing cards. When I finally got up to leave I'd broken even.
You know what they say: unlucky in cards ... sure to be turned into a vampire. Well, maybe they don't say that, but they should.
The next day was a busy one for me. I had classes to go to and pancakes to eat. I decided to nap before the evening's festivities, and it was around 10 p.m. by the time I rolled out of bed and decided that tonight would be the night for my first date. Lillith Pleasant may not have been a vampire, but she was a redhead, which is HAWT. And good enough for my Sim. I initiated the date by calling her on the phone, and she accepted right away. (In college, two people starting a date at 11 p.m. is perfectly normal.)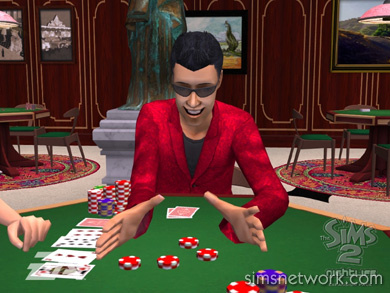 Mo' money! Mo' money!
My Sim was still wearing his pajamas (no shirt, just green fuzzy pants) when the taxi arrived. Surely, I thought, he wouldn't go out on a date in his pajamas ... but he did.
The venue was "Red's Famous 50's Diner," where (according to the lot description) you could "enjoy 1950's food at 2050's prices." Red's is open all night. Well, hell, all of the new downtown area is open all night, it's a lot like New York that way. The diner was classic, with a checkered floor, a dine-in counter, little booths with leather seats. And I had that whole shirtless bad-boy thing going on: this was gonna be great.
You can take a photo of your Sims together in a photo booth, either serious or all making silly faces. Afterwards, you can hang the photos on your wall. This is a great thing to do on dates, but not this particular date, since as it turns out Lillith was terrified of photo booths.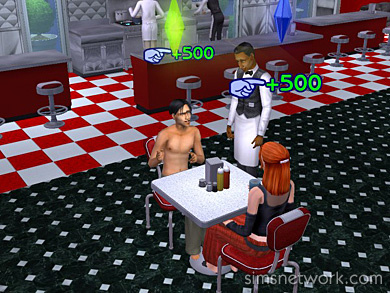 This date is going well, and best of all, I don't have to worry about getting food on my shirt.
In Sims 2: Nightlife, restaurant areas have a little host Sim -- click on him and he'll get you seated. Then little waiter Sims come to take your orders and wait on you hand and foot. I chatted with my waiter as much as my date (according to the manual, it's possible to get free food this way.) As for the date itself, how it's going is represented by a little meter in the corner of the screen. You can see it climb or fall like a thermometer as you do stuff that interests you and your partner. With each level that the date meter climbs, you get "extended time," which meant that we could've been there all night. At least, we would have been, but I forgot to order our food, since I was too busy trying to tell my date dirty jokes.
So the date ended in mediocrity, but not disaster. Afterwards, Lillith stuck around and we played pool. And made out. When Sims start to get the hots for each other, little hearts fly up every time they think of one another. Meanwhile, a whole crowd of people was grooving to the jukebox, which was playing some sort of Sim oldies channel (come to think of it, "Sha na na" probably means something in Simlish.) In the hours before dawn, my Sim started to reek and was nearly passing out from exhaustion. I decided to settle my bill and call a cab.
Then I saw him, coming down the sidewalk. THE COUNT. He wore a long black shiny cape, a black vest, and a medallion. This was my man! But I couldn't talk to him -- I was about to collapse onto the sidewalk from exhaustion. As my Sim got into the cab I watched the Count in action. He stalked along the sidewalk, holding his cloak dramatically before his face...
But the Sims all seemed pretty cool with the vampire in their midst. They were all smiling and pointing two fingers at him, saying things like "Howa!" or "Oba-day!" For his part, the Count lowered his cloak, lifted a pasty undead hand. .. and gave them a friendly wave. Then he went to play some pinball. I'm not joking.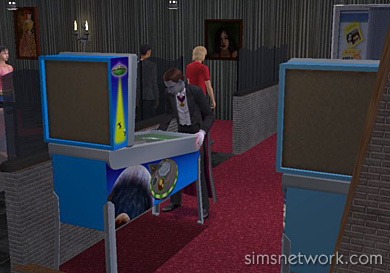 'Bla! BLA! This game sucks ... more than me!'
So that's Nightlife in a nutshell. Nightlife! I didn't want a Nightlife. I wanted a NightUndeath! But I suppose all good things will come in time. Sims: Nightlife ships later this month, and should hit store shelves around September 15th. Stick around for a full review!