The Grim Reaper
Thursday, July 27, 2000 - 23:10
This week, Death himself comes to The Sims Livin' Large. Check it out!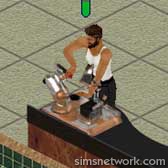 Zed is a real do-it-yourself kind of guy. If it's broken, he fixes it.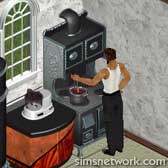 When he's hungry, he cooks. Pizza? Nah, too expensive. This antique gas stove ain't so hard to figure out.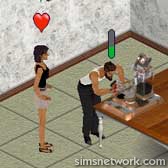 It drives his wife Anna crazy. But she loves him all the same.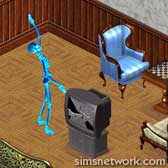 Unfortunately, Zed is not particularly good at repairing OR cooking. It's only a matter of time before disaster strikes.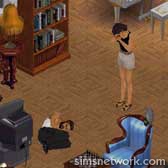 Yes, Zed's dead, baby. Zed's dead.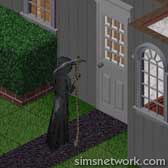 Sure enough, here comes the Grim Reaper himself to collect poor Zed.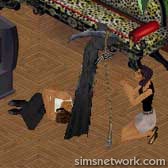 Anna pleads desperately with Death. Bring Zed back! Please! He's an idiot, but he's MY idiot!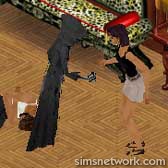 The Reaper, as we all know, does not give up his prize easily. Anna must defeat him at the ancient game of souls.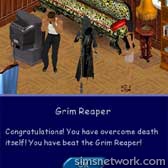 Yes! Anna wins! Death was foolish to choose Scissors. Good ol' Rock. Nothing beats Rock. Hope you learned your lesson, Zed my friend.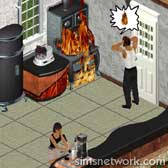 No! Zed has once again tried to put out a grease fire with water! Will he never learn?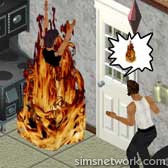 Zed extinguishes the blaze, but not before losing dear Anna.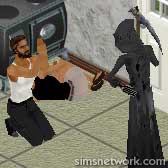 The Grim Reaper returns. Choose well, Zed. You don't want to lose when you're playing games with Death.