The Sims are on Facebook
Monday, September 12, 2011 - 12:21
For some time the Sims are also active in the social network Facebook. EA and online games developer Playfish are working together and launched The Sims Social beginning in August 2011.
At SNW, we have already given some attention, we even created a forum for The Sims Social.
But what is The Sims Social?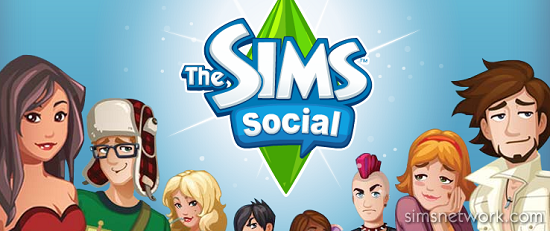 The Sims Social
Anyone who is even slightly Sims fanatic, wants also to learn about The Sims Social. In the past, EA has tried to offer their blockbuster online, but it wasn't a real success.
Using Facebook, with the help of Playfish, they try it again in the online gaming world. To play to The Sims Social , you obviously need a Facebook account.
Your own Sim
You start the game with creating your Sim. Just like in The Sims (PC) you can change the looks, the clothing and the name of your Sim. You can even alter his/hers character properties.
Keeping your Sims needs . The basic needs are Hunger, Hygiene, Sleep en Bladder. It's important to keep your Social and Fun level in the green.
Social
The basis of The Sims Social aims in the social field. The name already says so of course, allowing you to classify the game under the social friend games, that Facebook already knows. Of course you can play solo, but if you want to move forward, you do need your Facebook friends.


Like other social networking games you can visit with your friends, walk around their home and communicate with their Sims, as in The Sims (1, 2 or 3).
In various ways you can interact with your friends, eventually you are loved ... or rivals. The latter is something I have not tried, at first I have to find a willing victim for this


All social interactions can give you all sorts of bonuses, which you can use in all kinds of drinks, tools and more.
Skills and Challenges
Besides the social part, it is also possible for your Sim to rise in level. You do this by building up Experience. For almost every action you get some points for this.
Increase faster is done by completing challenges. These can vary considerably ... of the designing of your home to flirting one of your friends.
Skills are also available. To name a few: cooking, music, artistic, writing. Again you earn, besides a skill, and Simoleons Experience.
Building and Buying
If you start with The Sims Social, you have a standard house. Room, bathroom with toilet, bed, kitchen, refrigerator, table, chair and computer. Unlike the PC Sims is not possible to build your own house, but throughout the game it will be possible to add rooms.
The interior is also to adapt, of course there is a real shop. You can pay with Simoleons, Simcash or Social points. Some items you will need the help of your friends, otherwise you can not make them.
The Sims Social Community
TSS on Facebook has its own page, where they regularly give additions to the shop or drop game tips.
The game is already a hit on Facebook, demonstrated by the number of fans of The Sims Social on Facebook. According to their count for more than 40 million people playing their online game.