Producer Blogs: Academics: A guide to making the grade
Tuesday, January 29, 2013 - 22:00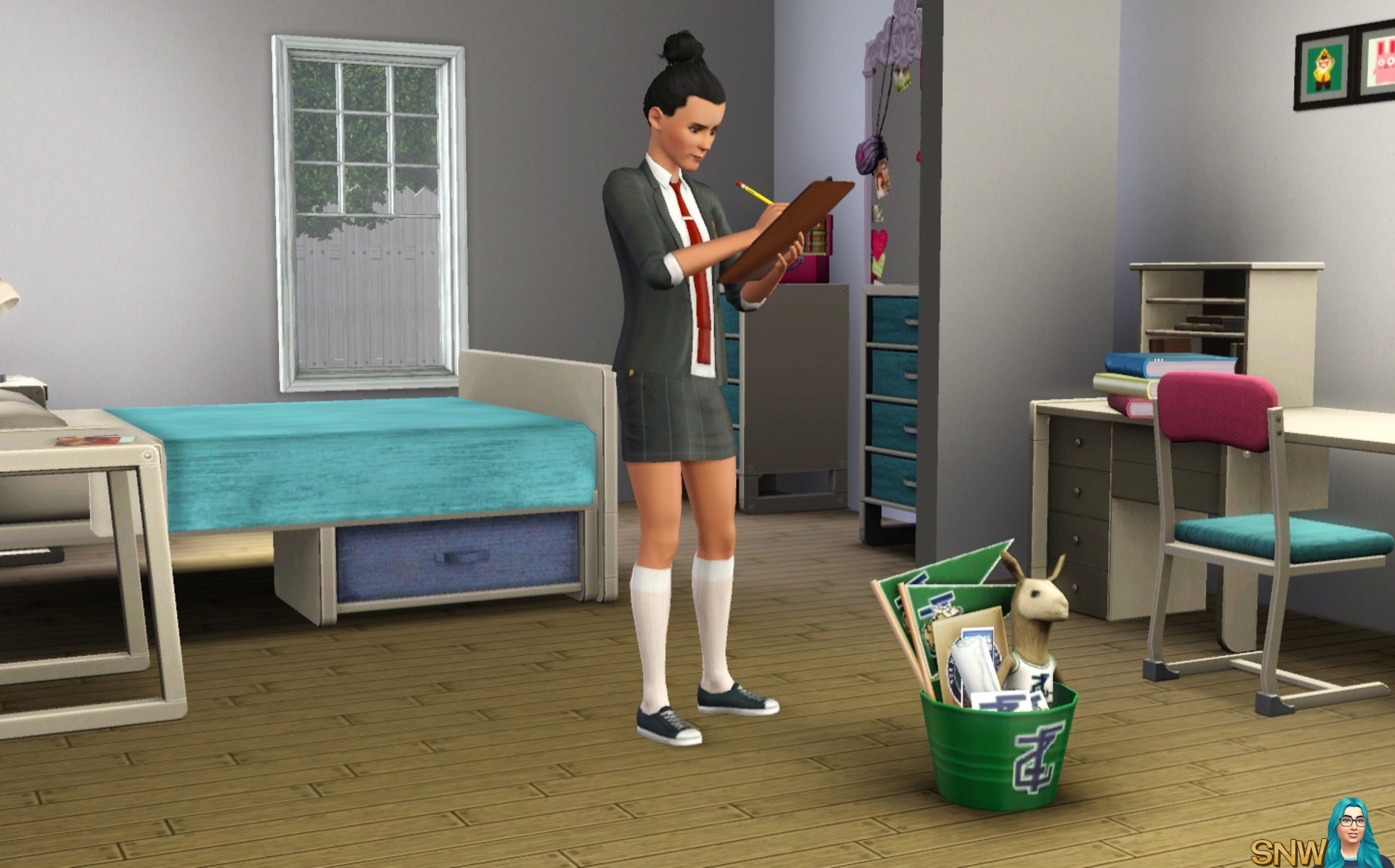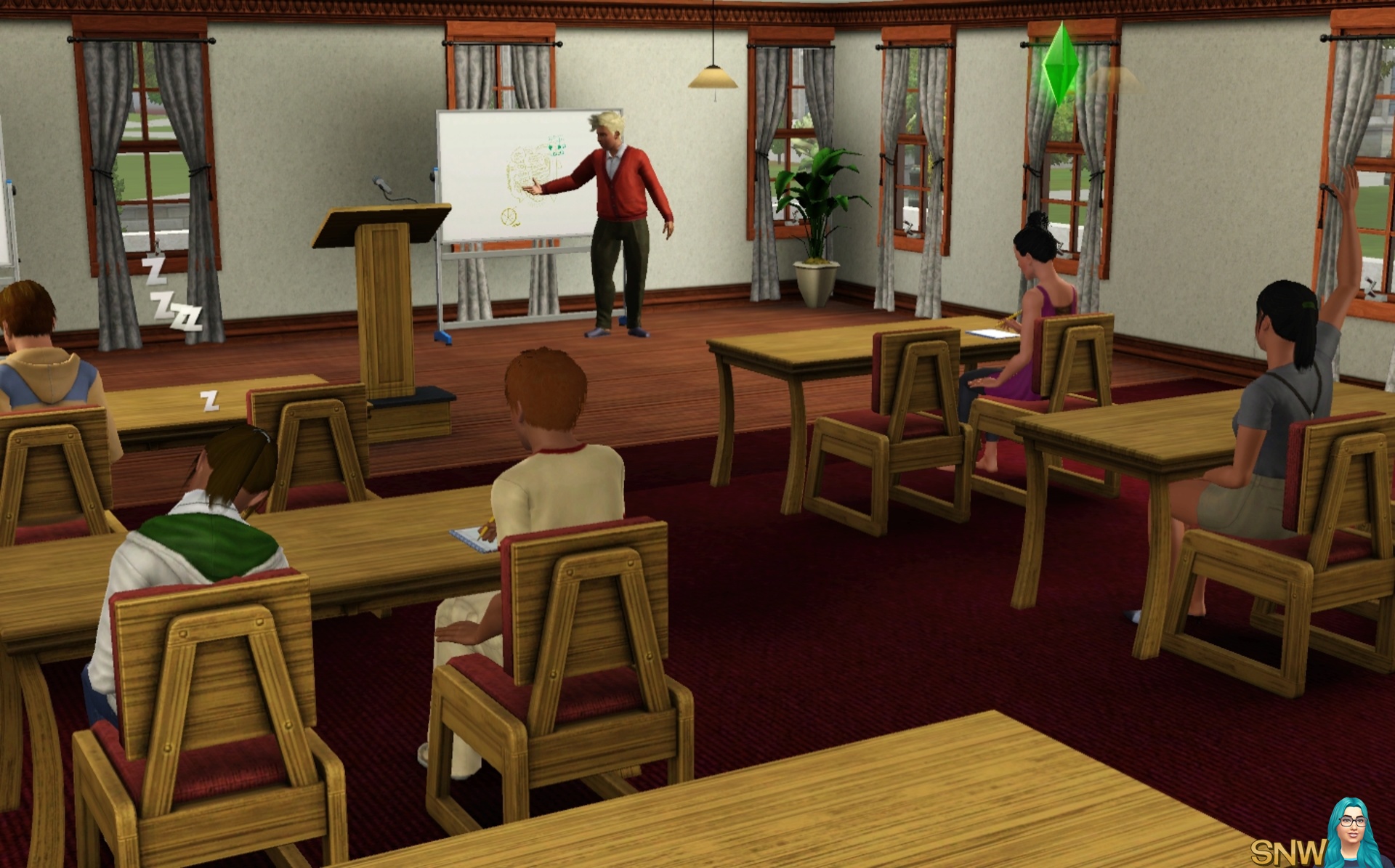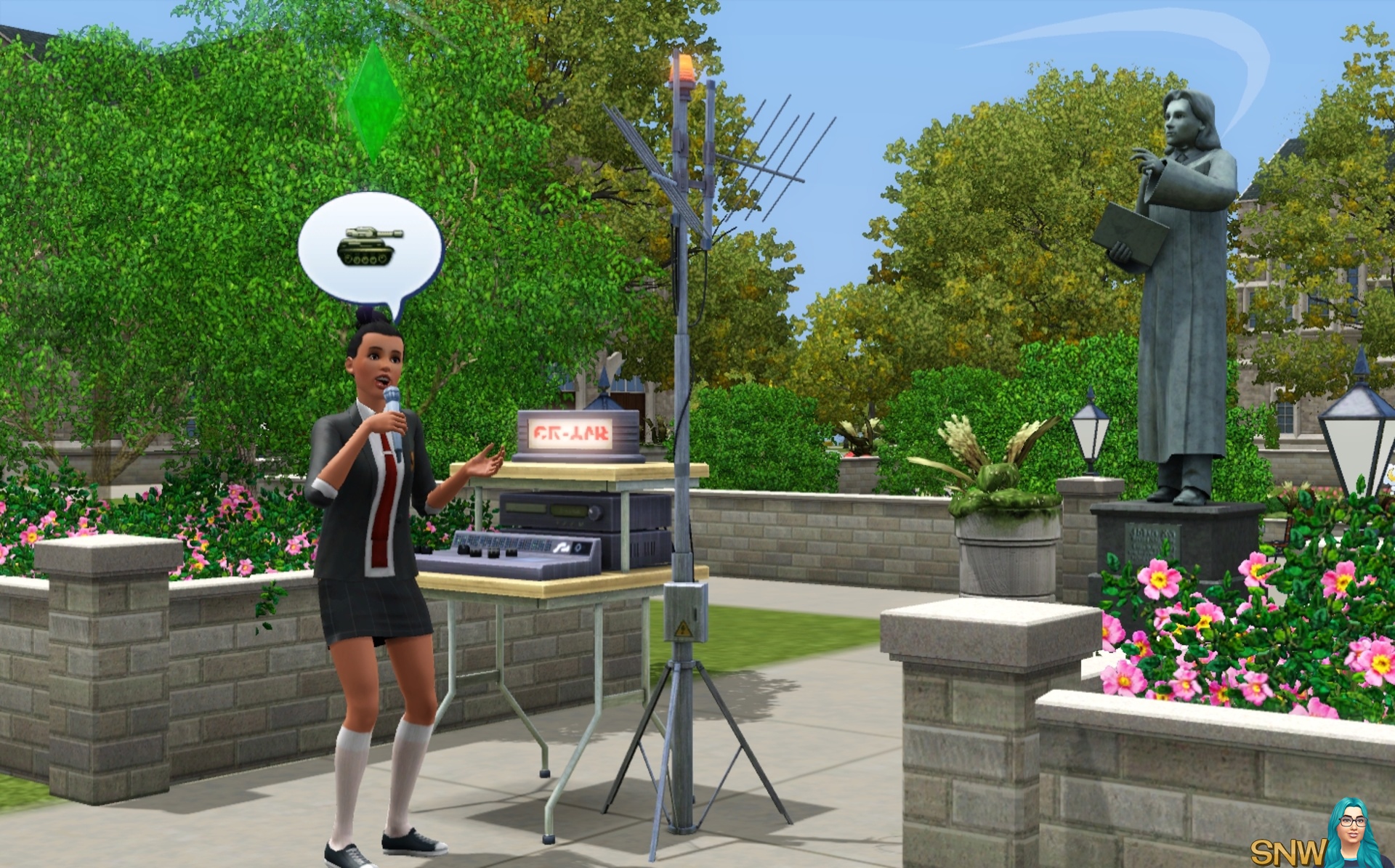 The Sims 3 University Life is full of new options for hanging out and making friends. However, in between all of the parties, socializing, and fun activities, your Sim might want to attend a class or two. Whether your Sim is an A student, or only attends class to nap, I'm going to tell you all about how to get the best academic experience for your Sim in The Sims 3 University Life.
Preparation for university can start before your Sim ever leaves home. Before enrolling in university, your Sim can take an aptitude test. Your Sim's traits, skills, work experience, and even high school grades will affect their test score. Scoring well on the aptitude test can result in credits toward a degree and scholarships to help pay tuition costs!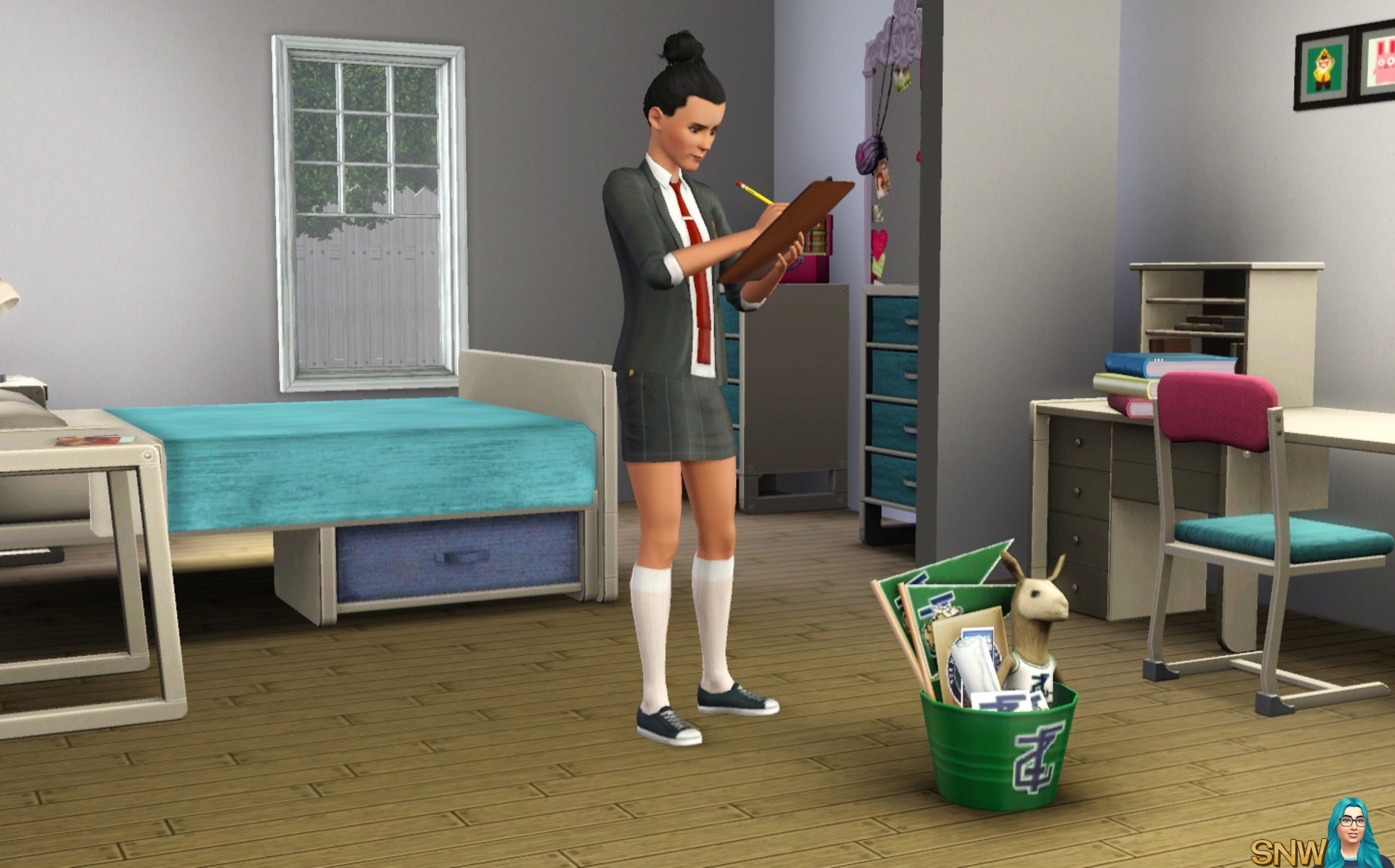 Once your Sims says goodbye to hometown family and friends and gets settled into their new living environment at university, they may be finding themselves asking, "Now what?" Well, now it's time to take them to class, of course! Classes start Monday morning, and the university creates a schedule for every Sim based on the class load selected during enrollment. Use the academic panel in the UI to check your Sims' class schedules and keep an eye on their academic progress during the term. There are tons of ways to affect academic performance, and performance is what will dictate your Sim's final grades at the end of the term. So how do studious Sims finish the term with flying colors? Let me tell you a few ways…
Mondays and Wednesdays are devoted to seminar-style classes. These classes are held in one of the academic rabbit-hole buildings on campus, and can vary from Introduction to Dodging Questions to Methods and Practice of Tragic Clowns. While in seminar classes, you can choose from a variety of tones to set behavior of your Sims; tones will affect the amount of academic benefit your Sim gains from a class. Is your Sim feeling ahead of the curve? They can take it easy and chat with friends. Or maybe your Sim needs to suck up to the professor for a little extra academic boost since they forgot to study. Truly sneaky Sims can always ask another poor sucker (I mean Sim) to attend class for them; all the benefits of actually working hard in class but without the pesky use of your Sim's valuable time! Be careful though, professors don't look kindly on getting someone else to do your work. If caught, there are consequences…

Tuesdays and Thursdays your Sim will get out of the classroom for a more interactive academic experience. Grab your Sim an organic brew or energy drink from Roasted Toasted Beans Coffee Shop and head over to the Student Union for a lecture! This is a chance for your Sim to interact with the professor as they impart vital knowledge to eager minds. Ask questions, take notes, and soak up some academic goodness as the professor illustrates theories on the whiteboard! (Or sleep in your chair to make up for the wild party the night before). For Sims who want hands-on learning in a group environment, class activities give your Sim the chance to use academic objects to gain practical knowledge related to their major. Gather with your classmates around campus and break out everything from sketchbooks to skeletons to expand your Sim's mind!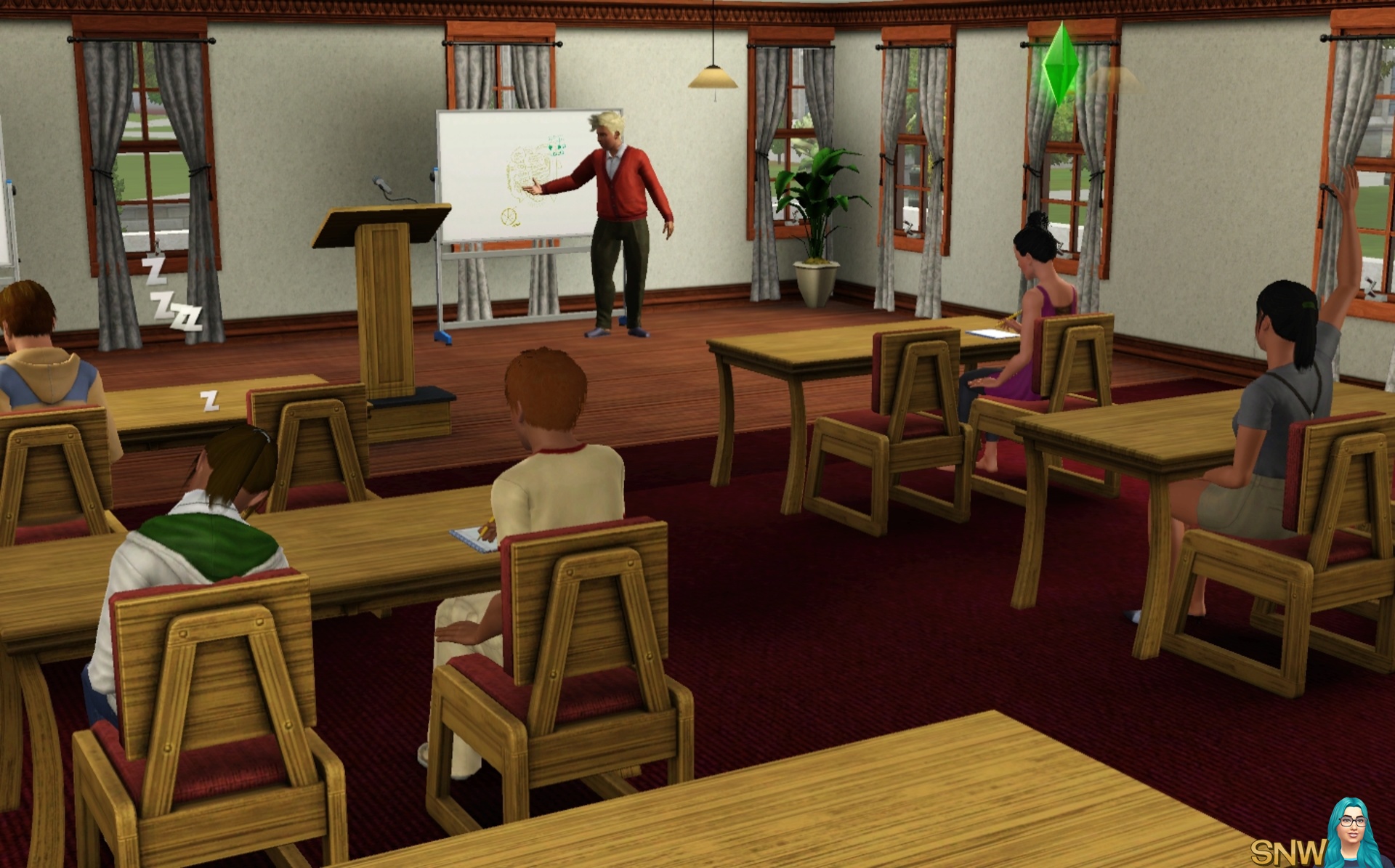 Sketchbooks and Skeletons?! Really? Yep! Each Sim is granted an object specific to their major when they enroll. These objects are great for class activities or a bit of extra studying on the side. For example, Communications majors can take their Frequency Fun Mobile Radio Station to the Quad to conduct interviews with other Sims and report on campus events, all while improving their academic performance! In fact, your Sim can learn so much from actions outside of class that skipping a class or two may be okay. (I'm sure your Sim has a good reason for skipping after all)… However, if it is getting close to exam time and you find that your Sim is in need of an academic boost to prepare for the test, don't forget to study! Sims can study from textbooks, computers, and even their smart phones. While studying can certainly help, more deviously-minded Sims may want to just take the easy route and create a cheat sheet for the exam. Be careful not to get caught though!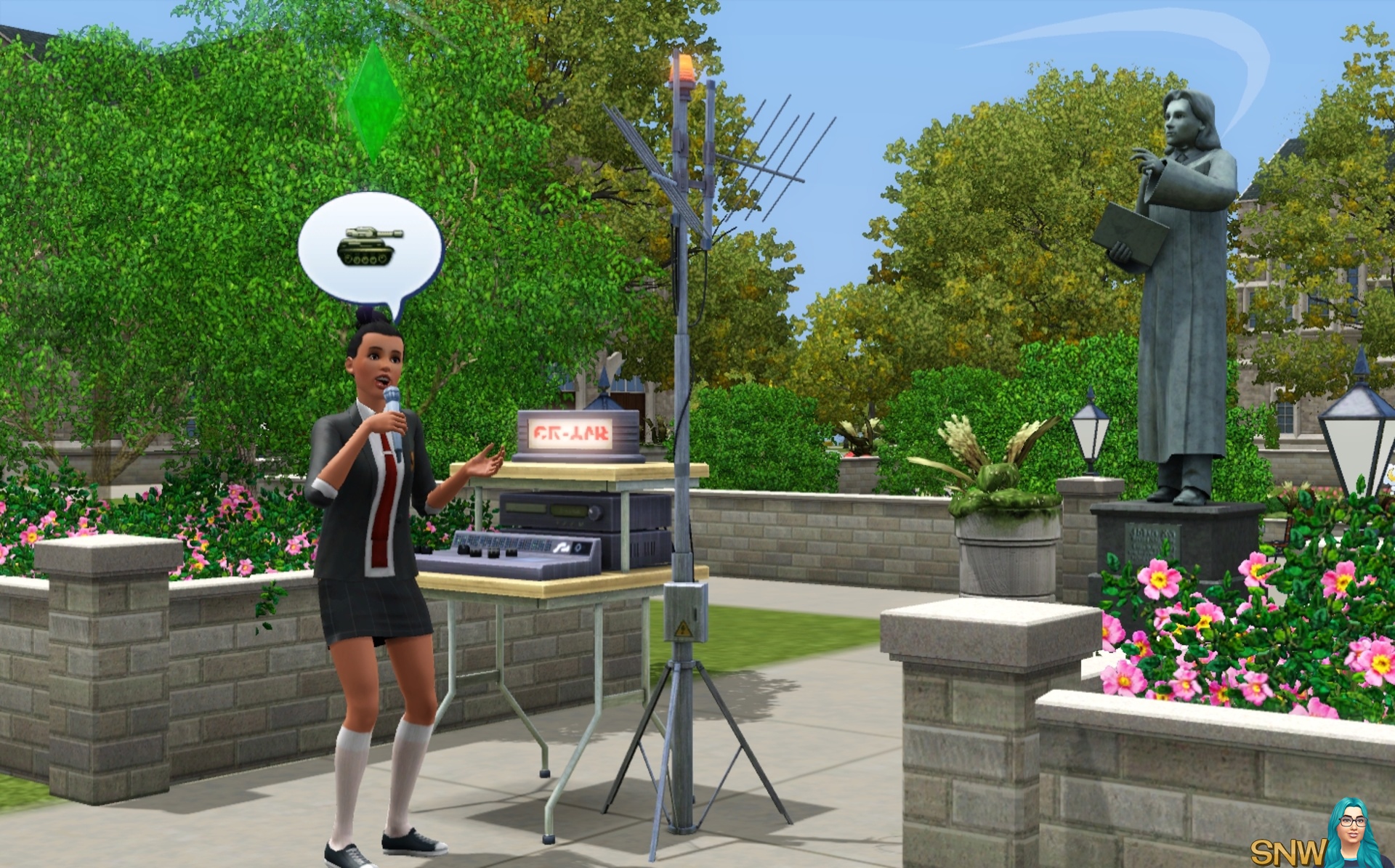 Exams are held on Fridays and the final exam is when all of your Sim's hard work throughout the term will pay off. Make sure your Sim is in a good mood for their exams and is well prepared – failing an exam can have major impact on your final grade.
Why should your Sim care about their grades? Let's say your Sim has gone to university for a few terms and has earned enough credits to graduate – congratulations! Graduating has several benefits – the first of which is an extra trait slot for your Sim! Add a sixth trait to your Sim to reflect all the personal growth they have undergone during their time in university. Graduating and earning a degree from university will also provide career benefits to your Sim. For example, Sims with a degree in Technology will find better career opportunities in Law Enforcement and Military careers, start at a higher level, earn more pay, and gain an increase in bonus and promotion opportunities! Your Sim's grades will directly affect the career benefits they receive; Sims who graduate with higher grades instantly get more bonuses.

In The Sims 3 University Life, Sims have access to tons of ways to learn and grow. Spend some time enjoying classes, objects, skills, lectures, class activities, studying and even cheating! Just don't forget to take a break from all that academic enrichment to hang out with friends and let loose. After all, the reward is in the journey! Happy Simming!

Brittany Henry, Associate Producer, The Sims 3 University Life