Producer Blogs: Future Living - Part 2
Thursday, October 17, 2013 - 20:36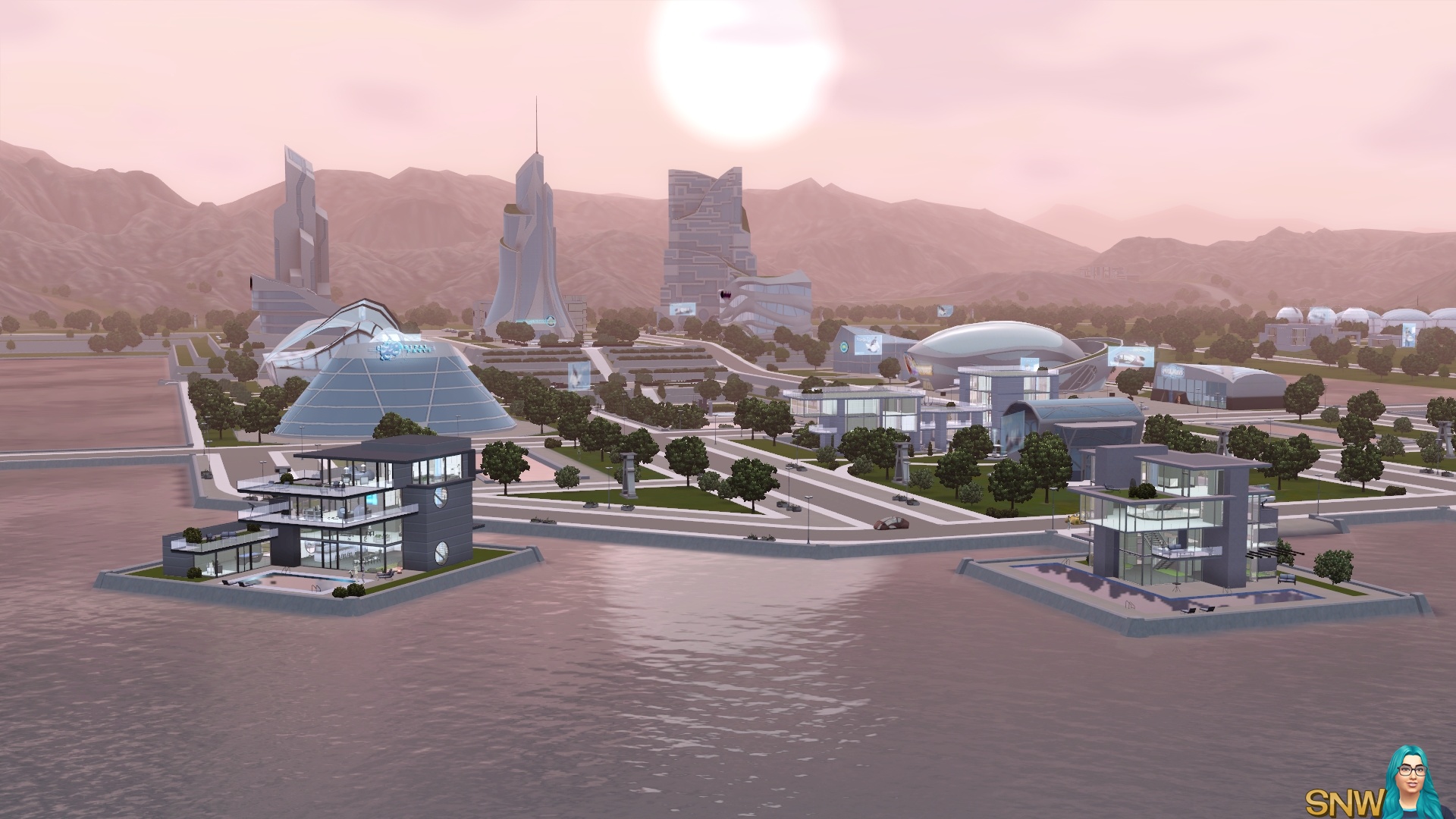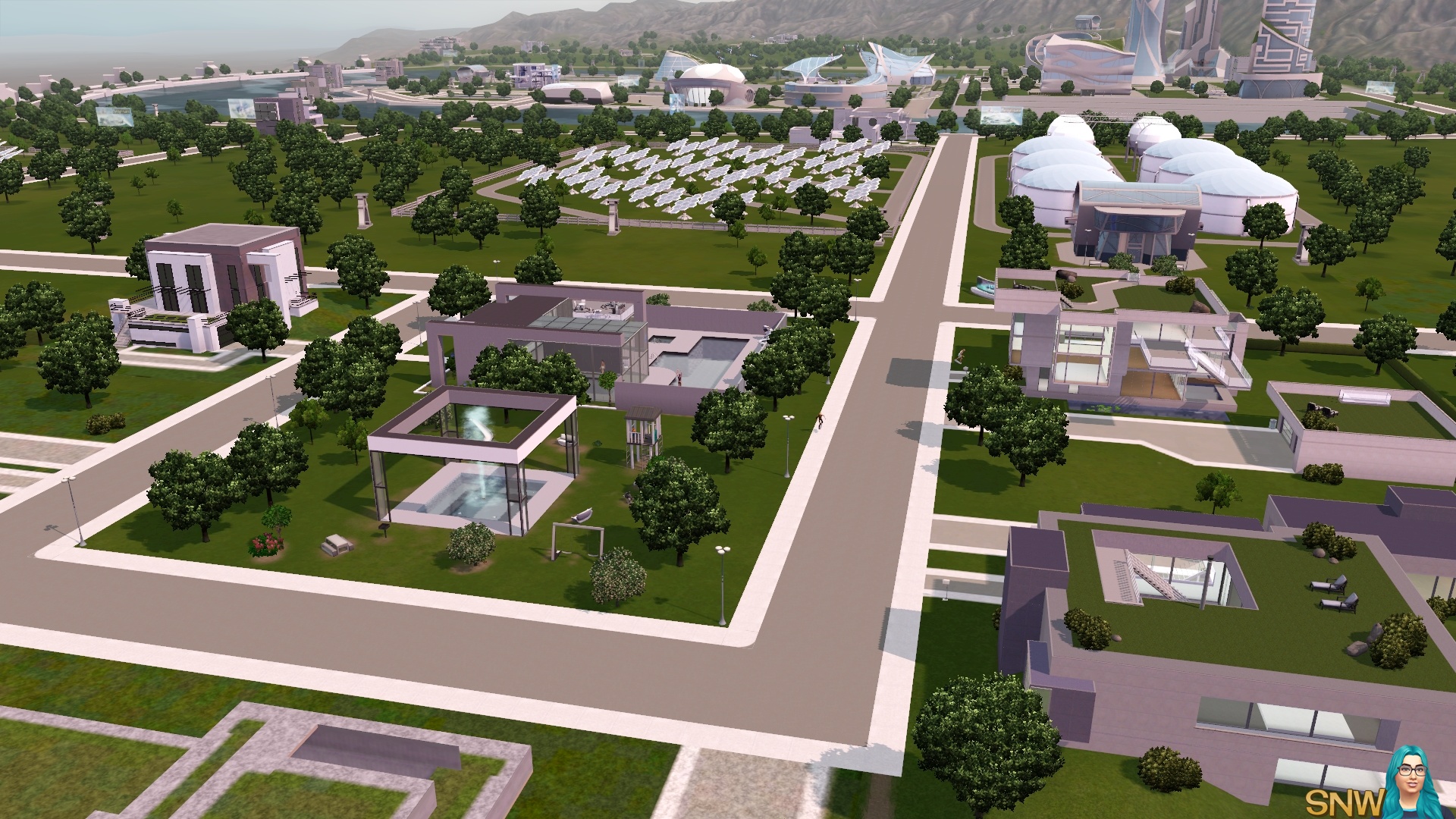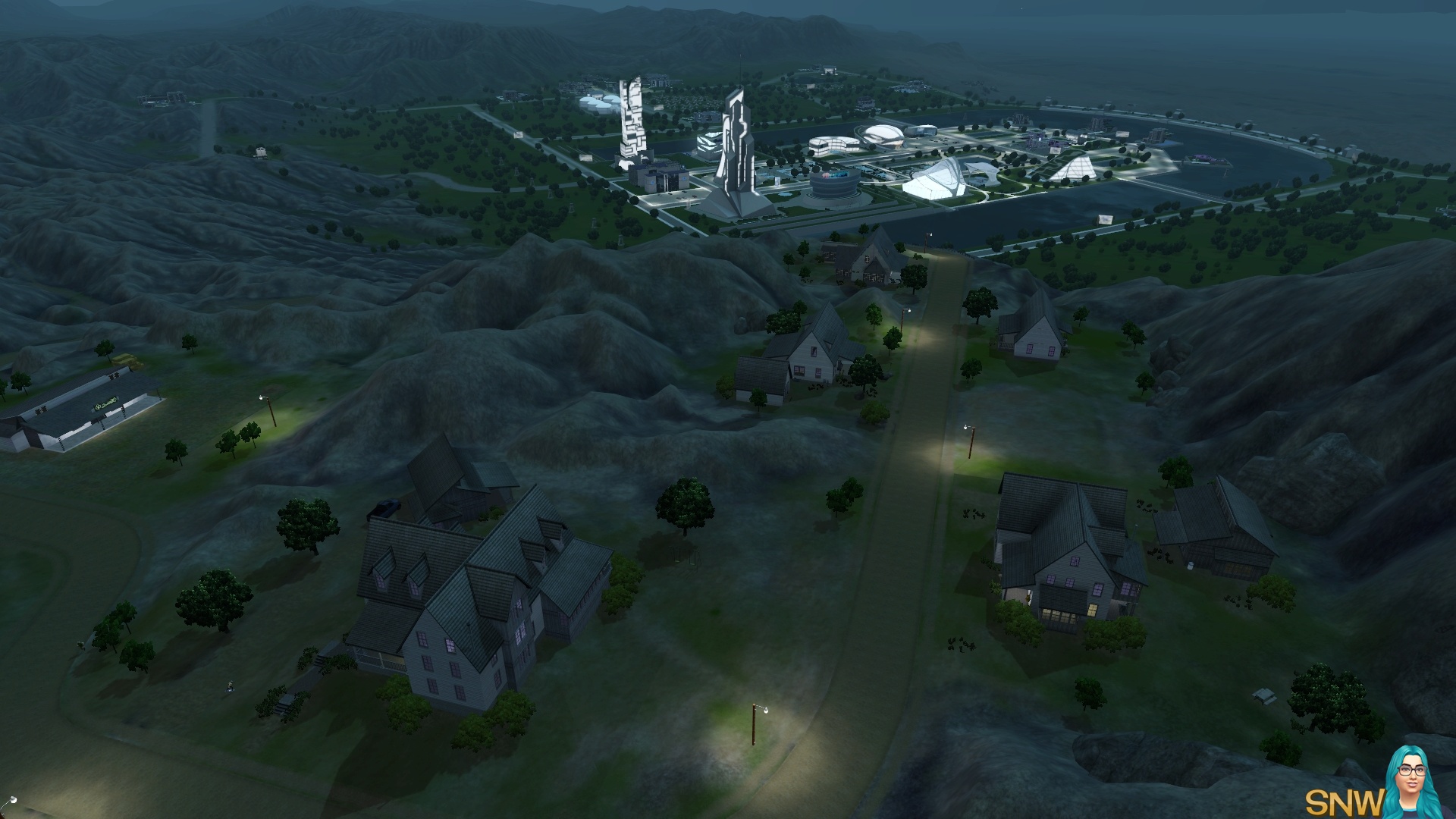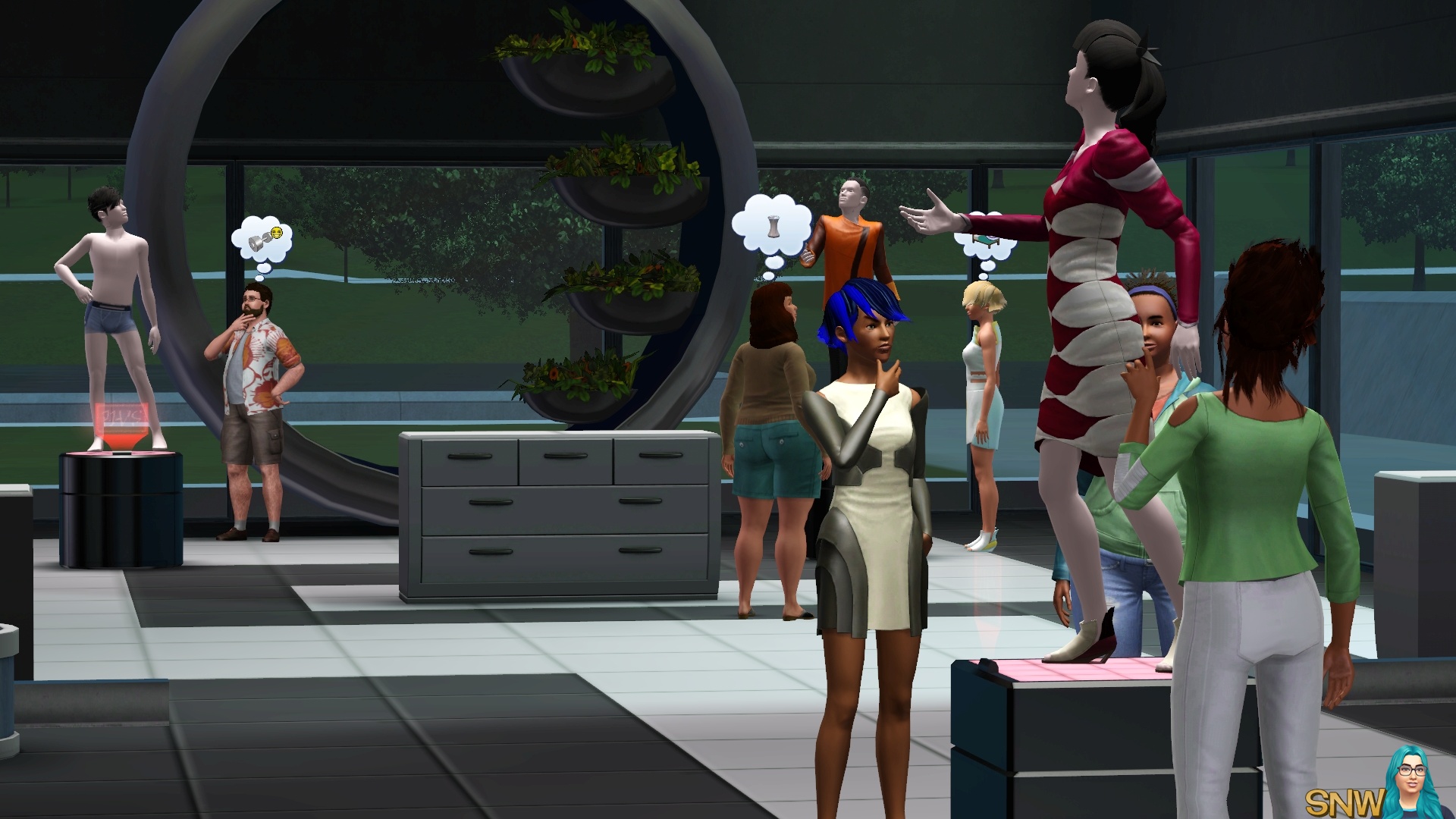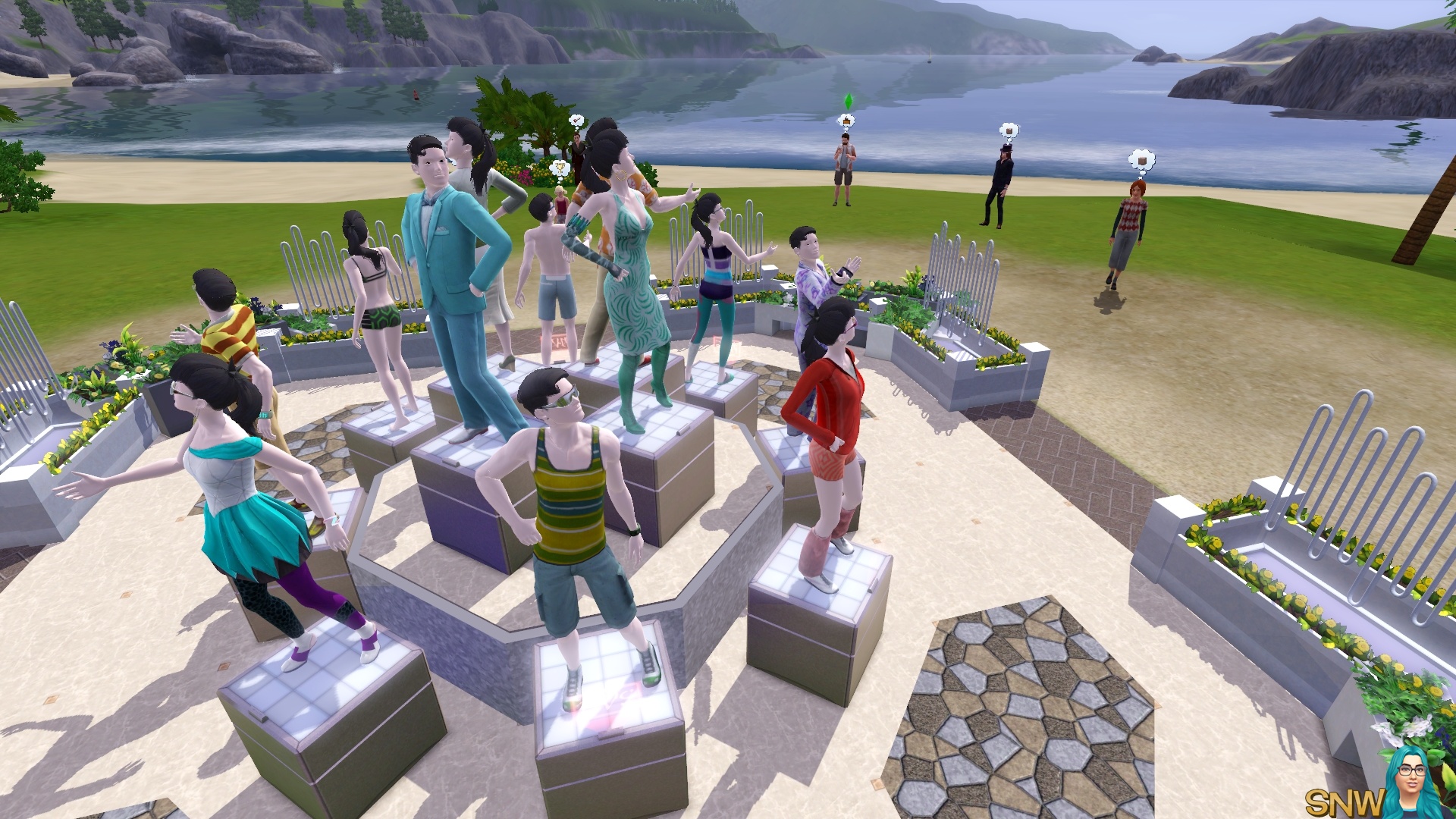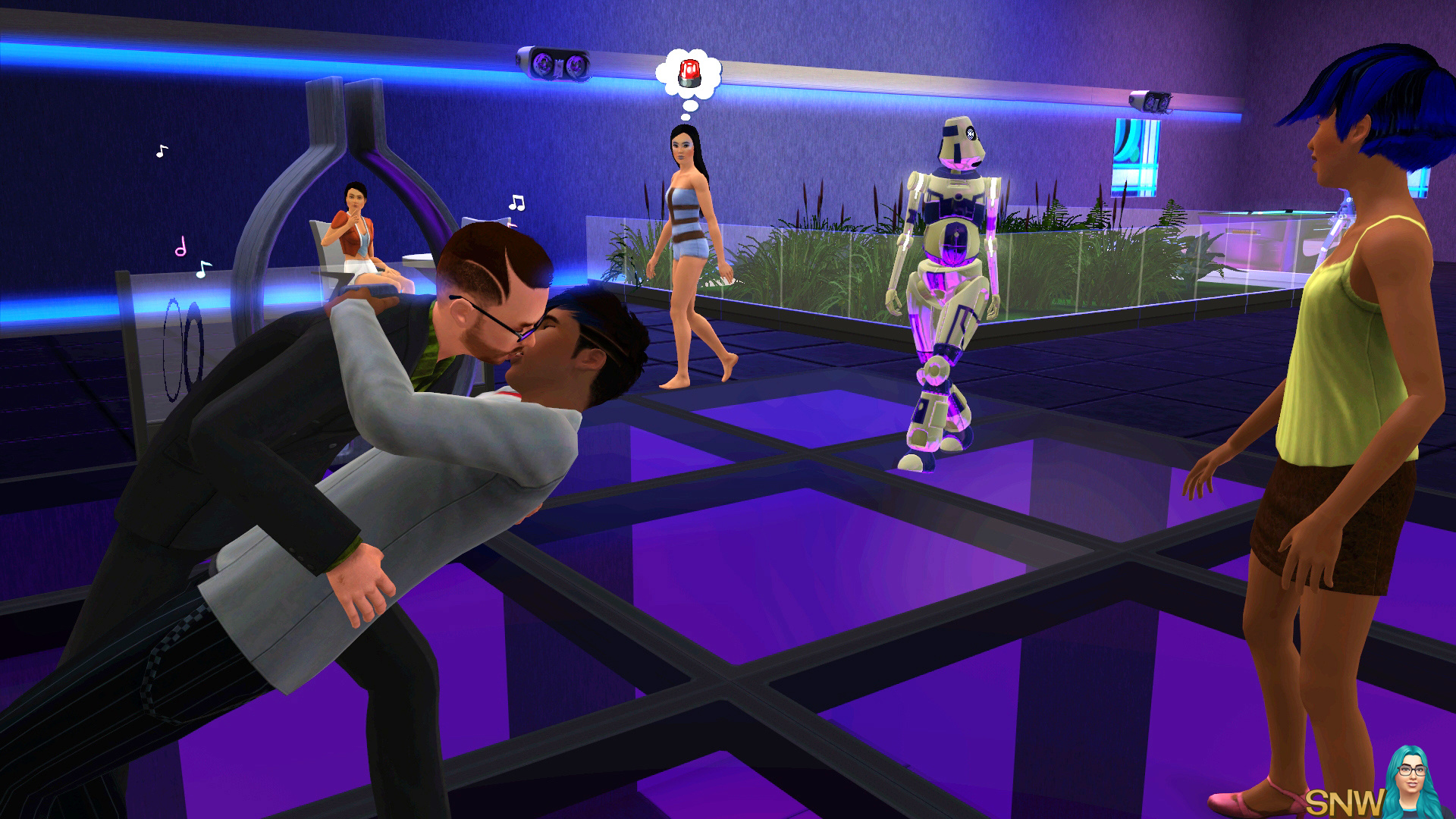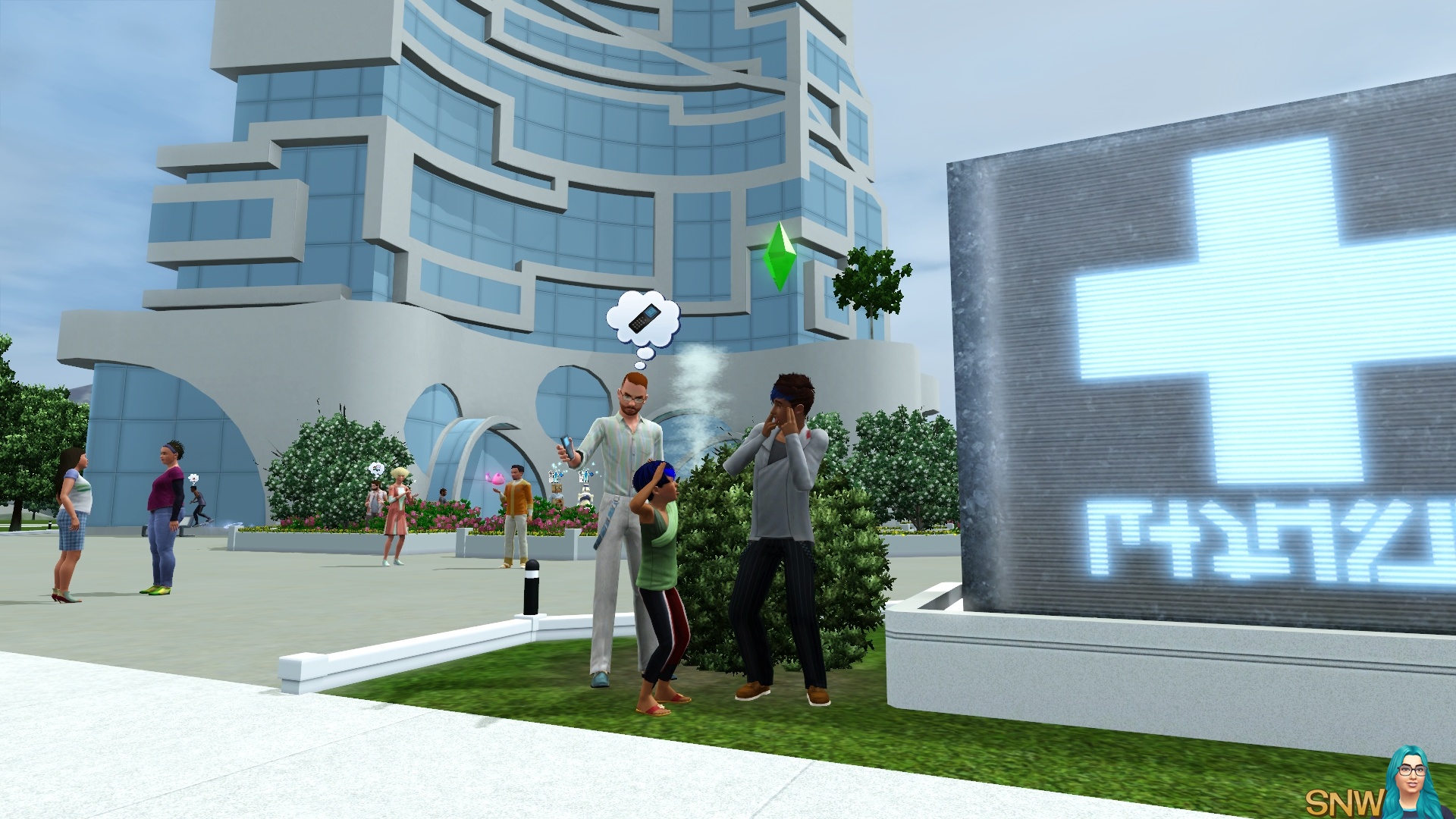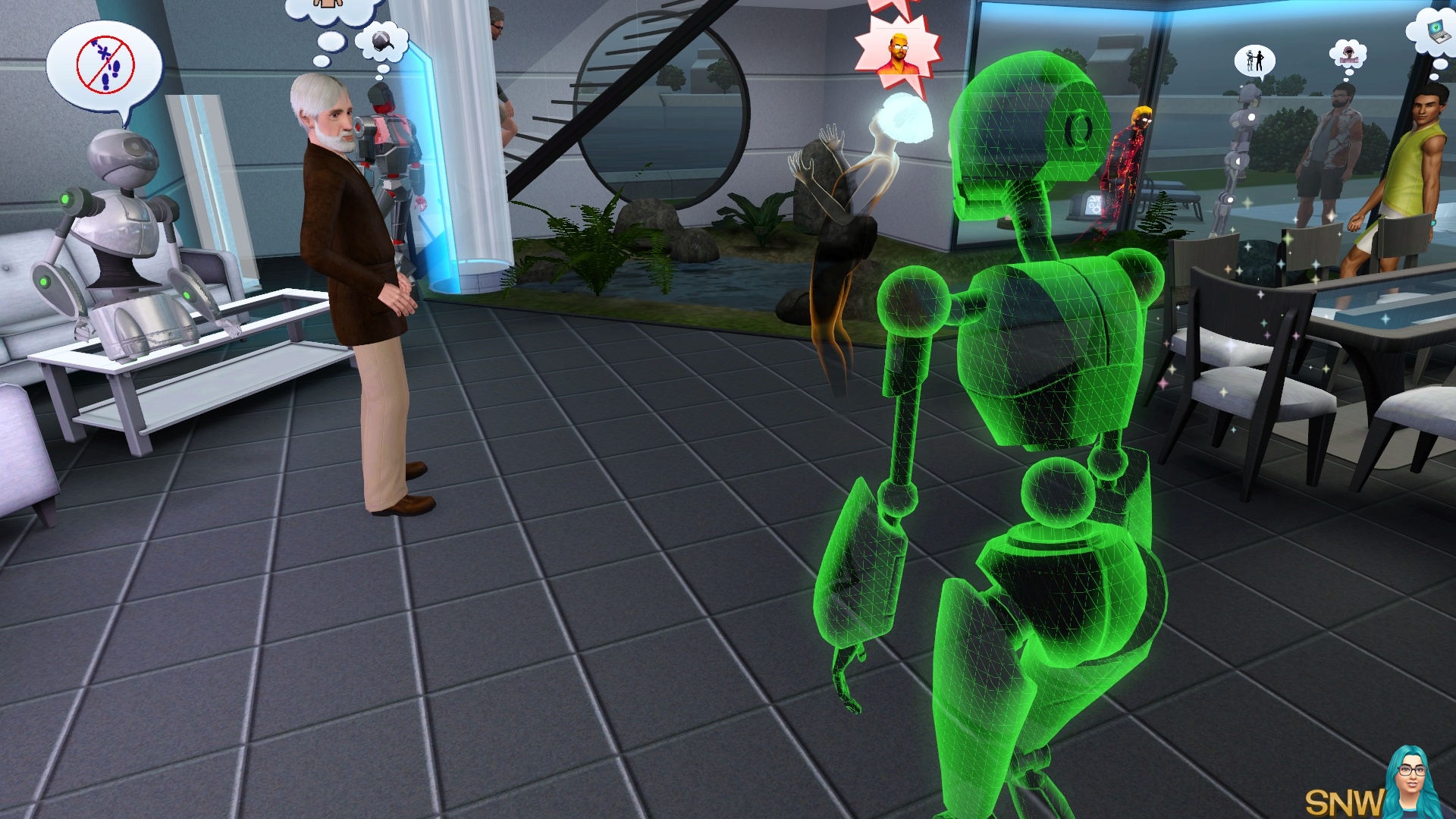 Future Homes and Neighborhoods

Now that your Sim has a steady income, or maybe been a little lucky and won big with the lottery , they should consider making a permanent stake in Oasis Landing by buying a future home. There are a few different locations in town to live each with their own personality.

If a fast paced life is what you're seeking, purchase a home in the Downtown District. Resting in the reservoir, surrounded by water, this is prime real estate for residents of Oasis Landing. Just outside your door is a ZEPHYR station which you can take to any corner of town, or hop in a Taxi to take a trip to the nearby Import Gallery, Sam's Synth'd Staples outdoor cafeteria or visit the HoloVenture Theater and catch a futuristic holo show with your friends.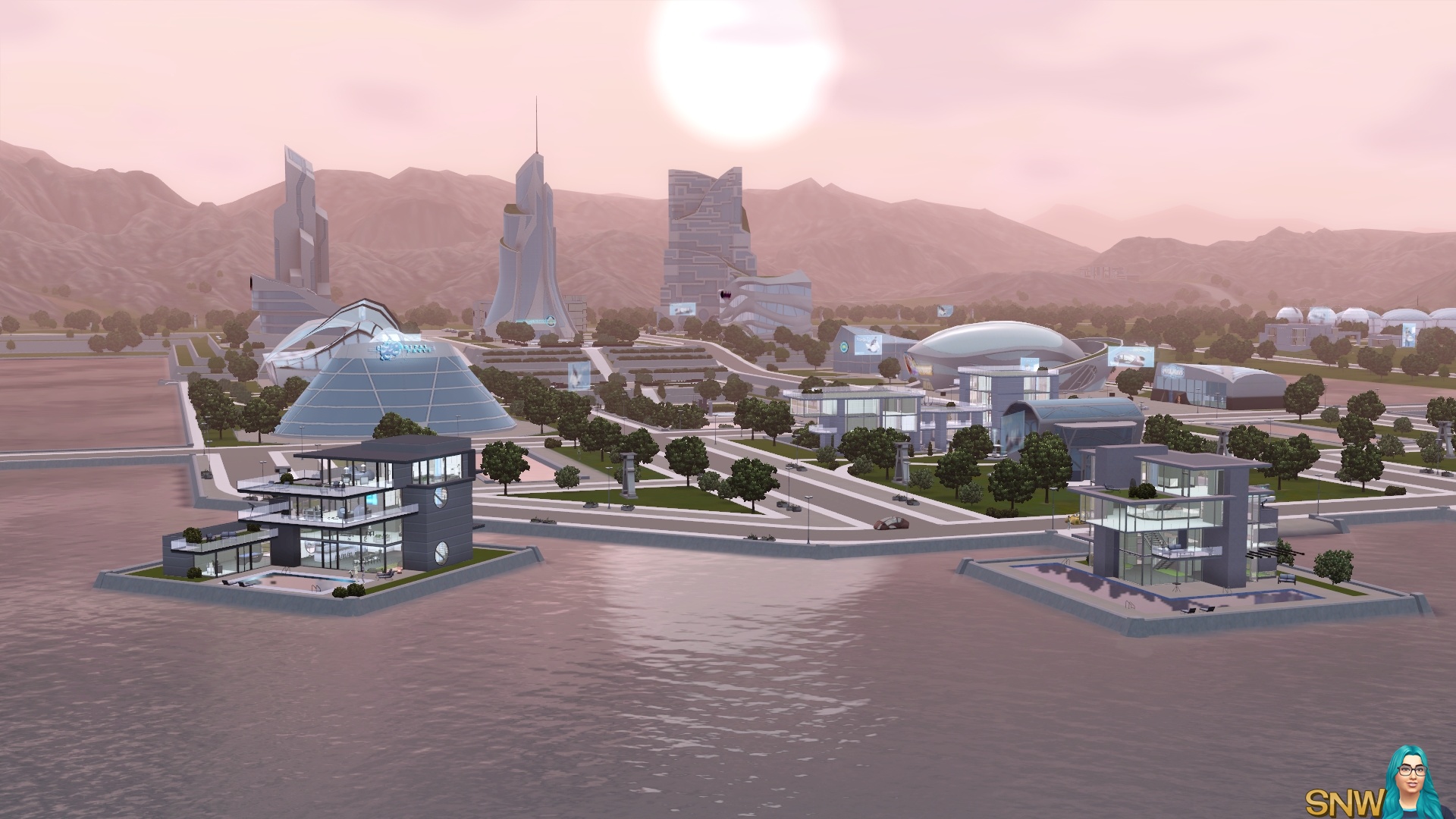 If the frenetic life of downtown is overwhelming, consider the basic Residential District which is home to modernist future homes. All the conveniences of Advanced Technology are present but the homes are conveniently removed from the hustle and bustle of the Downtown District. The neighborhood is home to the Playful Public Pool, Water Werks Park and Loel's Lounge. A hop, skip and a jump away is the Derelict Beach, and while you can't swim on this lot as the water is now wasteland, you can certainly relax and soak in some sun and order a synthesized drink from the SAM-7 Drink Synthesizer Unit to quench your thirst while you gaze out over the dried up ocean.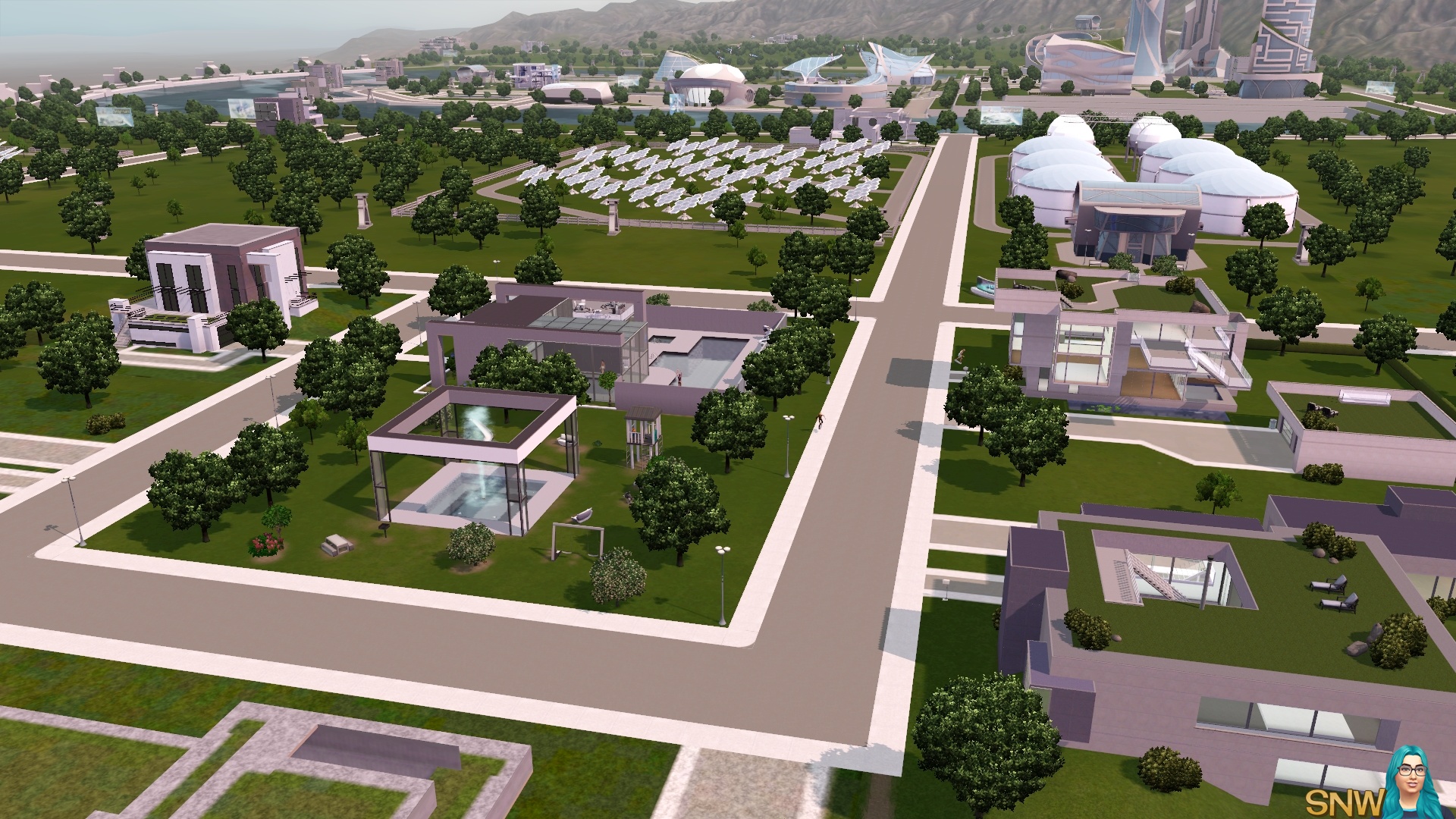 Live like its 1962 in the Mining District. A getaway high in the mountains, this neighborhood offers none of the conveniences of future living; instead residents choose to live a simpler lifestyle.  Take a break and fish near the Forgotten Fishing Hole and scenic waterfall or stop by The Mine bar and wet your whistle.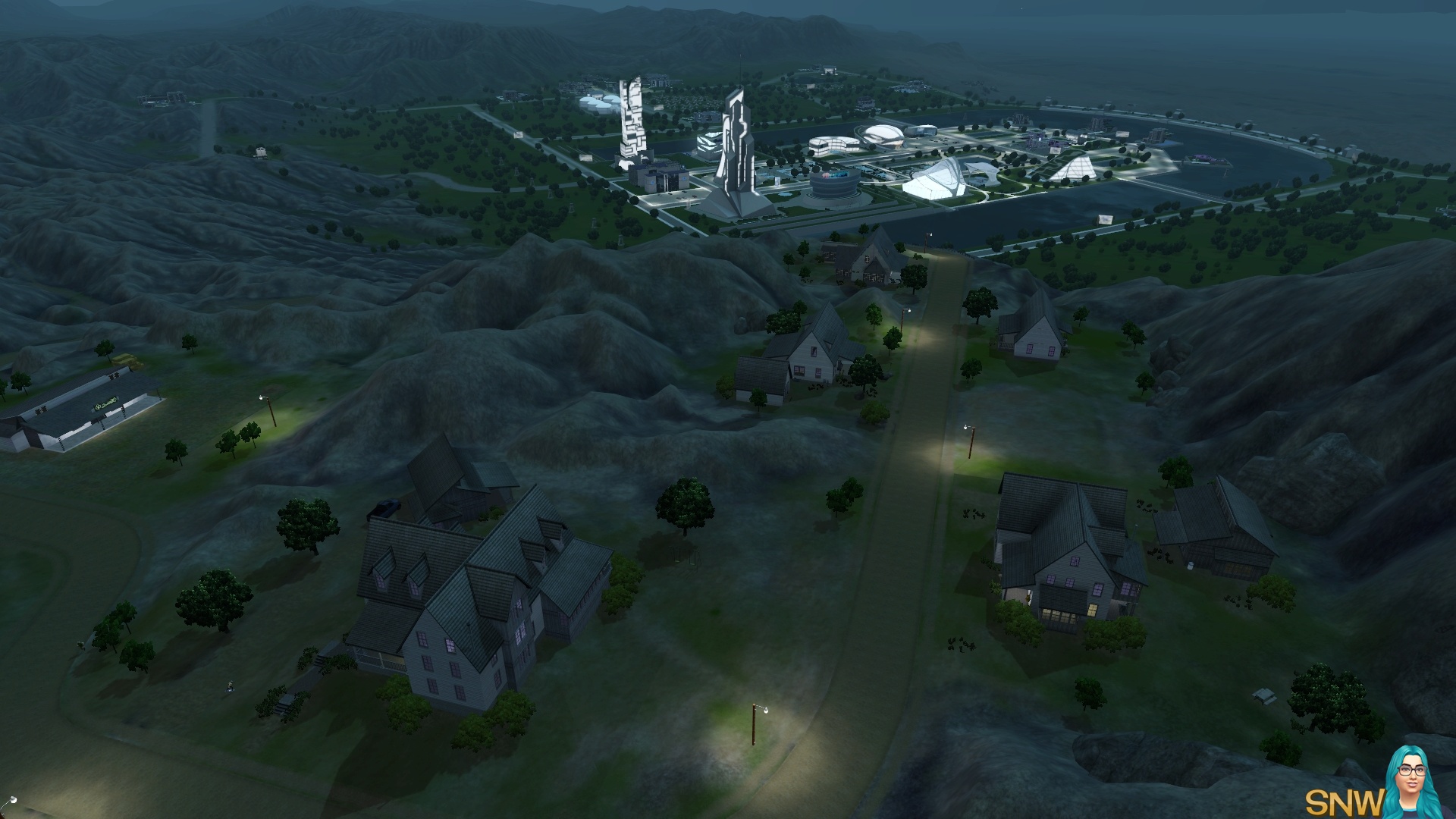 Future Fashion

Are you fond of being a real estate tycoon? With enough simoleons lining your pocket a Sim can purchase the EP-XI Import Gallery (and other lots in the world) where, using the Retail Display Pedestal, a player can fully influence what Sims in Oasis Landing will wear. To purchase this shop just pull out your cell phone, choose Real Estate and Travel Services and Check Real Estate, this will bring up a full listing of purchasable lots in Oasis Landing. Find EP-XI Import Gallery in this list and invest away! When your Sim is at the Import Gallery they will have new interactions with the Clothing Pedestals.  These Clothing Pedestals are by far my favorite feature I've ever designed for a Sims expansion. We as a design and production team have been trying to get mannequin displays into the game for a while, but it wasn't until Into the Future that we were able to find a way around the technical restrictions that these awesome objects presented.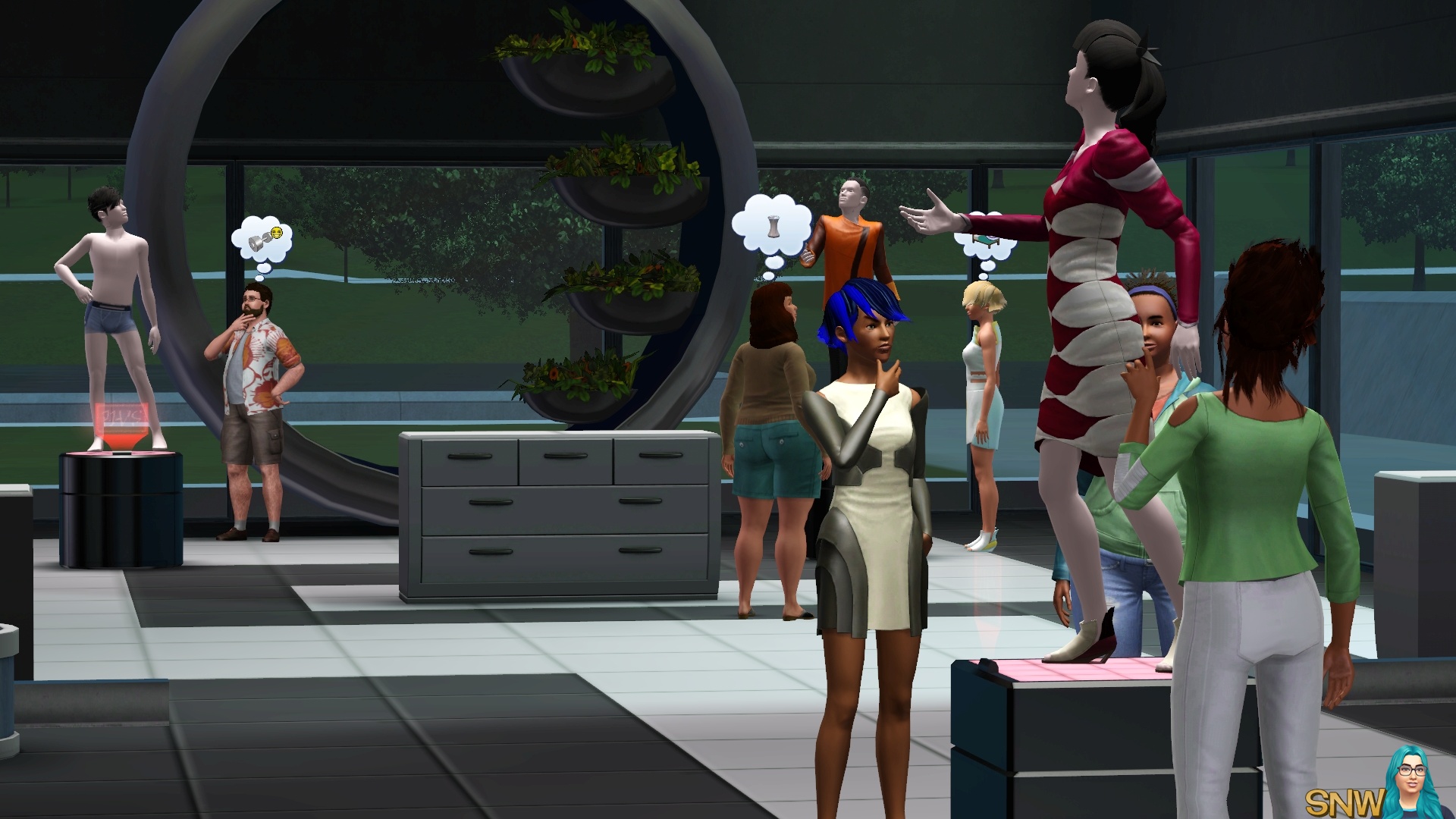 You can purchase the Retail Display Pedestals from Buy Mode and place them on your home lot, or just purchase the Import Gallery and get right to customizing. A Sim can plan outfits for each age and gender. Once you've chosen the age and gender you want to customize you'll go into a Create-A-Sim mode so you can outfit the mannequin in any attire. You'll have the ability to change all outfits from Everyday, Formal, Sleepwear, Athletic and Swimwear. If you have Seasons installed you'll also be able to customize the Outerwear category. If you'd like to create some variety within each category you can click the new outfit button and create up to 3 outfits per category, that's nearly 20 outfits that each age can have available to display on the Clothing Pedestals.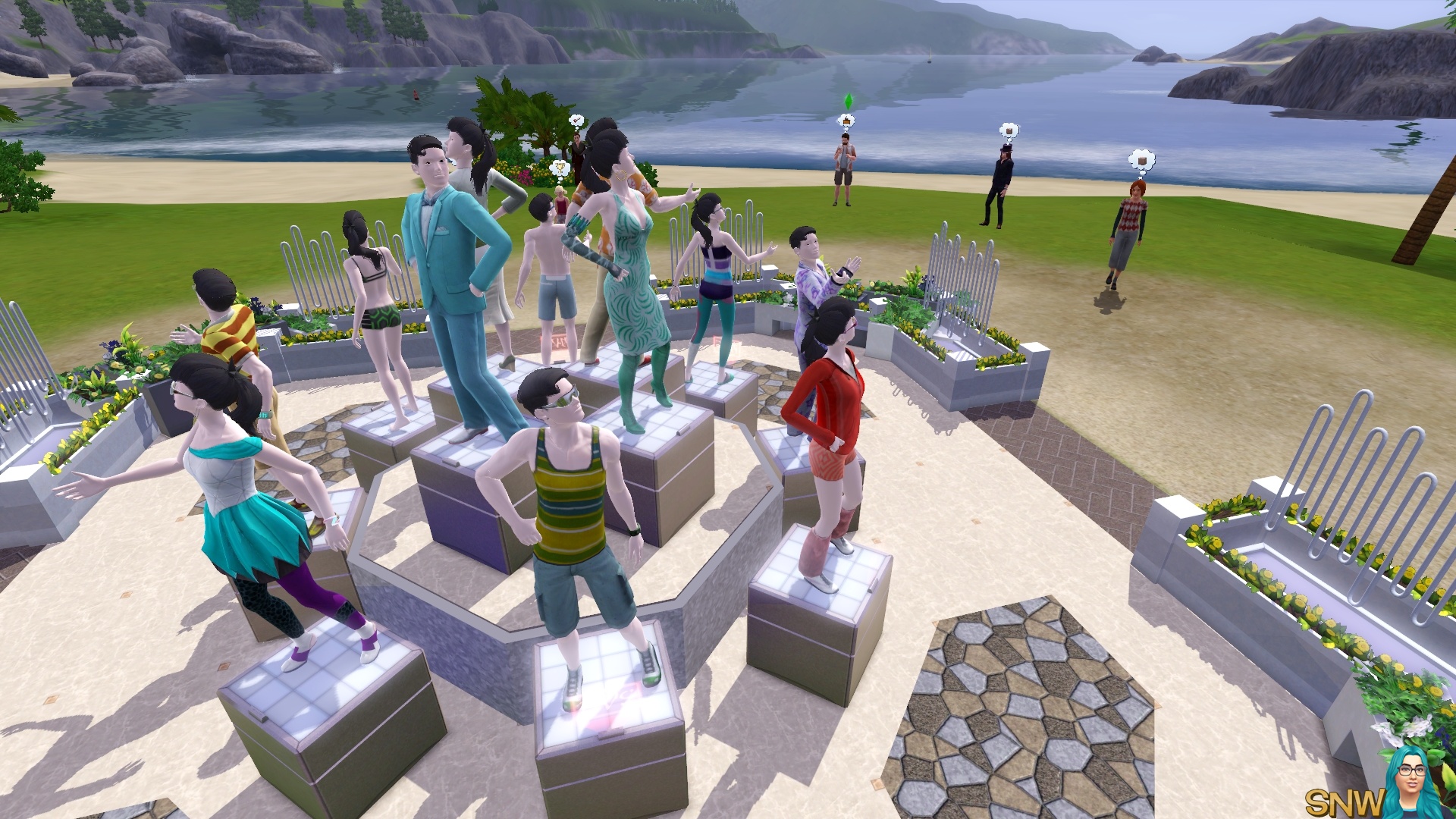 While in the Clothing Pedestal Create-A-Sim, all clothing pieces are available so feel free to mix and match the new clothing from Into the Future and any clothing from previous expansion packs or from The Sims 3 Store to make a fashion statement throughout the entire world of Oasis Landing. After you've planned outfits on these pedestals you'll begin to see Sims in the Import Gallery view and buy your clothing! On the spot they'll find something they like and immediately change into it. Over time you'll see your fashions spread throughout the town like never before.

The Gallery lot is available to be created in Edit Town in any world, so go populate all of your custom worlds or home worlds with your very own Import Gallery replete with your own personal styles. If you couple this new lot type with the Barrier to Entry System that comes with Le Cinema Plumbob venue from The Sims 3 Store, your options for creating custom clothing galleries that cater to specific ages or even Supernatural types is as endless as your creativity.
Families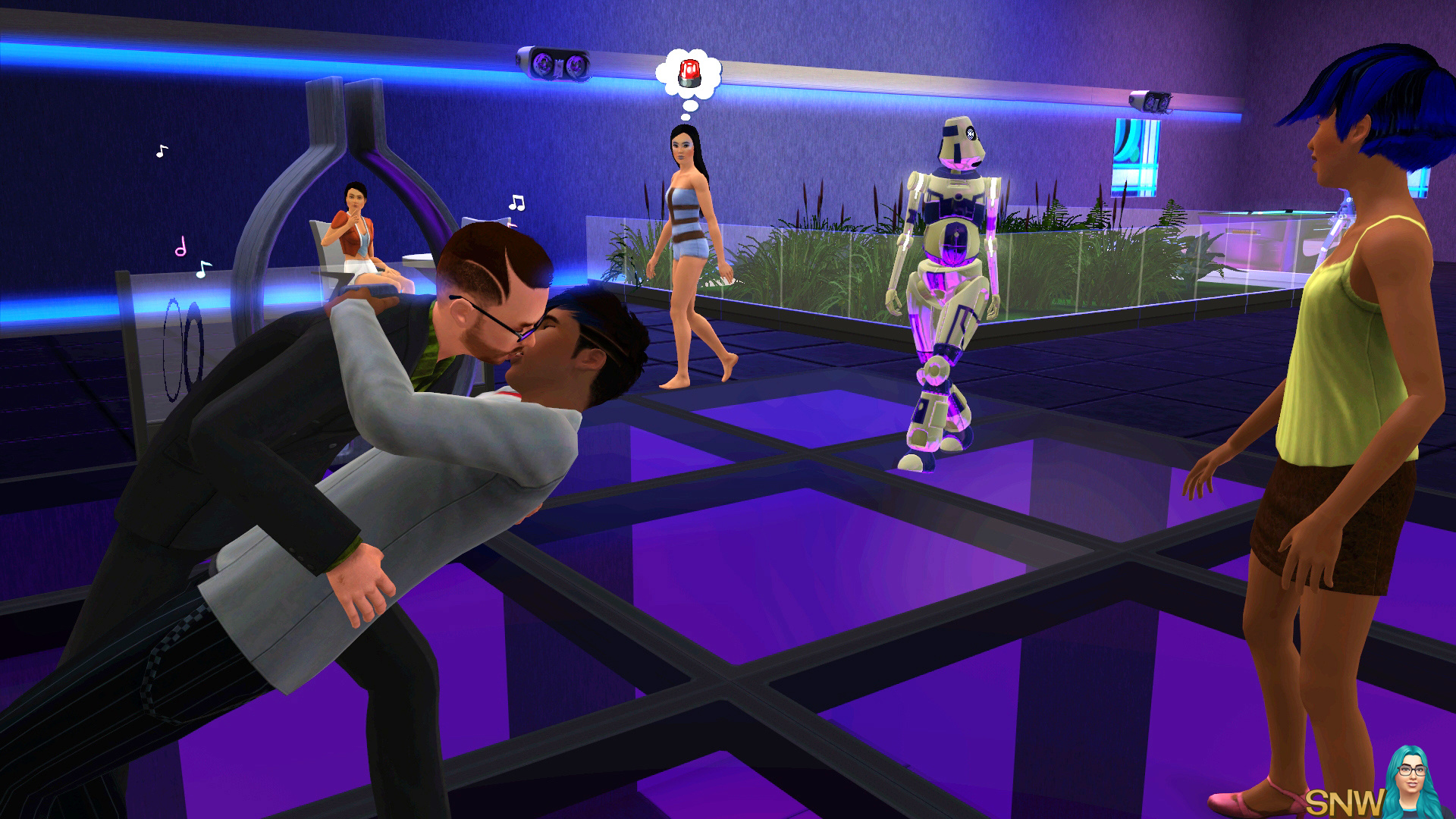 I've talked about the basics of living in the future, from starting out at The Community Living Center and using Advanced Technology objects to joining one of the new careers or buying future homes and commercial real estate. Being able to live in the future long term means we needed to reconsider some of the restrictions previously attached to sub-hoods. If you meet someone in Oasis Landing that catches your eye feel free to romance them, go ahead we won't stop you. Use the new Dip Kiss social to set the mood or literally sweep them off their feet with a Jet Pack Slow Dance or Kiss. When the mood is right take your partner out for a some Jet Pack Woo Hoo and get the I Can Show You The World moodlet. If you are ready to take the big leap, propose to your partner and get married! Yes, you can get married while in Oasis Landing.

If you'd like to grow your family you can of course Try for Baby anywhere you can normally Woo Hoo, or you can go to the Oasis Landing Community Hospital and use the new Engineer a Baby interaction. You'll be able to specify the gender, Hair and Eye color as well as their starting traits. The engineered baby will be a spitting image of the two of you. Still not a large enough family, you could always adopt a child from the future!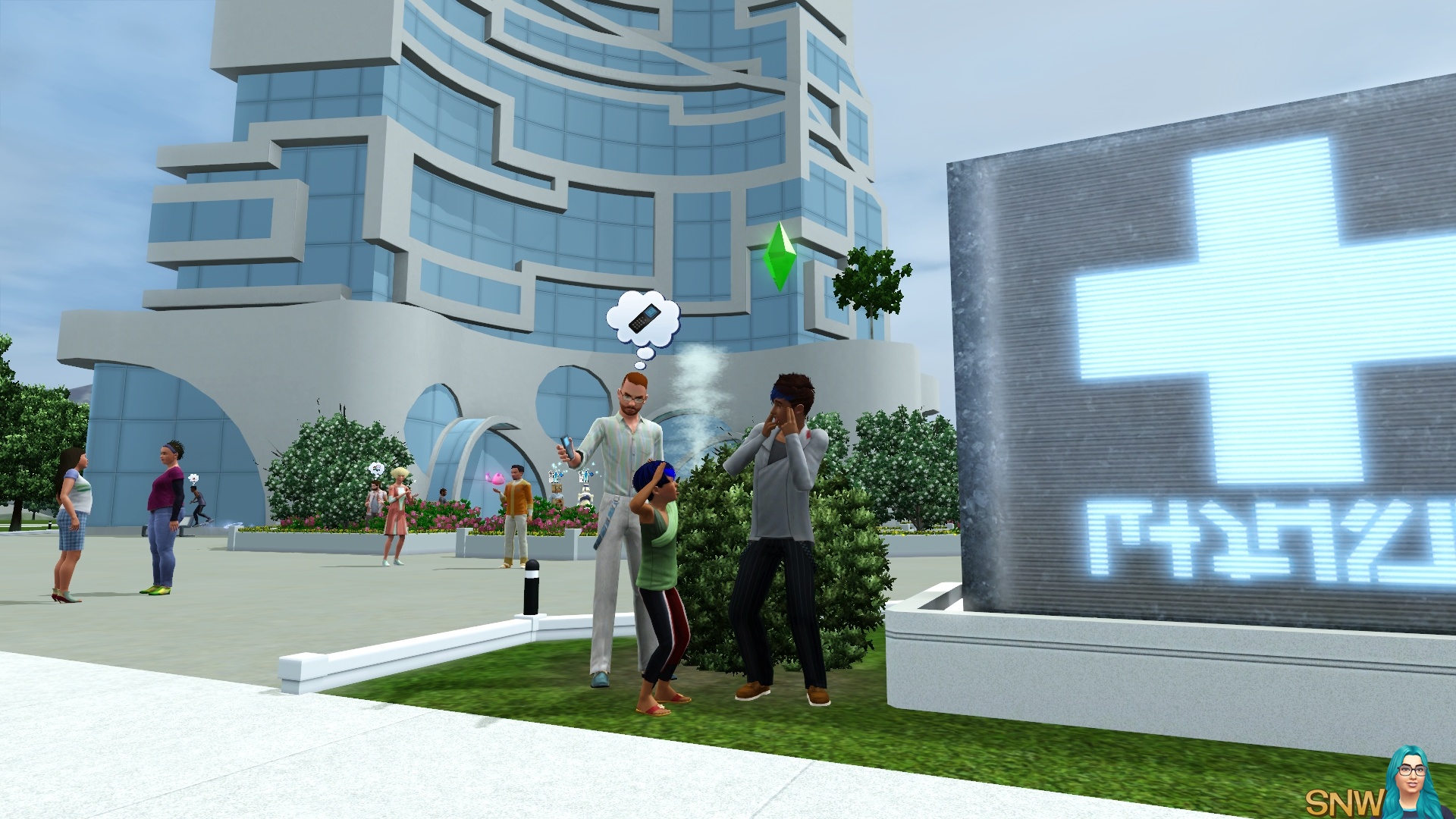 Now that you've got a family you can chose to remain in Oasis Landing and raise them in a community where the conveniences of technology make life a breeze, or you can take them back to the past and introduce them to how it used to be. Of course, all of these changes you've made to your family can have a serious impact on your descendants the next time you travel to the future, so don't be surprised if your entire family lineage is different now that you've gone and changed everything.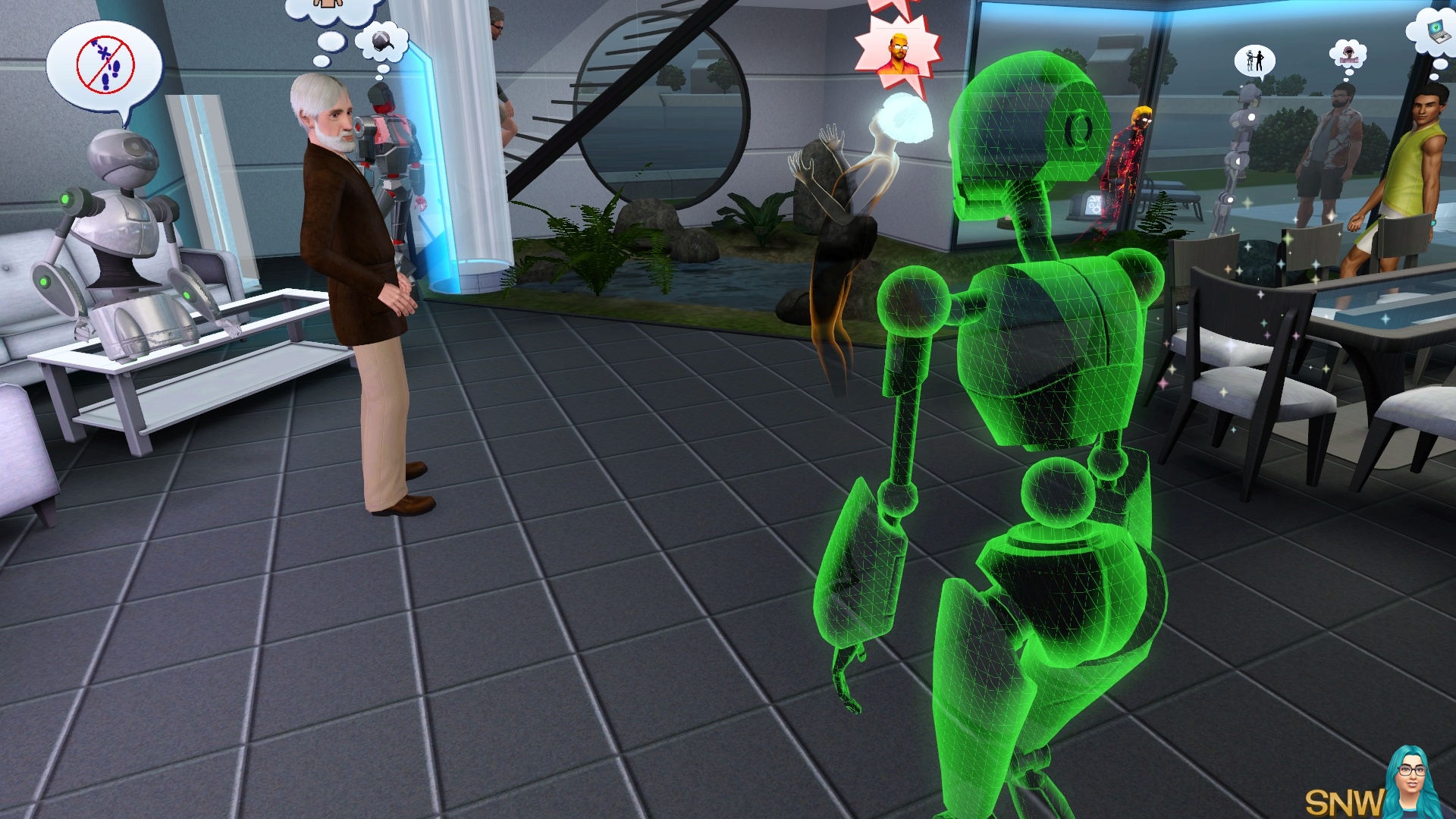 I've really enjoyed working on Into the Future. It offered some unique design challenges with how to handle time travel in a Sims way, and provided me with a way to get mannequins into the game, and finally offer a way for you to keep your Sims in a sub-hood for as long as you like! I hope this blog has provided some unique insight into how you can Live in the Future, I am super excited to see what kind of stories you will tell with all of the content we've provided with Into the Future.
- SimGuruFont – Senior Designer