Simpedia: SimCity Collector's Edition
SimCity Collector's Edition Includes:
Unique Collectible Steelbook box!
Shiny gloss finish shows off the high tech and futuristic cities, from the bridges to the stadium to the UFO and meteor. Special lenticular 3D artwork on the cover sleeve draws you in to see the city come to life.
A must-have for all serious fans of the SimCity franchise.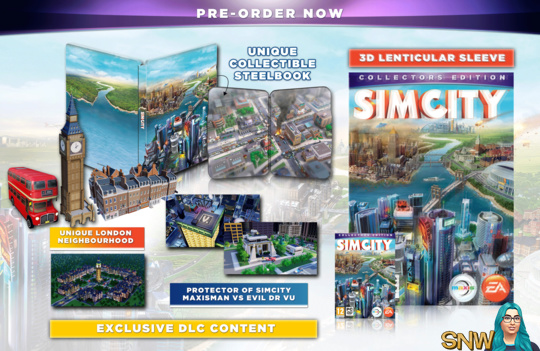 European inspired neighbourhood!
Recreate a European-inspired neighbourhood in the center of your city! Place the world renowned Big Ben to boost tourism in your city. Receive challenging missions, complete unique achievements, and earn big bucks as waves of Sims visit the landmark. Watch as the businesses, homes, and vehicles around the Big Ben start to take on a new British flavour, style, and architecture.
Signature Landmark: Be the envy of your region by placing the beautiful Big Ben to give your city district a fresh new look. Sims will visit your city to see the beautiful wonder.
Change in the Streets: Watch the streets, homes, businesses, and vehicles around your landmark start to take on new flavor.
More Ploppables: Move your Sims in style with new transportation. See the real Double Decker Buses from London.
Plus! Bonus Heroes and Villains set!
New Characters: Protector of SimCity MaxisMan vs. the evil Dr. Vu and his henchman.
Crime Waves: The evil Dr. Vu is loose and will create havoc in your city. Normal police have their hands full against this Super Villain. The evil Dr. Vu will solicit Sims to become his henchmen and carry out his dastardly deeds.
Super Hero HQ: Place MaxisMan's headquarters in your city to combat crime and keep your Sims safe. Upgrade with the Turbo Machine garage and The Reticulator landing pad.
Evil Villain Lair: Place Dr. Vu's Lair in your city to unleash a crime wave. As the evil Dr. Vu commits more crimes, upgrade his lair with a special laboratory and a garage for the evil VuMobile.
Depending on where you buy the game, you can buy three different kinds of this version; British, French and German.