The Sims 3 Showtime Preview
Tuesday, February 14, 2012 - 12:56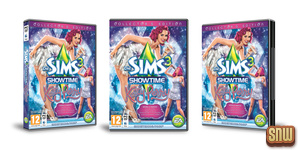 On February 8, 2012 we were invited at Electronic Arts in Germany to see the upcoming expansion pack The Sims 3 Showtime! First we got a Sims demo by Mike Cox. After the demo we could go play. As always, there were more people than computers. When I turned around, all the computers were already taken. So I chose to chill with other Sims fans first. After some time I finally got a chance to play, and I pretty much used that time to see what was new in the pack. In between playing, I got the chance to ask some of your questions to Mike Cox. Go read and enjoy our preview!
---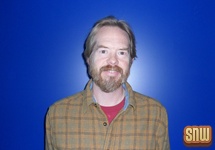 The Demo
From The Sims Studio there was Mike Cox. He has been with The Sims Studio for many years. We weren't told how many years exactly but I guess quite some time. He also worked on The Sims 3 Pets and The Sims 3 base game. And with him was Nicola Jenkins, who is based in the UK office. And she is quite the Sims franchise expert.
Mike Cox started out with the demo, telling us about the exciting new expansion pack; The Sims 3 Showtime. We were not allowed to take screenshots during the demo or during the time we played the game. This is because the software was not final. So I only have some photos of the room where the event took place, and some official screenshots we received on a USB stick after the event. So it will be hard for me to describe what's new in the game, especially the new objects and skins. But I hope you'll enjoy the preview anyway! Have fun!
Now some key features of the new expansion pack...
This expansion pack is all about your Sims's rise to fame and how you'll be able to guide them while they become successful superstars.
There is a brand new town where these superstars live. This new town is called Starlight Shores. And this town is filled with new characters that came to this town to strike out and become successful and famous.
In Showtime there are three new careers your Sims can pursue:
Magician
Acrobat
Singer

And in this game there is also a moonlighting job, as a DJ.

Mike Cox showed us some of the characters from Starlight Shores. He started out with Samantha. Samantha is a singer. She isn't great yet, but she is giving her all. Basically she is singing her heart out. Samantha progresses through this singing career. The singing career has 10 levels. And with each new level she'll have the chance to success or failure. But no matter what, with each level you'll unlock new things, such as new outfits and props. In this care because she is a singer she'll also be able to unlock new songs.

Eventually Sims will reach the height of their career. And the more successful they are, the bigger audiences they'll have.

Another Sim Mike introduced to us is Andrew. Andrew is an acrobat. The acrobat career is quite the physical career. So it'll require an athletic Sim. Or maybe require isn't the right word. Let's just say that athletic Sims do well in this career. Andrew started out as a mime player. But now he is more advanced and can do some amazing tricks, including working with fire, juggling dangerous objects and even balancing on balls. Andrew is really sweating, but he's having a blast. There are some fun animations in this pack. But then again, the entire Sims game has funny bits. And this expansion pack is no exception.

If Sims do well and give a great performance, they will feel good about themselves. Sims can also fail miserably though. And if Sims do not like a performance, they are able to throw stuff at the performers, including a variety of vegetables. Funny animations again! Plus Sims get to keep the items thrown at them!

Mike also introduced Abby to us. Abby is a DJ (the moonlighting career). She is doing alright. She has a nice little stage that she has setup. Everything on the stage, like the props, are items she earned herself. She is able to build the stage herself. So you can customize the stages in the game, using items you unlock while playing. As a DJ Abby obviously has the fancy DJ booth. She can use this to spin some records, add some new tunes. The more tunes, the better she gets, and the more songs she'll have access to, which results in Abby being able to spin more beats. Now the audience is once again important for the performer. They will give feedback and this can either be good or bad. The Sims in the audience can give you clues on what you should do next.

I believe the fourth Sim is called Sam. Sam is a magician. And it's a big day for Sam. He is going to perform in the biggest venue in town. Now this is not just a given for any Sim. Sam has been trying to get into this place for some time. He had to build up a relationship with the owner of the club, and even had to audition to be able to perform on this specific venue. And once he got in, he worked really hard to build a custom stage. Now the stage is once again something you are able to build yourself, with select props, objects, lighting and so on. The cool thing about building a stage is not only being able to build them yourself, but that you can use them on various locations. You can even use your stages at home. Now back to Sam's performance. Sometimes the stuff Sims do is predictable. With these new careers it's like that as well. However sometimes the skills are not developed enough and the Sim will fail. Now Sam was going pretty good during his performance and the tricks he was doing. But Sims can actually die during a performance. That would definitely be a fail haha.

Now something completely different. In The Sims 3 Showtime there are achievements. These might sound familiar to you. Well, in The Sims 3 Showtime you can share the things your Sims has done. You can keep a personal log if you want to, more or less a diary, private kind of log. You can also choose to share the achievements with some of your (select) friends. And there is even an option to share your progress with the entire community. It's completely up to you. This feature is really cool, especially since The Sims 3 Showtime is about becoming and being a superstar. As a superstar, you'll want to put yourself out there. And now you can.

A couple of new objects Mike mentioned during the demo... The Sims Studio brought back some oldies and of course they introduced new items as well. The photo booth is back! I liked this object in The Sims 2 (I believe it was introduced in The Sims 2 Nightlife). And just like the Sims 2 version, your Sims will be able to woohoo in the photo booth as well. Of course, if the relationship between Sims is good enough. Another cool object is the pool table. And like it's predecessors in The Sims and The Sims 2, this object has a skill you can develop. And as always this object is fun to use with other Sims. The third comeback is the mechanical bull. Now I can't remember this being in The Sims 2, but it was a cool item in The Sims (Party). I'm so glad to see some of the old items again.

One last thing about gameplay I wanted to share is that you'll be able to send your Sims to your friends. If your friends accept the request, they can see your Sims perform, and vice versa. This is not in fact a live event. So you won't see your Sim perform at the same time. Basically when your Sim goes away on tour, he or she will disappear for many Sims hours. The plus side of it not being live, is that you can send a request to your friends, and you don't have to be online at the same time, but your friends can still see it when they are playing. So this is definitely a cool feature. And worth checking out yourself!

New Clothing & Hairdos

First thing I did when I got a chance to play, was check out some of the new items in the game. I know gameplay is important too, but I would like to tell you a little about everything. So here we go. I only checked the female (young) adult and male (young) adult categories. For females there is a large number of new hairdos, including a couple of hats (even a bellhop hat, helmets - Daft Punk anyone? I noticed some cool new face paint (a clown and one more face paint option).

As for clothing, there is a matching bellhop outfit. There's also a complete bunny suit outfit, with matching hairdo. This is for females and males. There are several new formal dresses, some casual outfits, a new swimsuit, new trousers, capri pants, tops, also some new shoes and a lot of new accessories.

The males haven't been forgotten. Although most of the male clothing isn't really everyday stuff, it fits the expansion pack quite well. For males also a couple of new hairdos, including helmets. New facial hair. I spotted new watches, earrings, new shoes. Males have new complete outfits, trousers, jackets, shirts and formal clothing. And one of the new outfits seems to be inspired by Michael Jackson.

New Objects

One of the first things I noticed in the object catalog was the new vanity. Basically these are just dressers with mirrors. So it's like a multifunctional object. But your Sims cannot actually sit at the vanity and gussy up or anything. Does save space and looks nice. So still a cool object. I believe there are 2 of these kind of vanity dressers. One of them looks like a dressing room vanity (with the big light bulbs). You can change appearance, plan outfit and so on.

The jukebox is back! And it looks amazing. I believe there are even two jukeboxes to choose from. A classic version and a more futuristic one. I noticed the karaoke machine has made a comeback as well. And the Plasmapunch Gyroscopic Conductor is back. This machine was also in The Sims 2 Nightlife. Your Sim can get in the machine and it'll spin your Sim around, just for fun. In Showtime there is also a Golf Driving Range (Sims can play golf using this object).

There is one new car (Electrol 3x was the name I believe). There are two new bars, matching kitchen counters. In the decorative section you'll find a lot of new posters, sculptures, mirrors, parasols, plants. There are cool neon signs. Plenty of new trees, a portable music player Sims can use, 3 new game tables (computers for two Sims), a couple of new beds, coffee tables, tubs, and much more.

Stage Props is a new category in the catalog. This category contains stuff specifically for Showtime. Subcategories are FX Machines and Lights and Props.

One of my Sims had a special gnome in their inventory. This is a magic gnome. I'm convinced this one is new. Mine was called Cranstan Boonitz the magic gnome.

Starlight Shores

The new town called Starlight Shores has a lot of cool things, and I'll leave most of it for you to discover. But I did want to tell a little about it. It's a town rather than a city, with lots of green. It has several new community buildings. So mostly unique buildings you haven't seen before. Always nice to see new, different designs in the community buildings. Starlight Shores has new (private) clubs. These clubs can be used by performers.

Cheats

I noticed some new (?) cheats in the cheat window:

ontoggleperformance meter Sets perfect score to value
presetexportdone Notifies UI that async export has completed

The Interview

Please note that I only asked some of our readers's questions. I did not feel comfortable asking a couple of things, I felt like I sounded really negative about the game when in fact it's some of the fans out there in the community who feel this way. Just keep that in mind. I'm Switzerland.

Ever since The Sims 3 Late Night Sims have been able to become famous and get up to 5 stars. Will this system change with The Sims 3 Showtime?
The Sims 3 Showtime does not alter the star system in any way. Sims can still become famous like before. You can perfectly combine the two packs, but features like the star system from Late Night do not change when you install Showtime.

Will there be an option to prevent your Sims from becoming famous, if you don't want them to be?
It's pretty much like a lot of other things from other expansion packs, let's say vampires from Late Night. You can just avoid it. There is no actual option to turn it off. But you won't become "famous" in Showtime if you don't want to. Just don't pursue the three new careers.

Will pets have new career options as well? And can pets become famous in this pack? Will pets also have a 5 star system like Sims have?
The answer to all questions is no. Pets have no new career options and they will not become famous in this pack. This pack is really focused on the Sims rather than pets.

Will The Sims 3 Showtime be like The Sims Superstar? For example will this pack have a newspaper showing the highest ranked superstars?
You can't compare the two games. There are things that you might recognize from The Sims Superstar. But there is so much that's different and new. Not sure about the newspaper (wasn't there already something like that in Late Night?)

When your Sim is sent to another friend's game, will you be able to see your Sim perform? Or will the Sim disappear from the household until the Sim is back from the tour?
When a Sim goes away on tour, they'll be away for some time. So you won't actually see them perform, but your friends will be able to see it.

Is the new world, Starlight Shores, a normal town, or a city?
It's a normal town, not a city.

Why did The Sims Studio choose for this pack, rather than a seasons pack which many fans are wishing for? A lot of people are upset about this upcoming expansion pack and some fans are even going to boycott because they feel EA is milking the fans. What does the team think about this?
The people at The Sims Studio always try their best on new expansion packs. The Sims 3 Showtime is what the team wanted to work on this time. They are giving their all. Seasons don't fit in this pack. The team does listen to what the fans have to say and think it's important that the fans are happy. The Sims Studio is proud of what they create and want to show this to the community. That's also a big reason they organize these kind of events to show the fan sites the new games, so the fan sites can show the new games to the fans.

Can you play together with friends in this game?
It's not The Sims Online, so you cannot actually go into another friend's game and control your Sim there. However you can send your Sim on tour and your Sims can visit friends, but this does not have to happen at the same time. When you send a Sim to a friend, the friend has to accept the request first. If accepted, the other will see your Sim. Basically, this is not live. Plus side of this is that you don't actually have to be online at the same time. So if you have friends all over the world, you can still have your Sims visit them and vice versa.

Limited Edition vs. Collector's Edition

The Sims Studio often introduces special editions you can pre-order. This time there are four versions. The standard version, which will be available for a long time after the release. And then there are the Limited Edition and the Collector's Edition. If you don't have the base game yet, you could also consider buying The Sims 3 plus Showtime pack. This version has the base game and the newest expansion pack combined. As for the special editions: they contain unique items for The Sims 3 Showtime. The Limited Edition has an exclusive venue and an epic concert setting. The Collector's Edition is Katy Perry themed. This special edition has an ultimate stage bonus venue and special Katy Perry themed items such as fashions, several guitars, a hairstyle, several stage props and an actual Katy Perry poster.

Our Opinion & Thanks

I think The Sims 3 Showtime is an amazing expansion pack. It's fun and definitely adds a lot of gameplay to the game. I love the fact that you can share moments with your friends, or the entire community. And I think it's cool they brought back a number of old items. I have to admit that, just like The Sims 3 World Adventures, I will only use the main features on some of my Sims. Only a few will pursue the new careers and try to become superstars.

I would like to thank EA Netherlands and EA Germany for the event, and for inviting me. I had a blast and it was a unique experience. I got to meet new people from the community, which I always love.

The Sims 3 Showtime will be in stores on March 6, 2012 in the US and March 9, 2012 in the UK. Pre-order your version today!