The Sims 3 Pets: Community Pack #3
Sunday, October 16, 2011 - 02:25
The next couple of weeks EA will send us these 'community packs' which contain info and screenshots. This week you can learn about Horse Care, Riding, Equestrian Centres and Pet Behaviour! Click Read More below to continue reading!
---
Horse Care, Riding, Equestrian Centres and Pet Behaviour
Equestrian Centres:
Check out the horses for sale! Each one comes with a unique look and special traits. If you don't see one to your liking then check back soon, they get new horses all the time! The better the horse, the more you'll have to pay. Of course this can work to your advantage as well... If you've got a top notch horse to offer, you can make big bucks selling it here.
So now you have a horse and you're wondering what to do with it. How about some competitions! Start off by attending a riding class to learn all about the riding skill. As you advance and your horse trains their jumping and racing skills, more competitions will open up at the equestrian centre. These competitions are a great way to see just how well horse and rider have bonded, as well as making a little money on the side. Alternatively, just come watch a competition with friends and family for a fun social outing!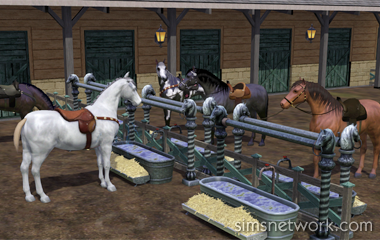 Horse Care:
Horses are fine creatures but need a lot of care. Before your new horse arrives make sure you have a box stall, water trough, and enough hay to survive. Your new pet may need some companionship. Make sure you spend time with your pet and socialize with them. Horses especially enjoy running and jumping. 'If you fail to take care of your new horse, the social worker will be back to take your pet away. So make sure to tend to the needs of your pet and develop a relationship with them.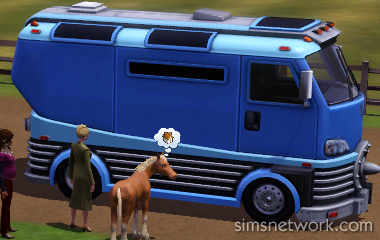 Riding:
The riding skill encompasses both a Sim's ability to ride horses and to train them. Its purpose is to reward horse lovers for their devotion to their equine friends. As the riding skill improves, new interactions appear for Sims.
There are a few ways to gain riding skill. You can start off by reading riding books which can be purchased from your local bookstore, or you can also attend riding classes at the equestrian centre. If your Sim is more of a hand on type of Sim, you can immediately learn riding by getting on your horse and begin riding around town. Other interactions like train for jumps or train for racing also increase riding skill.
Riding a horse is a great new way to travel, but unlike Sims they cannot travel everywhere. Horses are not able to walk up or down stairs, use the elevators, or walk through doors. If a Sim riding a horse is commanded to go to a location that they cannot travel to, the horse will route to the furthest location they possibly can and the Sims will dismount and continue towards the destination.
When Sims are riding a horse, there are certain interactions they can perform without the need to dismount. Interactions with a horse or Sim icon in the interaction menu denotes that Sims will stay mounted and perform that interaction. Any interaction that does not have the horse or Sim icon will push the Sim to dismount the horse before performing that interaction.
Not all horses are willing to listen to their masters from the get go. Horses who have the untrained trait require a higher relationship with Sims before they will allow them to saddle or ride them. The more time the Sims spend riding or saddling the horse the faster the horse becomes trained.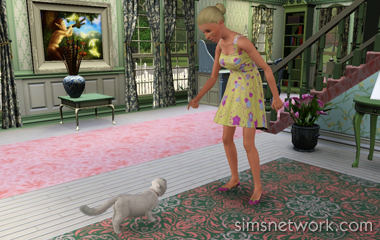 Pet Behaviour:
Pets behave in many different ways that certain Sims may or may not approve of. Through reinforcement, you can shape the behaviour of your pets over time. Certain actions that your pets perform can be reinforced through praise. In doing so, your pet will begin to learn that its behaviour is acceptable. If behaviour that is related to a specific trait is praised enough, your pet will eventually be trained to adopt that trait.
Any actions that your pet can be praised for can also be subject to a good scolding. If you feel that your pet's behaviour is unacceptable, scolding can make your pet acknowledge that it is behaving badly. Eventually, your pet may even learn to rid itself of certain traits that encourage its bad behaviour.