The Sims 3 Create a Pet demo now available!
Thursday, September 22, 2011 - 18:04
The Sims 3 Create a Pet Demo is now available!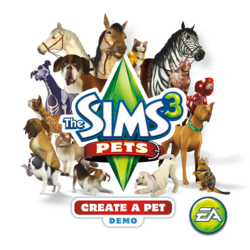 Unleash your creativity with The Sims 3 Pets.
Life is better with Pets! The Sims™ 3 Pets Create a Pet Demo, from The Sims Studio, is available today to download on PC for free.
The Sims 3 Pets Create a Pet Demo, a section of the full The Sims 3 Pets game releasing on October 21, 2011 in the UK, gives anyone the ability to customise and design the pet of their imagination. Using the robust tools, players start by choosing from one of more than 100 breeds of cats and dogs or a horse of their liking. From there, the opportunities are endless. For instance, players can change the length and width of the snout and ears, texture of the fur or even the color of the eyes. Using the new layer system, players can recreate their childhood pet by adding different layers of markings along the body or create a hybrid of their dreams. Once the player has created their ultimate pet, they'll be able to assign them personality traits, such as lazy, clueless, friendly and hyper. Players will be able to save their unique pets from the demo and load them into their copy of The Sims 3 Pets Expansion Pack for the PC.
Additionally, players are encouraged to share their creations online and via the official The Sims 3 Pets Facebook page. Visit the official Facebook page for more information: www.facebook.com/thesims3
The Sims 3 Pets is currently available for pre-order at the EA Store and will be on shelves from October 21, 2011. For more information on The Sims 3 Pets Create a Pet Demo, The Sims 3 Pets for console and the PC/Mac Expansion Pack and all of The Sims 3 games, visit www.TheSims3.com
To download a free copy of The Sims 3 Pets Create a Pet Demo visit: www.thesims3.com/createapet
Site Comments
its pretty annoying actually i keep trying to get the demo and once i agree and get taken to another page called origin it doesnt do anything then when i click download it just keeps taking me back to the top of the page :/
can you buy it for the ps3?