Create a Pet DEMO coming soon!
Thursday, September 15, 2011 - 15:16
The Create a Pet demo tool is coming soon, which will allow you to create animals for The Sims 3 Pets! You can read more information below!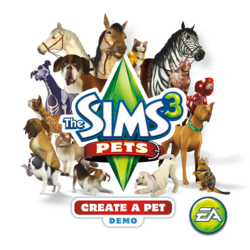 PRODUCT DESCRIPTION
Get a free demo of The Sims 3 Pets to create any dog, cat, or horse you can imagine!
DESCRIPTION
Create perfect—or imperfect—pets for your Sims, from fierce guard dogs to destructive kittens to trusty horses as you determine their looks and personality traits! Choose from over 100 breeds then edit them as you want to create a unique pet. Upgrade to the full game to play as your pet!
KEY FEATURES
Enjoy a free demo that is robust, easy to play, and loads of fun.
Create a wide variety of unique dogs, cats, and—for the first time ever—horses!
Customize your pets! From fur color to eye color, coat markings to body shape, fine-tune every detail of your pet's appearance.
Determine pets' personalities. Will your pets be adventurous, intelligent, skittish, brave, agile, or something else?
Show off your pets online. Connect and share your creations with the world via The Sims 3 Exchange if you have registered any game from The Sims 3.
Releasedate:
September 22, 2011
(DD-file available on September 21)