Interview With Sid Meier
Thursday, October 4, 2001 - 23:00
Sid was recently interviewed by Apolyton about his goals for SimGolf, the future of gaming, and more!
---
SID MEIER: SimGolf Interview #1
Today we start a new series of interviews on SimGolf. And what better way to do it than to talk the man behind the idea, Sid Meier.
Sid talks about the creation of SimGolf and it's goals, while promising more exciting ideas for the future!
Apolyton: What do you love mostly about the game of golf? What is your favorite course? Is it in the game?
Sid Meier: I love the different environments in which we can play golf - the grass, trees, flowers, birds etc. My favorite course is Pebble Beach…it's gorgeous. Players will be able to create any course they'd like for SimGolf and share it with the world on http://simgolf.ea.com/.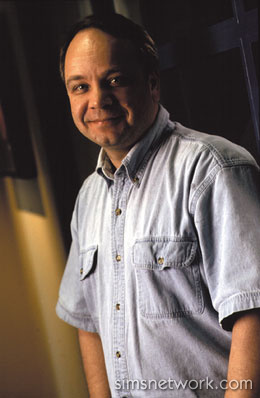 Apolyton: You've surprised the fans twice in the last couple of years with Dinosaurs and SimGolf. How did you and the team saw the "my god, he's gone crazy" comments?


Sid Meier: It's not the first time I've seen this reaction to one of my games! Back in the 1980's I began working on a game called Pirates! and after that Railroad Tycoon and many people were surprised I was doing these types of games when I was better known for flight and military sims. I've always designed games around topics that I think are fun and engaging. Whether it's pirates, history or golf, first the topic has to be fun and then we work on the very best way to present and gradually unfold the interesting and cool aspects of that topic. The idea for the golf game came last summer as I was at the library leafing through a golfing magazine. In the middle of the magazine was this cool map showing a lovely piece of land with a stream, hills, grass, trees, and wetlands. There was a contest to use this piece of land to design the three most interesting, varied, and attractive golf holes possible. I thought to myself that nobody had really made a fun game out of designing and building a golf course. So I threw together a quick prototype and started playing and the next thing I knew I was hooked. There was something mesmerizing about watching my little golfers whack that white ball and seeing it sail through the air. It reminds me in some ways of watching the trains run in RailRoad Tycoon or checking the traffic in SimCity.
Apolyton: This is your first non-strategy game since Magic: The Gathering, and your first 'sim-style' game since Railroad Tycoon. How does it feel to do something "non-strategy"? What other genres would you like to be able to explore eventually(are there any left?)?
Sid Meier: I've always been a big fan of Will Wright and have spent countless hours playing Simcity and the Sims. As soon as you begin to play you realize that a lot of the old rules don't apply - there's an exhilarating sense of freedom in being able to explore any path you choose, whether it's maximizing your score, tormenting your citizens, or creating something of beauty. Of course, being a game designer, I soon came to the conclusion that I'd like to write a game like this - to borrow some of the ideas that Will has pioneered and combine them with a few of my own. I've had a lot of fun designing SimGolf and have found it fascinating learning about golf course design. I think you'll find SimGolf is a totally unique experience in that there are many ways to play the game, you can focus on designing and building really interesting courses, managing a successful resort or have fun tinkering with your golf members. I think products like the Sims and Rollercoaster Tycoon prove that there are still a lot of new and innovative ideas out there and topics to be explored. It's really an exciting time to be a game developer.
Apolyton: Who do you see as the primary target audience for SimGolf? Is that thought part of the design process?
Sid Meier: SimGolf has something for everyone: golf course design, building, managing, playing the course and a lot of fun player and story customization. In designing SimGolf, I've tried to bring players a fresh, light-hearted look at the game of golf. I think the game will appeal to Sim/s fans, fans of Railroad Tycoon and tycoon-style games. You don't have to be an avid golfer or a fan of golf simulations to enjoy this game but I think if you do play those games you'll find that it can test your knowledge of golf and course design as well.
Apolyton: Do you feel that you can convey an accurate depiction of golf-course design within the 2-d tile-based SimGolf interface?
Sid Meier: SimGolf is a fun, light-hearted look at the world of golf and we really want players to use their imaginations and creativity to create the golf resort of their dreams. In order to create this type of environment we needed to provide a way for players to design and view an entire 18 hole golf course with buildings and accommodations. We also needed to ensure that the golfers on the course were recognizable and unique. In order to do this we created a look and feel that was fun, accessible and provides players with all the information needed to play the game.
Apolyton: There is a perception that games such as SimCity or The Sims are relatively 'free' in that you can experiment with different approaches to your city or house or sim design. Is this achievable in SimGolf?
Sid Meier: Yes. There are a lot of different ways to play SimGolf. Your goal might be to make as much money as possible, or to make your golfers as happy as possible, or to create the world's most beautiful golf course, or to create the most outrageous golf course, or to win the famed SGA (Sim Golf Association) Open tournament. In SimGolf all the game elements relate to each other in some fashion. A fun, well-designed hole will make your players happy, happy players will pay more money to play, more money allows you to expand your course, a larger course generates challenges from other professional golfers, playing against other pros increases the skills of your pro golfer, your pro can win big cash prizes in tournaments held at your course, more money allows you to add a variety of buildings to your course, buildings add to the skill and happiness of your players, etc., etc., etc.
Apolyton: Many sim games have been accused of only becoming fun after many hours of gameplay. How will you make sure that you engage the player right from the start?
Sid Meier: I think one of the strengths of SimGolf is that it is easy to get into and you don't need a deep knowledge of golf to begin playing and having fun. All you need to do is lay down a tee and green to open up your first hole. Immediately your little golfers come out of the clubhouse and start playing and reacting to your course design telling you what they like and don't like. You can pamper your golfers with luxury accommodations and beautiful scenery or you can torment them and watch them storm off the course - the choice is yours.
Apolyton: Civ3 and Dinosaurs were announced very early in their development, while SimGolf only a few months before the release. What was the reasoning behind this?
Sid Meier: The golf announcement was delayed a bit while we transitioned from Dinos. I had been working on the game for quite a while before we made the official public announcement.
Apolyton: Both SimGolf and Civ3 will have been released by the end of the year. With a now large development team(enough to work on two games at the same time), what's the next step? SMAC2?


Sid Meier: SimGolf will now be released early next year. We've got some really exciting ideas in the pipeline but we're not ready to talk about them yet. As always we'll let you know as soon as we can.
Apolyton: We saw "you" in the Sims, we will be seeing "you"(as on of the advisors) in Civ3, and with an import tool we will be able to get "you" in a golf course. Is all that a form of immortality or something?


Sid Meier: In Civ3 we thought it would be fun to make some of the Firaxians advisors. It felt right since one of our goals was to create a game that captured some of the light-heartedness of the original Civilization. I'm not sure how I ended up in the Sims, you'll have to ask our marketing people

Many thanks to Sid for answering our questions!
Also thanks to Ming and Snapcase for their help on the questions and to Kelley Gilmore of Firaxis for arranging the interview