The Sims 3 Master Suite Stuff Q&A!
Tuesday, January 24, 2012 - 15:03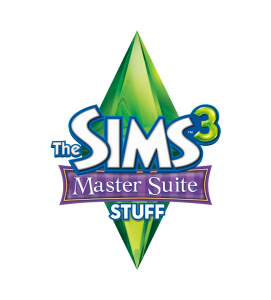 Last week we were lucky enough to have a Skype session with lead producer Jennifer Lane and SimsGuruKing, about The Sims 3 Master Suite Stuff. We learned that Jennifer's tasks include a variety of things such as having lots of meetings, testing the items in-game, playing the game, providing feedback and lots more. We asked Jennifer a couple of questions. Since we didn't record anything, we'll try to explain what we asked and what we were told. Enjoy!
Where did the inspiration for The Sims 3 Master Suite Stuff come from? And stuff packs in general?
The team is keeping an eye out on the forums, but not just there. They get ideas and inspiration from all over the place. What also helps is what's trending. But classic styles are important too. Basically the team collects ideas and then eventually combines those in a stuff pack. The theme for the stuff pack comes to life while the team is already working on the stuff pack itself.
Is there a favorite item from The Sims 3 Master Suite Stuff?
Jennifer Lane has a new favorite every single day. Because she plays the game for several months before it's release, she discovers something new on a regular basis. Right now it's a set of curtains that fit well in any room. A versatile object. I'm quite curious about those curtains now!
How many objects and other items are there in The Sims 3 Master Suite Stuff?
Jennifer did not want to give us an exact number. Perhaps she also didn't know the exact number. But it's about the same amount that's in other stuff packs. The ratio is about 50/50 though. So you'll get about the same amount of clothing as objects.
Are there any pre made houses in The Sims 3 Master Suite Stuff?
During the Q&A, there were no pre made houses included in the game. It doesn't happen too often to begin with. The team is mainly focused on clothing and objects in the stuff packs. Houses and families are usually added to expansion packs rather than stuff packs. However Jennifer did mention she created about 6 families she's playing with that she might include, or upload to the exchange after the release. That's a possibility, nothing confirmed yet. Also, Jennifer mentioned she might upload her catwalk showcase to the exchange after the release. Be sure to check that one out!
Does The Sims 3 Master Suite Stuff have a Murphy bed or a built in closet?
Unfortunately, these items are not included in this stuff pack.
How about vanities? We noticed the word vanity on the info page of The Sims 3 Master Suite Stuff. Is this a vanity table or mirror?
No vanity table included in the pack. The vanity referred to is a mirror. There are 3 different mirrors in this pack though.
Will there be store items or sets included in a future stuff pack?
Jennifer explained to us that the store sets and stuff packs are two different worlds. The stuff packs are (also) aimed at people who are unable to buy items online, from The Sims 3 Store. So I guess this would be a no. Such a shame though. I would love to see some store sets included in a future stuff pack. Or perhaps a store collection stuff pack with only store sets. Ah well.
Can you give us a hint about the next stuff pack?
Was worth a try. But Jennifer wouldn't release any information about future stuff packs. I guess we will just have to be patient!

How long does it take to develop a stuff pack?
Apparently stuff packs and expansion packs take the same amount of time to develop. Although expansion packs are larger, the stuff pack teams are smaller. Also, some team members on the expansion pack team are also working on stuff packs. So basically, the same amount of time.
Are there new social interactions in The Sims 3 Master Suite Stuff?
No. Usually the new social interactions are kept for the expansion packs.
What kind of clothing is added to The Sims 3 Master Suite Stuff?
There is mostly clothing in the Sleepwear category. However there are also a few items under Formal, Swimwear and even some Everyday/Athletic. A lot of the clothing items are two pieces, so you can mix and match those to your own taste!
---
I hope you enjoyed our Q&A! We sure did. We would like to thank EA, including Jennifer Lane, SimsGuruKing and Anita for giving us the opportunity to ask these questions on Skype. It was a fun experience!
The Sims 3 Master Suite Stuff is in stores today in the US, and will be in stores on Friday January 27 in the UK.